Cambodia's ancient dance gets modern all-male makeover
A Cambodian male dance troupe is breathing new life into Khmer classical dance, an ancient art form on the brink of extinction in modern Cambodia.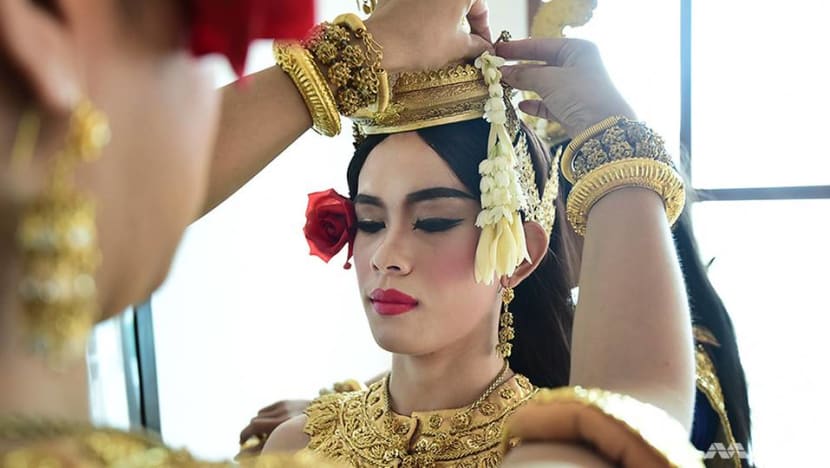 PHNOM PENH: Two figures glistened in Khmer costumes, an artistic mix of ancient tradition and daring modernity, with green silk shorts and almost transparent gold tunics with embroidered metal flowers.
Their bodies curved and curled, rose and fell with grace, each movement so elegant and subtle, to the rhythm of Sam Smith's pop hit Lay Me Down.
In a narrow living room, the two dancers translated the music with their bodies. They entwined in each other's arms like vines, their fingers folding and unfurling graciously like exotic flowers coming into bloom.
Hovering between them was their teacher, Prumsodun Ok, a Cambodian-American choreographer, who is sculpting what he hopes would be the future of Khmer classical dance - an ancient art form on the brink of extinction in modern Cambodia.
"When I think about the future of the dance, it's nothing less than symbolic of the future of Cambodia," he told Channel NewsAsia inside his apartment in downtown Phnom Penh, where his dance troupe was holding a routine rehearsal.
Two years ago, it was here that he formed Prumsodun Ok & Natyarasa, a local company that shot to fame as one of the most revolutionary dance troupes in Cambodia.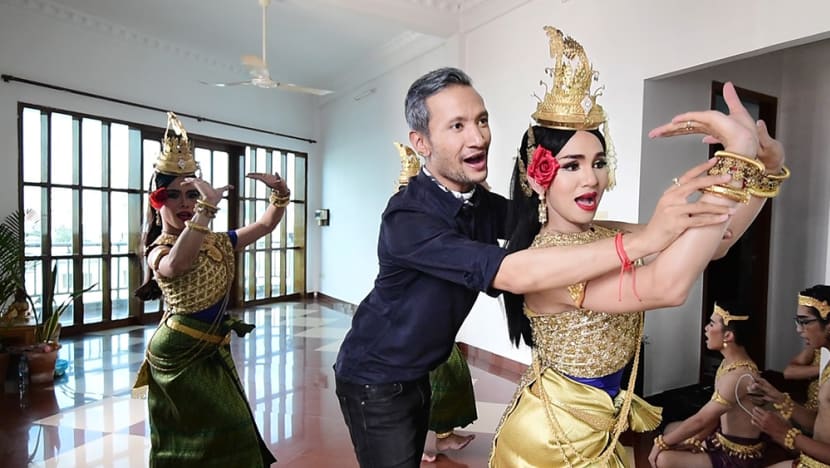 Born to Cambodian refugee parents in California's Long Beach, United States, Prumsodun fell in love with Khmer classical dance when he was a young boy. But it was not until 2015 that he travelled to the country where the ancient Khmer kingdom had given birth to his passion.
The choreographer was working on a one-year project called Beloved. It was an experimental interdisciplinary work based on a tantric lovemaking ritual in 13th-century Cambodia, which was believed to ensure the fall of rain, life and prosperity of the Khmer people.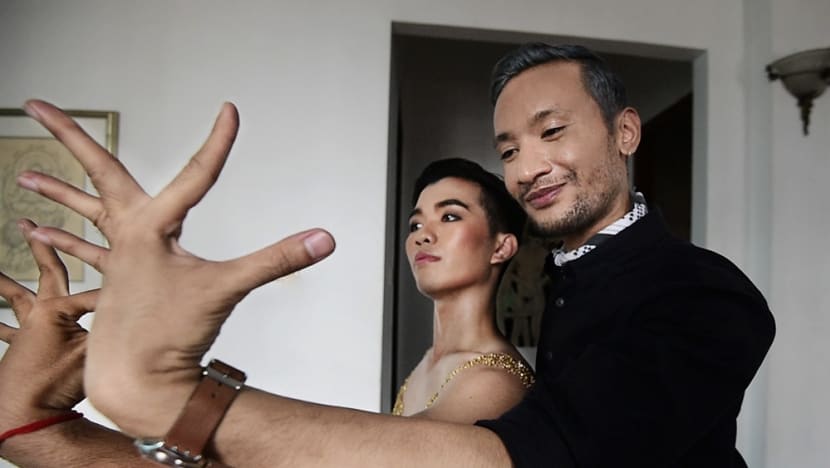 Six weeks into the programme, he was contemplating young Cambodian men as they practised Khmer classical dance in his apartment.

"I looked at them and I said 'Oh', you know, 'They look like a real company now' and 'Oh. Cambodia's first gay dance company's just formed in my living room'," he recounted the moment with a smile.

"It was something that was completely accidental."

A dance troupe like no other, Prumsodun Ok & Natyarasa trains young Cambodian men in the ancient art form that is traditionally dominated by women, while breathing new life and possibilities into what the society views as old-fashioned and primarily confines to tourist attractions.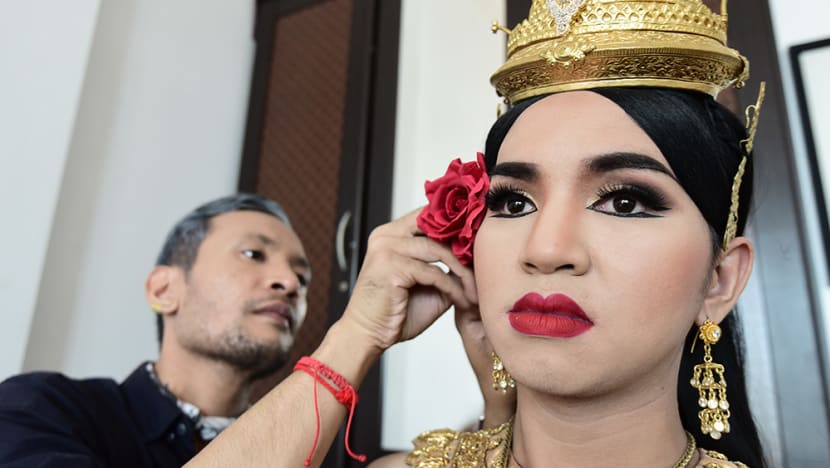 It did not take long for the troupe of eight dancers to witness a surge in popularity, both locally and abroad, for their avant-garde interpretation of Khmer classical dance, also known as the Royal Ballet in Cambodia.

For Prumsodun, his company is not only a platform for cultural preservation but also a medium for endless artistic innovations, an experiment to find new paths and possibilities for survival.

"I want to find a Khmer way of being contemporary," he said.

I'm not interested in imitating the past. I'm interested in having the dance have meaning for us today and for the future.
PUSHING BOUNDARIES

Under his tutelage, eight Cambodian men from different backgrounds have blossomed into professional artists.

Their transformation from amateur dancers into classically-trained performers was not an easy experience, given their male physique.

"Our shoulder bones are large. We also have big muscles on our arms and in our calves and thighs. So we can't really bend them like women do," said Prumsodun's protege Sokhon Tes.

Our bodies may be different from women's but our hearts are the same.
The 24-year-old has been training in Khmer classical dance for five years but only got to go deeper into different poses with his current mentor, who has taught him how to translate feelings into movements.

"We can express a feeling hidden in our heart, visualising it with body movements that people can interpret and relate to."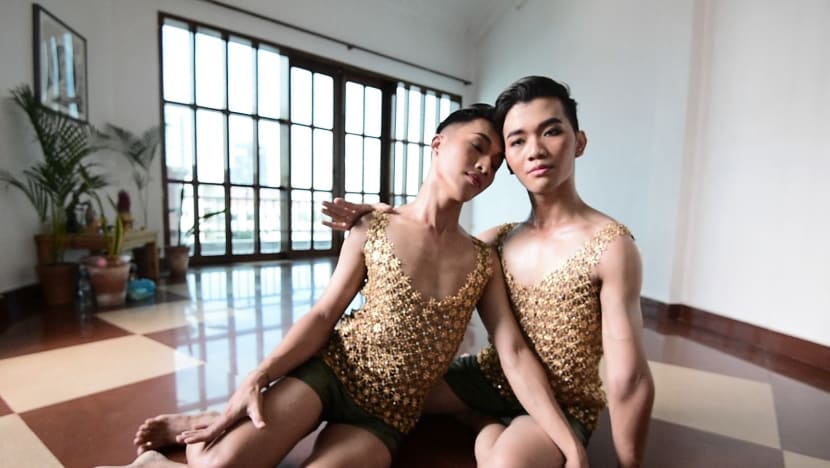 Communication through movements is key in Khmer classical dance. However, Prumsodun is experimenting with different components that could make the ancient art form better relate to the modern population.

Using a classical dance as a foundation, the choreographer builds on it layers of contemporary elements to achieve an interdisciplinary dance form. He modified traditional costumes, mixed English lyrics with classical tunes and bent dance patterns in a personal combat against what he calls "a legacy of colonialism in dance".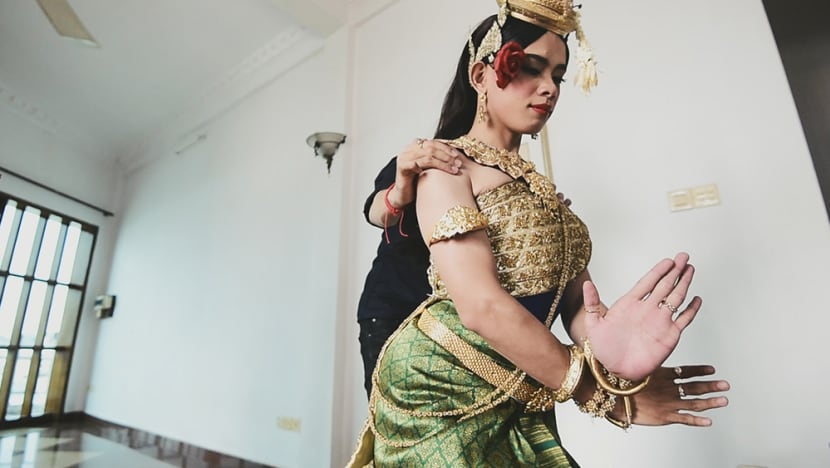 "Certain dance forms, because of where they're from, are allowed to be considered modern and contemporary, relevant and meaningful or cutting-edge. But I don't think that I have to jump up or roll up and down like some contemporary dance stars to be contemporary," he said.

"I want to find a way to be local in character but global in significance."

DANCE AGAINST VIOLENCE AND PAIN

Prumsodun is a product of the Cambodian war and violence that was wreaked upon his homeland between 1975 and 1979. His parents fled the country during the oppressive rule of the Khmer Rouge, where almost a quarter of the population or close to two million people were wiped out in a four-year genocide.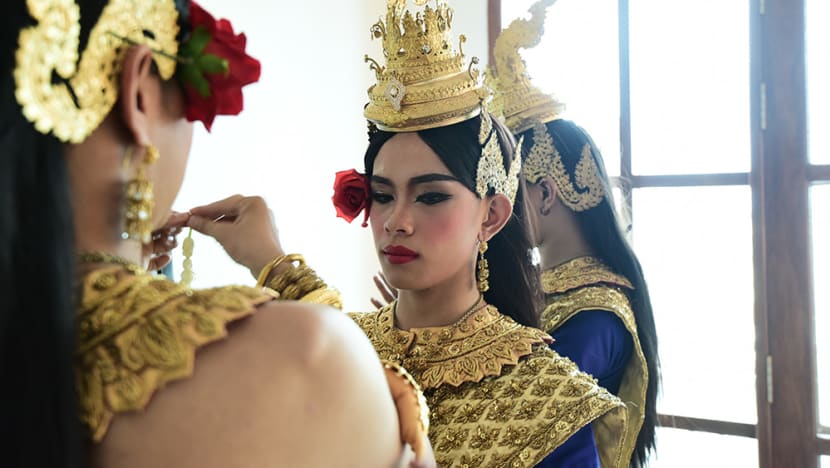 Among them were artists. About 90 per cent of them are thought to have died, their knowledge of Khmer classical arts buried across the killing fields. 
Following the fall of the Khmer Rouge, some of the old masters who had survived planted new artistic seeds in post-war Cambodia and reopened Phnom Penh's School of Fine Arts to revive the dying legacy.

One of their first students was Prumsodun's mentor, Cambodia's leading choreographer Sophiline Cheam Shapiro, who founded the Khmer Arts Academy in Long Beach, California, in 2002.
"When my teacher taught me, she was literally passing on the love of her teacher's, the knowledge of her teacher's, the history of our people and the magic of the art form," said Prumsodun.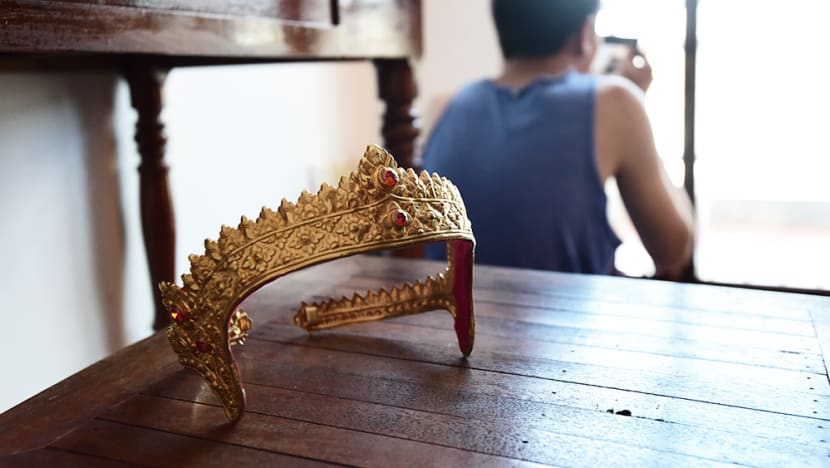 As a young boy in California's inner city, he was surrounded by violence, poverty and struggle. If it had not been for Khmer classical dance and the coaching of his teacher, Prumsodun said, he would have been nothing but invisible, another victim of the genocide.

"The teaching and the continuity of the art form itself is a gesture of healing, a testament to resilience of beauty. It's really the ultimate form of protest against the legacy of violence and the legacy of pain," he said.

"Dance gave me a voice and a platform to be seen and heard; it made me the person I am today."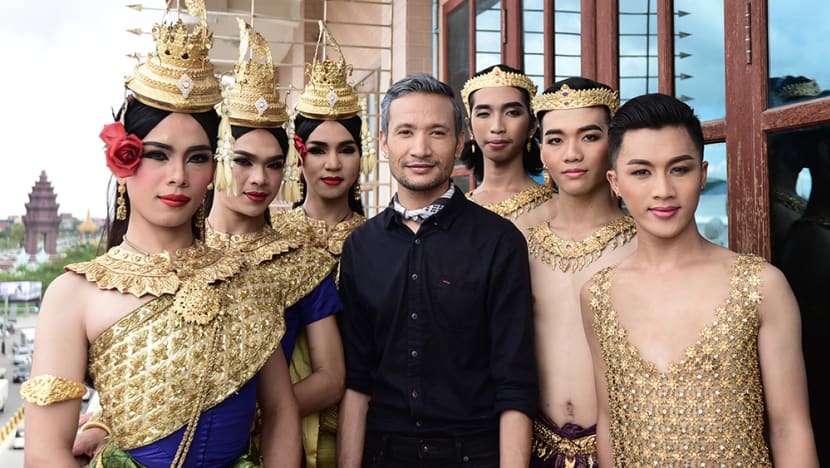 And that enriching experience is what has driven him to pass on the knowledge of Khmer classical dance to the younger generations in modern-day Cambodia, especially those whose dreams are constrained by cultural traditions and social values.

"It was this moment when I realised that my life got fuller and the meaning of my life got bigger," he said.

"We're giving this beautiful but vulnerable tradition a new life, new possibilities and new caretakers."  
Follow Pichayada Promchertchoo on Twitter @PichayadaCNA