'Difficult political decision' for China to ease zero-COVID policy despite widespread protests: Analysts
Chinese president Xi Jinping has attached the zero-COVID policy to his own legacy, one analyst noted.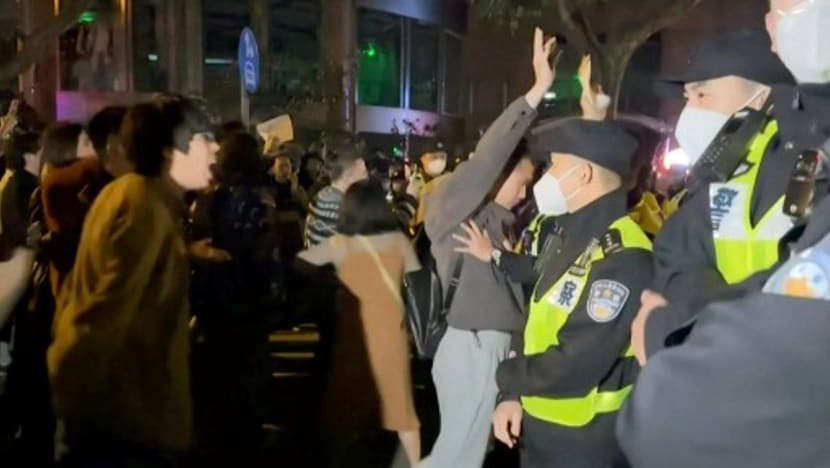 SINGAPORE:  Even as widespread protests over strict COVID-19 restrictions continue in China, it will be difficult for the country to shed its zero-COVID policy, analysts said on Monday (Nov 28).
They pointed to how intricately linked the policy is to Chinese President Xi Jinping.
"Xi Jinping himself has attached this zero-COVID policy to his own legacy, which means to say that anything that goes wrong will be attached to him, so he has to make sure that it goes right," said Dr Chong Ja Ian from the Department of Political Science at the National University of Singapore.
"Otherwise, there could be some potential backlash that they may face both on the streets, as we're seeing, but potentially within the party as well." The protests come a little more than a month after Mr Xi secured an unprecedented third term as president.
Associate Professor Alfred Wu from the Lee Kuan Yew School of Public Policy noted that the policy at the centre of the unhappiness in China is a "signature policy" of Mr Xi's.
"It's very, very difficult to change at this moment," he told CNA's Singapore Tonight on Sunday night, as reports of clashes in Shanghai between hundreds of demonstrators and police surfaced.
Protesters also took to the streets in other cities like Wuhan and Chengdu as students on several university campuses around China gathered to demonstrate over the weekend.
These protests come on the back of a fatal fire on Thursday at a residential high-rise building in the city of Urumqi, capital of the Xinjiang region.
Videos of the incident posted on social media led to accusations that lockdowns were a factor in the blaze that killed 10 people. 
PROTESTS OVER WEEKEND
While China has adopted a shift to "dynamic" zero-COVID, taking action whenever someone has been infected with the disease to eradicate it, millions are still under some form of lockdown.
In his speech at the 20th Communist Party Congress in October, Mr Xi called the policy "an all-out people's war" that has protected people "to the greatest extent possible".
Over the weekend, protesters could also be heard calling for both the Chinese Communist Party and Mr Xi to step down, which CNA's China Correspondent Low Minmin described as "extraordinary".
"He had presented himself as a picture of unchallenged authority in the country, but now that facade is breaking under the scale of these protests," she said. 
Another "remarkable" aspect of the protests is the restraint the police have shown, she added. For instance, in Shanghai, the police had blockaded the streets where the protests were taking place, and formed a human wall, but refrained from using force to disperse the crowd.
In one video, police could even be seen negotiating with protesters, she noted. This was a stark contrast to how recent protests in Guangzhou and Zhengzhou were handled, she said. 
"There had been police in anti-riot gear, wielding shields and sticks and beating people up," she said. 
She added that China appears to be at a "tipping point".
HOW WILL CHINA DEAL WITH THIS?
Mr Ross Feingold, director of business development at global security firm SafePro Group, noted that China has had experience dealing with such protests over issues like property disputes and migrant labour.
"It's (the protests) a concern but they probably are also thinking: 'We've seen this before and we know what to do' – whether that's to make some announcements that will make people happy, some kind of cash payout and then ultimately, the use of force," he told CNA' Asia First.
Dr Chong said that the authorities are likely to be hoping that the protesters' energy will wane, as with previous protests, and are therefore taking a "slightly looser" approach in their response.
"They're taking a leaf from what they've previously done, they let the protest sort of peter out before they clamp down. This is what they've done in various localised protests," he said.
However, he said that while the playbook might remain the same, the situation is different in that it involves protests around the country on the same issue.
"The smoothest way (to deal with it) is to let the protests peter out a bit, come in with more control in terms of the protests, but then while you're doing that, ease some of the COVID restrictions in practice, even if not in name," Dr Chong said.
AUTHORITIES UNLIKELY TO COMPROMISE
However, others said that compromise is not likely.
Assoc Prof Wu said that given the Chinese government's focus on regime stability, there will likely be many arrests.
"We predict the government will not actually have any compromise on this issue. They will try to silence people and also arrest more people," he said, adding that protesters may be accused of being controlled by foreign forces.
The government is "not bold enough" to make the departure from the policy, said Mr Feingold.
He added that it is a "very difficult political decision".
"Maybe they might at some point, but I think the protests might also slow down that schedule a bit, even if locally, in some municipalities, they will give the authorities a green light to relax restrictions to try and give people a pause from protesting," he said.