Commentary: Hard to back down from zero-COVID, even if Xi Jinping wanted to
Chinese President Xi Jinping cannot justify his unprecedented power if he makes mistakes, which backing down from zero-COVID will look like. But the reality is that China cannot keep this up indefinitely at the expense of its economy, says Robert E Kelly.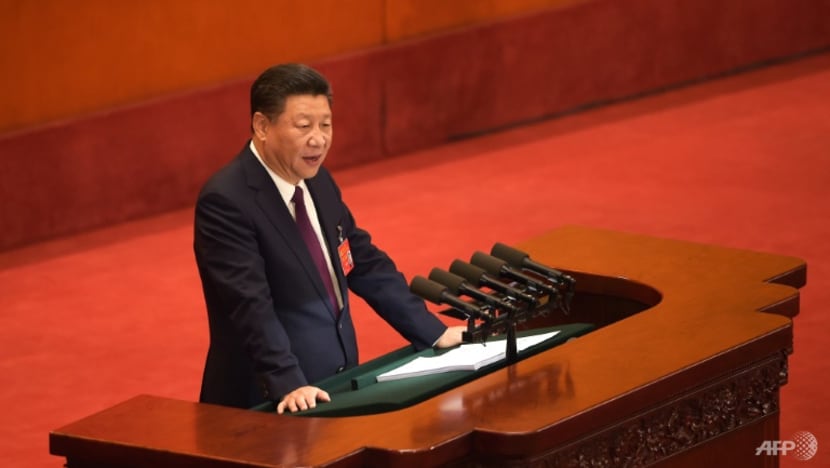 SEOUL: Chinese President Xi Jinping, in his speech to the 20th Communist Party Congress on Sunday (Oct 16), called his signature zero-COVID policy "an all-out people's war" that has protected people "to the greatest extent possible".
There is little sign he will back down from the policy that has mandated lengthy, citywide lockdowns and exhausting constant PCR testing that have proven extremely disruptive. These have exacted a toll on the Chinese economy and on the Chinese people.
There was a rare show of protest in Beijing in the days before the congress, with banners hung from an overpass, one reading "We don't want COVID-19 tests, we want to eat; we don't want lockdowns, we want to be free".
COVID-19 POLICY OUTLIER
But China's so-called shift from zero-COVID to "dynamic" zero-COVID seems like little consolation when millions are still under some form of lockdown, especially after an increase in cases after the recent national Golden Week holiday.
Outside of China, draconian approaches to fighting COVID-19 have faded away. Governments have faced tremendous political pressure for a return to normalcy. A few countries retain specific measures, such as South Korea which has kept its indoor masking requirements long after most countries have given it up.
China has also relied solely on domestically produced vaccines, mainly the inactivated virus vaccines developed by Sinovac and Sinopharm. These have been shown to be far less efficacious than the more globally used Pfizer-BioNTech and Moderna mRNA vaccines and goes some way to explain the recurrent need to lockdown the population
Similarly, vaccine nationalism was initially appealing in South Korea. The Seoul government too wanted to use a domestically produced vaccine. But when development failed, public pressure to use whatever worked was enormous.
XI'S POLITICAL LEGITIMACY TIED TO ZERO-COVID
Xi's zero-COVID policy is deeply intertwined with his leadership and reputation.
Without elections or serious political pluralism in China, his authority is tightly bound to his performance. If he delivers growth, national prestige and triumph over tough circumstances such as COVID-19, his rule is legitimised.
Conversely, if he fails, questions will inevitably arise if a different leader could do better.
All these tensions are now worsened by Xi's decision to stay in power beyond the ten-year limit on the Chinese presidency.
The legacy of Mao Zedong still deeply divides China, but his rule led to Deng Xiaoping introducing constitutional term limits in 1982, which were subsequently abolished in 2018. Informal party norms have also meant leaders cannot serve a new term after the age of 68, but Xi is 69 this year.
It is widely expected that the ongoing party congress will re-elect Xi to an unprecedented third term, which some think will likely morph into lifetime rule, making him the most powerful Chinese ruler since Mao.
But this comes with a cost. Xi cannot admit error. He cannot justify a lifetime presidency if he makes major mistakes.
And mistakes may be harder to avoid if his officials are less willing to question Xi's policies and decisions, such is the risk of one-man rule. Russian President Vladimir Putin and his disastrous war in Ukraine is a clear example of this.
Xi will find it hard to back down from zero-COVID right now, even if he wanted to, given the skyrocketing economic and social costs. Even calling his zero-COVID fight a "people's war" invokes Mao's revolutionary days.
WRECKING THE CHINESE ECONOMIC MIRACLE?
But the reality is that China cannot keep this up indefinitely. Not when the economy has taken such a hit.
The challenge of Xi's third term will be to deliver on his promises without wrecking the Chinese economic miracle which has long justified the party's rule. China has already backtracked from its 5.5 per cent gross domestic product growth target, calling it guidance, not a hard target.
For an economy accustomed to 5 per cent to 10 per cent growth in the last decade, the World Bank has forecast the country's annual growth rate for 2022 to be less than 3 per cent – a remarkable self-inflicted contraction - largely because of harsh zero-COVID measures.
China has also postponed the release of economic growth figures that had been expected the week when the party congress is taking place.
Until China uses better vaccines or learns to live with the virus as most countries have done, the lockdowns – and economic pain - will continue. China has a large pool of potential hosts for the virus to infect and reinfect.
Perhaps when the current party congress is over and Xi is secured in his tenure, he can start finding ways to ease off and the right narrative on how doing so is the right decision for China.
An exit from zero-COVID does not have to be abrupt. Hong Kong's gradual easing of travel restrictions could present a pilot model for the mainland to step back from zero-COVID in 2023 or even later this year.
The return of travellers to Hong Kong and the ensuing COVID-19 situation should be closely watched. This could give China time and opportunity to iron out issues or it runs the risk of keeping families apart for a fourth consecutive Chinese New Year.
Xi's rhetoric may double down on zero-COVID for now, but even he must know he needs an exit strategy before it undermines him.
Robert Kelly (@Robert_E_Kelly) is a professor of international relations in the Department of Political Science at Pusan National University.
China's 20th National Party Congress could be a turning point for the Chinese economy. Find out more on CNA's Money Mind: