Commentary: Trapped in its zero-COVID policy, a new homegrown vaccine offers China a way out
China's vaccine strategy thus far has been lacklustre. A new mRNA vaccine may change Beijing's COVID-19 strategy and help its diplomatic outreach, says Christian Le Miere.
LONDON: As it develops a new vaccine, the possibility is rising that China may abandon its long-held zero-COVID policy.
Even as other zero-COVID stalwarts such as Singapore, Australia and New Zealand have abandoned the strategy in the face of waves of the virus, particularly variants with a high transmissibility such as Omicron, Beijing has remained resolute in its policy.
But continued success in developing a domestic mRNA vaccine, the same technology used by Pfizer-BioNTech and Moderna, is changing the calculus in Beijing.
The results of the first stage of clinical trials using Walvax's ARCoV were released this week, with an immune response in up to 95 per cent of recipients.
The development of such a vaccine, combined with the completion of the Winter Olympics in February, would provide an opportunity for Beijing to loosen restrictions and at least implicitly end its strategy, giving the country a much-needed economic boost ahead of the National Party Congress later in the year.
The new vaccine could also deliver sizeable diplomatic benefits as well.
But reversing its strategy may be politically challenging. The Communist Party of China (CPC) has put considerable store in its ability to keep the population safe during the pandemic, often suggesting the data on deaths and cases reinforces a favourable comparison of its one-party political system to the more chaotic democracies of the West.
If a shift from zero-COVID leads to spikes in deaths, that argument will be undermined.
ZERO-COVID STRATEGY SUCCESS?
Beijing has long touted the success of its zero-COVID policy. In comparison to much of the rest of the world, China has tried to ensure that the various strains of the virus have been unable to gain a foothold in the country, leading to draconian lockdowns.
The results of this stringent policy are clear in the data. The only country with a population similar to China's – India – has experienced nearly 40 million cases and 500,000 deaths during this pandemic.
China, on the other hand, has seen just 0.5 per cent this number of cases and 1 per cent of this number of deaths, at 119,00 and 5,000 respectively. Comparison with the United States is even more stark, where 70 million cases have led to over 860,000 deaths.
But China's zero-COVID policy also comes at a cost, with the economy weakened and citizens inconvenienced. In late December 2021 and early January, the cities of Xi'an, Yuzhou and Anyang were all effectively quarantined, cut off from the rest of the country with residents largely barracked.
Although Xian is now emerging from a month-long lockdown, the zero-COVID policy remains in place.
Meanwhile, gross domestic product growth slowed to 4 per cent year-on-year in the fourth quarter, as consumption has stalled amid intermittent lockdowns.
VACCINE CHANGE OFFERS WAY OUT OF RESTRICTIONS
Beijing is trying to thread a needle: Ease restrictions on its population while minimising the probability of a substantial rise in cases. A new mRNA vaccine would help achieve that.
Until now, China has relied on two vaccines: Sinovac's CoronaVac and the Sinopharm vaccine. Both are inactivated vaccines, which use a weakened or inactive version of the virus to encourage your body to create antibodies.
By contrast, the Pfizer-BioNTech and Moderna vaccines use mRNA technology, which delivers molecules of mRNA into the body's cells and enables them to manufacture spike proteins found on COVID-19, which in turn leads to the creation of antibodies.
Clinical trials and real-world data have shown mRNA vaccines are more effective at triggering immune responses.
Until now, China has administered nearly 3 billion doses of its two vaccines to its own population.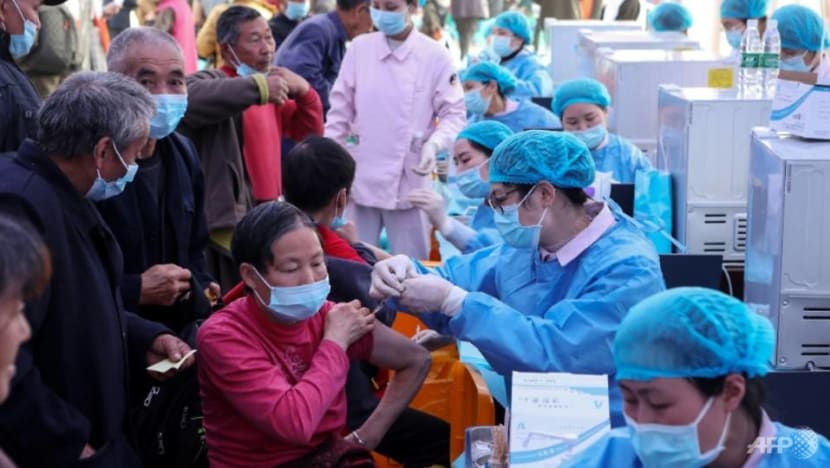 But with the lower effectiveness, combined with the limited cases in the country that has not led to any natural immunity, the population is particularly vulnerable to COVID-19. Hence, Beijing has been trapped in its zero-COVID policy.
An mRNA vaccine could offer a way out: Provide significant immunity to a large proportion of the population through another mass vaccination programme and then lower restrictions steadily.
The new vaccine could have other benefits too. Thus far, China's ability and willingness to export its vaccines has proven something of a qualified soft power boon.
Beijing has delivered nearly 1.4 billion doses of its vaccines, according to the Beijing-based consultancy Bridge, with China's Ministry of Foreign Affairs claiming these shots have gone to over 100 countries.
But those vaccines have also come with some negative headlines: Outbreaks in 2021 in countries that primarily utilised the Chinese vaccines, such as the Seychelles and Mongolia, undermined Beijing's message of philanthropy and competence.
An mRNA vaccine with a higher level of protection should deliver the soft power benefits of vaccine export with fewer potential negative connotations.
A NEW PATH
The effects of a Chinese mRNA vaccine can be significant, both in allowing Beijing to ease restrictions and in giving the country a leg up in the battle for global hearts and minds with the US over the pandemic.
But implementing a new strategy is not a simple path for Beijing. The CPC needs to persuade its population that while the zero-COVID strategy was the right call for the first two years of the pandemic, now a new strategy is warranted.
Moreover, while much national pride can be fostered in the domestic development of an mRNA vaccine, its creation years after a US version and the adoption of a more "Western" strategy comfortable with coexistence with COVID-19 may appear to be failure.
Thus, any change in strategy is likely to be careful and incremental, with a substantial vaccination process before restrictions might be eased.
A suitable timeline might see announcements around the time of the party congress in late 2022, giving a popular boost to the events. But whether the CPC feels confident enough to effect such a change is yet to be seen.
Christian Le Miere is a foreign policy adviser and the founder and managing director of Arcipel, a strategic advisory firm based in London.