BEIJING: Speaking to 28-year-old Zhang Yong in his one-room apartment in the Chinese capital, it's hard to miss the emotion in his voice when he talks about his family.
"My parents are getting older, so as their child, if I can spend more time with them, I think that's something that should be done," Mr Zhang told CNA. He is the youngest of three children.
It's been two years since the Sichuan native has returned to his hometown to see his parents in person - during Chinese New Year in 2020.
That happened just a few months after the COVID-19 virus was first reported in China, spreading across the country amid the festive travel rush otherwise known as the world's largest annual human migration.
The Spring Festival, as Chinese New Year is referred to in China, is when millions of people typically travel home for family reunions during an extended public holiday.
But fears that Beijing would come under lockdown like Wuhan, the epicentre of the outbreak then, weighed on Mr Zhang. He had just returned to his home in Sichuan's Luzhou two days before.
"At the time, I was playing cards with some others and in the evening my friend suddenly sent me a message on WeChat. He said if you don't come back (to Beijing), you may not be able to return," recalled Mr Zhang.
"I was frazzled. Not returning was not an option."
Concerned about the loss of income if he could not get back to his gym instructor job, Mr Zhang decided to make the trip back to the Chinese capital ahead of time.
He bought an air ticket bound for Beijing the very next day - the third day of Chinese New Year.
But little did he expect that the pandemic would drag on. His Chinese New Year would again be disrupted when he missed out on seeing his family in 2021. Mr Zhang heeded the call to stay in Beijing as authorities encouraged people not to travel amid fresh outbreaks in the country.
This year, China is racing to contain a fresh wave of the virus, including outbreaks of the more contagious Omicron variant.
"I MISS MY FAMILY"
With local infections being reported, Beijing is especially on edge. In an all-too-familiar message, officials - worried about transmission risks - are again encouraging people to stay put for the holidays.
"I am mainly worried about not being able to return to Beijing because the Winter Olympics are about to begin and there are other (big) meetings after that, so Beijing may impose stricter restrictions," said Mr Zhang.
The Winter Games begin on Feb 4 and China is to hold its annual legislative session in March.
But Mr Zhang is willing to take a chance this time.
"I miss my family," he said.
"My decisions these two years have been guided by national policy. But we also can make a choice and I think I just have to go back for the new year this year. It doesn't matter if I don't get paid for a month or two."
CELEBRATIONS FROM AFAR
For Christina Zhuang, home is even further away.
"Actually 2020 was the first time in my life that I didn't see my parents anywhere over Chinese New Year," said Ms Zhuang, a Beijing native who has lived in Singapore for the past six years.
"It really didn't feel like Chinese New Year anymore."
This year though, the 38-year-old is one step closer to a family reunion. Her mother has flown in from Beijing.
The communications professional said she was looking forward to visiting Singapore's Chinatown, decorating the home, and most of all, mum's homemade dumplings.
Celebrations with her father, though, will have to come from afar. The prospect of spending at least 21 days in quarantine was enough to put him off joining his wife and daughter in Singapore.
China's COVID-19 numbers have remained relatively low compared to many other countries, something authorities attribute to a "dynamic zero-COVID policy".
Lockdowns, mass testing and travel restrictions have become commonplace. The country's international borders have also largely remained closed off, with strict quarantine requirements in place.
"It has been a little bit inconvenient, but I guess it's necessary to exercise a certain level of control," said Ms Zhuang.  
Still, the mother-of-one is hoping restrictions will be eased soon.
"My son hasn't been in Beijing since he was one-and-a-half years old," she said.
"It's been almost two years. We'd like to take him to see my parents and the extended family again, and to give him a tour of the city where I grew up."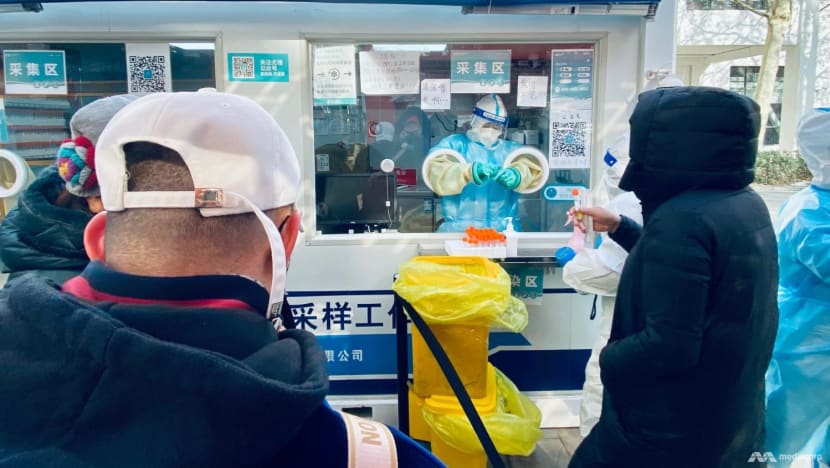 NO LET-UP
But some experts believe China will not ease restrictions anytime soon.
Professor Ivan Hung, the chief of the Infectious Diseases Division at the University of Hong Kong, said vaccination rates need to go up to about 90 per cent first.
China says about 85 per cent of its population has been fully inoculated.
"Perhaps with the booster – if necessary with a fourth dose, with the second-generation vaccine that has the Omicron antigen in it - then I think we will be in a much better position to relax and to open up," said Prof Hung.
"The virus will come in, but by then herd immunity will be very much built up and it will be sufficient to reduce the number of infections, as well as hospital cases."
Any mishandling of the pandemic is something that Chinese leaders want to avoid at all costs.
Besides the Winter Olympics in February and the yearly meeting of the national legislature the month after, there is also a key party congress in the second half of the year – when Chinese President Xi Jinping is expected to be handed an unprecedented third term in power.
"China really wants to do a good job and showcase to the world that it's got the pandemic under control and that its current measures are very effective against all kinds of variants," said Andy Chen, a senior analyst at Trivium China, a research company.
"China's soft power status and international image are at stake."