De-mining dogs to be given 'world-first' hero's retirement
De-mining dogs in Cambodia serve esteemed careers helping rid the countryside of buried explosives. However, many are euthanised or left without proper care once they stop working. To help them, a unique retirement home will soon be set up in Phnom Penh.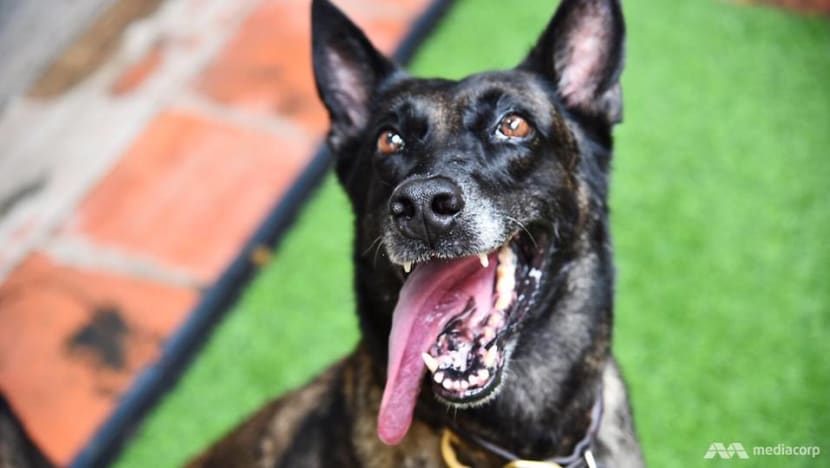 SIEM REAP, Cambodia: From a small enclosure, on the outskirts of Cambodia's second largest city, high-pitched yelping can be heard from afar.

Lying in the orbit of their protective mother, eight young puppies – just five days old – feed, roll, wriggle and cry, barely able to open their eyes.

This is a special litter.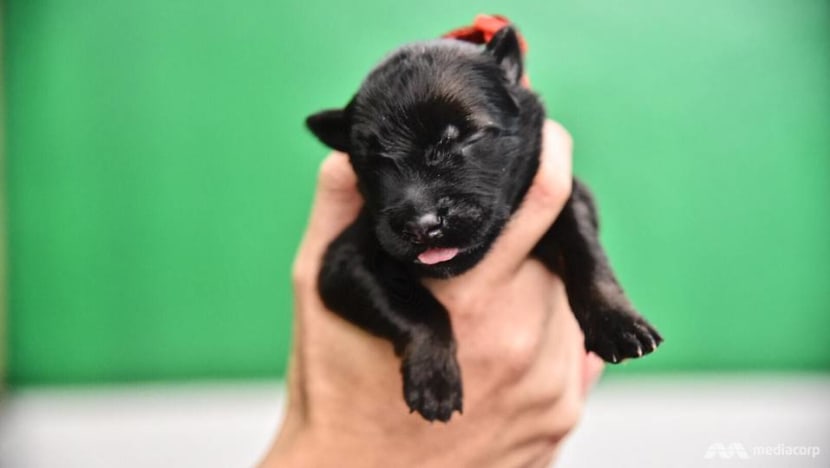 Even from this early age, the training has begun to transform these adorable youngsters into the future wave of dogs that will commit their lives to ridding Cambodian land of a lingering danger.
Soft music beams from speakers overhead, part of a systematic approach to keeping the puppies calm and relaxed – an attribute that is imperative to their success in the field in the years to come.
They will one day be tasked with independently locating land mines and unexploded ordnance (UXO), which continues to contaminate large swathes of the countryside, from Cambodia's once conflict ridden north-west border with Thailand, to the east where millions of bombs were dropped during the Vietnam War, decades ago.
The low-key breeding programme began just last year at the new Dog Training Facility run by Norwegian People's Aid (NPA), a global leader in de-mining operations that has been working in Cambodia for more than two decades. Their Cambodian facility is the first of its kind outside of its main canine centre in Bosnia.

Nearby to the puppy enclosure is where NPA is doing its more advanced training work. From three months old to field deployment age normally around 22 months, the dogs start to hone their skills to efficiently and safely detect buried explosives and alert their handlers accordingly.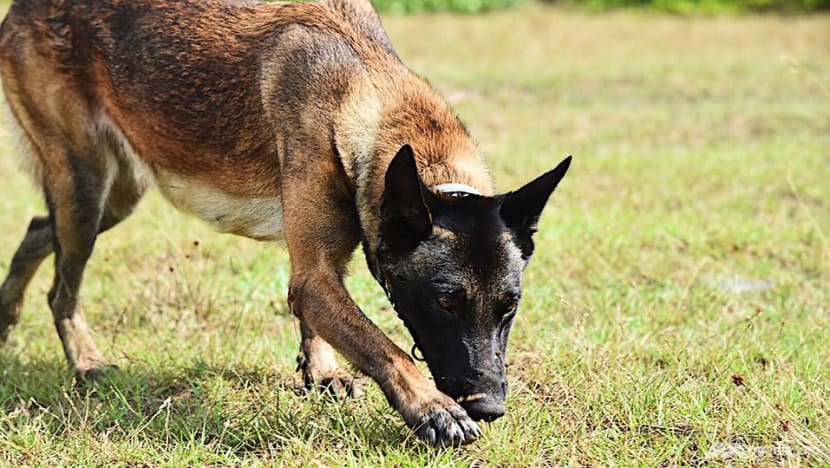 "The dogs are very smart, very intelligent. There is not any pressure on the puppies, everything is a game for them," said technical field manager Midhat Bajric.
These games evolve from finding – and being rewarded by – rubber toys, to tiny fragments of explosive material hidden in cars, brick walls and specifically designed canisters. The animals are taught to be disciplined, patient and focused.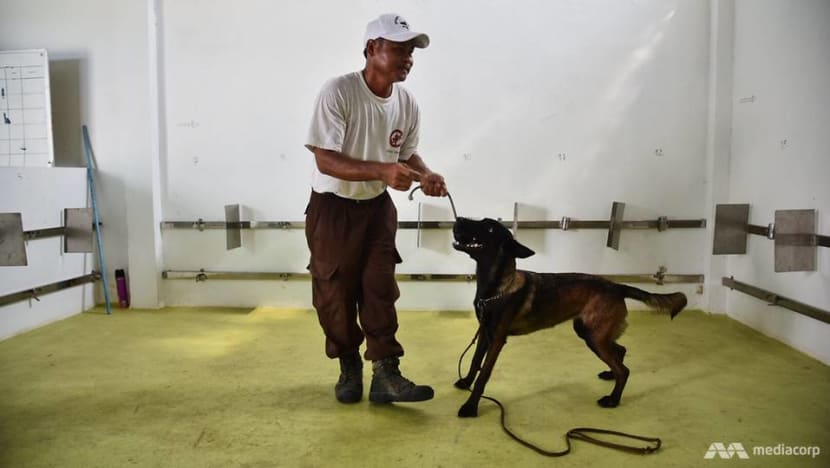 "Our dogs have to do what we request from them – communications and obedience must be of the highest priority," he said. "I have full trust in the dogs … I'm in real minefields and we haven't had a single incident or accident."
NPA currently has dogs deployed clearing cluster bombs in Ratanakiri province, as well as some loaned or sold for missions in Colombia and Iraq. In the past, they have also provided European-born animals to the Cambodian Mine Action Center (CMAC), which has also restarted its dormant dog-breeding program in the past year.
Even in training, the ability of the Belgian Malinois breed, chosen for its hunting instincts and good genetics, are remarkable to watch in action. When they get to the field, performing risky work, they might end up locating thousands of hidden explosives.
After their careers end, however, the future for these dogs is extremely uncertain. Like their work, retirement can also be a matter of life and death.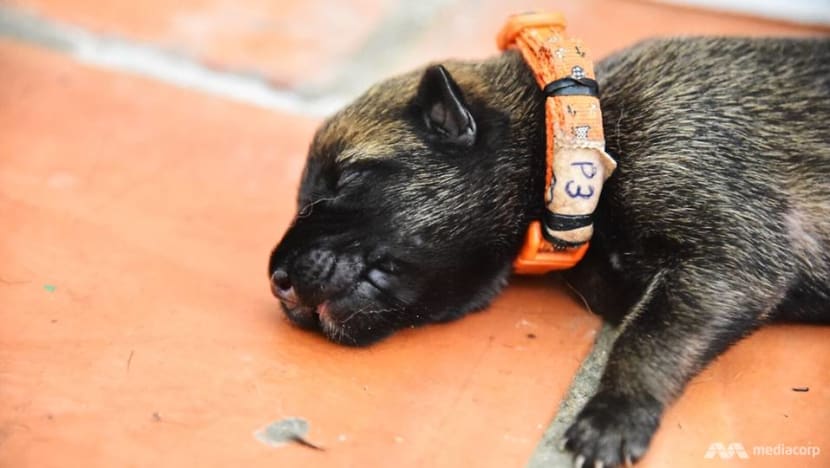 Yulia Khouri is used to responding to calls to help animals in need. The long-time animal welfare activist runs Animal Mama, a centre in Phnom Penh that looks after people's pets and also rescues animals from mistreatment or abandonment.
When she heard about Muriel, a retired de-mining Malinois, it seemed to be yet another case of a dog that needed a new home and some love and care. "She looked quite old, she wasn't in the best condition," Khouri said.
"At this point I looked at the dog and thought 'if she has to die, maybe she should die with us in a comfortable environment'".
Nowhere in the world is there a formal process for de-mining dogs when they retire, usually when they are about eight years old. Muriel was one example of many dogs in Cambodia, and around the world, whose life deteriorated when their working days ended.
Euthanasia is a reluctant but common endgame, despite the best efforts by organisations to have their animals adopted. Taking custody though of an older dog can be difficult and expensive, especially if they have medical issues or special needs.
"For us, it's a problem of what to do with the dogs when they are too old to work. We haven't had any systems in place to really take care of retired dogs," said Aksel Steen Nilsen, NPA's country director.
"When the day comes when the dogs should retire there should be a good system in place to secure them for the rest of their lives so that we know they will still have a good life," he said.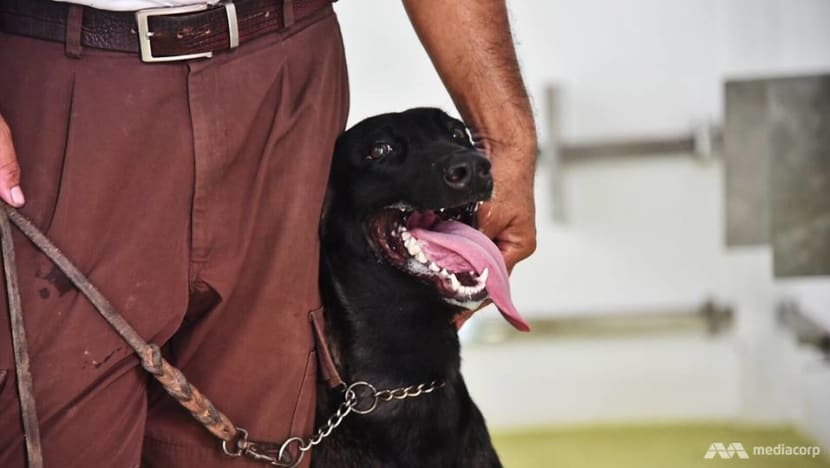 It is a heart-breaking situation for many handlers who build strong bonds with their canine partners over many years
"In my career, hundreds of dogs have passed through my hands. I love all the dogs," Bajric said. "Usually we are looking for some good families. But it's not easy."
This dilemma though has given rise to inspiration.
Far from deteriorating further, Muriel has actually thrived under Khouri's care. But as the months went be, she realised that dogs like Muriel who have worked their entire lives need specialised attention.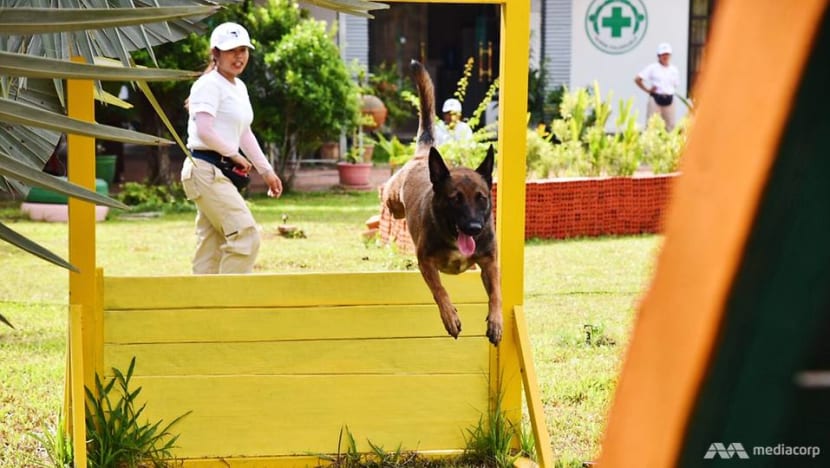 The idea for the "House of Heroes" was born. And Khouri is now in the process of building the foundations for the world's first retirement facility for de-mining dogs.
"We want to continue celebrating their life and give them a home, a good comfortable home for working dogs that have served humanity in a huge capacity," she said.
To be located in the Cambodian capital, Khouri wants the house to showcase the "extremely intelligent and loyal" nature of the older dogs, and help train puppies that do not graduate to be operational de-miners. Those dogs also face a difficult life if not re-trained to do alternative work or adopted.
She is aiming to finalise memorandums of understanding with NPA and CMAC in the coming weeks for technical assistance, and pending raising the needed finances, break ground on the complex by the end of the year. After that, every dog that leaves the custody of the de-mining groups – usually a handful each year – will have a home to go to.
"They will be monitored for life, their wellbeing, their health and nutrition…so they don't get euthanised because they're sick or living in pain."
Given the often strained or misunderstood relationship that exists between Cambodians and dogs, she also wants the house open to the public – for tourists and locals alike – and be a provider of jobs for people affected by landmines in the country.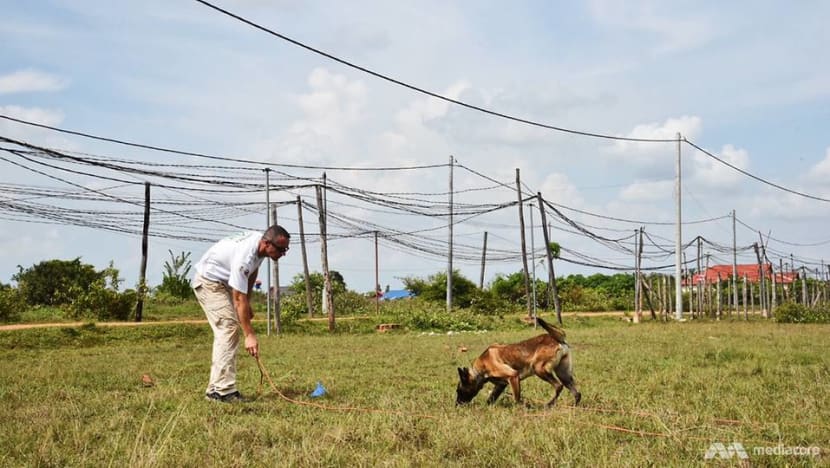 At least 64,000 people have been victims of explosive weapons in Cambodia, many of them children, according to NPA. Since clearing began, only about an estimated half of the country's mines or UXOs have been removed.
"We're trying to come up with some creative ways of raising funds, making jewellery for dogs and pets from the metals from the mines and explosives," Khouri said.
"I think when people actually grasp that this big black dog is a saviour of this country the paradigm shift is going to be quite significant."