SINGAPORE: Imagine a packet of char kway teow which has seen better days. It's a gloomy colour and is literally crawling. There are maggots devouring what is a perennial Singapore dish. 
The messy result of this invasion resembles some kind of scientific experiment. And actually that is precisely what it is. 
A research team at the National University of Singapore (NUS) is digging into some of the country's biggest challenges – food security and wastage – by taking a novel approach involving black soldier flies and their larvae. 
Black soldier flies are not a typical pesky type of insect buzzing around garbage and spreading germs as one might expect. They are clean and helpful when it comes to eradicating waste and will be mobilised on the front line of keeping Singapore spotless by helping decompose food, and acting as feed themselves. 
"The adults are not carriers of diseases, they don't bite, they're harmless, I actually think they're pretty cute, but that's just me," said Assistant Professor Nalini Puniamoorthy from the NUS Department of Biological Sciences.
According to the National Environment Agency, nearly 800,000 tonnes of food was wasted in Singapore in 2016, a figure that has been on the rise. The vast majority of it is not recycled. 
"Imagine going to a food court, ordering a bowl of fish ball noodles or bak chor mee, and then throwing it right out. Every day. So that's the level of food waste that we're talking about," Asst Prof Puniamoorthy said. 
The NUS team is using research and development to not only better understand the functions and fundamental biology of the black soldier fly, but modify its behaviour to better suit the country's urban space.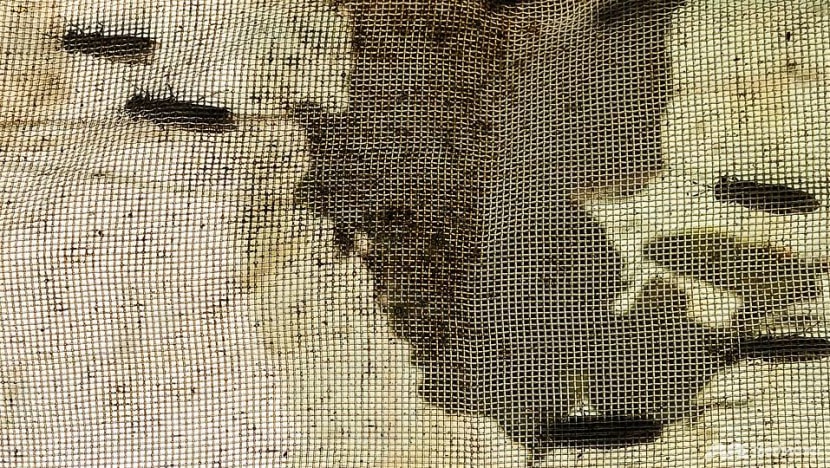 "Nature often times has the best engineering solutions," said Professor Rudolf Meier from the same research team, explaining how flies can actually deal with food waste. 
"These particular black soldier flies, they don't feed as adults, so all they do is they mate, they lay eggs, and then the larvae will feed," he said. 
"So you have a small facility where you breed the flies and where they're laying the eggs, that's a secure facility. And then you use the eggs for the recycling, the maggots come out, they feed on the food and then you kill them."
"They eat just about anything actually. It's a bit scary, you can put in anything and they will convert it into feed." That includes the plate of char kway teow placed by one of Prof Meier's colleagues, as well as other organic food waste the team is trialling. 
The goal is to make the flies breed as quickly and efficiently as possible and increase the number of maggots, which act as insect vacuum cleaners on any type of food needed to be dispensed with. The maggots themselves can then be fed to chicken or fish in Singapore's small farm operations. 
"What we're trying to do is select traits that make them efficient decomposers in the Singaporean context," Asst Prof Puniamoorthy said. 
"You would think it's meddling with nature but this actually occurs in nature. It's not necessarily completely altering nature, it's tweaking it here and there."
"FARM TO TABLE"
Away from the laboratories buzzing with hundreds of "romantic" flies and their crawling offspring, the experiment is being rolled out for real at Citizen Farm in Queenstown. 
The expansive 7,000 square metre green space is surrounded by Singapore's high rises on land formerly occupied by a prison, Jalan Penjara, and is an area that has been transformed from a dilapidated space to a functioning urban farm. 
Citizen Farm grows a variety of leafy and micro greens, edible flowers, mushrooms and insects, driven by the increasingly popular concept of "farm to table". Most of its customers are high-end restaurants looking to prepare sustainable and locally sourced produce to their customers in Singapore.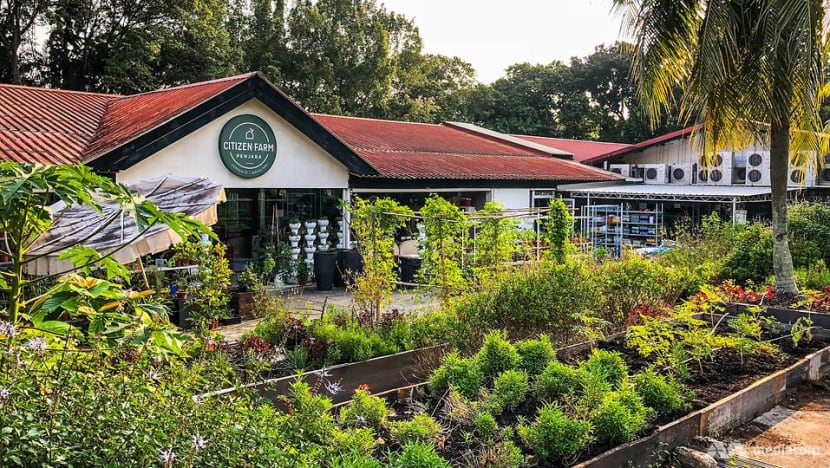 "We wanted to use this as a test bed to see how an urban farm can be integrated into Singapore so that when this is a successful model we can replicate it all over Jurong or even Kranji, and even in the Bukit Timah area," said the farm's head Darren Ho. 
"We have a commercial agenda. Our main source of revenue is to grow the crops and to sell the crops, whether to restaurants or consumers. But our social pillar is also very strong. We are able to rebuild that relationship between the food and the people, which is very lacking today in Singapore's society." 
The compost the farm uses to grow its vegetables is generated with the help of the black soldier fly larvae. Ho explains that food waste like brewery grains and coffee grounds from other companies is collected each week instead of being thrown away. It can then be broken down and transformed into fertiliser.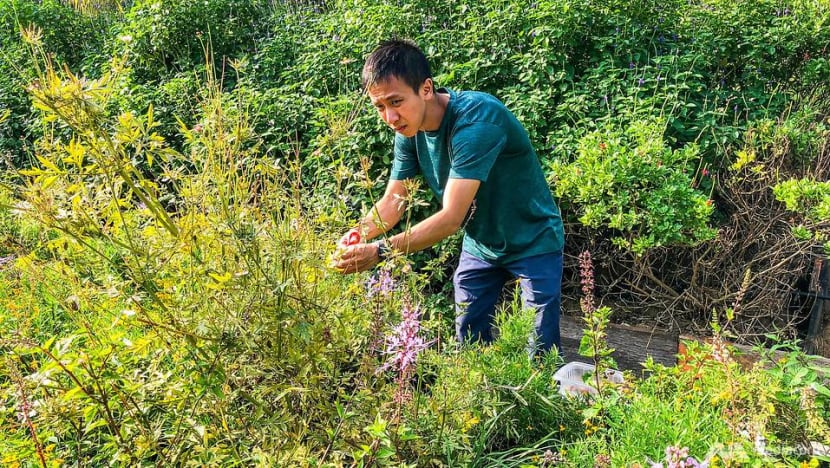 It is all part of an effort to make Singaporeans more aware of the source of their food and make the country more self-sufficient when it comes to feeding the population. 
"It's quite amazing how reliant we are on our political friendship with our neighbouring countries. That's where most of our food comes from, without which I think we will be eating grass," he said. 
"Urban farming provides that backdrop to be a self-sufficient city. Sure we may not be able to grow a lot of protein like pigs or cattle or chicken in the city, but there's insects to think about. Sure we may not be able to grow fruits, but we have flowers that provide the nutrients similar to fruits.
"At the end of the day, we are still in early stages of this but I believe that in the coming years, a lot more answers will surface."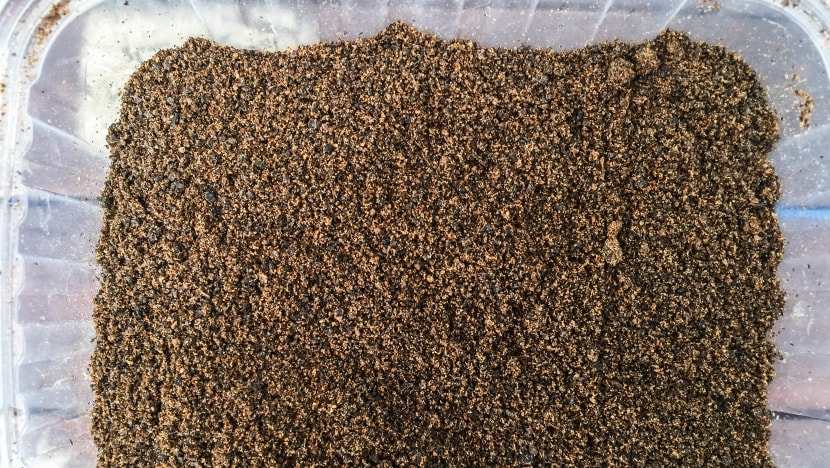 The NUS team is looking to further optimise the agricultural processes around the black soldier fly to create what they call a closed-loop system. That essentially means recycling waste to produce more food in Singapore, negating the need to use energy to destroy it or the cost and logistics of imports. 
The research and development is specifically looking at efficiency in a highly urbanised environment where agricultural manpower and space is lacking. But there are lessons that can be shared with other countries within Southeast Asia too, Prof Meier says. 
"Singapore is highly relevant to all the urban centres all over the world, because once you move into a city with millions of citizens you also have space problems. That applies to vertical farming, it also applies to what we're doing with black soldier flies," he said. 
And whether that means more people will be eating insects in the future, just like the ones being bred in the lab, he thinks it is actually likely. 
"It is very clean food. It's free of the bacteria that we normally would have to be worried about," he said, adding a little reluctantly that "he's not a big fan of eating insects". 
"Some people get a kick out of it. But not me."

For more on this and other projects around Southeast Asia, tune in to Tapestry: The Heart of ASEAN on Channel NewsAsia every Tuesday from Feb 27 to Mar 27 at 11pm.