Infighting in UMNO may impact outcome of Malaysia's 15th General Election
The party is also facing potential backlash from the public, dissatisfied with the calling of the election amid the monsoon season and uncertain economic conditions.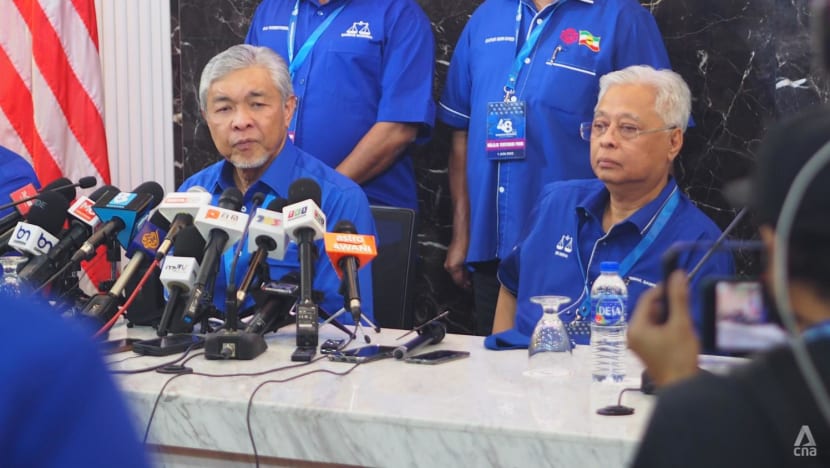 SINGAPORE: Talk of infighting is rife in the United Malays National Organisation (UMNO) camp, following the announcement of the ruling Barisan Nasional's (BN) line-up for Malaysia's 15th General Election.
UMNO president and BN chairman Ahmad Zahid Hamidi had announced the coalition's list of 160 candidates for the Nov 19 election, leaving out at least four caretaker ministers in Prime Minister Ismail Sabri Yaakob's Cabinet.
On top of this, BN is facing a likely split of its traditional Malay support base, along with younger, new voters who remain a wildcard in their political support.
INFIGHTING WITHIN UMNO
Observers said that while the race remains too close to predict, infighting among UMNO remains a key issue troubling the BN coalition.
Mr Ibrahim Suffian, programme director at the Merdeka Centre, said that Mr Ahmad Zahid had dropped many "long-standing leaders and stalwarts of the party" who were seen to be allies of PM Ismail Sabri, along with those who have been critical of Mr Zahid's leadership over the last couple of years.
"But the removal of these candidates, I think, created some problems on the ground, in part because they were replaced by newer, younger leaders, and that may precipitate internal sabotage," said Mr Ibrahim.
UMNO is also facing potential backlash from the public, dissatisfied with the party's calling of the election amid the monsoon season and uncertain economic conditions.
Mr Ibrahim said that while inflation and the overall economic climate is foremost on the minds of voters, political uncertainty is also a concern.
UMNO has triggered several state elections in the past year, he said, while recent developments leading up to the dissolution of parliament have created the impression that the party is pushing its agenda - without much regard for the public's concern about economic stability.
"Over the last four years, Malaysia has seen unending political conflict between the different parties that are vying for power, thus giving a feeling that the politicians care about themselves more than the public," said Mr Ibrahim.
VOTER BASES
This electoral contest is also different from past contests, where UMNO typically counted on the conservative nationalists and its economic track record to garner support.
"There is now a viable competition for the Malay vote which is Perikatan Nasional (PN) comprising PAS and (former Prime Minister) Muhyiddin Yassin's BERSATU," said Mr Ibrahim.
"So we noticed that among certain segments of the voters, many of them who are dissatisfied with UMNO or its present leadership, are opting to consider Perikatan Nasional."
Apart from the splitting of the Malay vote, there is also another sizeable group that parties will be trying to draw support from - youths and first-time voters.
Malaysia changed its constitution in 2019 to lower the voting age from 21 to 18.
Calling them a "wildcard", Mr Ibrahim said that about 27 per cent of the electorate comprises these young people voting for the first time. 
And it remains unclear which way their votes will go.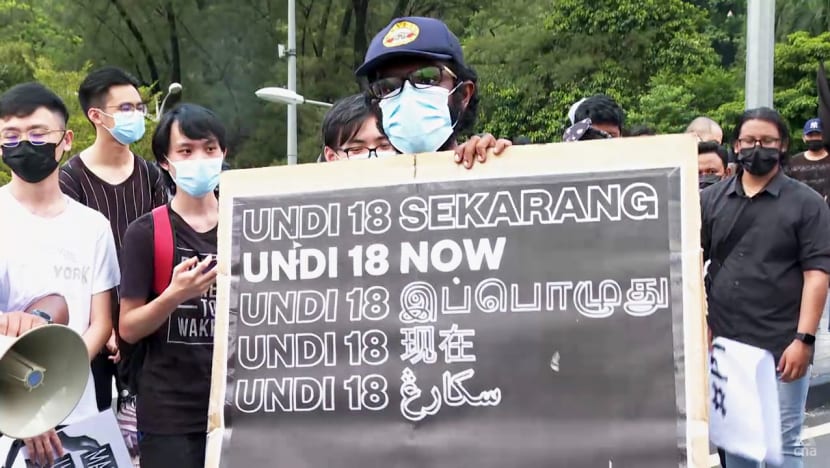 "One thing for certain is that the level of party loyalty among young voters is exceedingly much lower than the general average of the electorate," he said.
Mr Ibrahim called the new voters "an important bloc" - some 6 million - who will impact this election even if not all of them show up to vote.
He cited the Johor state election held earlier this year, as an indicator for how this segment will vote.
"In the Johor state election, less than half of these young voters voted for Barisan Nasional. And within that cohort of new voters, we have a significant number of Malay-Muslim voters voting for the first time. And even in Johor, which is the strongest base for UMNO and Barisan Nasional, they barely scraped through 50 per cent of the Malay-Muslim vote," said Mr Ibrahim.
This indicates a possibility that in other parts of the country, voters may give PN a chance, instead of voting for BN, he said.
Aware of this, BN has shaken up its line-up, with some 70 per cent of candidates being new candidates, many of them young and with impressive credentials, said Mr Ibrahim.
"So we'll see whether the process of rejuvenating UMNO's line-up can win over the hearts and minds of these new voters," he said.
Mr Hasan Jafri, founder and managing director of HJ Advisory, said that the opposition will likely touch on the issue of former Prime Minister Najib Razak's imprisonment, to gain voters' trust.
"I think they also want to make sure that the corruption agenda that they had in the last five years is continuing, that those who face charges are dealt with by the courts in a way that is fair, and ensures the influence of politics is reduced," he said.
Mr Ahmad Zahid is facing 47 charges of criminal breach of trust, corruption and money laundering over the use of funds in a charity foundation linked to him, and a decision is expected in January.
MULTI-CORNERED FIGHTS
"This is going to be the most difficult election in Malaysian history," said Mr Hasan, noting the high number of contestants at the Nov 19 polls.
He said there are 166 seats where the three main coalitions - BN, PN and Pakatan Harapan - are competing against each other, almost ensuring that the votes will be split.
One pivotal factor is whether people will actually head out to vote during the rainy season.
"Traditionally, if the turnout is not very high, it tends to favour incumbents, but we really don't know at this point in time," said Mr Hasan.