LANGKAWI, Malaysia: As a curiously timed mega concert roared on just over three kilometres away, the man presenting himself as the rockstar of Malaysia's general election campaign took to the stage in one last impassioned call to the nation.
Betraying his 92 years, Mahathir Mohamad, broadcast live on Facebook and around his coalition Pakatan Harapan's (PH) many ceramahs, delivered his final stinging rebukes of the sitting prime minister, Najib Razak, and the political institution that he shaped for decades before this most unlikely reincarnation.
But this was a more disciplined speech - scripted, deliberate and focused. It starkly contrasted with the often humorous and sarcastic speeches that endeared him to large crowds around the country in the past fortnight.

He touched on women's voices, the power and duties of religion, opportunities for youth and human rights.
Throughout this election campaign - which kicked off proper following nomination day on Apr 28 - he has embraced the energy of an opposition movement long craving power in Putrajaya. It has invoked the passion and momentum that longtime ruling governments rarely enjoy, a primeval sense among those supporters that change is coming.
And so it was as he addressed his adopted home constituency on the holiday island of Langkawi on Tuesday (May 8) night, election eve, that optimism hung in the heady atmosphere.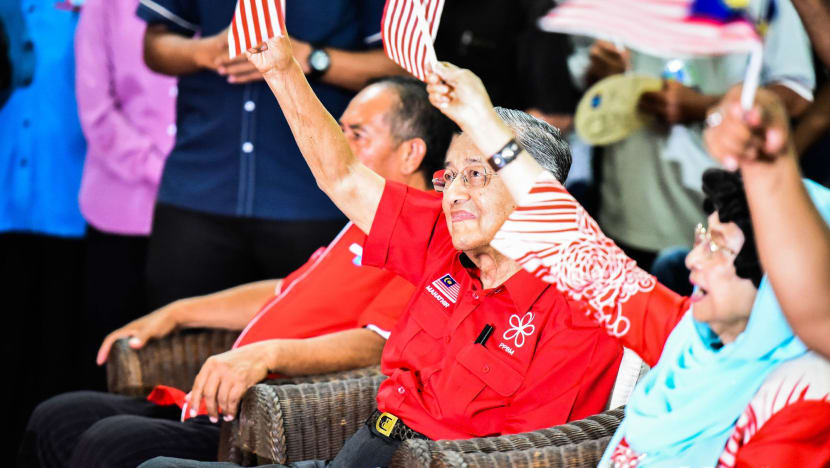 "Tomorrow we shall vote. It's our responsibility. Our votes determine our future as well as the next generation," he told a large crowd of local supporters.
"Only our votes can save our country. Bad luck will continue for the future generation if the current government continues to stay."
Success, should it come for Pakatan Harapan (PH), will have been hard fought, probably least of all by Mahathir, an eleventh hour instalment for the perceived mutual benefit of both him and his former enemies-turned-allies.
But when the contest has been white hot, the former prime minister has proven to those opponents why he was such a formidable leader.
Nostalgia and longing for halcyon days, no doubt, have been leading triggers for the country's majority Malay population to not only pay attention but consider how deep their loyalty is to a government that has led them for six decades.
"We just need to vote for Pakatan Harapan as that vote will save this beloved country from 'cash is king' leadership. In their eyes, our pride can be bought with ringgit. Don't allow our nation to continue this disgrace," he said.
His populist policy plan to scrap the unpopular GST and largely immeasurable promise to end what he calls a culture of corruption appear to have struck a chord more widely, even in ethnic communities that despised their treatment under Mahathir in the past.
But at the same time, he has done little to raise the standards of political debate, relishing the same brand of smearing rhetoric that has disillusioned young Malaysians most of all.
"Instead of fighting for its people, country and religion, Najib believes that trust can be bought with money. We are also not known as having democracy, instead as a kleptocracy – a country led by a corrupt and a thief," he said.
"We lost our pride. We are ashamed being known as Malaysians."
That has been an ever present factor during Mahathir's blitz of the country - his nightly rallies in eight different states and territories have been intoxicating but lacquered with his deep disdain and craving for revenge on Barisan Nasional.
Analysts and observers have openly questioned what a PH victory - implausible as it still remains - would mean for the future of the country. A succession plan is in place -  Mahathir to his once-protege Anwar Ibrahim, still an imprisoned observer of this stanza of the nation's history.
The crowds still scream for "Reformasi" during opposition rallies, perhaps a habit of old formed during Anwar's previous tilts, but now a cry tinged with irony when relished by Mahathir, the original target of the calls for political upheaval.
Anwar has been the invisible man of this campaign, seldom mentioned even though he could supposedly soon be prime minister. The details of such a transfer of power remain oblique.
His wife sits in the co-pilot's seat, the nominated deputy prime minister, one step back from a man who admits he "does not have much time left" to correct mistakes of times gone.
"Most people think I should rest. Yes, I want to rest. (But) one after another came and asked me to do something to save this beloved country. I can't let them down.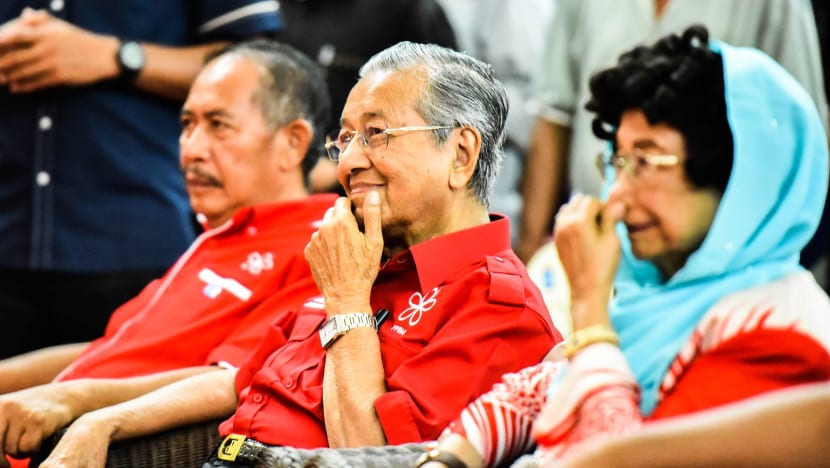 "This will be last time I can contribute in this fight for our country. It's not the job position that I look for, nor the wealth or rank. What I have is enough.
"But it's the happiness and independence of this country, the country where we were born and grew up in and find comfort in. This is what I appreciate most - my nation, country and religion."
Mahathir's first obstacle to consolidating his position will be to actually win the support of his local constituency. Langkawi has been a loyal servant to the ruling party - never failing to elect the local BN candidate since the island's formation as a constituency in 1994.
But he has the benefit of history here - he is widely seen as the catalyst for development and prosperity in Langkawi, transformed from a rural backwater to a gem in Malaysia's burgeoning tourism industry since the 1980s.
Najib has attempted to step out of Mahathir's long shadow on the island during the election campaign, arming himself with a bounty of spending promises worth at least US$159 million on 18 different projects. They are pledges hard to ignore for the local population who already enjoy favourable economic conditions under a duty free tax arrangement installed by Mahathir's administration.
Dr Mahathir has not had such deep pockets to delve into and during his campaigning events he has typically swerved clear of prompting voters to consider exactly how a government led by him would look, function and spend.
He has preferred to talk about debt - the one he claims to owe the people who supported him before and could do so again.
"This is the last chance to hear him and his message. He could be gone at any time," said one supporter attending the Langkawi rally.
"People are starting to wake up. They have to."
Mahathir probably has less than 24 hours to wait to know whether the country will be calling for an encore performance or if this was his final bow.