Malaysia floods force more than 66,000 people into relief centres; heavy rain expected in Johor, Pahang
KUALA LUMPUR: More than 66,000 flood victims were housed at temporary relief centres across five states in Malaysia on Tuesday (Dec 20), as monsoon rains continued to lash the country.
Bernama reported that a total of 66,718 flood victims had been recorded at these centres, with numbers continuing to rise in Terengganu, Kelantan and Pahang.
According to government flood monitoring data, the water levels of several major rivers including Sungai Golok and Sungai Lebir in Kelantan were considered dangerous.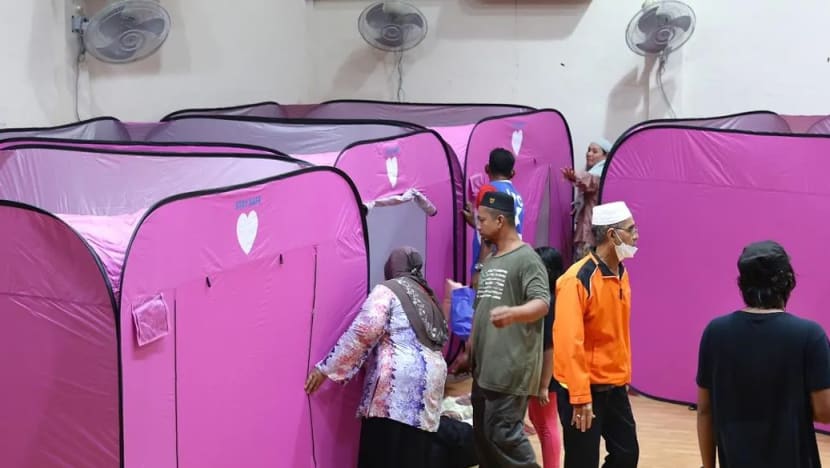 Minister in the Prime Minister's Department for Sabah and Sarawak Affairs and Special Functions Armizan Mohd Ali said on Tuesday that the heavy rain currently affecting Kelantan and Terengganu was forecast to head towards Pahang, Johor and western Sarawak.
Citing the latest data obtained from the Malaysian Meteorological Department (MET Malaysia), he said that data indicated the second wave of the north-east monsoon, which was previously predicted to last from Dec 17 to Dec 21, is now forecast to last until Dec 25.
"Accordingly, the government has requested that the disaster management committees at the respective state and district levels, especially in the hotspot areas for these three states, increase their level of preparedness," he said.
He also urged the respective disaster management committees to be vigilant of post-rain effects such as soil movement that could bring the risk of landslides, especially in areas near hillslopes.
Mr Armizan said that the flood situation in Malaysia was still under control, with regulation still at the level of the respective state disaster management committees.
As of 2pm on Tuesday, a total of 92,157 people from 25,635 families had been placed in relief centres across 11 states since the monsoon hit the country in early November, he added.
Deputy Prime Minister Ahmad Zahid Hamidi, meanwhile, assured residents that repairs needed for flood-related damage to roads and other facilities would be looked into immediately.
He added that the Malaysian Armed Forces had been told to mobilise assets to east coast states to facilitate the delivery of aid and supplies to flood victims.
According to Mr Armizan, the Malaysian government had also activated flood operation control centres (PKOB), managed by the National Disaster Management Agency (NADMA) and other agencies, which will operate around the clock.
"Apart from receiving reports and monitoring the flood situation in all the states, PKOB at the central level will also take intervention actions such as in Pasir Mas, Pasir Puteh and Rantau Panjang in Kelantan," he said.
He added that the government welcomed any contribution from corporate bodies, non-governmental organisations and private parties that could be presented to the government or directly to the parties involved.
Earlier, railway company Keretapi Tanah Melayu Berhad (KTMB) had announced changes to its Ekspres Rakyat Timuran and Shuttle Timuran train services in the east coast sector hit by floods.
The services are currently starting and ending at Tanah Merah station instead of Tumpat station, and KTMB will not be providing bus services between the two stations.
The Gua Musang-Kuala Lipis-Gemas shuttle service was operating normally, however.
"Passengers who do not want to continue their journey can cancel their tickets and get a refund according to the stipulated terms and conditions," KTMB said.