Malaysia MP clarifies comments on how floods can be opportunities to promote 'volunteer tourism'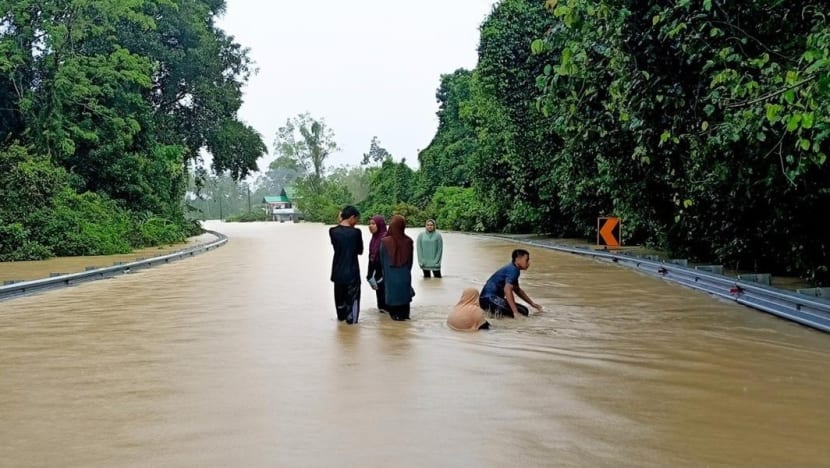 KUALA LUMPUR: Former minister Mohamed Nazri Abdul Aziz responded on Monday (Jun 20) to criticism over his suggestion that floods in Malaysia could be used to promote "voluntourism", or volunteer tourism.
In an interview on Saturday with Sinar Daily, the English portal of Sinar Harian, Mr Nazri said that instead of crying over the flooding situation going beyond control, Malaysia should seek opportunities by promoting volunteer tourism.
"If you know it is coming, then start planning now. Maybe we can have voluntary tourism where people come to the country to help us with the floods, and it is not about them coming here just to enjoy but for them to also learn," said Mr Nazri as quoted by Sinar Daily. 
On Monday, he reportedly said that voluntourism is a recognised branch of tourism by the United Nations World Tourism Organisation (UNWTO).
According to Malaysian media, he said that voluntourism refers to the activities taken by people who travel to help with disaster relief efforts, such as cleaning up villages or the coastline.
The Member of Parliament (MP) for Padang Rengas reportedly said that voluntourism is something that has been done in countries such as Haiti, and that it is nothing new.
"In our own country, there are young people who are very empathetic. They want to help and be volunteers ... bring in supplies, food and so on. They have the money and they are very eager," he was quoted as saying by Malaysiakini.
The former minister of tourism, arts and culture, also reportedly said that he was not asking people to go to disaster areas to enjoy themselves, but to study and understand what voluntourism is all about.
Over the weekend, Mr Nazri was criticised for suggesting that there is a potential for the annual floods in Malaysia to become a tourism attraction.
He said that the opportunity could be a silver lining while the country was facing economic challenges, by attracting foreign tourists to join volunteer programmes during natural disasters, The Star reported.
"When our currency falls, it's time for us to promote tourism for the country because it is cheap for them. The Singaporeans will come because they spend only one-third of their salary, and to them, our five or six-star hotels are just so cheap," he added.
Mr Nazri's remarks drew flak from opposition politicians, including Muar MP Syed Saddiq Syed Abdul Rahman. 
Mr Syed Saddiq said that efforts should be made to resolve disasters like floods instead of presenting them as a source of tourism, Malaysiakini reported.
Democratic Action Party (DAP) assemblyperson Young Syefura Othman also questioned Mr Nazri's remarks. Her constituency of Ketari, Pahang, was one of the worst-hit areas during last December's floods.
In a Facebook post on Sunday, she said that Mr Nazri's suggestion of using the flood situation to promote volunteer tourism showed how disconnected he was from reality. 
Malaysia experienced some of its worst floods in December last year and early this year. More than 60,000 people had to be evacuated from their homes when continuous rain hit several states, including Selangor and Pahang.
The authorities estimated overall losses of RM6.1 billion (US$1.46 billion) in damages to public infrastructure and private properties.