Safety in the spotlight in Hong Kong after string of Mirror boy band concert accidents
A giant overhead video screen fell on performers, leaving one in serious condition and sparking debate on whether shoddy concert production quality or insufficient rehearsal time is to blame.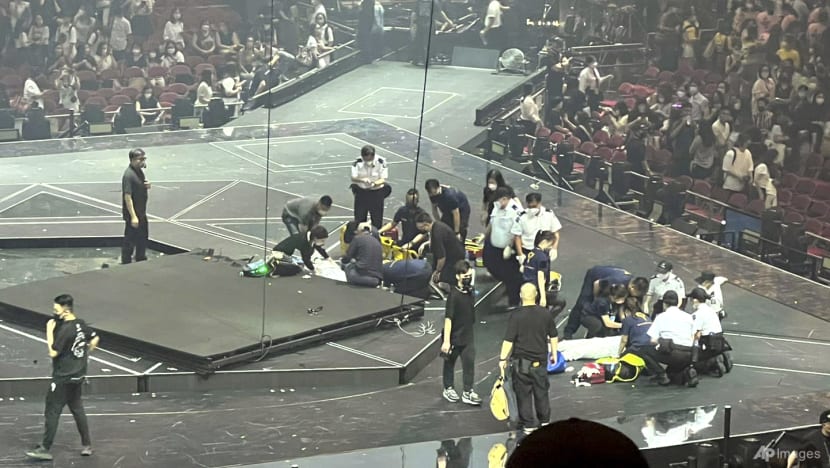 SINGAPORE: A spate of stage incidents involving Hong Kong's hugely popular boy band Mirror has prompted authorities to order an official inquiry, amid debate on whether shoddy concert production quality or insufficient rehearsal time is to blame.
Performers in the 12-member Cantopop band had suffered falls, injuries and near-misses since the start of a series of scheduled concerts at the beginning of this week.
The most serious incident occurred on Thursday evening (Jul 28) after a massive video screen suspended above the stage fell on two dancers, leaving one in a serious condition.
Concert organiser MakerVille, which is owned by Hong Kong tycoon Richard Li's telecom giant PCCW, told local media early Friday morning that the dancer, who goes by Mo, remains in intensive care.
A medical source told South China Morning Post that the impact dislocated the third and fourth section of the dancer's cervical vertebrae, leaving him unable to move his limbs. His head and lungs were also injured.
The other dancer sustained scratches and sprained muscles and was discharged after observation, said MakerVille CEO Lo Ting-fai.
Three audience members were also taken to hospital with one feeling unwell and the other two in shock, but none required treatment, the Associated Press reported.
None of the 12 members of Mirror was hurt.
A Hong Kong official told reporters on Friday that "from initial observation, a wire fractured and led to the fall of the screen and caused the dancers to be injured".
Experts told the South China Morning Post that such accidents were rare at the concert venue – the Hong Kong Coliseum – although one structural engineer questioned if stage equipment had been properly installed, and speculated that a lock to fasten the wiring for such giant video panels could have failed.
On social media, fans have questioned whether the production companies were at fault, with some commenters posting unverified claims of the firms being linked with the Chinese government.
Others shared the video with a #MadeInChina hashtag, saying the incident was a byproduct of China's uncompromising rule over Hong Kong.
The Art Design & Production firm clarified on Facebook that while it was responsible for props and stage surfaces at the concert, it had no part to play in the engineering or operations that led to the screen falling.
"SORRY FOR MAKING EVERYONE WORRY"
In an incident on Tuesday, Mirror member Frankie Chan lost his footing and fell about a metre off the edge of the stage while giving a speech. He later posted on social media, saying: "Sorry for making everyone worry … Only some bruises. I'm a lucky man." 
The night before, local media reported that band member Anson Kong nearly fell off a rising platform he was dancing on, adding that the structure and other stage features were shaking and wobbling under the weight of performers.
Fans also filmed other Mirror members appearing to miss dance steps while on dimly lit and fenceless structures, some suspended in mid-air.
An online petition urging concert organisers to better ensure safety was launched on Tuesday night, garnering more than 13,000 signatures since.
The Hong Kong government also contacted the organisers that same night to demand improvements, resulting in "dangerous moves" being cancelled and fences installed at the next performance on Wednesday, according to local media.
Thursday's incident – where the audience can be heard screaming in horror in distressing footage being circulated online – was the final straw for the Hong Kong government, which has halted the Mirror concert series until the stage production can be proven safe. 
Hong Kong film stalwart Louis Koo, who is president of the city's performing artistes guild, on Friday morning called for people to stop reposting the accident clips.
The key thing is to review the safety issues to avoid repeating the same mistakes, he said on social media.
Fellow entertainer Aaron Kwok meanwhile spoke out against reports that Mirror performers had only rehearsed for two days before the start of the concert series on Monday.
Kwok said he needed at least three to four days to rehearse at venues, and before that, he would also practise in a different venue with a replica stage, according to Variety magazine.
With the Hong Kong Theatre Arts Practitioners Union and several city lawmakers calling for a probe, Hong Kong chief executive John Lee issued a statement early on Friday ordering a thorough investigation and review of safety requirements at similar events.
This was to ensure the safety of performers, crew and the public, said Mr Lee, adding: "I express sympathy to those who were injured and hope that they will recover soon." 
Source: CNA/Agencies/jo(gs)