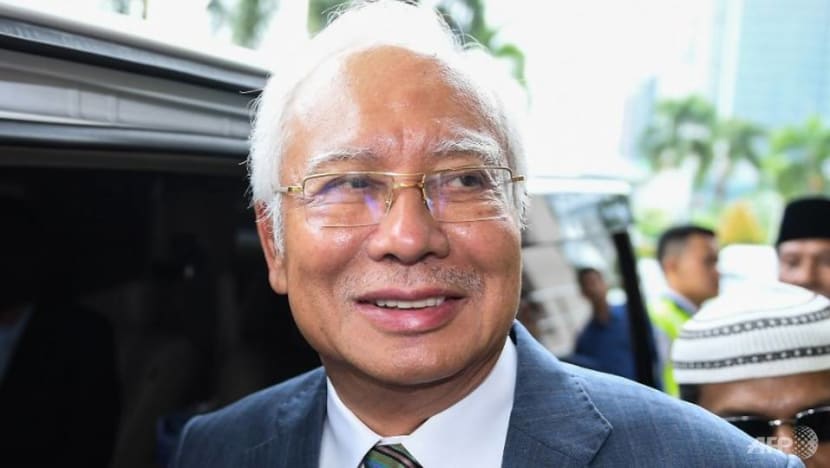 KUALA LUMPUR: Malaysia's former prime minister Najib Razak on Wednesday (Aug 15) denied claims that he is still interfering in the administration of the United Malays National Organisation (UMNO), saying he is just defending his legacy. 
The former party leader said ever since he resigned as UMNO president in May, current president Ahmad Zahid Hamidi has been free to decide on matters regarding the party's direction.
Najib said this was evident when Ahmad Zahid decided on the candidate to run in the Sungai Kandis by-election. 
"I am backing him (Ahmad Zahid) as the new president and giving him my cooperation but I am also entitled to defend my policies and clear misperceptions and manipulation of facts and figures by the new government. 
"I think it is only fair, self-defence is a right given to any individual and citizens; and that's why I am exercising my rights - to explain our policies and the reasoning why we've done certain things," he told reporters at the Parliament lobby.
Najib was responding to calls from several UMNO leaders including former minister Nazri Abdul Aziz who wanted Najib to distance himself from UMNO and allow the new leadership to rebuild the party.
Asked why he was present during the campaigning period of the Sungai Kandis by-election earlier this month, Najib said he was not keen to go down initially but he was invited by UMNO candidate Lokman Noor Adam. 
Meanwhile, when asked to comment on reports that Finance Minister Lim Guan Eng would be tabling a motion in the Dewan Rakyat for the Auditor-General and Public Accounts Committee (PAC) to reopen their probes into the 1Malaysia Berhad Development (1MDB) scandal, Najib said that he was open to it and would not object.
"I have no objections because we want to find out the truth, in fact, the PAC (during the previous administration) had surmised that I committed no wrongdoing as prime minister and finance minister then.
"So if the PAC wants to reopen its probe, it is their right, but I hope it is not being done just to find fault in the previous government," he added.