PHI PHI ISLANDS, Thailand: A boat cuts through waves in the darkness of dawn. Black silhouettes of limestone cliffs loom large as the captain steers his vessel towards a small bay within their cradle. 
It's Maya – the crown jewel of Phi Phi Islands in southern Thailand. 
With its powdery white sand and crystal-clear blue lagoon sheltered on three sides by towering cliffs, Maya Bay was chosen to portray a fictional paradise beach hidden from the rest of the world in Danny Boyle's 2000 movie The Beach, starring Leonardo DiCaprio. Its stunning beauty then shot to global fame and boosted mass tourism that brought some 5,000 visitors to the bay each day.
The sun is emerging from the horizon. Gently, the boat glides towards a deserted beach, bypassing young corals. On board, marine conservationists get ready to meet a group of new visitors to the bay – blacktip reef sharks.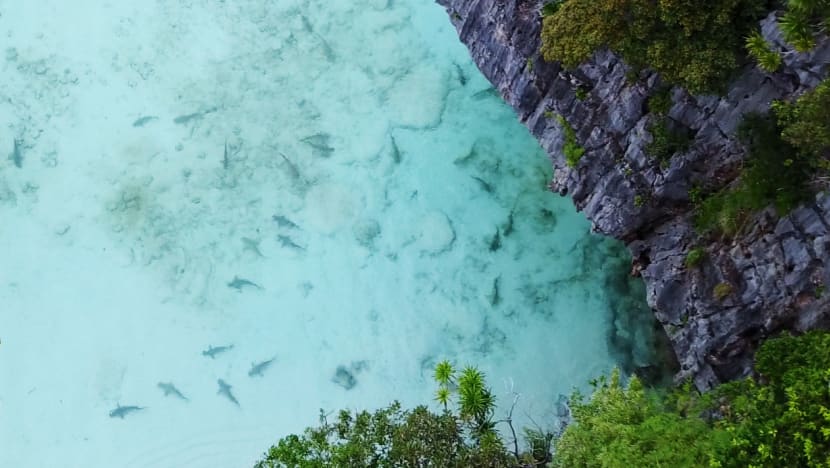 About 90 of them are cruising back and forth along the shoreline. Many more are further away in the calm glass-like water of Maya Bay. Their presence would have been unimaginable only months ago, when the area was packed with hundreds of tourist boats.
"When boats are gone, sharks return," said Dr Thon Thamrongnawasawat. He is a marine scientist from Kasetsart University who is deeply involved in the rehabilitation of Maya Bay.
The message is clear – they're here because Maya Bay is fertile again.
According to Dr Thamrongnawasawat, international shark experts found the phenomenon "very interesting" and believe the bay could be a "very important" place for blacktip reef sharks to give birth. Those spotted in the cove range between 50 cm and 150 cm in length, he added, with many of them staying in the area nearly all the time. 

"It's still unclear whether their presence will be permanent or seasonal. The small ones may leave the bay eventually but the big ones may stay on," he wrote on his Facebook page on Dec 1, encouraging a long-term study of blacktip reef sharks in Maya Bay. 
"This kind of area is very hard to find. It's a crucial opportunity for the global shark research circle."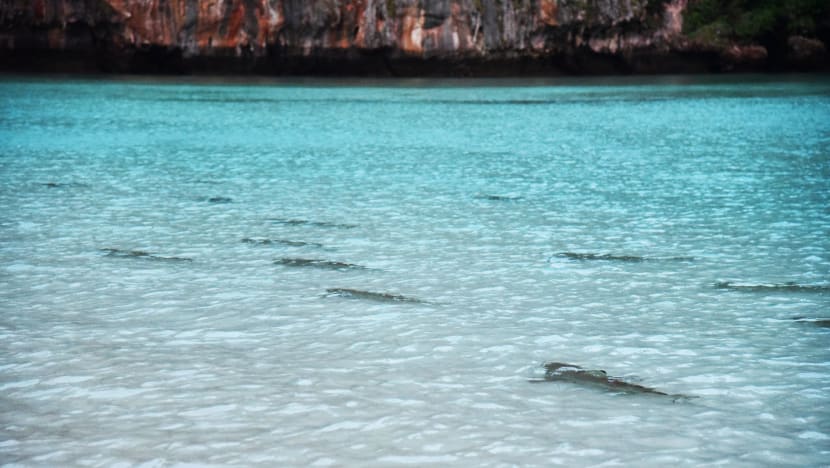 The increased population of blacktip reef sharks in Maya Bay came months after the area was closed to tourists in June as part of the national efforts to reform marine tourism and rehabilitate Thailand's marine environment. Marine scientists only sighted a couple of them before the closure and were surprised to see them come back in such large numbers within just a few months. 
Based on Dr Thamrongnawasawat's estimates, Maya Bay now has the highest shark population density in the Thai sea. Their growing population is a clear sign that the closure of Maya Bay is bearing fruit.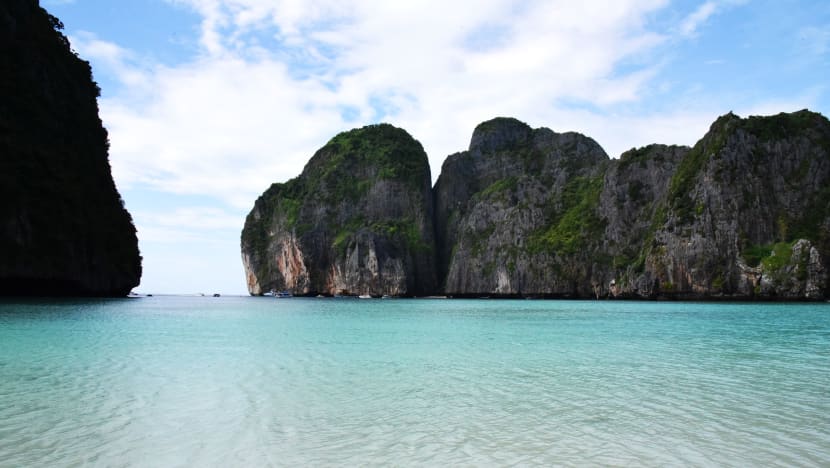 NATURE VS TOURISM 
Maya Bay is easily accessible from three major tourist destinations in southern Thailand: Krabi, Phang Nga and Phuket. According to the Ministry of Tourism and Sports, they are among the most popular coastal attractions frequently visited by international tourists. More than 18 million tourists visited the three provinces in 2017. 
While mass tourism generates income for local businesses, natural resources often suffer in the process. For years, Maya Bay was packed with thousands of tourists and hundreds of boats. Before the June closure, most of its shallow corals had been destroyed. Its once powdery white sand was brown and dense and there was hardly any fish in the bay.
"Traffic in the water was jammed and the beach was packed with people. It was like they just came here to check in on social media rather than to enjoy the atmosphere and the beauty of Maya," said Pinit Engchuan, assistant superintendent at the Hat Noppharat Thara – Mu Ko Phi Phi National Park in Krabi, where Maya Bay is located. 
According to him, about 800 tourist boats were allowed to access the world-famous beach. Today, with the ban in effect, none of them can go beyond a line drawn by national park officials. It is clearly indicated by yellow buoys and red flags that read No Entry in Thai, English and Mandarin. Visitors can still view the bay from a distance as well as swim, dive or snorkel in a designated area. 
"We closed the bay to allow nature to recover and to rehabilitate the reef. So far, we've grown 5,615 colonies of new corals here, not mentioning the remaining ones that are gradually producing new, young parts. That's why tourists can't enter the bay – their activities could jeopardise our conservation efforts," Engchuan said.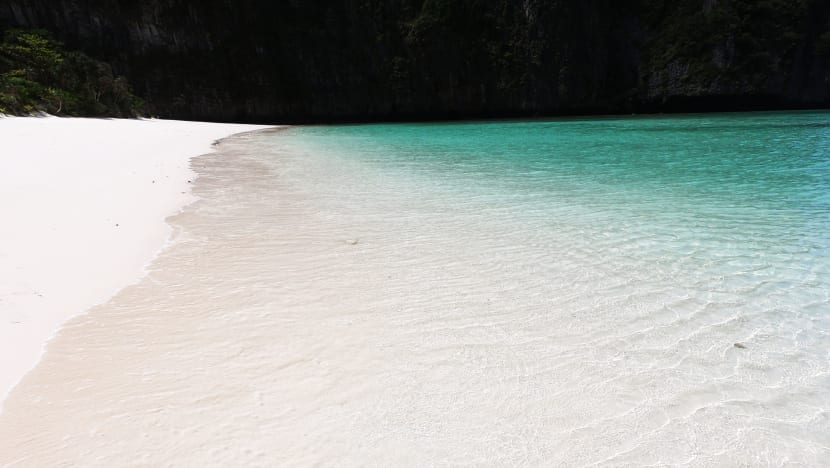 Despite the official announcement of the closure and several meetings between national park authorities and tour operators, tourist activities still secretly take place in Maya Bay. Several tourists have been spotted snorkelling, swimming and paddling in the forbidden area, where damaged corals are recovering. Certain tour operators and boat drivers still allow their clients to enter the No Entry zone when official inspectors are not around. 
"This is a national asset and I'd like to ask tourists not to enter the area we're trying to rehabilitate. It is clearly marked," Engchuan said. 
The time has come for us to choose between a temporary tourism business and a sustainable one that would last through the next generations.
MAYA BAY: TOURIST BOATS BANNED FOREVER

Since Maya Bay was closed to tourists, entrepreneurs have noticed a drop in interest in packaged tours to Phi Phi Islands. A tour operator told Channel NewsAsia she has lost about 40 per cent of her clients. 
"We're worried because we don't know how long Maya Bay will remain closed to tourists or if other places will be affected as well in the future," said Anchaleeporn Treewai from Guide M Travel and Tour Service in Krabi. 
According to Dr Thamrongnawasawat, tourist boats will no longer be allowed to enter the front of the bay. When Maya is fully rehabilitated and reopened, tourists will have to access it from Loh Samah Bay at the back and walk through a passage prepared by the Hat Noppharat Thara – Mu Ko Phi Phi National Park. A new pier will be built to accommodate tourist boats, which can only drop off and pick up visitors at Loh Samah Bay. 
"The ban on tourist boats is for good. We will not allow them to enter the bay ever again because if we did, there would be the same impact on the reef and the corals would die again," Dr Thamrongnawasawat said. 
The closure of Maya Bay is "very necessary", he added, as it is one of the most popular destinations that has been a victim of failed tourism management. But unlike two other islands previously closed by the National Park Department, namely Koh Yoong and Koh Ta Chai, Maya Bay is temporarily closed for rehabilitation and will be reopened when it is ready to welcome tourists.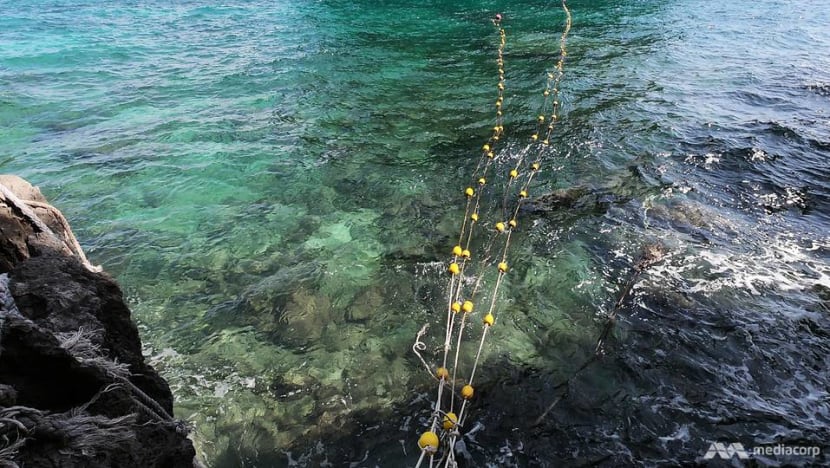 As for Koh Yoong and Koh Tachai, Dr Thamrongnawasawat said they were closed for conservation and will remain shut indefinitely. The measure, he added, is part of the National Strategy and Country Reform plan, which requires at least one conservation area in each marine national park with coral reefs. In Thailand, a total of 17 marine national parks will be affected. "But we may just close off the reefs that aren't so popular among the public," Dr Thamrongnawasawat added.

Meanwhile, tour operators wait to hear when the much loved Maya Bay will reopen.

"Our clients tend to have 1-2 days to spend. So, they want to visit the most beautiful places while they're here. When they learnt Maya Bay is closed, some were very sad," said Saithip Kanchan from Krabi Somphorn Travel and Service. 
On the wall behind her, a printed photo of Maya Bay reflects its past glory with nothing but a longtail boat, white sandy beach and blue water.

We understand the corals aren't strong yet but the closure also affects our businesses.
"THERE ARE RULES FOR EVERYTHING"
As Maya Bay continues to recover, preparations are being made to ensure it will never have to suffer the same fate again when reopened. Kasetsart University is leading a study about the tourism capacity of the bay as well as eight other tourist hotspots in the area.

"We have to allocate tourists to areas that can accommodate them instead of concentrating on just one place. It's like going to see a movie. If this round is full, you just have to wait for the next one. There are rules for everything," Dr Thamrongnawasawat said.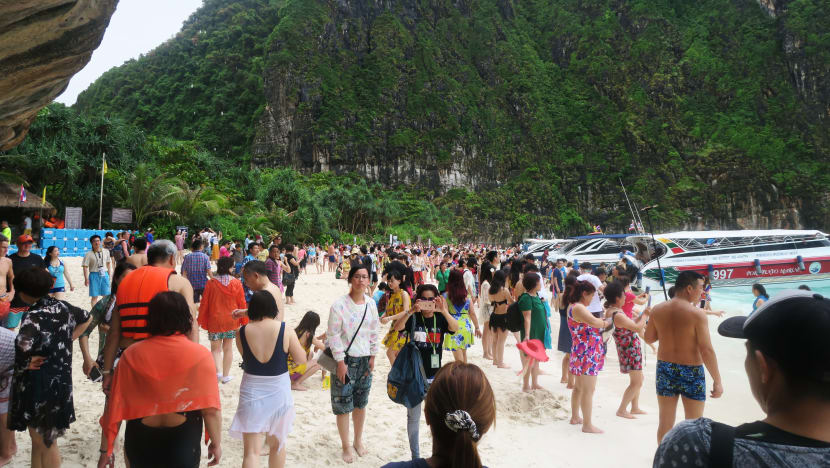 In Thailand, ecotourism is not widely practised. Its tourism industry still lacks environmental awareness. However, there are efforts to change the way tourists interact with nature, especially in marine tourism down south.

The Marine Discovery Centre on Phi Phi Don Island has been providing knowledge about ecotourism and marine science to tourists, students and civil servants for nearly one year, free of charge. Its staff teaches visitors how they can be environmentally-friendly when visiting marine attractions.

"Without the proper knowledge of how to take care of natural resources, the tourism business will be finished one day," said Kamolwat Napadolrungrueang, a marine biologist at the centre.

"Tourism and conservation has to go hand in hand. That needs to start with the right knowledge as it'll bring the right awareness," he added.

"Nature can recover itself. But when the impact from tourism is too much, just like humans, it's exhausted and needs to rest."