Dislocation and dysfunction hang over lives of Tacloban evacuees, five years after Typhoon Haiyan
Five years after Tacloban was devastated by Typhoon Haiyan, recovery projects are still riddled with problems. Less than one third of families displaced or forced to relocate after Haiyan have been resettled and those who have face a whole raft of new issues.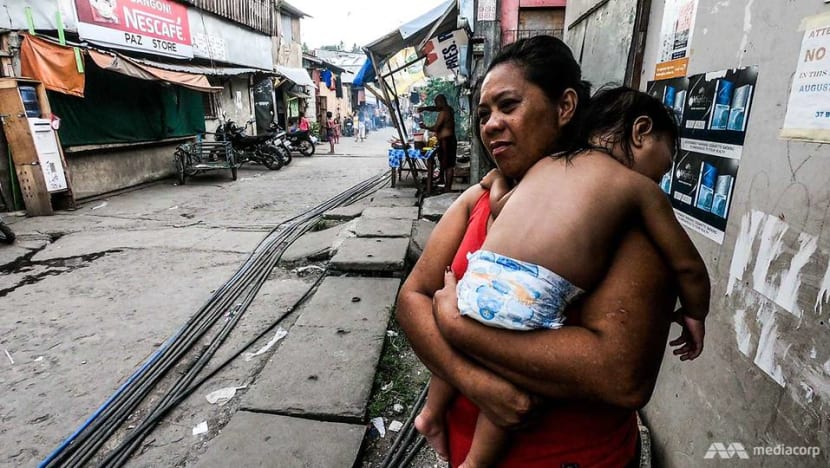 TACLOBAN, Philippines: For more than two years, Glen Valdez and his family became drifters in their own city.

Typhoon Haiyan - known as Yolanda in the Philippines - had devastated Eastern Visayas. One of the most powerful storms ever recorded left thousands of people dead, entire communities homeless and critical infrastructure ruined.

But the Valdez family had survived and were part of a wave of broken humanity that swept through Tacloban's shattered streets back in November 2013.

"After the typhoon, it was extremely difficult. We had no food and clothing, nothing at all. I needed to move and look for food from different barangays," Glen Valdez said.
"We found wet rice. We just dried it under the sun even though it didn't smell good anymore. Basically, we took whatever we thought would help us survive."
He, his wife Marites and their two daughters moved from a tent to a bunkhouse to sleeping under a tree, before they were finally, more than two years later, granted a house on the northern outskirts of Tacloban.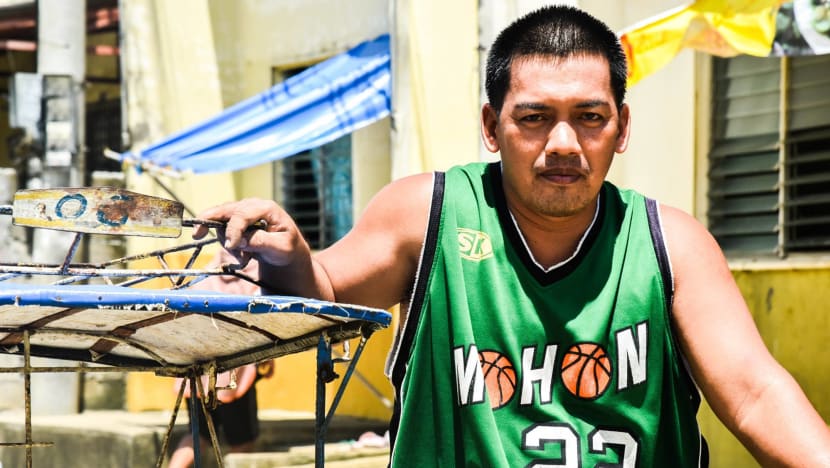 Their evacuation and relocation was part of a local and national strategy to shift victims of the devastating storm surge to a safe relocation site - permanently.

Some 14,000 families were identified as living in the "Danger Zone", coastal areas at risk of being hit by a future disaster. Most of the people affected were informal dwellers on society's lowest rung.

Plans were enacted to jettison these residents from large swathes of land by the sea, mostly shanty towns and fishing villages, and move them to previously undeveloped land in the far northern districts of the city.

"We are talking about 40 per cent of the population we're going to move to the north. 100,000 people. We're talking about a city within the city. That's big," said Tedence Jopson from the Tacloban City Housing and Community Development Office.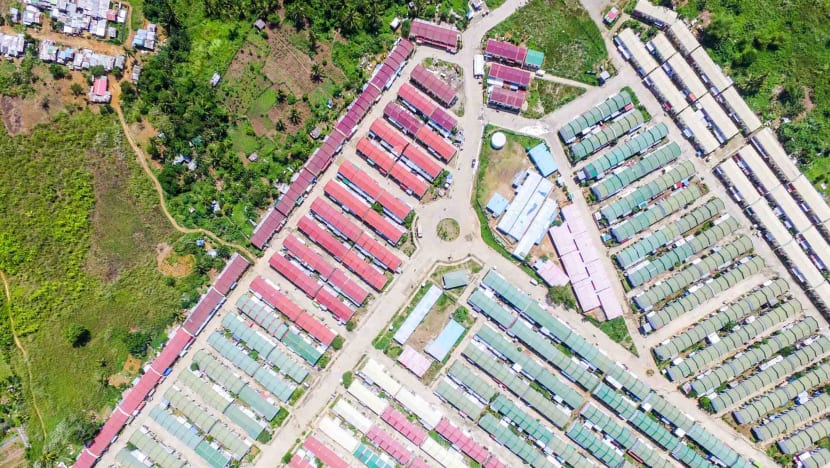 The task would have been ambitious and challenging in normal times. In the panic-fuelled days of desperation that turned into months of confusion and frustration following Haiyan, the relocation was destined to be painful.

And so it has proved to be. With all things considered, the Valdez family can be counted among the luckier ones.

"EXCESSIVELY DELAYED"

Housing statistics from June this year show that less than one third of families displaced or forced to relocate after Haiyan have been resettled. The National Housing Authority (NHA) has moved in only 3,952 families; it has a target of 13,390 units to be constructed.

It means most people are still living on land declared unsafe, in the path of a future storm surge or tsunami.

In addition, nearly 7,000 NHA units had been raffled off to their new occupants despite not being ready, a byproduct of pressure from the administration of President Rodrigo Duterte for work to speed up.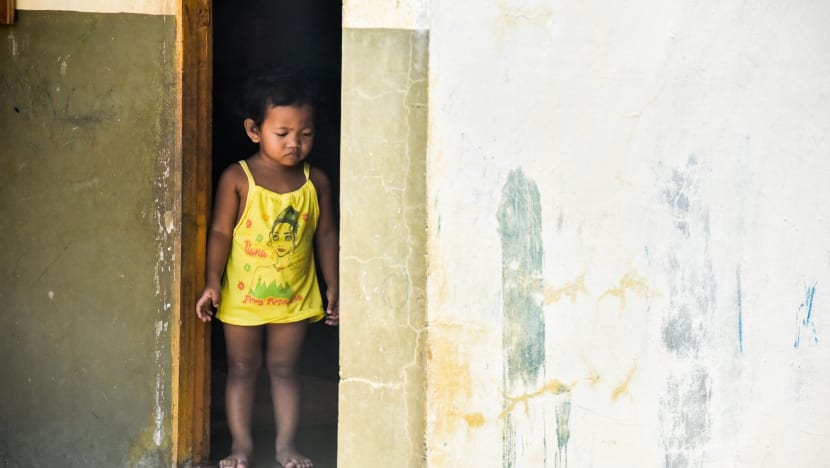 "The problem here is they like to give good news to the president, but they should provide the real situation. Saying it's raffled doesn't mean they've transferred," Jopson said.

"After the pronouncement of the President, the NHA says it's a marching order to move the people. I say it's a marching order to complete the houses.

"We have to be realistic about this, you cannot just give figures as these will affect all of the other services. We cannot just provide a house without any facilities. We have to synchronise everything. But the reality is it's not really synchronised," he said.

A litany of problems continue to riddle the new housing projects in Tacloban North. Many have been delayed, mismanaged, abandoned or deemed substandard by overseeing agencies. Jopson says nearly 4,000 units have been given to the wrong families, some of whom now have two or three in their name.
The National Economic Development Authority (NEDA) produces regular reports on the status of construction projects as part of redevelopment post-Haiyan. These reports paint a depressing picture of some of the most dysfunctional projects.

"There are issues of quality, drainage, unclean water, wastewater management, inadequacies that will affect them later on, utilities and livelihood, transport, schools and lately security," said Evangeline Paran from NEDA's Project Monitoring and Evaluation Division in Tacloban.

School buildings being constructed at Ridge View Park, Glen's new community, have been "excessively delayed" because the built access road built was inadequate for heavy vehicles.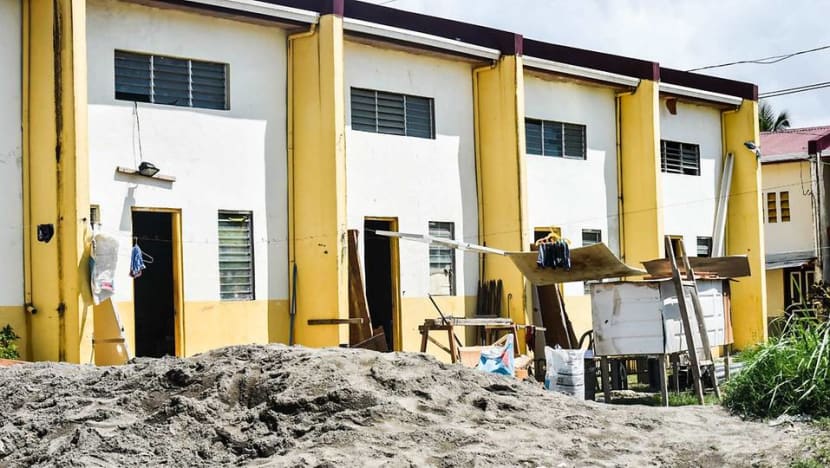 At Coconut Grove, construction continued while a termination order was being sought at the same time and "repulsive" odours were present due to septic tank problems. "Inefficient construction practices" delayed 500 houses at St Francis village, where rain washed away cement.

Construction contracts had expired at Villareal housing project and multiple extensions had not been approved. At Ver Gabriel's Heights subdivision, almost 100 unoccupied houses were built two to three metres from the edge of a hill, "at risk of landslides" and "causing multiple fatalities". There was no sewage treatment plant, causing "potential health hazards and discomfort".

Matlang Heights suffered from "unworkable site conditions" and a lack of manpower. Eastwind Residences in Guiuan had a possible lack of water, despite people already moving in while Marbut Ville project was suspended due to "threats from insurgents".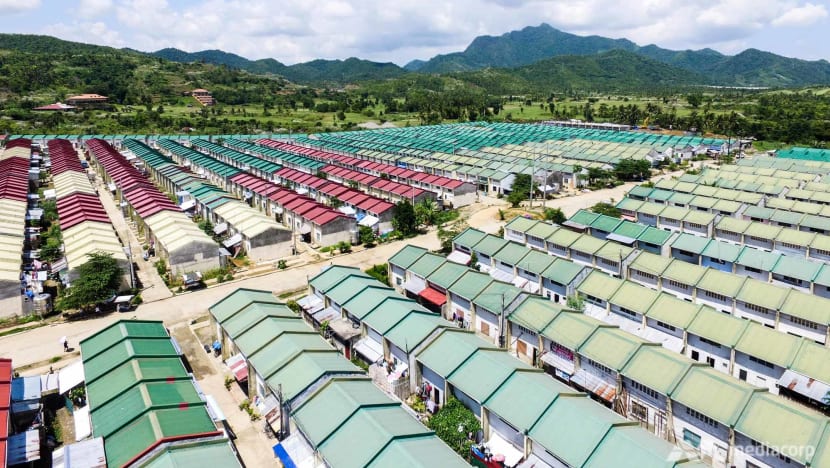 Paran said the issues were apparent from the very beginning. The reliance on a string of sub-contractors affected accountability and workmanship. And the locations selected to build new houses were too far from the city centre and the sources of livelihood for the evacuees.

"There were many issues. Firstly where to locate the evacuees. Because we don't have enough government-owned land and some locations are very far from the city. They don't want it and they don't like it there," she said.

"Initial plans for livelihoods were not connected with relocation. Many feel the approach is compartmentalised and not coordinated. Later that was the role of NEDA to bring them together. It will not end after five years."

Officials from the NHA in Tacloban told Channel NewsAsia that they were not available to be interviewed.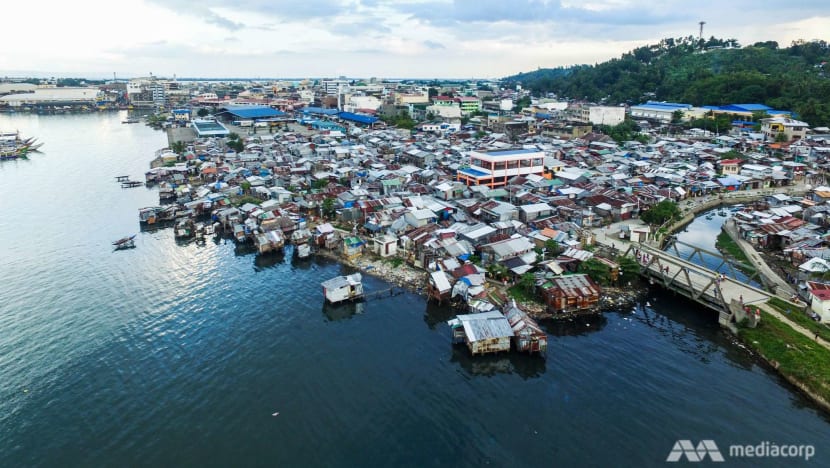 THE SEA WAS REACHING FOR THE SKY

Glen Valdez says he is happy to be in a safe, comparatively comfortable home with his family. The situation could be far worse. But he cannot deny that the conditions at Ridge View Park are testing.

"The most challenging thing here is the water supply. There are trucks that deliver water but you need to fall in line quickly, or else there won't be any water left for you. People already quarrel," he said.

There is little available work for anyone in the distant and dusty estate. Groups of men sit in the shade of tents gambling and drinking beer instead. Valdez rides his pedicab when he can and is fostering a small vegetable garden behind his house that he hopes can soon boost his earnings.

With the spate of incomplete housing projects and inadequate living conditions, authorities concede that many families now keep two houses, their new one and their old one. They will not abandon their former communities until forcibly made to.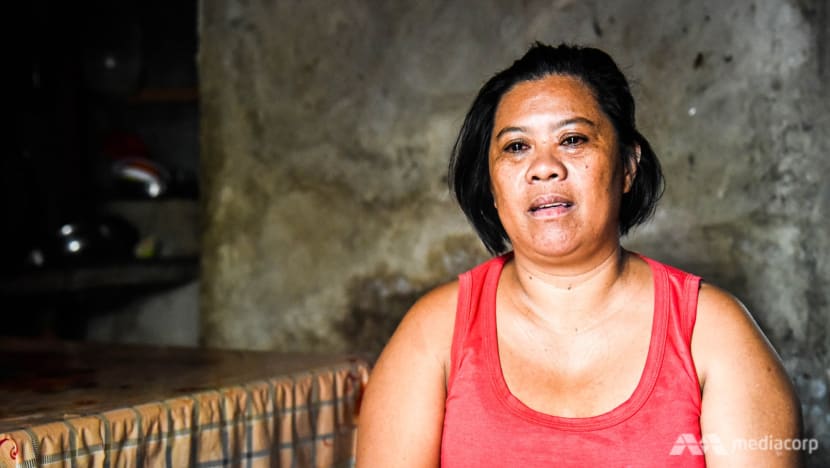 Ms Jocelyn Calbera lives in Seawall, a poor slum cluster facing Cancabato Bay in central Tacloban. The area took a direct hit from a 5m high wall of water and is squarely in the zone where officials no longer want people to reside.
Yet five years on from Haiyan, Ms Calbera's new house is not ready. She still lives surrounded by distressing memories.

"It was really intense. It seemed like the sea was reaching for the sky," she said, recalling her experience of surviving Haiyan. "My two children and niece almost drowned as the current was really strong. A lot of people were pleading for help at that time. It seemed that the strong winds were meant to kill us all."
Ms Calbera wants to move - she says the new house site being prepared "looks good" - but does not want to go until everything is properly prepared. In the meantime, her children can go to school and she sells ice to make a living.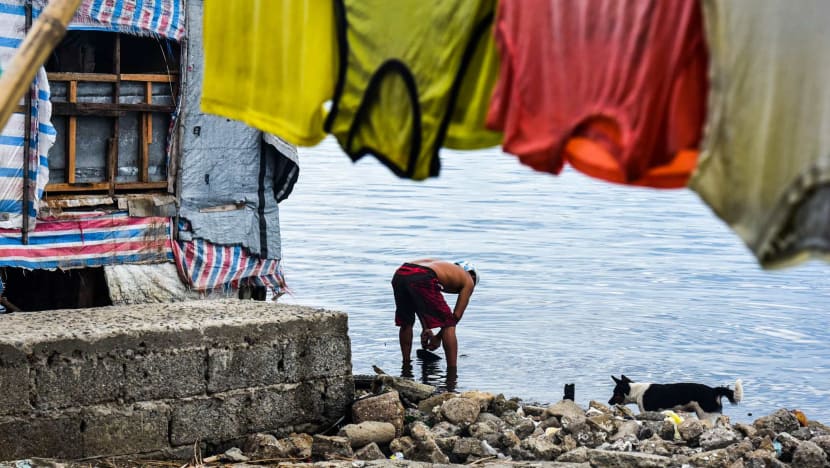 "We were strongly advised by our barangay captain to leave this place once everything's all set, including a good source of transportation. Though we were really thankful that we were given those houses, we still really prefer living here," she said.
Soon, they may have no choice but to leave. Local city authorities have earmarked the very same "Danger Zone" land the seawall survivors live on now not only for evacuation, but for redevelopment too.
A recent government ordinance will allow for areas deemed unsafe for residential dwellings to be recast as commercial zones, for restaurants, hotel and retail outlets.
Lumen Tabao, the officer-in-charge of the Tacloban City Information Office, the local government's media arm, says the aesthetics of the seaside slums are a "major concern", as the city looks to build its presence as a major regional business hub, tourist draw and magnet for new investment.

"They can relocate and be safe and then the city can develop the area for tourism. It's going to take some time. We just hope that we can transform the people's mentalities," she said.

She says the original target was for all informal settlers to be relocated by the end of this year but that plan is being scuppered by the NHA's delays in finishing housing projects.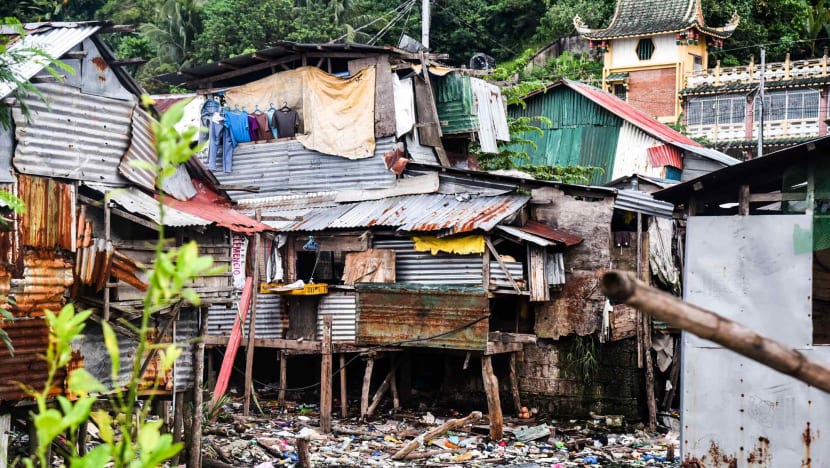 THE GREAT WALL

At the same time, there remains anger about a major national infrastructure project, dubbed the "Great Wall of Leyte", a 27.3km concrete tide embankment being constructed across 50 coastal wards.

It is designed to prevent a recurrence of the storm surge, the deadliest aspect of Haiyan, but for Tabao, the embankment will directly harm both tourism and livelihoods.

"I'm really sad. We used to say before that money used for the tide embankment could have been used for the livelihood component. But there's minimal resistance as compared to before," she said.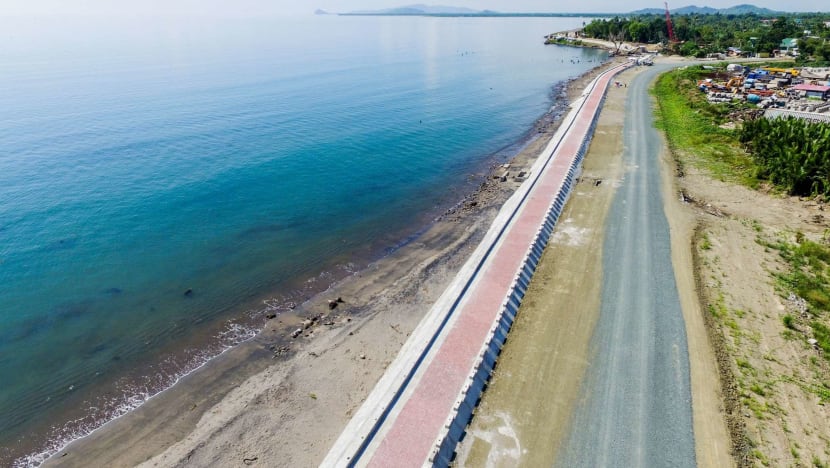 Fishing communities are still furious at the project though, which they argue will not provide guaranteed protection for residents and will also devastate their industry by blocking access to the sea. Lozanto Castillo Jr, the chairperson of the Tacloban Fisherfolks Urban Association, estimates that up to 18,000 fishers will be adversely affected.

"It has a huge impact since, in essence, it is building a wall on the coastal areas where our boats dock. The fish that naturally inhabit the coastal zones will be gone," he said.
"The fishermen who were already made to evacuate are doing other meagre jobs elsewhere, yet they still find themselves going back to the sea, regardless if they already live in the housing areas. The fishermen always find their way back to the shore."
He says the association requested more durable homes be built a safe distance from the shore, to let fishermen continue their work, and mangroves to be planted instead of building the wall.
"We keep on asking for help but they just don't really care. Politicians just keep on promising things. Same situation, nothing changes," he said.
'RAMPAGING IN THE CAGE'
People Surge, a grassroots political movement born out the mire of the typhoon recovery in Tacloban has been attempting to bolster the voices of disaster victims. The party recently won approval to contest mid-term elections next year and has accused the local government of profiteering in the wake of the storm.
"The focus of this local government is really business. You can see it around us, like Yolanda didn't happen at all. Hotels are rising like mushrooms. For us this is really disaster capitalism," said the party's president, Efleda Bautista.

"They're implementing programs that are anti-people and anti the survivors. No concern at all for the poor and the devastated victims.

She says her party has rallied for post-disaster relief funds to finally be delivered to victims, attempted to organise struggling communities into business co-ops and campaigned against the tide embankment.

"We make rallies, we march and only then do we get what we want. It's like rampaging in the cage, it's crazy, but we need to do it," she said.
WE HAVE TO GET IT RIGHT

Power dynamics are complex in Tacloban given the assortment of local, national and international departments and agencies with stakes in the rebuild. Despite the various shortcomings, all of them say their principal intention is to help the survivors.

The local government says the city is now "90 per cent recovered", the economy is growing and, in time, the houses will be ready.

But half a decade may seem an eternity for those waiting to finally have some closure and certainty following a few hours of weather carnage. Jopson says he hopes the long wait will eventually prove to be worthwhile.

"We're not just talking about five years from now, that's why it's called permanent housing. There will be generations staying in those houses," he said.

"These are the most vulnerable families and they deserve something decent. This should be a relocation not a dislocation.

"It's a struggle but we're doing our best. We have to get it right."