Images used in this story were taken in line with prevailing safe management measures. Do remember to mask up and explore responsibly while out on a Singapoliday.
Milestones like a child's first steps and first spoken words are always precious. It is no different for radio DJ and assistant programme director of Ria 89.7FM Zaza Majid, who recalls a fond memory of her children's firsts: The time her 10-year-old twins, Zaara and Sonia, encountered free-roaming chickens at the open-air Aliwal Street car park in Kampong Gelam. "My girls were fascinated to see chickens at such a close distance," said Zaza. "Being animal lovers, they followed the chickens all around!"
Unexpected moments such as these remind us of simpler times, and are part of Kampong Gelam's unique charm. The urban neighbourhood sees long-standing traditions coexist alongside avant-garde expressions in the form of colourful art murals that line the walls of colonial-era shophouses. Beyond Kampong Gelam, traipse around the lush greenery and new extension at the Singapore Botanic Gardens and explore the countryside at Mandai and Kranji that packs a slew of family-friendly activities. Put on your walking shoes and join Zaza and her daughters on their version of a Singapoliday.
QUAINT, HISTORICAL AND HIP EXPERIENCES AT KAMPONG GELAM
Traditionally home to the Malay, Arab and Bugis communities, Kampong Gelam's most recogniseable landmark is the majestic Sultan Mosque, which towers above the shophouses along Muscat Street and Bussorah Street. The pedestrian stretch of Muscat Street and the neighbouring Bussorah Street and Haji Lane come to life at twilight, as people flock to the many eateries in the area, which serve everything from Malay, Turkish and Levantine cuisine to Italian and Japanese fare, a veritable melting pot of cultures.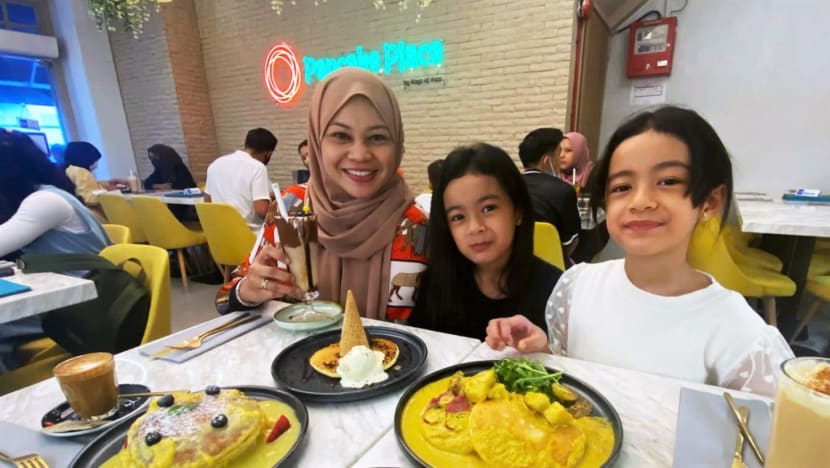 According to Zaza and her twins, the most luscious pancakes can be found at Pancake Place at Kandahar Street. From Lemak Duck to Oreo Sugar Rush, the premium pancake eatery's raft of offerings range from savoury to sweet. "The girls really enjoyed digging into the Smores pancakes with its fluffy marshmallows and hazelnut chocolate sauce. Personally, my vote goes to the Cempedak Creme Brulee which is a match made in local dessert heaven," shared Zaza.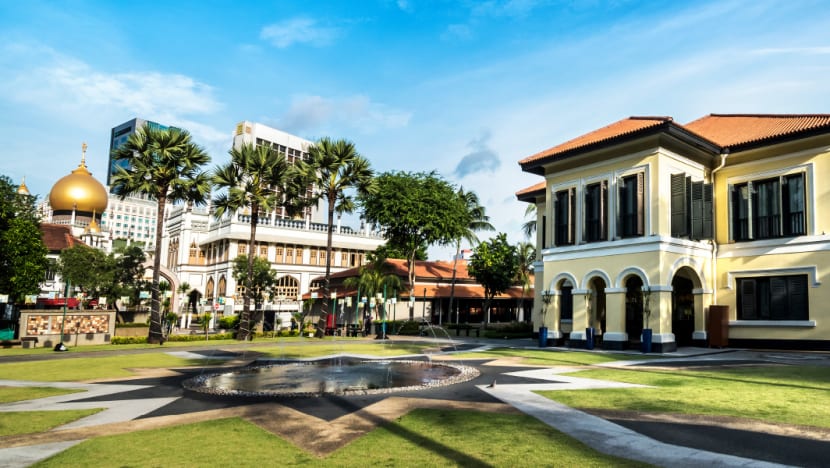 For more witty wordplay, Zaza and her daughters had an edifying experience at Paw-verbs on the Lawn — an art installation featuring peribahasa, or Malay proverbs — at the Malay Heritage Centre. Zaza has always been fascinated by the permanent galleries, as well as installations that change regularly, where visitors can learn about the different facets of Malay culture. "Its great visuals transport us back to the early days of Singapore. I'm amazed at how far we've come as a nation in many aspects," she said.
Art takes on an edgier vibe in another corner of Kampong Gelam: The Hall of Fame along Bali Lane and Ophir Road has seen 17 graffiti artists bring colour, shape and vibrancy to the precinct in the form of a series of 5m-tall murals. For a more in-depth understanding of the area, history is brought to life by the Aminah in Kampong Glam* theatrical walking tour by Let's Go Tours. Aminah — a fictional 86-year-old makcik (auntie) played by a guide — takes visitors on a lively journey as she narrates her childhood and life story with all its hardships and moments of joy.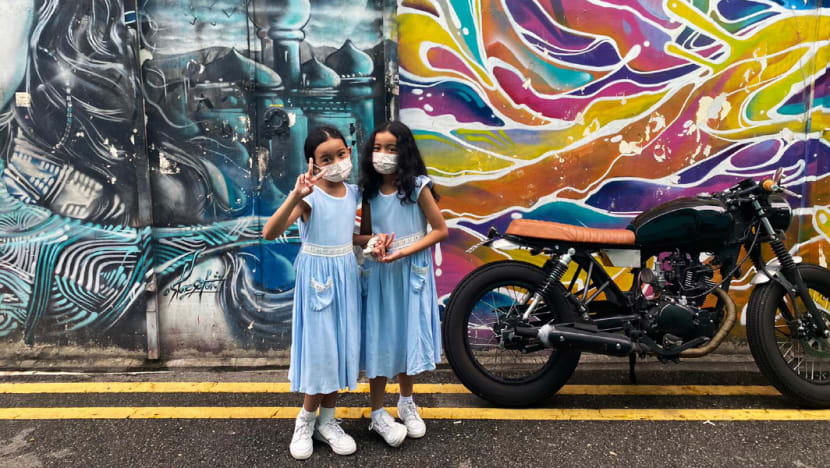 To properly soak in Kampong Gelam's charm, stay overnight at The Sultan*, a heritage boutique hotel housed in a row of beautifully-conserved early 20th century shophouses. Staycation-goers can enjoy packages that include experiences such as a two-hour batik painting workshop, an #Instawalk tour to feed your camera lens or a cultural biking excursion.
QUIRKY EXPERIENCES AT KAMPONG GELAM
If you're craving a spot of retail therapy beyond the usual mall offerings, Kampong Gelam is home to interesting, one-of-a-kind finds such as The Heritage Shop, a collectibles and antiques store replete with retro treasures. From old-fashioned tiffins to bicycle number plates, there are tons of hidden treasures waiting to be found.
On the second level of a shophouse at 26 Kandahar Street is The Gem Museum, a private exhibition space that showcases precious and semi-precious stones from around the world. Learn more about how gemstones are formed and mined, or skip straight to the fine jewellery collection where you can custom make your own bracelet or necklace.
Last but not least, Zaza recommends Silkspa and Wellness Hair @ Jalan Sultan where her twins enjoyed having a kid-friendly facial and hair spa, before heading down to Haji Lane and its colourful array of shops including Utopia Apparels, a modern batik outfitter for the whole family.
HANDS-ON LEARNING AT THE SINGAPORE BOTANIC GARDENS
In the midst of Singapore's vibrant cityscape, a natural sanctuary awaits. A perfect day for Zaza includes bringing her twins to the Singapore Botanic Gardens, a UNESCO World Heritage Site, starting off with an idyllic morning picnic on its lawns. "I really like the Swan Lake and the fish ponds," she said. "It's great for a casual stroll — to take a break from the hustle and bustle of life, and enjoy the serenity of the beautiful view. Another spot that never fails to amaze me is the waterfall and cave at Ginger Falls — it's such a thrill walking through the tunnel within the waterfall!"
Zaza and her twins are also eager to check out the garden's newer attractions, which include the Forest Discovery Centre @ OCBC Arboretum, housed in a stately 123-year-old black-and-white bungalow. In this interactive gallery, visitors can learn about the biodiversity of Singapore's forests with the help of bird call recordings, innovative photographic installations, and insect and animal displays. Here, they can also find out more about NPark's science initiatives and how nature lovers are helping to document Singapore's rich natural heritage. The call for conservation is a recurring theme at the arboretum, underscoring how collective effort is needed to preserve nature for future generations.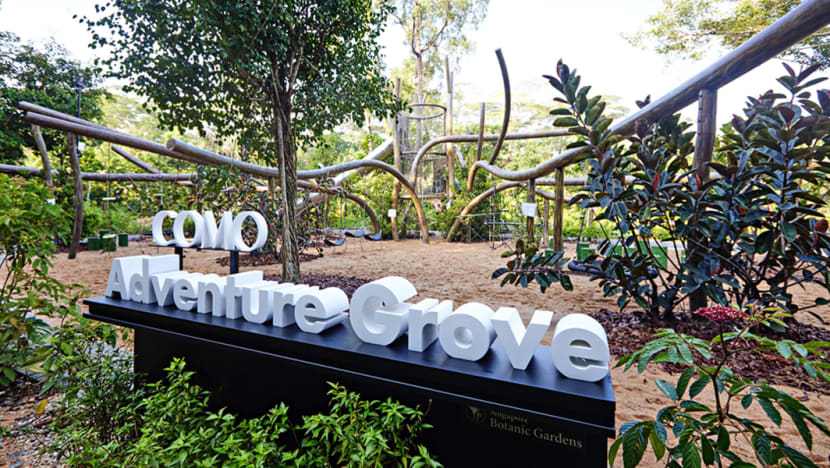 While her daughters are raring to visit the nature-inspired playgarden at COMO Adventure Grove as part of the Gallop Extension, Zaza is looking forward to the Tropical Montane Orchidetum: "Having been to the National Orchid Garden and admired its myriad species, I'm sure this new extension has loads to offer. It's a great place for photo opportunities that are Instagram-worthy too!"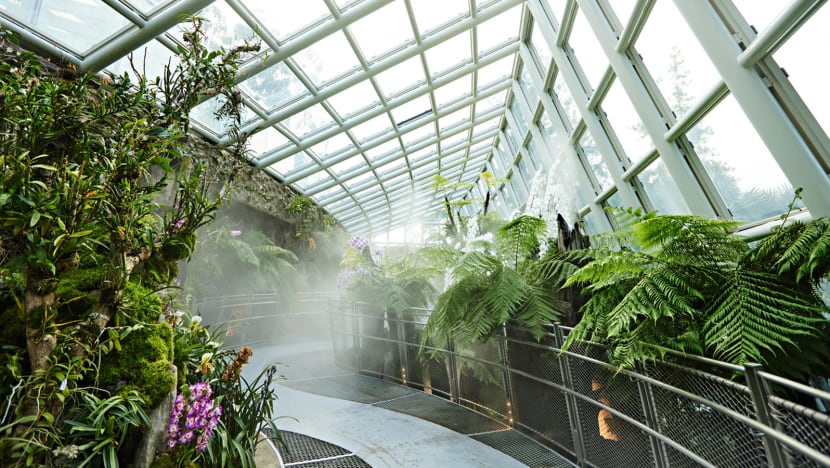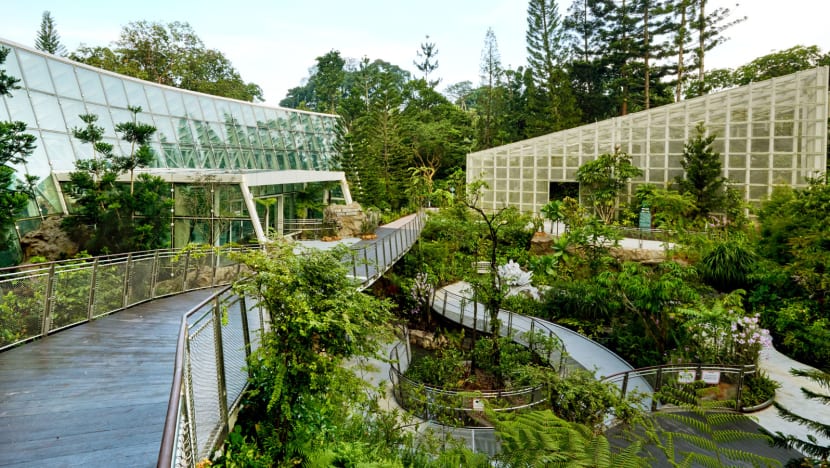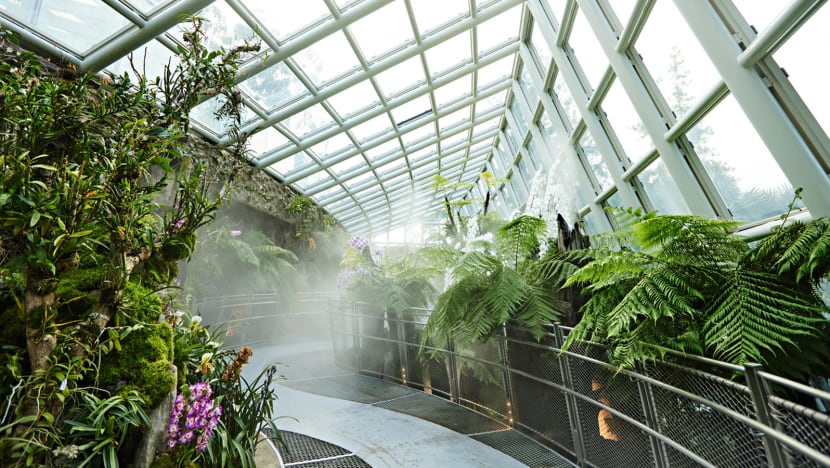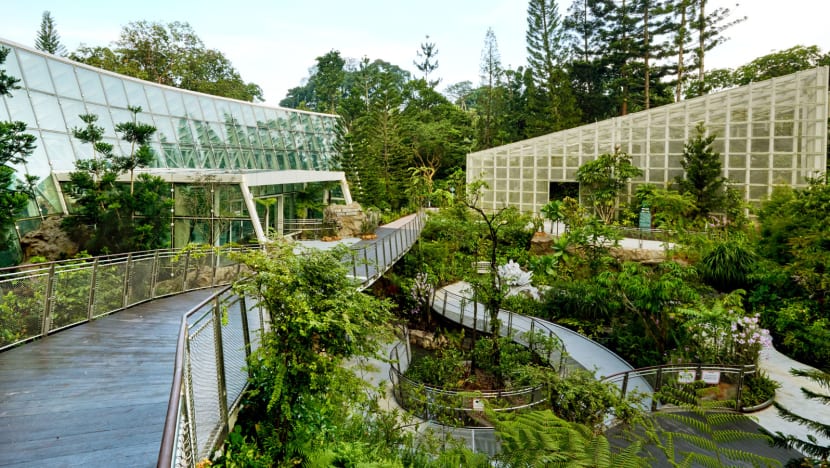 A trip to Botanic Gardens would not be complete without a sweet treat — which for Zaara and Sonia is their beloved waffles and ice cream at Fusion Spoon, located at the Tanglin Gate. If visitors plan to venture out beyond the garden's grounds, they will find an even wider range of dining options, such as the famous nasi lemak at Adam Road Food Centre and Mediterranean grilled delicacies at Dempsey Hill's Blu Kouzina, which uses only halal-supplied meat and has no pork or lard on the menu. The family's go-to lunch venues are located on level five of Far East Plaza. "We love eating at Puncak Best Noodles or Cahaya Restaurant. I used to frequent these eateries back in the '90s and the food still tastes the same!" said Zaza.
After an entire day of adventure, tired little ones can rest easy at family-friendly hotels like Goodwood Park Hotel* or the Shangri-La Hotel Singapore* located in Orchard. Families who book a staycation at Goodwood Park Hotel can look forward to perks such as a teddy bear to take home and a special turndown service with milk and cookies, while Shangri-La Hotel Singapore offers connecting bedrooms as well as an immersive and curated play space for kids at Buds by Shangri-La.
COUNTRYSIDE ENCOUNTERS AT MANDAI AND KRANJI
Some of Zaara and Sonia's cherished moments take place in the serene, green surroundings of Mandai and Kranji, where they can get in touch with nature in the form of some furry (or scaly) friends. "Some of my best memories include seeing my daughters' eagerness, curiosity and courage come to life," recalled Zaza of her twins' first visit to Gallop Kranji Farm Resort and the halal-certified Hay Dairies, where they fed both farm goats and koi. "They weren't scared at all — they were willing to try new things such as savouring goat's milk. I've since lost count of the number of times we've been to Hay Dairies."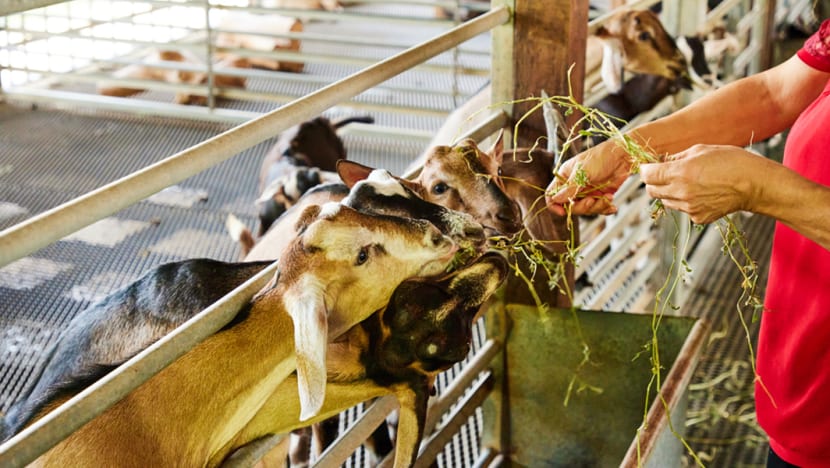 As her girls discover more about nature, Zaza has learnt to let go of her own fear of animals and dirt, and instead focus on embracing all that Mother Nature has to offer. For a short getaway, she's considering a staycation at Gallop Kranji Farm Resort, a convenient base from which families can watch the sunrise over Kranji Marshes and go shopping for farm-to-table produce at Kin Yan Agrotech, which sells mushrooms, leafy vegetables and wheatgrass. Bollywood Veggies, a farming collective, has its own bistro, culinary school and museum on-site. Visitors can also purchase plants, herbs, home baked goods, organic products and more from its retail space Earth Shop. Do check online for the latest operating hours of the various establishments before making your way down to the Mandai and Kranji countryside.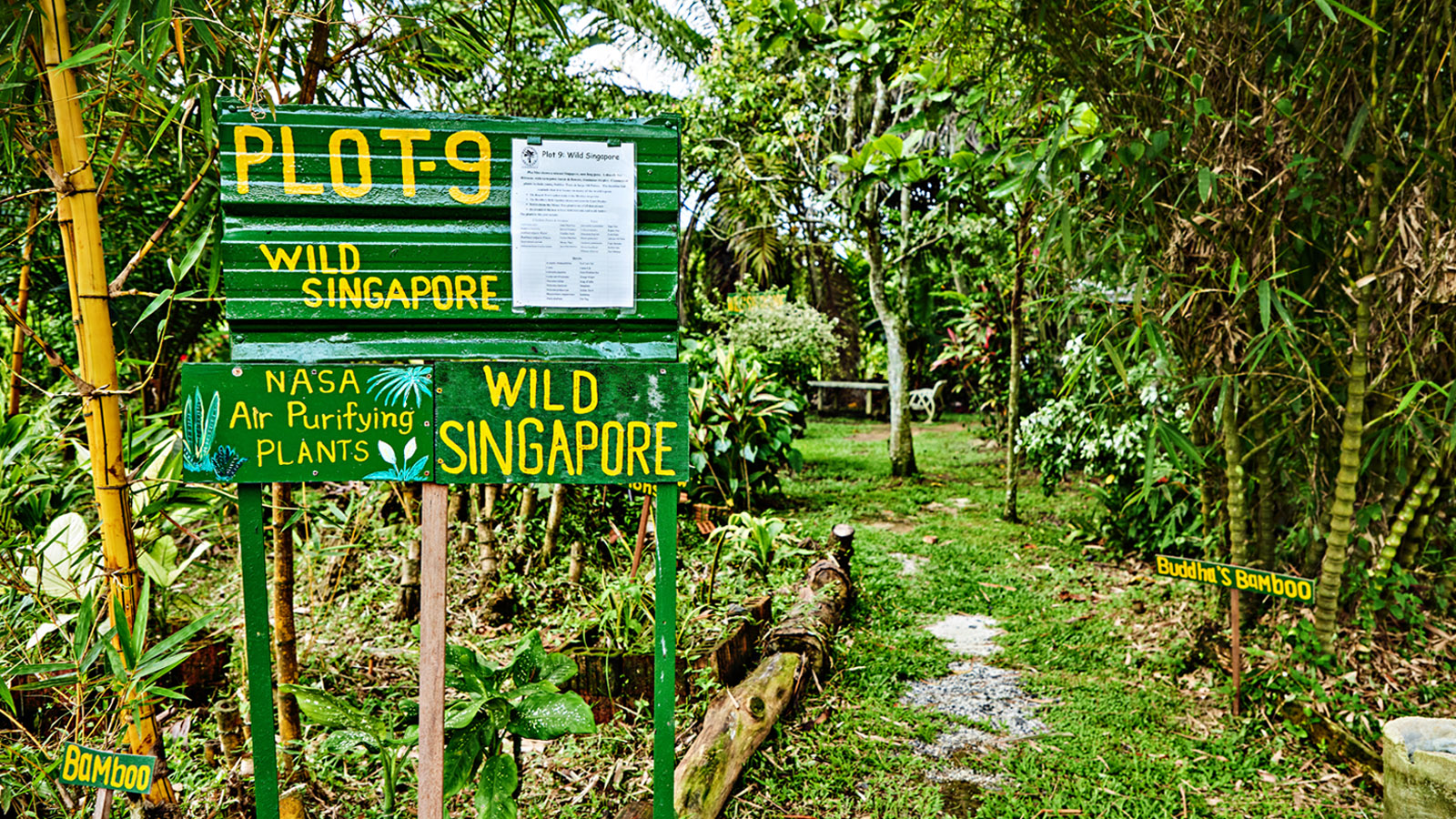 Zaza feels that the hidden wealth of our soil is something to truly treasure in Singapore: "There is indeed beauty in nature. We need to take a moment to pause and enjoy our natural environment and surroundings from time to time — and revel in the colour and diversity of the plant and animal kingdoms."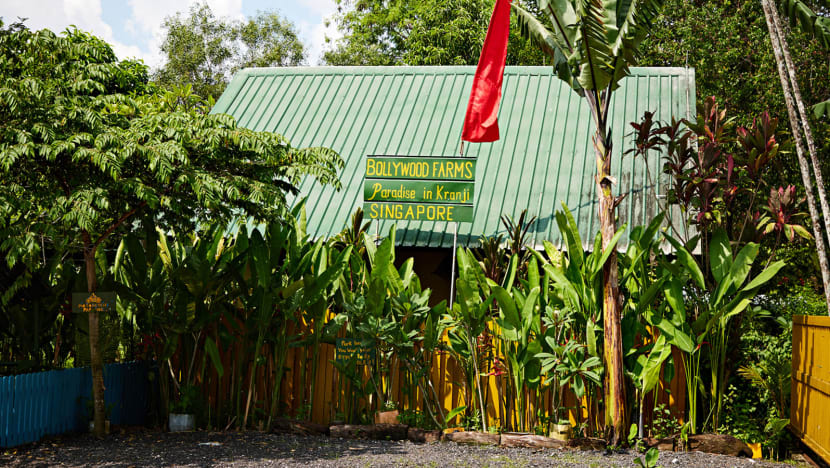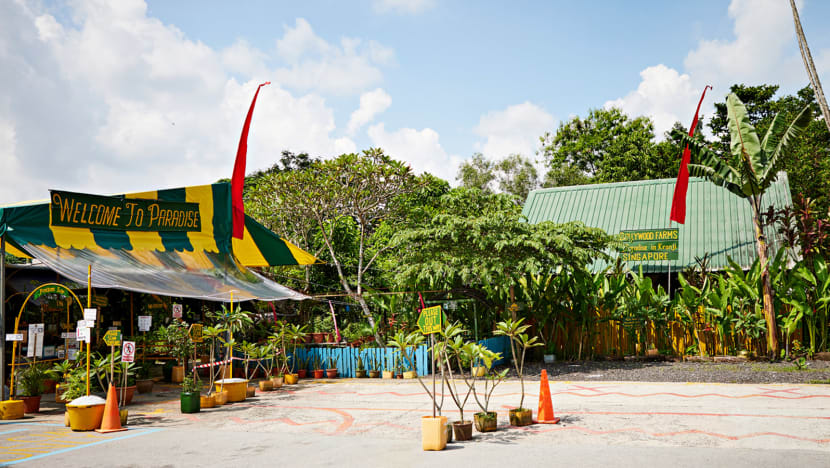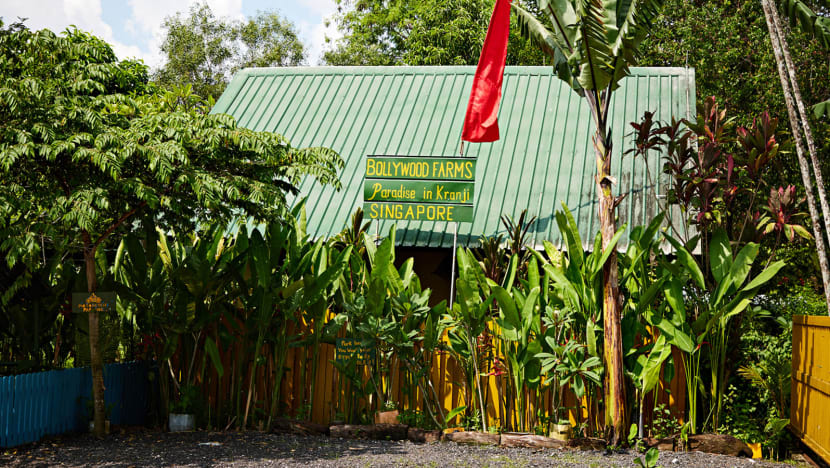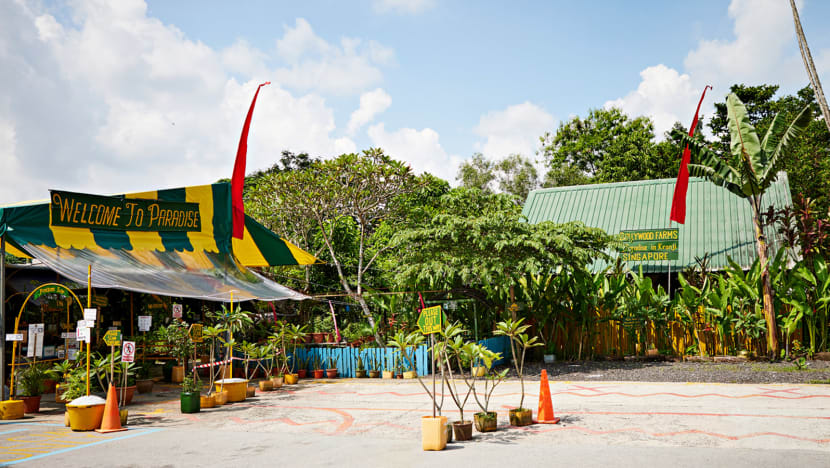 "SOME OF MY BEST MEMORIES INCLUDE SEEING MY DAUGHTERS' EAGERNESS, CURIOSITY AND COURAGE COME TO LIFE AT THE FARMS IN MANDAI AND KRANJI."