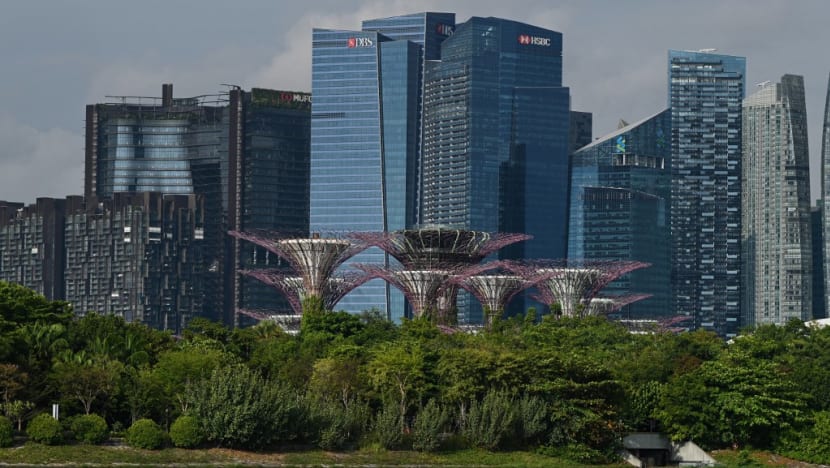 SINGAPORE: Dark clouds are gathering on the horizon for Singapore's economy as the ongoing Russia-Ukraine conflict and strict COVID-19 lockdowns in China exacerbate supply chain snarls and fuel further price increases.
"The road ahead remains bumpy," said OCBC's chief economist Selena Ling.
Already, the economy logged a slower pace of growth during the first three months of the year.
Gross domestic product (GDP) grew 3.7 per cent year-on-year in the first quarter, data from the Ministry of Trade and Industry (MTI) showed on Wednesday (May 25). This was higher than the Government's advance estimate of 3.4 per cent, but much slower than the 6.1 per cent growth in the previous quarter.
Quarter-on-quarter seasonally adjusted figures paint a similar picture as the economy expanded by 0.7 per cent in the first quarter, pulling back from the preceding quarter's 2.3 per cent growth.
MTI also said on Wednesday that it will maintain its full-year economic forecast at 3 to 5 per cent, but warned that growth is more likely to come in at the lower half of this range due to a deterioration in the external economic environment.
BREWING HEADWINDS 
One major risk is a potential economic slowdown in China, which MTI flagged as having a direct impact on some of Singapore's outward-oriented sectors like the chemicals cluster.
Manufacturing, which accounts for about one-fifth of the local economy and has been a key driver of Singapore's recovery thus far, will also be hit, noted DBS senior economist Irvin Seah.
"Amid spikes in domestic infections (and) the resulting lockdowns in key cities, domestic demand from within China has softened while supply chains in the region have been severely disrupted," he said.
"This will have profound implications on the prospects of Singapore's manufacturing sector."
Downside risks for manufacturing are already emerging, added Mr Seah, pointing to how the sector contracted marginally in the first quarter on a quarter-on-quarter seasonally adjusted basis. This marks the sector's first decline in a year.
Other risks include the ongoing war in Ukraine, which has pushed up the prices of everything from energy to food, and the prospect of weaker global growth as major central banks step up policy tightening to fight inflation.
Altogether, these global headwinds are likely to "douse (Singapore's) recovery and undercut growth by the second half of the year", said Maybank economists Chua Hak Bin and Lee Ju Ye.
Then, there is inflation which has run up to decade-highs in recent months and is likely to stay elevated, no thanks to higher commodity prices, continued supply chain disruptions and a tight labour market.
A recent development – Malaysia's ban on the export of chickens from Jun 1 – will exacerbate inflationary pressures, said Mr Seah.
This as food accounts for about one-fifth of Singapore's consumer price basket, according to Ms Ling, who is also OCBC's head of treasury research and strategy. 
While meat, including poultry, accounts for only about 1 per cent of the basket, the prices of other components ranging from eggs to cooking oil have already gone up, she said.
Persistently high inflation may weigh down on spending as consumers feel the squeeze, economists said.
Also expecting a continued rise in Singapore's core inflation, JPMorgan's economic and policy research analyst Ong Sin Beng flagged the risk of real incomes possibly coming under pressure.
"This is a risk to what is otherwise a fairly constructive view of the domestic recovery," he wrote in a note.
SILVER LINING?
But it may not be all doom and gloom.
Barclays economist Brian Tan described MTI's forecast for growth to be at the lower half of its projected range as being "very conservative". 
For now, he is holding on to his full-year growth projection of 4.9 per cent for Singapore.
"The forecast doesn't really take into account the relaxing of so many local restrictions in the second quarter. We have also reopened our borders and tourists are coming back. The lift from this is going to be fairly sizable," he said, adding that the growth outlook for 2022 "should still be fairly solid".
Capital Economics economist Alex Holmes also reckons that the full reopening of the Singapore economy will likely give the second quarter's economic performance a boost.
"So even if the economy grew at a below-trend rate in the second half, annual growth of 4 per cent is still very much achievable," he said.
The first-quarter growth numbers, while slower, still indicate a broadening out of the recovery beyond just manufacturing, other experts said.
HSBC economist Yun Liu pointed to how the services sector is again the "largest contributor to headline growth" in the first quarter, as travel-related sectors start seeing a recovery.
Growth was also revised upwards for construction in the first quarter, suggesting "strong activity" in March as domestic restrictions are dropped and labour shortages eased.
"In short, (first-quarter) growth data corroborates with our view that Singapore is clearly on track for a steady recovery in 2022, as the economy continues to benefit from the strategy of 'co-living with the virus'," Ms Liu wrote in a note.
While it is important to be wary of looming downside risks, growth "will broaden out to consumer-oriented and travel-related sectors as more restrictions are dropped", she added.
MORE TO BE DONE TO TAME INFLATION?
Meanwhile, economy watchers generally expect the Monetary Authority of Singapore (MAS) to stay on a policy tightening path amid inflationary pressures.
The central bank has tightened monetary policy three times since last October, including an unexpected inter-meeting move, to allow for a stronger Singapore dollar.
Further moves at its next policy review in October could include another steepening in the slope of the policy band, although some experts are not ruling out the likelihood of an off-cycle surprise.
"With both headline and core prices hovering at the upper limit of (MAS') projection, the central bank might be forced to make another off-cycle move before its biannual meeting in October," said a note from Moody's Analytics.
The central bank expects core inflation, which excludes accommodation and private transport, to be between 2.5 and 3.5 per cent for the full year, while headline inflation will average at 4.5 to 5.5 per cent.
For the month of April, core inflation jumped to 3.3 per cent, the highest level since early 2012. Headline inflation held steady at 5.4 per cent for the same period.
But beyond a hawkish monetary policy stance, economists also said that fiscal measures might be on the cards.
More targeted fiscal assistance may be forthcoming to help businesses and Singaporeans cope with the burden of rising costs, according to OCBC's Ms Ling.
Likewise, Ms Liu said Singapore has "one of the strongest fiscal positions in Asia" and will be able to dole out additional short-term and targeted fiscal relief for households if needed. Such relief measures could come in the form of consumption vouchers and utility subsidies.
While some ad-hoc fiscal support may be possible, Mr Seah from DBS said the Government will likely stop short at rolling out a supplementary Budget given how the economy is "not in a recession scenario".