From cafe to tech start-up: The man who came up with a robot barista to solve manpower woes
SINGAPORE: At one of Japan's busiest train stations, a barista named Ella works alone quietly but quickly, brewing and serving coffee from a small, transparent kiosk.
After customers place their orders via a mobile app, Ella gets to work, first stretching her arm to retrieve a paper cup before turning around to put it on a coffee maker. Within minutes, a piping-hot cup of coffee is ready.
Ella then places the cup on a "pigeonhole", from which customers can collect their beverage after scanning a QR code. The entire process is contactless.
Ella focuses on fulfilling orders as fast as she can. She takes no breaks, working 24 hours a day, and can make up to 200 cups of coffee in an hour.
Since starting work on Dec 8, Ella has served thousands of commuters at the busy Tokyo Station, the terminal of multiple train lines.
Her "employer", Keith Tan, is pleased. Based on his observations so far, consumers in Japan have taken to the barista from Singapore and the kiosk's automated and cashless ordering system easily.
"Customers are loving it," said Mr Tan, beaming as he spoke to CNA via Zoom from Tokyo.
The smooth roll-out is the result of tireless work over three long years to perfect Ella, a robot barista.
"Back then, it was very simple but we have gone through all that testing to achieve what it is today, where we can let Ella run autonomously, without anyone assisting," said Mr Tan, the 41-year-old founder of Singapore tech start-up Crown Digital.
More than just a six-axis robotic arm, Ella runs on Internet of Things-connected software which has its own mobile app, payment gateway and e-wallet. An artificial intelligence-enabled vision system also keeps an eye on operations round-the-clock to spot abnormalities such as spillage, while deep learning and predictive analytics help with supply chain needs like replenishments at the kiosk.
Apart from Tokyo Station, Ella has also been deployed at a cafe in Yokohama Station. Here, she works alongside humans who handle the food orders that come through her contactless point-of-sale system.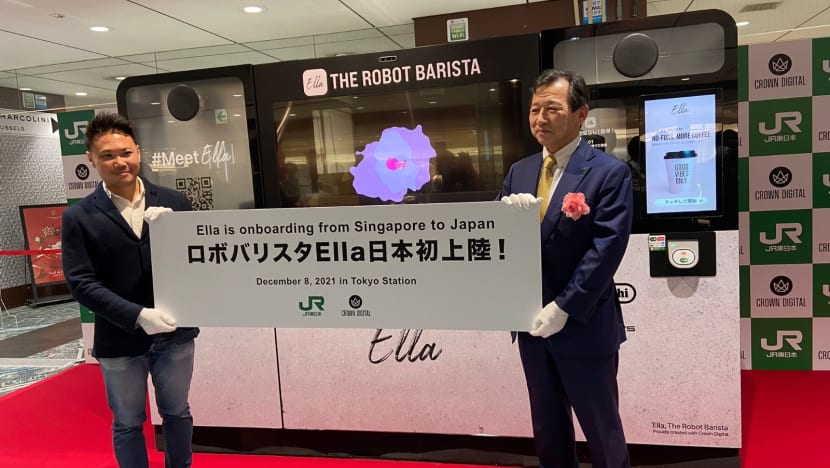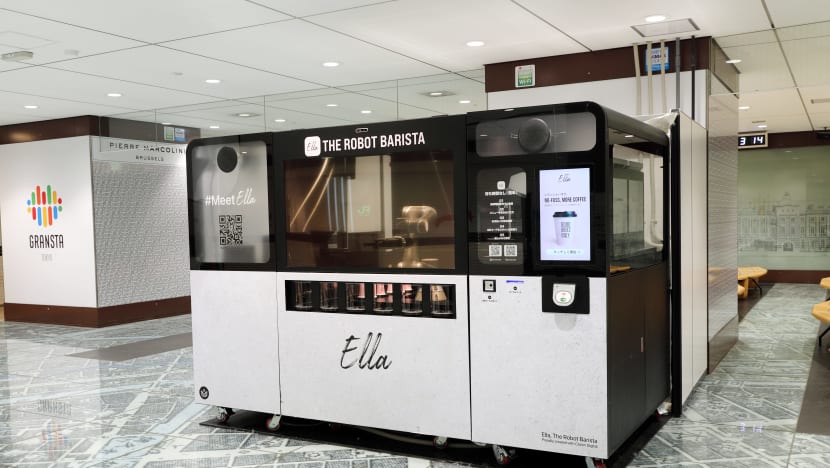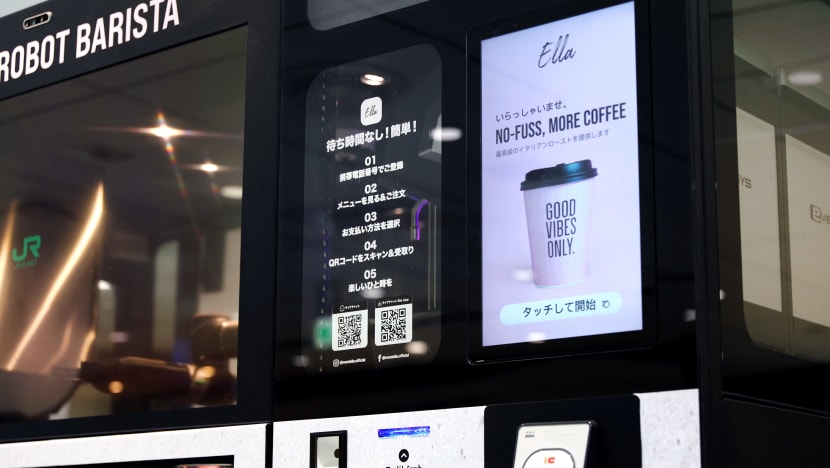 The foray into Japan is the latest milestone for Mr Tan and his business, which has its roots as a brick-and-mortar cafe at which persistent manpower woes nudged the entrepreneur to give the idea of robots a shot.
The idea became reality last year when Ella was officially launched and took the helm at Crown Coffee, the firm's "smart" cafe in Lavender.
Investors also came knocking. The first was East Japan Railway Company (JR East), which manages the Tokyo and Yokohama stations, and the investment paved the way for Ella's expansion into Japan.
Back home, Crown Digital is gearing up to serve coffee at 30 MRT stations by the end of 2022, as part of an investment deal with SMRT's business arm Stellar Lifestyle, it announced in August.
"I would say that this year is like the year of wins, because we finally could announce all these great news to the public," said Mr Tan. "But all these work have been ongoing and building up for years."
FROM CAFE TO TECH FIRM
The wild ride of entrepreneurship started in 2015, when Mr Tan quit his job as a wealth manager to open a cafe in Lavender selling coffee and panini sandwiches.
Armed with a high-tech coffee machine from Swiss manufacturer Eversys and high-quality Buscaglione coffee beans from Italy, he thought he had a recipe for success, except that the only ingredient lacking was manpower.
In between taking orders at the cashier and serving coffee, an idea brewed.
"A customer walks in. We punch the order into the system; we collect money; we place a cup (on the coffee machine) before passing the coffee to you … There was a lot of pick and place movements," Mr Tan recalled.
"If I could automate the ordering … add in a robotic arm to do all the movements and pack this whole system into a very small footprint, where I solve the rental issue and it totally eliminates people, then I have a solution that is fully autonomous, and it can run 24/7. So that was the basis of building Ella."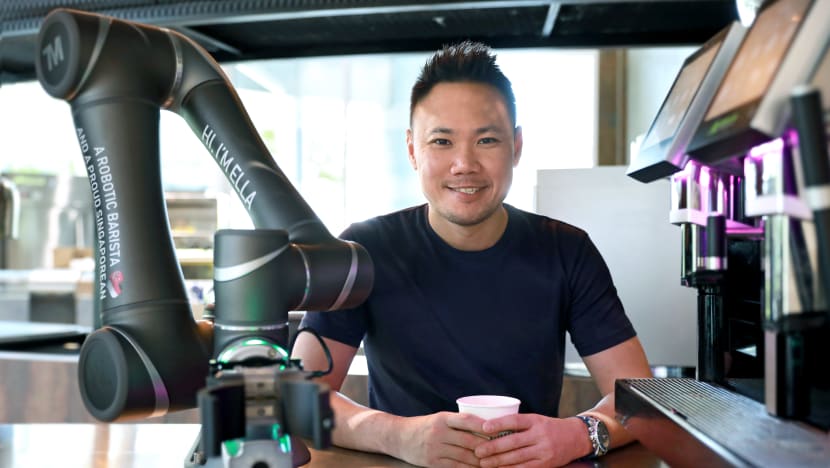 That idea grew when he opened a second outlet at DHL's innovation centre and came face to face with a collaborative robot called Baxter. There, he tried his hand at programming the robot to pick up a chocolate croissant, marking his first experience with automation.
"That was fun like 'Wow, I'm using a robot to do this.' I guess that set the foundation (and) exposed me to automation," said Mr Tan.
A group of regular customers – employees at American tech firm Intel, whose office was located near the cafe in Lavender – also helped. After hearing about the idea, the employees roped in the firm's Internet of Things group which then connected Mr Tan to various hardware and software vendors.
This matchmaking by Intel "helped a lot", the businessman said, noting that it can be very difficult for traditional businesses to get started with digital transformation without some assistance.
By 2017, the first version of Ella was created and it made its debut at a trade show held at Marina Bay Sands.
For the next two years, the robot participated in more trade shows and events which provided opportunities for intensive on-the-ground testing.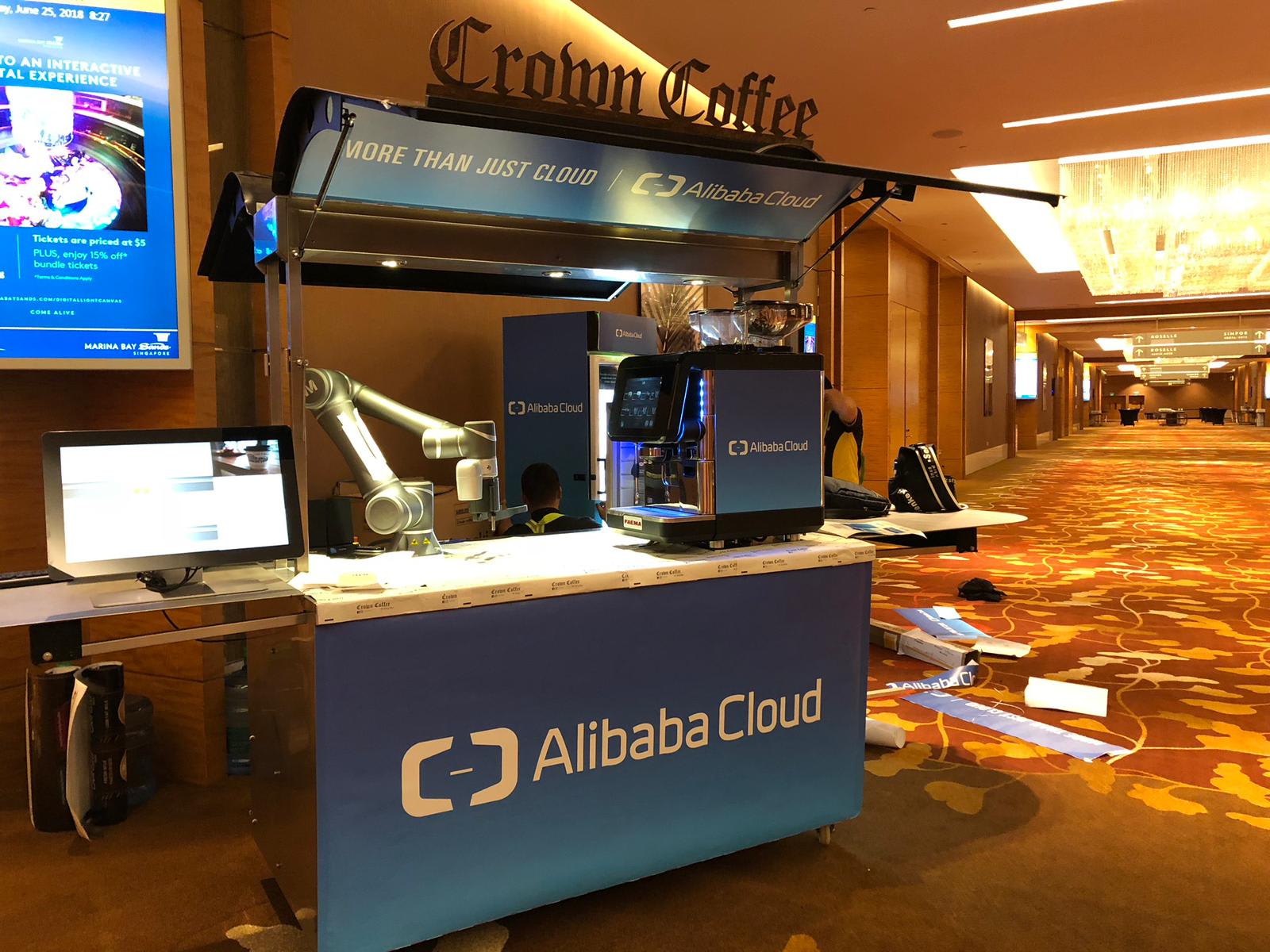 "MANY NEAR-DEATH SITUATIONS"
But constant testing and developing, as well as the hiring of talent to build up a tech team, required money which was hard to come by.
Support from angel investors and revenue from Crown Coffee were hardly sufficient, yet the idea of having a robot barista seemed far-fetched for some venture capital firms while many others preferred to back hotter trends such as fintech.
"We faced the biggest challenge trying to raise capital from investors," Mr Tan recalled. Letting out a heavy sigh, he continued: "It was so hard. We have many near-death situations … We ran out of cash, many times."
"It's so hard to get investors to believe in us because it sounds far-fetched to them. They'd say 'Oh, you're going to use a robot to make coffee?'"
"A lot of proving" was requested, added Mr Tan. "They'd say 'Oh you're going to Japan. Show me when you land in Japan.' But we need funding to land in Japan … still they say 'When you land then you talk to us.' It's all about risk. They want you to prove that you can make it.
"But for me, there's no question as to where we're heading. I know that our technology is sound. Every day, we get the validation from customers who have used Ella. I know that we are on to something. I just need to find a way to survive."
Needless to say, the entrepreneur sees the roll-out of Ella in Japan as a "key milestone".
Not just because it represented the start-up's first step into an overseas market, being given the green light to launch meant that it had met the "high standards" of Japanese authorities, including stringent tests for the Suica mobile payment system.
Crown Digital said it is the first foreign company to have passed such tests and implement Suica, the Japanese equivalent of ez-link cards, in its systems.
EYEING A GREATER REACH
Moving forward into 2022, Mr Tan said the start-up will be "razer-focused" on Japan, with steps to form a joint venture with JR East already under way.
Its ongoing "test marketing" at the two train stations will run until Mar 8.
"We'll be looking at scaling up Ella beyond that two train stations," said Mr Tan, adding that JR East's network of nearly 1,700 train stations and an average daily ridership of 17 million passengers present "a huge opportunity".
Ella will also be deployed at train stations in Japan's Kansai region when proof-of-concept trials with JR East's sister company, JR West, begin in March. Crown Digital's eventual goal is to have its robot barista set up at 600 locations across Japan by 2025.
In tandem, it is seeking Series A investor funding which will be pivotal for its expansion in Japan, as well as Dubai where it is looking to set up an office in the coming months.
Back home, the start-up has also signed a memorandum of understanding with CapitaLand to deploy its robot barista to at least 12 shopping malls here. At the moment, Ella is already serving shoppers their caffeine fixes at Plaza Singapura.
In the longer run, Crown Digital is gunning for an initial public offering (IPO).
"We are already getting inquiries from individuals who want to invest in Ella," the entrepreneur told CNA. "Obviously the next round or to two will be dependent on investors, but once we have a lot more business operations in Japan and a couple other markets, we will definitely go for a listing."
As for Ella, the potential is limitless, said its creator.
Already, its flexible modular design allows it to be customised for different functions such as making a cocktail. "She could even be a ramen master down the road," Mr Tan said with a laugh.
"The problem that we're solving – manpower crunch – is fundamental and it applies to all markets, not just Singapore or Japan," he added.
Beyond the kitchen, Ella can also fit into other post-pandemic business plans, such as providing contactless solutions for the retail industry.
"So there's a huge market for us and we are just getting started," Mr Tan said.