As kids, he was a computer whiz, she was a maths marvel. How are they faring as teens?
In 2018, Aarushi Maheshwari was an 11-year-old acing chess tournaments and university-level maths problems. Seth Yee knew three programming languages at age eight. CNA Insider finds out how their pursuits have changed and how they are navigating life now.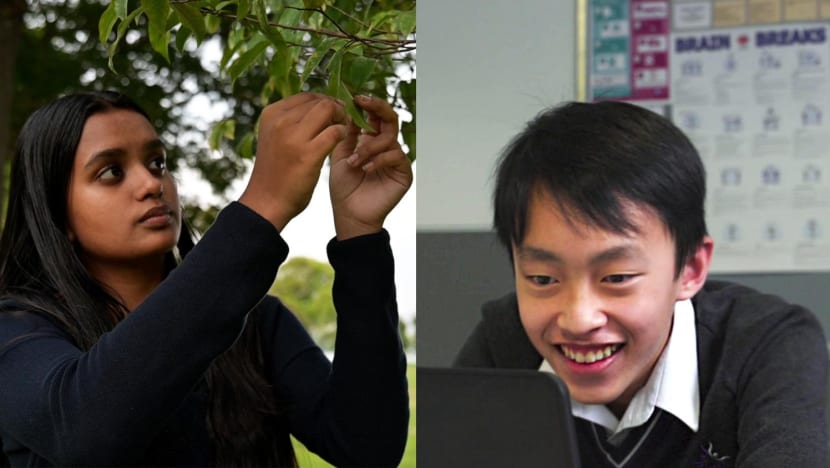 SINGAPORE and MELBOURNE: She was featured as an 11-year-old maths marvel who also played blindfold chess in the CNA programme On The Red Dot.
He was an eight-year-old gifted at science and fluent in three programming languages, whose family moved to Australia to provide him with a more conducive environment for learning and growth.
Their stories in 2018 resonated with viewers. Aarushi Maheshwari's video has garnered over 2.6 million views on CNA Insider's YouTube channel, while Seth Yee's has had over 5.6 million views.
Today, Aarushi and Seth are still pushing intellectual boundaries and pursuing their interests at a higher level than most of their peers. But not all their interests have stuck, and navigating life as a teenager is not always easy.
CNA Insider caught up with the two wunderkinds and their families to find out how they have grown and what lies ahead.
BIOLOGY NOW LIGHTS UP HER WORLD
Being featured in On The Red Dot was a "wondrous thing" for Aarushi. But "internal pressure" built over time.
"I felt a bit rooted in my chess and maths abilities," she said. "Like that's my 'thing' now — this is what I have to continue doing."
WATCH: The 11-year-old maths marvel (4:47)
But her interests changed.
When the pandemic put a stop to chess competitions, Aarushi, now 15, felt her enthusiasm for the sport waning.
The things about chess she had enjoyed — interacting with friends at competitions and being able to see who she was playing against — vanished. She "didn't feel as interested" when sitting in front of a screen to play the game online.
Her family could tell she was not feeling the spark any more. They initiated a chat and reassured her that it was not too late to branch out.
"We didn't find it unnatural. Neither did we find it disappointing," said her mother, Sulata. "As life progresses, things will change.
"You should be adaptable to change, (to) how you learn new things. … Shift your focus."
Aarushi's father, Shyam, added that "it was okay to let go (of chess)" as design innovation was replacing chess as her creative outlet, and "what she was exploring in design was taking more of her time and attention".
Her primary interest, meanwhile, has shifted from maths to the study of living things: biology. Although the subject has always intrigued her, it was a 2020 summer course on the psychology of memory that set her on a new path.
Offered by a non-profit academic centre of Johns Hopkins University in the United States catering for advanced school-age learners, the course taught her how the brain is structured and how people receive and store memories. A component, about memory tricks used by people who participate in memory competitions, also interested her greatly.
"That's what really sparked it," she said.
The following school year, she joined her school's neuroscience society and later became its co-leader, organising lessons and creating games.
"I found that process also very enjoyable because while I was creating these lessons, I was obviously learning more about biology and neurobiology," said the Grade 10 student at the United World College of South-East Asia.
Last year, she signed up for a college-level biology exam.
The content for the exam, offered by the College Board in the US, is usually taught to 17- to 18-year-olds over a year. But Aarushi self-studied in two months. "Everything I saw (in the syllabus) appealed to me," she said.
It was a "very intensive" couple of months. She studied for about two and a half hours after school on weekdays and four to six hours a day at weekends.
"When I first started learning it, I was impressed by how quickly I could get through a lot of portions. But I think towards the middle, I was a bit alarmed by the amount of material I still had left to go through," she said.
"At some points, I was very overwhelmed by all the content and (thought I wasn't) going to be able to finish this in time."
She did, scoring the top mark out of five — as well as in microeconomics and macroeconomics, two of the three other college-level exams she took.
Aarushi sees herself pursuing biology or a medicine-related field in future, but she has not abandoned maths. Her mathematical skills are "still very much there", and she enjoys the parts where maths and biology intersect, such as in population genetics.
What she has learnt from this change in interests is to not put too much pressure on herself, she said. "Just because you're good at something maybe a few years ago doesn't mean you have to continue doing it."
But such decisions should not be hasty, she added. "It's always good to continue trying even that little bit more," she said. She did so with chess before concluding "it wasn't for (her)", and she thinks "that was the right decision".
"That perseverance I had when I was doing math and chess, I still apply … to math and biology," she said.
I'd want to be thought of as a person who has dedication to the things that she does."
PROGRESS IN CODING, COPING WITH BULLYING
Seth, meanwhile, skipped a year at primary school and is now an eighth year (equivalent to Secondary Two) at Gleneagles Secondary College in Melbourne. The 13-year-old is also in its Select Entry Accelerated Learning programme for academically advanced students.
The transition to a secondary school was a significant change, said dad Ray Yee, a software engineer.
Not many of Seth's peers from Wooranna Park Primary School enrolled at the same secondary school. There were more subjects to juggle, and he had to adapt to a more structured environment compared to Wooranna Park, where pupils had more autonomy in their learning, cited Yee.
Seth said he was able to adjust to the new school structure in his first term and enjoys science, digital literacy, humanities and maths. Classes are "not too easy" or "too hard".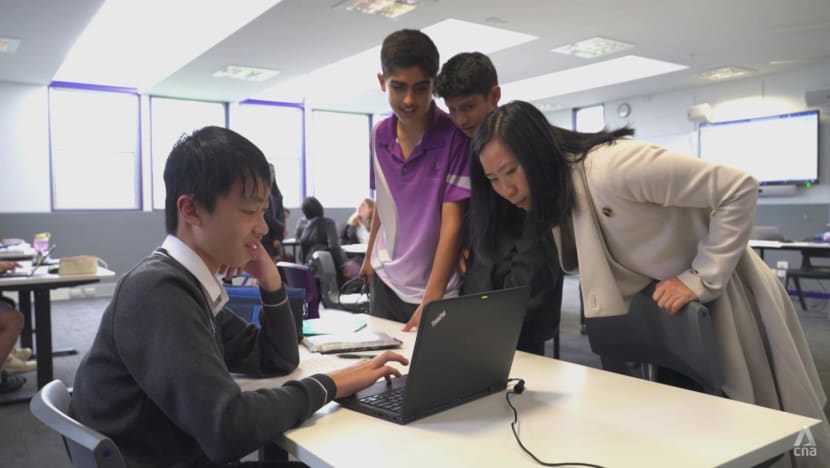 "But for some reason, they keep repeating the same baking soda (and) vinegar experiment!" he exclaimed, referring to the popular experiment that demonstrates the release of carbon dioxide.
He remains passionate about coding and applies the skill — using programming languages such as C# — to making video games. The best thing about building games is "you can make anything you want", he said.
Much of what he knows is from checking out forums and self-learning. Showing CNA Insider a bullet-dodging game he had spent three days working on, he enthused about wanting to make it "visually nicer" and adding "stages" for advanced play.
"My dad said that if I can focus, I'll probably be better than him at coding pretty soon," he said.
WATCH: Codemaster at 13 — realities of growing up as a gifted teen (12:16)
Making friends at school, however, has been harder. Working with others is "sometimes a bit too much for me", Seth said.
Five years ago, his parents talked about his meltdowns when he was younger. A psychologist had told them he was gifted, but that his social and emotional skills may be at a lower level than his intellect owing to asynchronous development.
His classmates had "mixed reactions" to his 2018 television segment, Seth said. "Some of them liked me a bit more afterwards, some of them told other people (and) kept on making fun of me or kept on asking me about my IQ."
He generally ignores bullies. "Because I'm worried that if I say anything, they're going to start insulting me," he elaborated.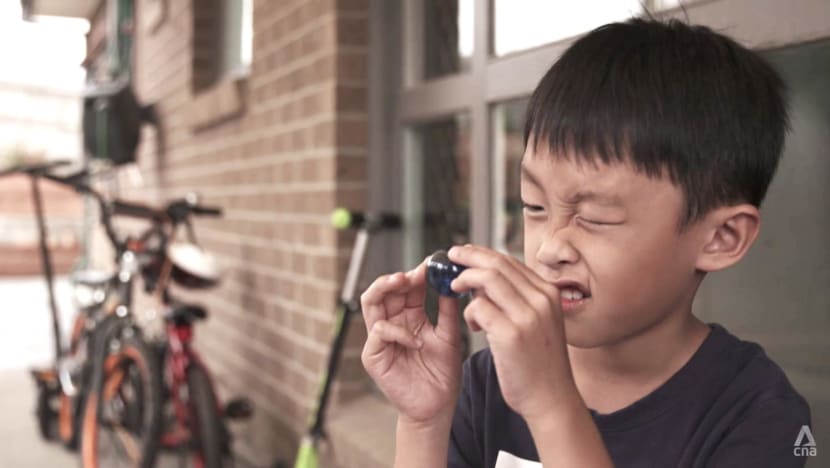 According to a friend, Dehan Nanayakkara, some classmates mocked the way Seth spoke out of "jealousy".
"Everyone wants to be the best of the best. And when Seth excelled so much that none of us could keep up with him, people tried to bring him down and (felt he was) just being a show-off," said Dehan.
According to him, others' behaviour started to get to Seth last year, and he stopped responding to questions in class. He would also sit by himself at lunch and not respond to anyone, recounted Dehan.
Eventually, Dehan approached one of their humanities teachers, who then spoke to the students involved in the bullying.
While "it's still happening for sure but not as often", Dehan said Seth has returned to his old self.
He described Seth as "helpful, loyal and trustworthy" as well as willing to impart coding skills. "Sometimes he gets a little frustrated if you don't understand the first time, but otherwise he teaches you so well," Dehan added.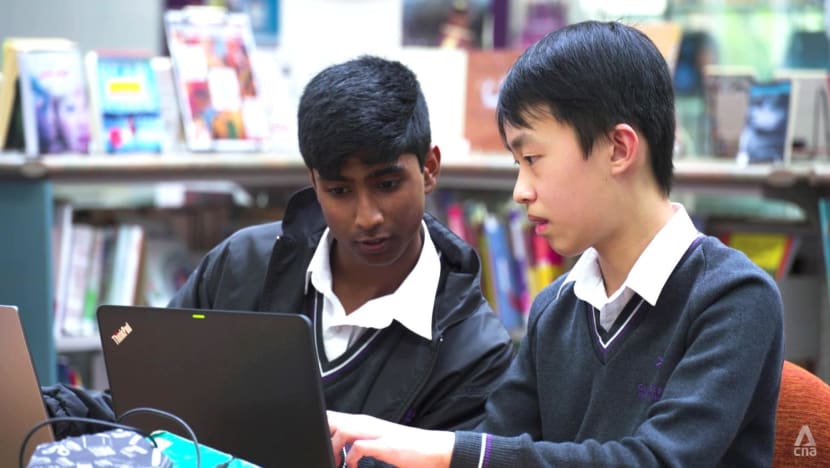 Aarushi was not spared name-calling either, which made her retreat into her shell around 12 to 13 years of age.
She stopped engaging in discussions so as not to draw attention to herself. "Especially in math classes, I'd just not participate because I didn't want to be noticed (as) the person who literally knew everything," she said.
But with support from her family, she has moved past that phase. "I'm definitely a lot prouder of (my abilities) than I was back then," she said. "I feel more comfortable with who I am now."
GREAT EXPECTATIONS? NOT THEIR PARENTS'
Watching the two teenagers grow up, their parents have also gained rich insights.
Aarushi and her brother Arunav, 18, have required "minimal parenting", said Sulata. Instead, she and Shyam ensure the lines of communication with their children are open, and that they are happy and using their potential optimally.
"They do need that encouragement to explore, develop and not have the pressure of disappointing their parents — or themselves," said Shyam. "Because they have very high expectations of themselves."
After being on TV, Aarushi sometimes got recognised and felt expectations were "a little high", recalled Sulata.
"Whenever she expressed those insecurities, we showed her a different way of looking at things. Sometimes she rejects our ideas, saying, 'This isn't how it works for us teenagers.' And that's okay because that's the world I don't know."
Calling her a "very mature child", Sulata added that Aarushi mostly would "take our advice and modify it to suit her world".
For the Yees, who also have a younger son, there were "many questions and enquiries from people all over the world" after Seth was profiled, recounted mum Daphlyn Gao.
Most were parents with special needs children who were unable to fit in at school. Others were interested in the school Seth was attending or considering moving to Melbourne.
WATCH: The young codemaster: Raising a computer prodigy (04:34)
"We did try our best to answer every single question to the best of our ability. Because we'd been through those challenging moments with Seth (and) knew what it was like," said Gao.
What Yee has learnt is that every child is different. "Don't look at my child and say, 'we should do this', because it might not fit your resources," he said. 
Based on the time, the resources that you have, start understanding what your child needs."
During Seth's first year at secondary school, his parents regularly asked him if he was comfortable being by himself during break time.
"He was pretty comfortable … so we left it at that," said Yee. "But throughout Year Eight, we started to see him mingle with friends and doing work with them, which was good. … He's survived group work and group projects."
Seth's science and humanities teachers said he is respectful and excited about learning. "He's ready to go ahead and research whatever his brain is telling him," said science teacher Mai Dang.
"Sometimes it's actually hard to get him to step back and come out of the flow because … he's already running a mile ahead somewhere else in his head.
"But he's a happy person, and you can see that in his work and behaviour."
Next year, the Yees hope to enrol Seth at a specialist senior secondary school called the John Monash Science School. He would be able to learn more and "talk about science with people with the same interests", said Yee.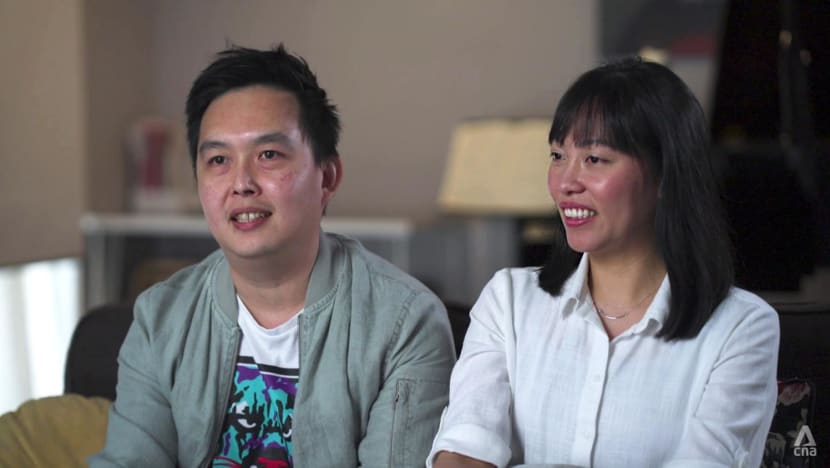 His parents are also comforted that he mingles well with a group of young adults in church. These friends, mostly in their 20s, "accept him for who he is and slow themselves down to listen very carefully to what he has to say", said Yee.
"We're very thankful for that because not many people are that patient with him."
Seth hopes to become a chemist or game designer in future. "Because I want to discover new materials," he said. "(Or) I could create a game that maybe even has some good morals."
Gao has no expectations of her elder son other than of him "putting his heart" into excelling at what he does.
"I was telling him, 'I don't mind if you want to be a gamer in future as long as it's something you really enjoy and want to spend your time doing,'" she said.
WITH ADDITIONAL REPORTING BY LIN YANQIN