'Not just for people with big problems': How art therapy can unlock hidden trauma
From the embarrassment of being reprimanded to the deep scars from sexual assault, art therapy can help people heal. And you don't need to be a Picasso to benefit from it.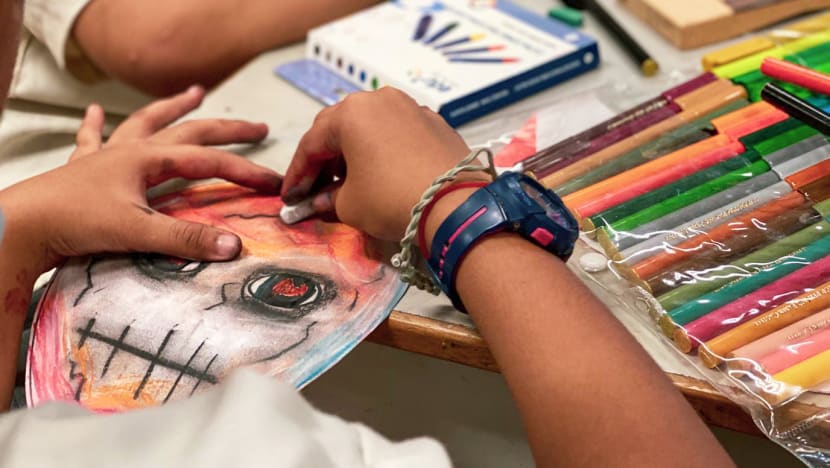 SINGAPORE: When Deanna (not her real name) first started going for art therapy last year, it was to heal from a bad patch at work and pandemic-related stress. But the sessions also uncovered some hurts she thought she'd recovered from: A bad breakup from nine years ago.
"In those nine years, I've been in two other relationships," she said. "To me and to everyone else around me, I'd moved on already." Yet, one directive during her session — to draw someone standing in the rain — triggered memories of the fiance who cheated on her. Never mind that it was only a "stickman" that she had drawn. 
"It was a very painful memory... A very dark time in my life. It was interesting to me that I (was) somewhat stuck in that time," said Deanna, 30, who requested anonymity.
The 18 sessions she went through involved doing picture collages, free doodling, plasticine modelling and other art-related activities. They helped bring back memories from her childhood that made her realise why she did not process her breakup well or handle subsequent relationships properly.
Such incidents are what art therapist Buvenasvari Pragasam, or Buvi, calls traumatic events. Trauma is commonly known as an emotional response to a deeply distressing or disturbing event that affects one's ability to cope, and a quick Google search throws up examples like being in a war zone or natural disaster.
But few know that distress can result from an embarrassing incident in the past, such as being told off by a parent or a faux pas among friends. Art therapy, said Buvenasvari, can provide a "portal" to unlock trauma that people are often not able to verbalise. And art skills are not needed to reap the full benefits of the experience.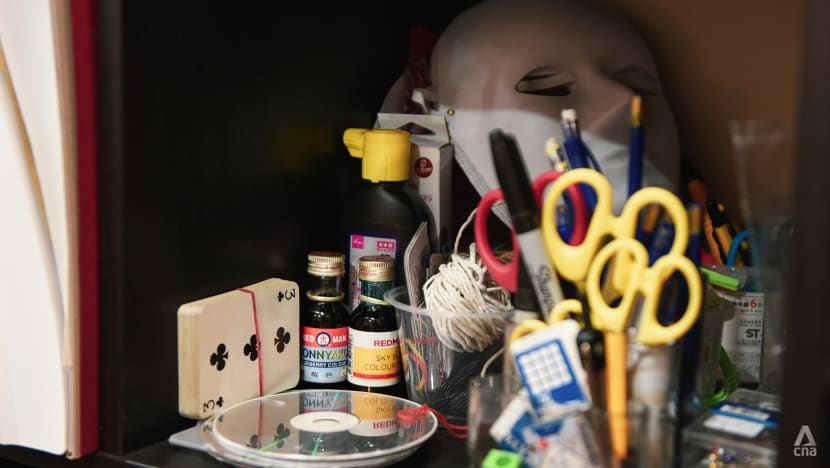 Although still sometimes thought of as art jamming or colouring books, art therapy is, in fact, a form of psychotherapy using the creative arts that has been gaining traction in recent years.
It is a "distinct mental health discipline" that should be provided by a trained professional, said Ronald Lay, leader of LASALLE College of the Arts' Master of Arts Art Therapy programme, whose training includes 816 hours of evidenced supervised clinical placement.
With more research showing how art therapy can support mental wellbeing, more art therapists are being hired as full-time staff in hospitals and voluntary welfare organisations, where previously they were engaged on a contract or project basis, said Ng Jue Ann, secretary of the Art Therapists' Association of Singapore (ATAS).
Demand for art therapy has risen since the pandemic, especially during the "circuit breaker" period in 2020, said ATAS president Rachel Yang.
Some clients may have tried the more conventional "talk therapy", or counselling, but may not feel it has helped them beyond a certain point, she said.
WHAT'S ART GOT TO DO WITH TRAUMA?
Art making is an activity that engages the right brain, explained Buvenasvari, and it will allow the individual to bring out memories that have been bottled up.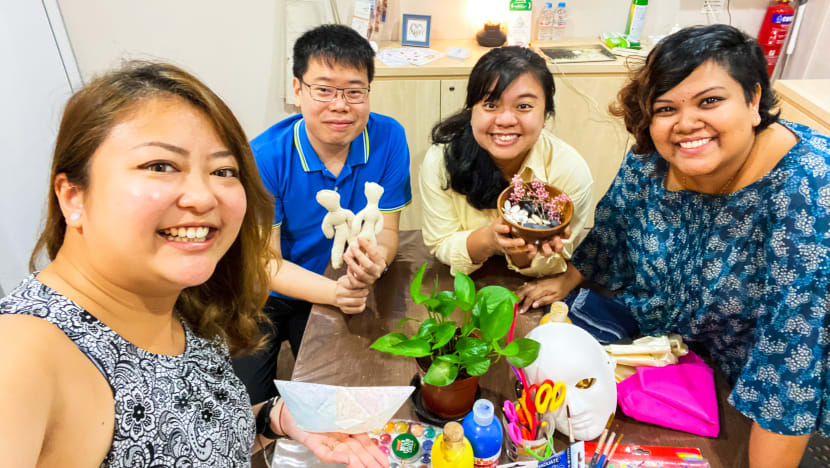 Studies have shown that traumatic memories are stored in the right brain, which is more intuitive, emotional and visual. In some cases, the right brain shuts down to block out overwhelming trauma in order to protect the individual "so that one can move on", she said. 
The left brain, which affects one's speech and reasoning, shuts down during the traumatic event and prevents the individual from verbally expressing what has happened, she added.
Sometimes, the left brain, which is the logical, verbal side, might "take over", causing individuals to over-rationalise and "mask their trauma".  
I don't ask them what happened. The artwork reveals it.
This was the case for Allan (not his real name) when he first started seeking therapy in late 2019. He realised that he might "naturally leave out certain things (he) did not wish to share".
But after hearing from a friend who was able to fully express himself "naturally, without realising" in art therapy, Allan decided to try it out. "It didn't go beyond the third session for me to be convinced that we're finding out a lot more," said the 34-year-old, who spoke on condition of anonymity.  
This is why art therapists are wary of individuals without proper qualifications who tout their services as art therapy.
"They think that 'hey, art making is therapeutic'. It is, but when (trauma) comes out… how are you going to support (the person) without causing further damage?" said Buvenasvari, who runs Solace Art Psychotherapy.
Unqualified providers might "re-traumatise" clients if they probe too deeply or "belittle" them by advising, said Yang. 
"We are not just painting a pretty picture. It's a lot of psychodynamic work. Clients see this as a space to talk about deep psychological trauma," said Yang. "If (providers) are not trained, they may ask the wrong questions, they may get them to do things that will do more harm."
Singapore's art therapy landscape
The Art Therapists' Association of Singapore has registered 82 members since it was formed in 2009, and has 27 members currently, said president Rachel Yang.
Some were trained overseas while others were trained at LASALLE College of the Arts, which offers the only art therapy Masters programme in Singapore.
Since the programme started in 2007, 198 people have graduated, said programme leader Ronald Lay. Each batch consists of 15 to 18 students.
Graduates are eligible to apply for professional registration with the Australian, New Zealand and Asian Creative Arts Therapy Association.
With art therapy loosely associated with art activities like colouring books, Lay believes there are benefits to regulating the discipline in Singapore. This will help various service providers understand what they are qualified to engage in and "ethically work within (their) scope".
A lack of regulation "may hinder some settings from employing an art therapist as there is no official and defined job description nor stated pay structure", he added.
There is currently no accreditation body for art therapists in Singapore. 
Singapore's Allied Health Professions Act regulates occupational therapists, physiotherapists, speech-language therapists, diagnostic radiographers and radiation therapists.
WHAT CAN ARTWORK SHOW?
One of the benefits of art therapy in addressing trauma is not having to talk about the event itself. Clients like Deanna find it "less intimidating" as she doesn't have to struggle to "find the words" to express how she feels. 
"I don't ask them what happened. The artwork reveals it," Buvenasvari said.
It also provides a "safe zone" where the therapist and client can address issues by talking about the artwork and not "directly" to the client. This, she said, lends a degree of separation and can make the client feel more comfortable.
With some simple directions, such as asking her client to freely doodle with a marker, Buvenasvari encourages them to create art intuitively. And from the results, she prompts them to explain what they see or connect with.
In one case, a client saw an elderly woman in her "squiggle drawing" and this reminded her of her late grandmother. Buvenasvari invited her to enhance the image and as the facial features appeared, the client opened up that she never actually processed her grief. 
She had been living with the guilt of feeling responsible for her grandmother's death, Buvenasvari said.
In a session using ink and string to draw freely, another client saw dark roads, and was asked to add on to the imagery. She filled in some white spaces and it eventually revealed lips and a meadow within (which was later inked over), which triggered the memory of a domestic quarrel that she felt she could not speak up about. 
Even during the art making process, there are signs Buvenasvari can spot, such as when clients do not ask for help if they spill something. "That would reveal that they don't have the help-seeking behaviour in real life," she said. 
In one hand-painting session, Allan's therapist noticed that he did not attempt to use his whole palm, only his fingertips. Was he uncomfortable with trying new things, his therapist asked. "I was very surprised that she was able to tell and identify these things," he said. 
Art therapy helped him to understand why he suffered from low self-confidence. "There may have been a certain someone back in the past that may have affected me… as a kid," said Allan. 
 "It took me a while to realise that I may not have moved on, so the way I approached failures was in a very negative manner," he explained. "I was able to go back and help that kid, (my) 10-year-old self or 15-year-old self and rewire that part of it."
BUILDING UP THE HEALTHY ADULT
Art therapy tries to "build up the healthy adult" by strengthening a person's identity and addressing the root cause of certain behaviours or tendencies, said Buvenasvari.
"We all have our inner child. If your inner child has wounds, past scars, your inner child remains," she said. "When you are an adult, sometimes regressing into that inner child is a way to deal with certain things, like throwing a tantrum."
In Deanna's case, her "biggest impetus" to sign up for art therapy was people telling her she was "angry all the time". 
"I didn't like that image of myself," she said. "Why does everybody think I am this angry, hot-tempered person?"
There are a lot of things that, as we grow up, we keep sweeping under the rug.
During her art therapy sessions, she was able to revisit memories from both her childhood and the recent past. She realised that the root of her issues was feeling neglected as a child. 
She often had to care for herself, so anger became her defence mechanism when others tried to care for her. And in her relationships, she always felt that she was not good enough and often argued with her partner, she added. 
Beyond having clients express their trauma, Buvenasvari may encourage them to transform their art work, such as by clothing the person they have doodled, or providing a lifeline to, say, a dummy stuck in a glass bottle. 
"Part of them is out on the table, and it's visible, so we are able to move things around, hold it, and feel it tangibly," she said. "You are literally able to mould yourself, mould the trauma, transform it."
Sometimes when clients are not ready to address the issue, she would turn to "grounding techniques" such as the drawing of repeated patterns or creation of colour swatches. This helps to slow the mind.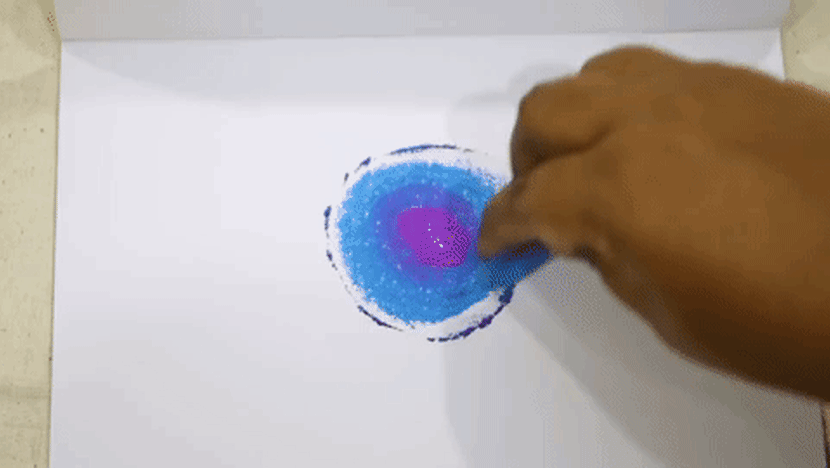 These are additional tools that therapists can employ that are not part of art therapy per se, and such activities can also be done at home when one feels overwhelmed, she said. 
For Deanna, being able to rip up the watercolour drawing that emerged based on memories of her ex-fiance helped her to "leave this memory behind". She credits this action for now being able to talk about him without crying. 
And now that she knows anger is her defence mechanism, she is able to notice when "(her) heart is beating too fast or (her) thoughts are racing". Instead of flying into a rage, "I will try to remove myself from the situation, go for a walk or go to a private space", she said. "I don't want to hurt myself or the people around me."
When you really process your trauma, it is no longer a skeleton in the closet. It's just an old T-shirt.
MARK OF SUCCESSFUL HEALING
One of the biggest takeaways for Deanna is that therapy is not just "for people with big traumas and big problems". It can benefit even those with "very simple" problems like difficulty sleeping or overachieving, which could have its roots in childhood trauma. 
"There are a lot of things that, as we grow up, we keep sweeping under the rug," she said. 
And while some may fear revisiting skeletons in the closet or reopening a chapter that has supposedly been closed, Deanna thinks "it must be done" or "it will keep popping up in other ways in your life".   
"When things happen to you, it's painful, traumatic," said Buvenasvari. "Either you suppress it or you think you have healed from it, so you don't want to revisit it. But it's there. Why is it so difficult for you to look at it again? It means that it's still affecting you in one way or another." 
Buvenasvari is happiest when she sees clients being able to verbalise their issues without feeling overwhelmed. That, to her, is a mark of "successful healing". 
"When you really process your trauma, it is no longer a skeleton in the closet. It's just an old T-shirt."
To find out more about art therapy, visit The Red Pencil (Singapore): https://redpencil.org/singapore/ 
Where to get help:
Samaritans of Singapore Hotline: 1767 221 4444
Institute of Mental Health's Helpline: 6389 2222
Singapore Association of Mental Health Helpline: 1800 283 7019
You can also find a list of international helplines here. If someone you know is at immediate risk, call 24-hour emergency medical services.