'As if they were my own animal': Vets at SPCA's clinic set the record straight on euthanasia
Only very sick animals are put to sleep at Singapore's only non-profit clinic for community animals. It also caters to pets from low-income households.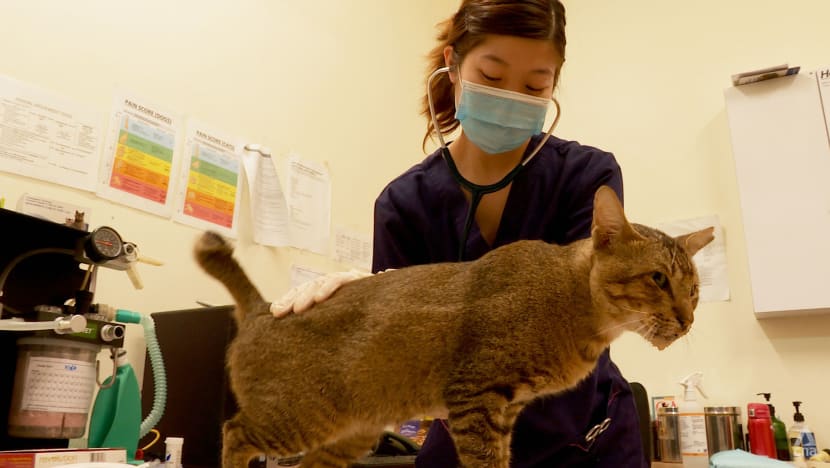 SINGAPORE: Magic the cat has been returned to the Society for the Prevention of Cruelty to Animals (SPCA) for about a year now. But perhaps due to its black coat, it has not had much luck getting adopted.
Some people believe black cats bring bad luck, or simply do not like the way they look, said SPCA vet Judith Ooi.
Magic is, however, "beautiful" in Dr Ooi's eyes, and she stressed that it will have a place at the animal welfare group's shelter until it finds a home.
The SPCA has had to fight the notion that it euthanises animals that do not get adopted. Its vets want to set the record straight.
"SPCA does not euthanise animals unless we have absolutely no other recourse – things such as incurable diseases like cancer or end-stage organ diseases, where their organs are no longer supporting life," said Ooi, one of its two full-time vets.
A "commonly held belief" amongst the general public is that animals sent to SPCA have a high chance of being put down. This is untrue, she affirmed.
The organisation's locum vet, Dr Chow Haoting, also spoke up against this falsehood recently on social media. "I understand the urgency for pet rehoming situations but STOP using SPCA Singapore as the 'VILLAIN' to help your rehoming request go viral," he wrote on Facebook.
The falsehood undermines the effort of the SPCA's staff and volunteers, and hurts its image and donations from the public, he added.
The SPCA operates a not-for-profit clinic at Sungei Tengah that opened in 2018 with upgraded capabilities and a broader range of treatments. The clinic treats rescued and stray animals as well as pets belonging to lower-income households.
The clinic's standard consultation fee is S$10 and standard treatments, in general, are around three to five times lower than at private clinics, it said. But as resources are tight, it is unable to help all low-income cases.
The SPCA's vets also see animals brought in for sterilisation under the government's Trap-Neuter-Release-Manage programme. These animals may have health issues.
Last year, for instance, the vet team discovered a large neck tumour in one such dog, and operated to remove the entire mass. This helped to reduce the chances of cancerous cells being left behind and control blood loss. The dog recovered and was released back at the location where it was found.
THE 'FAT AND HAPPY', AND THE PARASITE-RIDDEN
Ooi, who joined at the start of the year after volunteering from October 2020, worked overseas previously. 
A challenge working with stray or community animals is the mystery and detective work that is sometimes involved, she said on a digital-only episode of the On The Red Dot series, At The Vets. 
"Seeing community animals is like opening a jack-in-the-box, you just don't know what's inside."
WATCH: SPCA Vet On That Euthanasia Question, And Caring For Strays & Rescues (07:23)
If there are community carers – people feeding and looking out for the animals – the SPCA vets will rely on them, said Ooi. But information such as the animal's medical history, pre-existing conditions, or what they were doing before ending up at the clinic may remain unknown.
Unlike pets with concerned owners, there is no guarantee that the animal will return for follow-ups. The carers may not be able to catch it again, or it may disappear for a spell, for instance.
"I have to do whatever I can to resolve their issue at the point in time… because there is a good chance I might never see that animal again," said Ooi.
 The condition of stray and rescued animals varies widely. Some are "fat and happy" because they are fed by many different people in the community. Others are skinny, sick or parasite-ridden.
They may have been hit by a car or fallen from building, said Ooi. They may have gotten into fights with other animals or been abused by humans.
Like her peers in private practice, Ooi says dealing with extremes in expectations, sick animals and the long hours can take a toll. Some people may idolise vets, while others make them out to be "thieves, swindlers, cheats out to make a profit".
"There are going to be times where the treatment outcome… is either unexpected or not ideal, or not what the people associated with that animal would wish for," she said. 
During such moments, it has become "fairly common" for people to air their grievances and frustration on social media.
"Sometimes people don't understand that we do the best we can, but there are limitations to modern medicine," she said.
And having to euthanise animals never gets easier – even if it is the "merciful" thing that can end suffering when no other option has worked. "No matter how many times you come across this decision, it's still going to be hard. It's still going to take something out of you," she said.
Ooi typically works from 8am to 5pm and saw 15 animals on her busiest day to date. When she arrives in the morning, there may be patients in a critical condition waiting.
When CNA Insider visited, Ooi's first patients of the day were two cats – one with a tooth root abscess and ulcers on its tongue, which the clinic was able to treat. 
The other was a sweet-natured kitten that the SPCA's animal rescue officer found at the same location and took back to the shelter. Ooi checked the kitten for signs of injury and illness, vaccinated it and gave it a worming tablet and flea and tick prevention.
"We'll monitor this little one for any other signs of illness. Sometimes they might be a little sick but not showing it yet," she said. "Once we've ascertained that they are well and healthy, then we will desex them when they come of age… And then after that, we'll assess their suitability for either rehoming or release."
WATCH: Doggies' Foster Dad: Working at SPCA (2:20)
Ooi also does checks on animals at the shelter to make sure none of them have diseases like cat flu or ringworm.
Despite the intensity of the job, she finds treating community animals "very fulfilling" and calls it a privilege to be able to help them, with support from generous members of the public.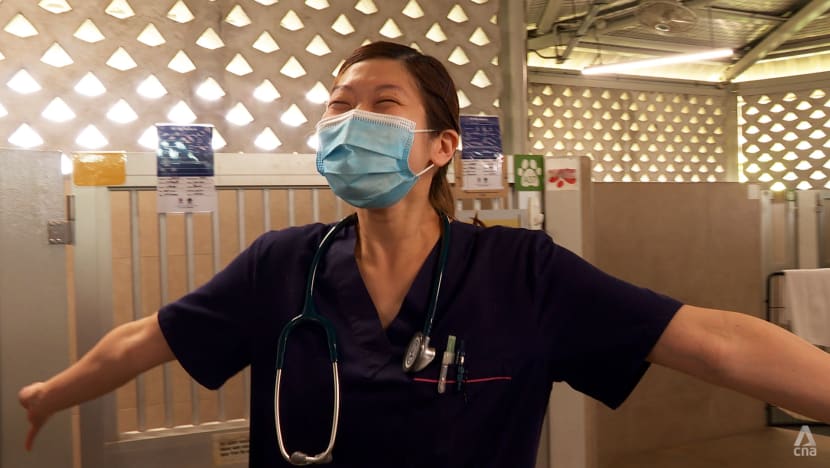 "I do my best to treat each and every animal as if they were my own animal," she said. "Whether or not they belong to me… I couldn't love them any less or more."
Catch On The Red Dot: At the Vets here. On The Red Dot airs on Channel 5 every Friday at 9.30pm.