The life of vets: Busier than ever as pet ownership rises, but they can't 'walk on water'
More pet owners are treating their dogs, cats and even hamsters as part of the family. How does this affect the work of animal doctors? On The Red Dot follows three vet clinics for three months to find out.
SINGAPORE: When Junior the elderly maltese was taken to veterinarian Lee Yee Lin recently, he had a bad case of pancreatitis. Coupled with a heart condition that was "quite severe", there was "very little" Dr Lee could do for the dog medically.
Junior's owner, 73-year-old Mdm Thong, had thought about putting her beloved companion of six years to sleep at the clinic, where he spent a few days. But Lee felt that Junior was "somehow holding on just to see her again (and) hopefully get to go home".
So, she let Junior return with Mdm Thong, and he died two days later at home.
Death is something Dr Lee and other vets deal with regularly in their practice. But it is never taken lightly, they told the programme On The Red Dot, which spent three months at three clinics for the five-episode series, At The Vets.
Dr Jean Paul Ly of Animal Wellness Centre recalls once having a client whose dog collapsed. "And she did warn me, if this dog died, she would likely take her own life. And it was the greatest stress for me because I half-believed her," he said. "That stuck in my mind. It reminded me how important these pets are to people."
DEALING WITH SOMEONE'S 'CHILD'
With animal ownership on the rise in Singapore – due in part to more people working from home amid the COVID-19 pandemic – vets are getting busier. The fact that more pet owners are treating their cats, dogs, birds and hamsters as part of the family also means that their job is more stressful.
"For vets, that is a real stress because you're not dealing with another dog or a cat; you're dealing with their 'child'," said Ly.
There is some amount of "anxiety and adrenaline" once his team steps into the clinic, said Dr Nicholas Woo of Advanced VetCare Veterinary Centre, whose Bedok headquarters offer emergency 24-hour services.
"Because we don't know what is going to come," he said. His clinic could see 30 to 40 patients on a busy weekday, and 60 to 70 patients per day on weekends.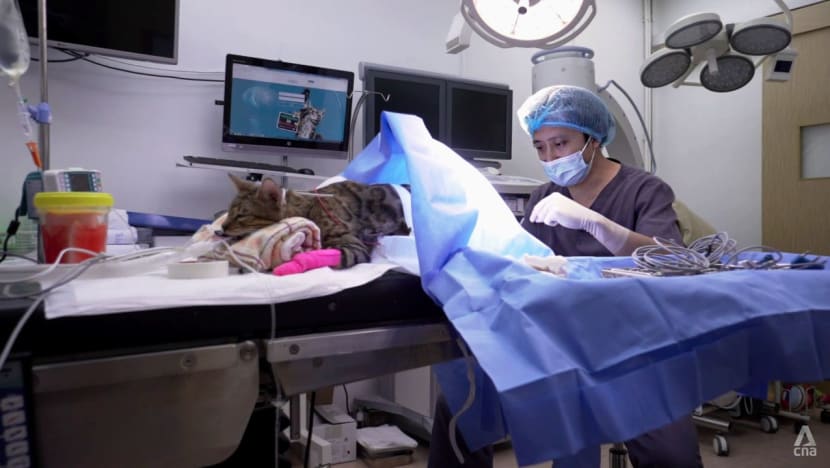 "We have to try and save all of them, but some (animals) are really quite sick by the time they come in," he added. "Every time I face death at work, it's never easy because you start second-guessing and you start blaming yourself… There are definitely those few patients that always linger in your mind."
WATCH: At The Vets Part 3: Saving Lives & Saying Goodbye (23:26)
The going gets tougher when pet owners have unrealistic expectations. "I find that strangely enough, humans are better when it comes to the concept of another human being having to pass on, versus the concept that a pet is to pass on," said Lee of Gentle Oak Veterinary Clinic.
"When someone brings a pet in, a lot of times, they would think that just because it's seen a doctor, it'll be okay," she said. "I wish most people would realise that vets can't do everything. We don't walk on water."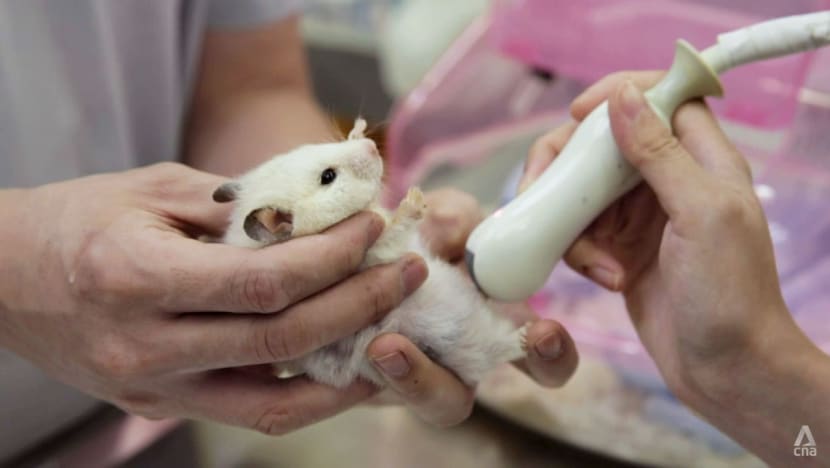 NOT MERELY FOLLOWING THE TEXTBOOK
There are over 400 vets and about 100 vet clinics in Singapore, and changes and developments have been afoot in the sector in recent years.
Social media has meant that some clinics or vets become the target of disgruntled clients or netizens, and the Singapore Veterinary Association (SVA) has highlighted the need to support vets' mental well-being.
The association and the National Parks Board's Animal and Veterinary Service are also doing a review that aims to raise standards and address gaps in the vet sector. Among other things, they will look at the need for a professional body for the vet sector, The Straits Times reported in May. 
More vets are also offering specialist and other services.
Lee, for instance, is a certified practitioner of Bowen therapy for small animals.
Bowen therapy, originally developed as a treatment for humans, is a hands-on technique that aims to stimulate the soft tissue of the animal's body – "a little bit like us going to see our osteopath or our chiropractor". Her patients include 16-year-old Bobby the pug, which has arthritis.
An advocate of holistic medicine, Lee said: "I realise just following the textbook sometimes doesn't give us the effect that we really hope to achieve in our pets."
Ly, meanwhile, is dubbed a "mad vet" by his operations manager Kelly Chen because he would "never give up on his patients or animals". He agrees he is "a bit of a crazy guy but… intelligently crazy".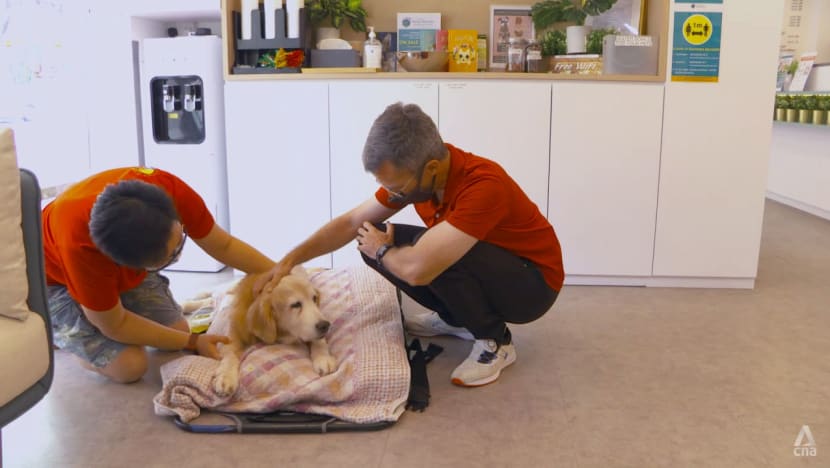 Around 80 to 90 per cent of his cases are serious ones, and he does not turn any client away, he said. One of his patients was Milo, a golden retriever aged around 12 under the care of animal welfare group HOPE Dog Rescue.
Milo had intervertebral disc disease, or a slipped disc that was compressing his spinal cord. He could not pee on his own or stand up.
When Ly operated on Milo, he removed the pieces of bone that were pressing on the dog's spinal cord and tried an unconventional treatment – stem cell therapy.
Stem cells are special cells that can become other cell types. Because Milo's spinal cord had been damaged for some time, the therapy was a "last-ditch effort" to see if the stem cells could help regenerate some of the broken nerve fibres, the vet said. "We have nothing to lose for this."
After the surgery, Milo recovered well enough to walk with the help of a wheelchair. He died one month later in his sleep.
WATCH: At The Vets Part 1: Meet The Vets (23:19)
Besides treating sick animals, vets with more experience also try to give their junior counterparts a hand.
Woo said he hires some vets who are fresh out of university and "it's important for us to hand-hold them throughout this early period". This could mean walking them through the use of a biopsy device to take a tissue sample, for instance.
"I have been a junior vet once – when I see a patient and I don't know what to do, it is really very distressing," said Woo. "I totally see what they are going through because I have faced it before."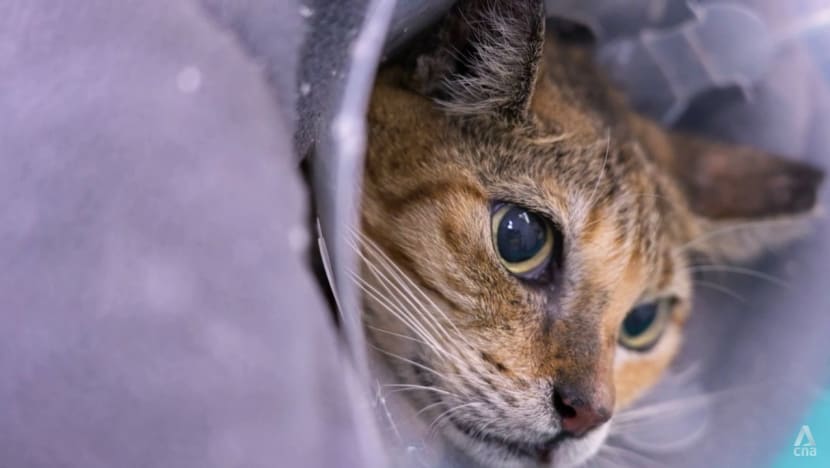 The work is intense and the hours may be long, but the vets say it is ultimately rewarding.
Woo said he felt sorry as a child for not being able to help street cats that looked unwell. But he thought to himself that in 10 or 20 years, he would be able to look at an animal, "know what's going on and be able to help (it)". "I achieved that," he said.
"I love dogs and cats and animals of all types. It's my life. It's in my soul," said Ly.
Catch Episode 1 of On The Red Dot: At the Vets here.
Catch Episode 2 here, and Episode 3 here. On The Red Dot airs on Channel 5 every Friday at 9.30pm.