Instagram and beyond: Why Singaporean photographer Nguan's images click
He once took over The New Yorker's Instagram account and he's got a massive following on his own account, too. Channel NewsAsia's Mayo Martin sits down with Singaporean photographer Nguan to find out more about the man behind the photographs.
SINGAPORE: His trademark pastel-hued images have gained Singaporean photographer Nguan a sizeable audience on social media. Every day, his followers on Instagram – 65,400 and growing – eagerly await his latest dream-like, melancholy-tinged snapshots of people and places, whether it's a food vendor in Tokyo, a boy lying on top of a Singapore Post mailbox, or a winter scene of an abandoned amusement park in Brooklyn.
But the 43-year-old artist told Channel NewsAsia that there's a series of photographs he hasn't been showing much of just yet – community cats.
Since 2014, Nguan has quietly been shooting pictures of Dakota Crescent's furry inhabitants as part of an informal side-project.
"I actually have a series that I've never fully shown. While Dakota's human residents have now mostly been transplanted to new homes, the stray cats have been left behind. I thought making portraits of these really socialised cats would be an interesting way to speak about issues of displacement as we confront the ruthless pace of change in Singapore.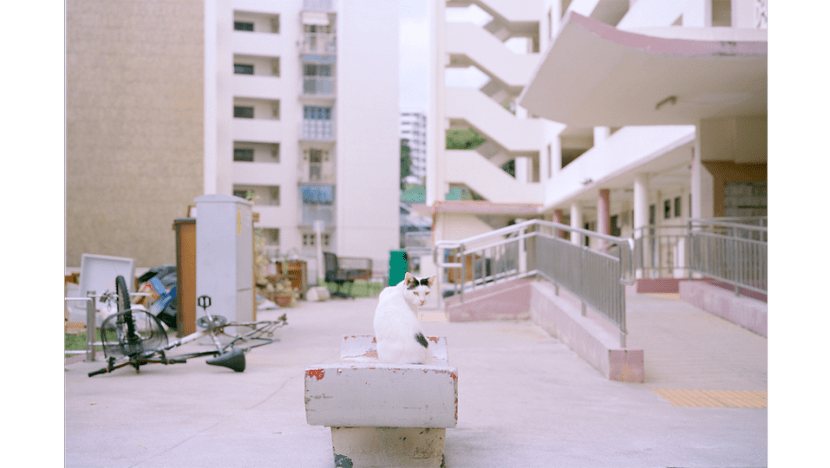 Nguan's dogged street photography approach, coupled with an uncanny knack for capturing evocative images, has made him one of Singapore's most well-known names in the scene today. And while many of his works are readily seen online, an ongoing solo exhibition at FOST Gallery in Gillman Barracks gives people a chance to see some of them in a large-scale format.
Titled How Loneliness Goes, it features 23 photographs that riff on themes of solitude – a man waiting at a void deck, a cracked plant barely held together, a woman eating alone in a coffeeshop. First shown at the M1 Singapore Fringe Festival in 2015, the present iteration features a couple of new pieces.
"My audience has increased maybe 10 to 15 times since then," he explained. "And I had all my prints at home so I thought, why not give (more) people the chance to see them again?"
And there's no lack of admirers. Indeed, fans of Nguan's work have steadily grown in recent years. A case in point: At the show's opening on Tuesday, a crowd gathered outside the gallery before the doors opened. And during the show itself, a young woman asked him to autograph her camera.
Not bad for someone who consciously keeps a low-profile, preferring to let his photographs speak for themselves.
(Photo: Nguan)
"I'm not trying to be all mysterious or whatever, but I think anything else would be a distraction," he said, as we settled at a nearby cafe for a chat. For the interview, the soft-spoken artist preferred to be called only by his first name and requested that no photographs of him be taken.
His anonymity has worked so well that during the opening, it actually took a while for people realise the artist was present. "The majority didn't know who I was, so I could just watch them looking at the work and reacting to it. I don't want to lose that."
FROM THE BATHROOM TO THE NEW YORKER
For Nguan, it has been all about his images, which have gained traction thanks in great part to social media. Aside from his Instagram followers, he also has a solid following on Tumblr and Facebook. He set up the latter in 2009 and takes pride in its organic growth – it took two years before he even got 100 fans, he said.
"I think of it as a huge honour when people follow you. That means they're letting you into their lives at their most intimate moments, right? They want to hear from you when they wake up in the morning, they're in the bathroom, they take the train to work, they're lying in bed before they go to sleep. So I try not to waste anybody's time with my posts," he said, jokingly adding that he spent the whole of 2016 concentrating on his Instagram account.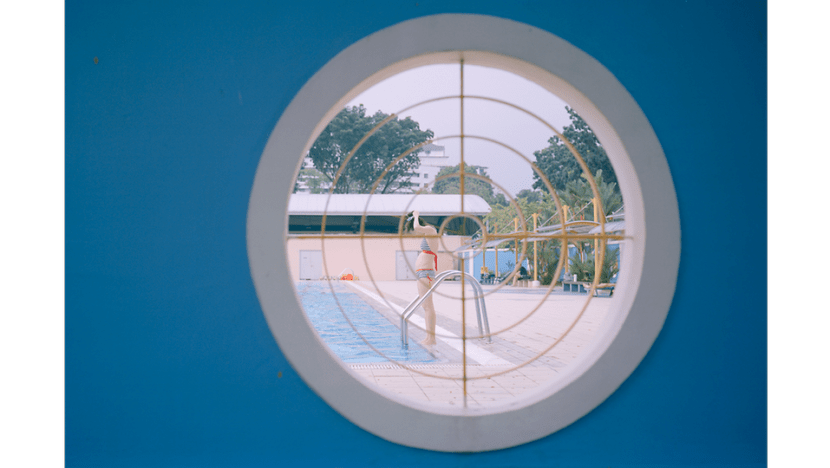 (Photo: Nguan)
Last year, Nguan's social media presence went up yet another notch: He was invited by The New Yorker to take over its Instagram account in August. Kicking off on Singapore's National Day, he posted around 24 photos of Singapore over eight days.
"The attention it created felt equivalent to holding a show at a really major institution, which The New Yorker is. It was very interesting to see that how that might be a new way to show works, and you reach a worldwide audience," he said.
"Around half of them were shot that same week. I felt like a journalist working in the 1950s, 1960s, when they would shoot and publish it the next day."
EXPLORING THE BIG CITIES
His photography career was more of a fortunate detour, he said. "I drew a lot when I was a kid. I thought I would become an illustrator or a writer, actually."
He went on to later study film at Northwestern University in Illinois, but then quickly realised movies weren't his thing.
"Other students would watch a film five times, but I could only watch once. I thought it would be fun to do but I didn't really have the passion for it," he recalled.
After graduating in 1998, he stayed on in the US. He moved to New York, where he began taking photography seriously.
With no connections to the photography or art world, Nguan decided to go it alone. He posted his photos on online forums and message boards for feedback, or sent them to magazines. And crossed his fingers.
The big break came in 2005, when Los Angeles magazine Arkitip offered him eight pages in an issue. A year later, the influential publication Vice included him in their photo issue.
As he slowly got noticed, Nguan pursued his photography projects, which included a couple of series on Los Angeles and New York. Returning to Singapore for good in 2009, he also began a project about Tokyo's Shibuya district, which resulted in his first book.
"I'm generally interested in the big cities," he explained. "I would never go to shoot on a quiet beach. If I go to a mountainside or a beach, there's almost nothing for me to do in terms of my work. I'm more drawn to crowds. I see my job as being (someone who) takes all the complexity of the world, complex emotions and distill them so that they are immediate and visceral."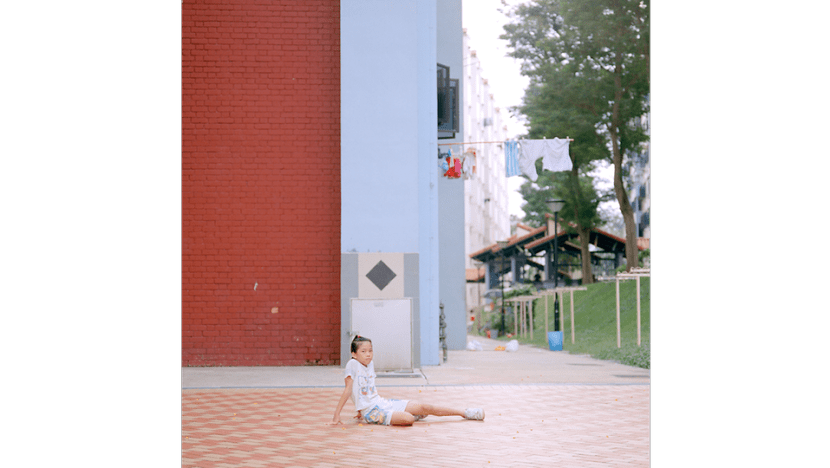 (Photo: Nguan)
Clean and green Singapore, however, was another proposition altogether. "That was the challenge, I guess. In a way, my goal was to make it look filthier than it is. I wanted to show that it's a city grown out of a jungle."
TAKING TO THE STREETS
Earlier this week, Nguan went on one of his regular shooting trips in the island. "I went to Jalan Besar. I found a new rainbow-coloured building, basically," he said.
His trips often take place in the mornings and in the afternoons, with bare minimum equipment: A trusty Fuji 6x9 SLR camera, which he has been using for a decade, and rolls of film and a light meter stuffed into the pockets of his cargo shorts.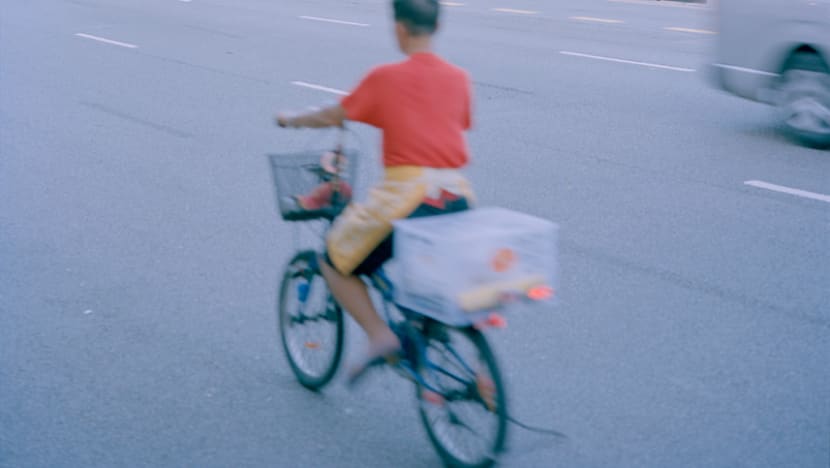 A recent photo taken by Nguan in Jalan Besar. (Photo: Nguan)
"I don't bring a bag. I just carry the camera in my hand, and walk in a state of heightened awareness. I feel like an animal almost. You just have to be hyper-aware of the smallest interactions that occur. And a lot of it is instinctive."
He added that on his street jaunts, he would often stay at one place. And wait.
"I found the most effecting thing you can do is not move. It's like looking for a space in a car park. You should just stake out one space and wait for an empty spot. If you keep moving, you might never get what you want."
And despite his often in-your-face and intimate approach to taking photos, he has rarely gotten into trouble for his street photography.
"In Singapore, I've maybe been verbally reprimanded only three times. Once, I took a picture of an uncle with a child in Chinatown and he was furious. He came up to me and he wanted to know what I was doing," he recalled.

Once a photo is out there, it's another thing altogether, though. One of the more popular images in How Loneliness Goes was of a man kneeling at a bus stop. When it was published in a newspaper in 2015, the man's family spotted it and requested it be taken down. Nguan did not include it this time around.
These days, however, he hasn't been as inconspicuous. "I've been making more landscape work now, so I've been bringing a tripod. But you know what, the bigger and more formal your equipment, the less people bother you. If you use an iPhone, people will think you're shooting an upskirt photo or putting them online!"
It's not just his subject matter that has attracted attention. There are online threads where people attempt to figure out why his photographs look the way they do, with soft, pastel shades and desaturated, washed out colours.
(Photo: Nguan)
Nguan pointed out he doesn't use any filters. Instead, the look initially began as the result of a happy accident, which he calls "that pink thing". While scanning his photographs for the book on Shibuya, the images took on a pinkish hue.
"I thought I had removed that from my local work, but then (fellow artist) Charles Lim once said to me my photographs have this Johnson's Baby Powder thing on it – and I didn't know what he was talking about. Whatever it is, people like it, so I don't really think about it," he said, with an amused smile.
WAITING FOR SINGAPORE
Despite having loads of his images already up online, Nguan still aims for other ways of presenting his art, whether it's through books (How Loneliness Goes also has a book version) or exhibitions.
In fact, there's one huge project in the pipeline – a series called Singapore, which he aims to publish as a book and, hopefully, present as an exhibition as well.
Some of the photos can be seen in both the ongoing exhibition (which he described as a "prelude" to the bigger series) and on his website. But there's plenty more where those came from.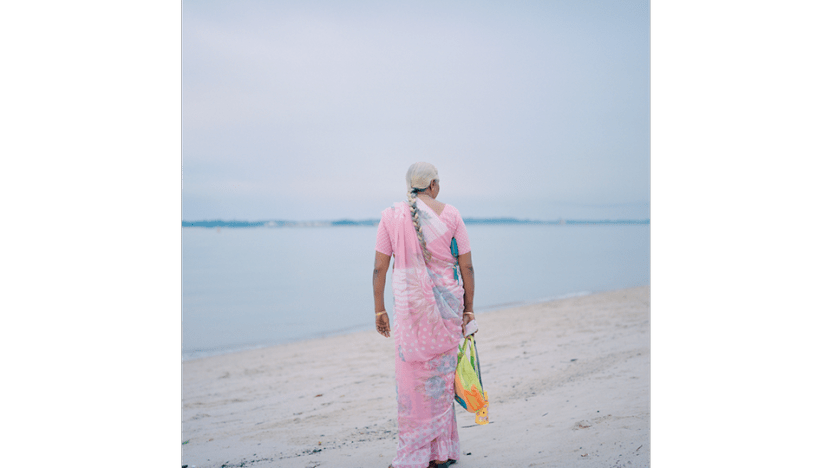 (Photo: Nguan)
From around 500 images, he has whittled these down to 85 which he says will collectively be "an epic depiction… an attempt to present a mythical version" of Singapore.
At the moment, Singapore is in "limbo" as he ponders his next move. For now, Nguan's fans can always rely on his Instagram account for their regular fix of his captivating images.
"I always say that every picture is the middle of a story. The befores and afters of every picture, I leave entirely to the viewer. And that is why I like photography – its evocative potential is appealing and powerful to me," he said.
***
1. CONEY ISLAND, NEW YORK. I like to shoot on Coney Island in New York, which is like a beach with rocks, glass shards, and drug needles – although not so much nowadays. The messier the place is, the more excited I get.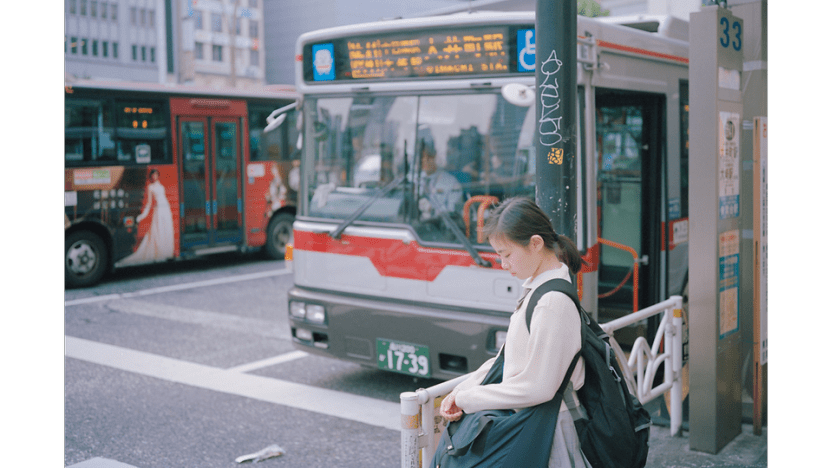 2. SHIBUYA, TOKYO. I spent so much time there working on my series that I'm going to haunt that traffic intersection when I die! I shot there between 2008 and 2010, and after that I continued coming to Tokyo. This was shot in August 2015. When I put up the image on Instagram, a friend of the girl recognised her and tagged her. The girl's name is Piano and she's a huge Harry Potter fan. Thankfully, she seems chirpier in her own pictures.
3. GEYLANG, SINGAPORE. I like Geylang. It's the last bastion of unruliness in Singapore. There's still a lot of dubious activity that goes on in broad daylight, and a whiff of unpredictability in the air. I also love Geylang's sidewalk coffeeshops – the pictures I make of them are in homage to Toulouse-Lautrec's paintings of Parisian cafes.