The house that gave Mummy Soh, 75, new lease of life as an entrepreneur
She hosts dinners and conducts cooking classes under Airbnb Experiences, and maintains an open-door policy for people to enjoy her home, all for the exchange of ideas and to keep traditions alive.
SINGAPORE: Despite standing a head shorter than most of her guests, Mdm Ng Swee Hiah held her audience's attention as she glided around her garden.
She pointed at her mulberry plant, proclaiming that "the leaves can be used to make tea, which is good for you".
Next, she plucked a bunch of six-petal chive flowers and thrust them under a guest's nose. "Taste it. You can eat it raw," insisted the 75-year-old. It tasted both sweet and garlicky. "Nice, right?" she asked.
Minutes later, in her kitchen, she bossed her guests about, ordering one to peel the potatoes and another to squeeze grated coconut.
These paying guests were attending one of her cooking classes at her terrace house, learning how to make chicken curry as part of Airbnb Experiences, a platform where locals get to share their hobbies or skills for a fee.
Almost everything was created from scratch to make that dish, from extracting the coconut milk to plucking chilli, ginger and lemongrass from the garden to make curry paste.
It took Mdm Ng's eldest son a year to coax her out of retirement to help reinvent her family home of almost 50 years, now called One Kind House, and recreate the good old kampung days for others.
A primary school teacher for 40 years before she retired over 15 years ago, she has now become part historian, part businesswoman while bringing back the kampung spirit.
GATE ALWAYS OPENED
Mr Calvin Soh, a regional executive director of an advertising firm, had always wanted his mother to share with others, especially children, the history of the house and of Singapore as well as her recipes before they get forgotten.
Which is why the gate leading to Mdm Ng's house at Telok Kurau is now kept unlocked. She welcomes all, not minding the security risk.
"The more you want to close the door, the more curious the robber gets," she reasoned. "We have no valuables, only paintings. They're so big – how to cart them away?"
Strangers have strolled uninvited past her gates to inspect her plants, while children have chased butterflies into her garden.
But by and large, Singaporeans are a polite bunch and would gesture to her from the main gate to ask whether they can enter.
From the exterior, her double-storey house seems stuck in the 1960s, with its art deco air vents set against a light turquoise facade. Sandwiched between its contemporarily designed neighbours, it looks like an oddity.
The interior has become a living museum, and Mdm Ng, known more affectionately as Mummy Soh, showcases items from the past to children.
These include an iron heated by charcoal, a black and white picture of her wedding with her late husband, and a cast-iron Singer sewing machine well over 100 years old. It was her mother's and still works, she said.
Apart from her cooking classes for Airbnb Experiences, which attracts mainly tourists (at S$99 a person), she hosts dinners about twice a week, in a kitchen-cum-dining area that seats nearly 20.
A BUZZING HOUSEHOLD
Three years ago, however, life could not have been more different for Mummy Soh. She was on the verge of retiring to another country with a cooler climate and ample greenery, like Australia, New Zealand or Thailand's Chiang Mai.
She had been spending her retirement years travelling, exploring Singapore and taking care of her two grandchildren. But after they went to school, there was less for her to do, said her son.
She wanted to sell the house, which has seen four generations living under the same roof. But Mr Soh persuaded her otherwise.
"I said, 'It's your house; you can do whatever you want with it.' But I thought it was such a shame because the house wasn't just a physical structure, it also contained all the memories and stories and sort of a legacy," said the 50-year-old.
His grandparents bought it in 1969, and he remembers growing up with six uncles and five aunties in a household always abuzz with activities.
His grandfather was the sole breadwinner, and although they had the house, they were not rich.
"I think that's where the seed of creativity started because my grandmother could do a lot with very little. She could reconfigure leftovers and make them taste different the next day," recalled Mr Soh. "We were very frugal."
Dinners were quick affairs for the big group and had to be done in two sittings. He said:
The more you talked, the less food there was on the table. So everyone ate and went off.
But the house was filled with love and community spirit, he added. They reared chickens, grew vegetables and even arranged for a farmer to collect their leftovers, to feed his pigs, in return for eggs every few months.
The house was next to kampungs with Malays, Eurasians and Chinese all living in one neighbourhood. The mothers would gather and exchange recipes while the children made friends and wandered around the kampungs, with their friendly, open-door policy.
"We looked out for one another, and you could go to the neighbour's house to ask, 'What did you cook for lunch?' And the makcik (auntie) would say, 'Oh, today I cooked nasi lemak. Bring your plate,'" Mr Soh said with a smile.
"It might be 20 cents, or we might return the favour the next time round."
REINVENTING THE HOUSE
After his grandparents died in the 1980s, Mummy Soh ran the household, as she was the eldest. Her mother had insisted that she buy the house so the proceeds could be distributed to her siblings.
She and her husband, who had moved to a public flat about 10 years earlier, sold it to return to the house. Their eldest son was 22 then.
He bought his own place in his 30s and later invited Mummy Soh to live with him, to help look after his children. His younger brother and an uncle live in One Kind House now.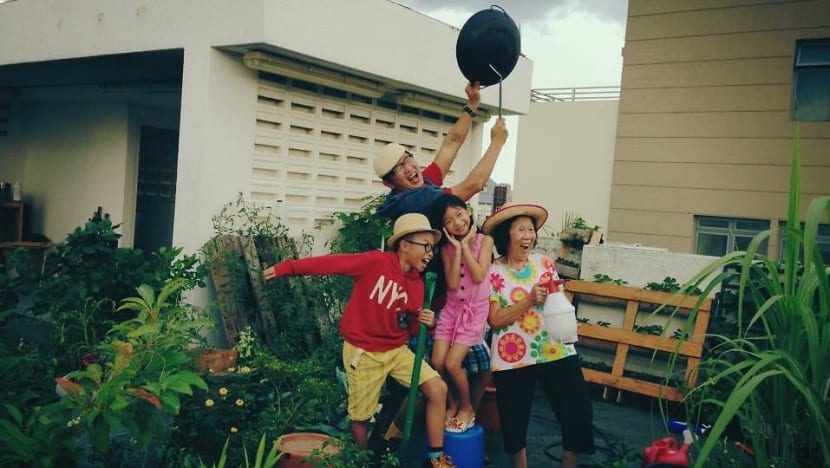 Despite all the memories, Mummy Soh eventually saw little reason to keep the house, as almost all her siblings had moved out.
"I might as well sell it," she reasoned. "I need to spend my own money, right? I could go travelling or whatever, right? All my life I'd been working."
That was when Mr Soh suggested reinventing the house, which would "enable my mum to sort of find dignity, purpose and something to do, and then find a way to connect with kids". And if that failed, she could still sell it.
His idea was to create a community centre of sorts, where the young and old could exchange skills and ideas, where there would be a sense of collaboration like in the good old days.
"The old would get to pass on a lot of their traditions and knowledge, and we shouldn't lose track of that," he said.
"For the kids, they should learn that and understand where it came from; they'd also be able to project it going forward and evolve it into their own version of themselves."
Using food, he reckoned, would be a "fantastic way of figuring out one's past". It took a year of convincing, but Mummy Soh then started out by hosting dinners, for family and friends first.
"It was out of her comfort zone. She was always in a secure place where she was in a job with a chart and a trajectory plotted out for her," explained Mr Soh.
When she finally decided to take on the project, she thought that she would "just go with the flow". "Then it became more complex, and then everybody liked it, and it just started," she said.
"They tasted the food, they liked it and from there his friends went to his other friends, so it was by word of mouth."
A DIFFERENT EXPERIENCE
Recreating that kampung feel, however, did not come cheap. Mr Soh spent about S$300,000 breaking down the walls to create an open concept, raising the ceilings to emphasise the kitchen's importance and making the garden self-sufficient.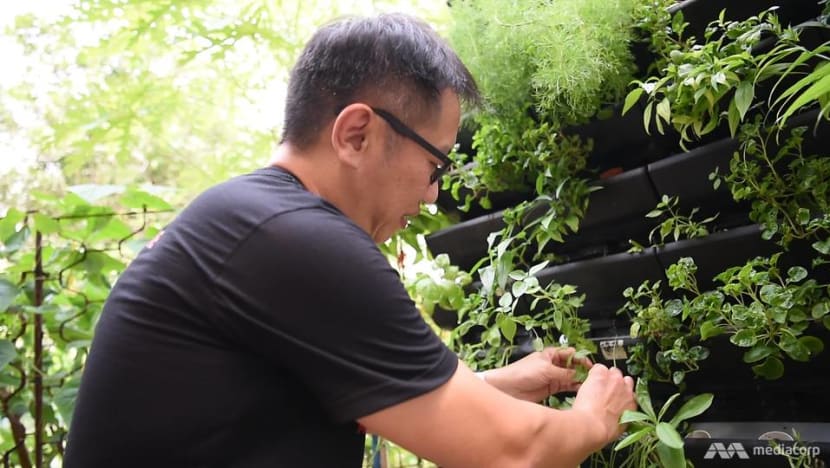 His mother bought fresh ingredients from the market and conducted the classes. To her surprise, some of the participants had only seen spice packets and packaged coconut milk, but not spices in their natural form or how coconut milk was made.
"Then when they fry the spices, they say, 'Oh, the smell of the ingredients comes out,'" she said.
Many have also told her that her food reminded them of their childhood.
"A lot told me that they missed their home-cooked food. Nowadays, when they're working, they always get food from outside, or they go to a restaurant. It's a different kind of atmosphere," she said.
WATCH: Inside the experience (5:09)
By chance, an Airbnb employee attended one of the dinners and recommended that she list her services with Airbnb Experiences, launched in Singapore last year.
Mummy Soh now offers a three-course meal, which includes dishes like roast chicken, Teochew-style steamed fish, Assam prawns and blue-pea flower rice.
Many tourists have told her it was the first time they had stepped into a person's home in Singapore and got to appreciate the decor, a step up from simply taking pictures of the Peranakan shophouses along Koon Seng Road.
"They don't know what's inside (those houses). Can they see how many rooms (there are)? Can they see the structure inside? So it's a different kind of experience (here). They like it," she said.
She appreciates the interaction with the tourists and the exchange of ideas – about food, plants and even how to create compost. One Australian group was so impressed with her salted-vegetable duck soup that they requested her recipe.
It is not the money that keeps her going, she said.
I do it more for fun and the passion. It's about meeting people and talking. You'd feel better.
Positive reviews aside, she has received some brickbats from neighbours who were unhappy with the increased noise and traffic and who complained to the Urban Redevelopment Authority.
In 2016, the authority found that the house fulfilled the rules on home-based small businesses, except for operating a small cafe for the public, which has since been stopped, she said.
Her son found some of the complaints odd, as most of the tourists who visited did not drive, using taxis or private-hire cars instead.
"I'm very used to dealing with objections and roadblocks," he said. "When you come up with something new, you have to deal with the loneliness of shepherding something through. The initial process is always dangerous, difficult and unknown."
INCUBATOR FOR IDEAS
More than just a venture for his mum, the house has also become an incubator for ideas for Mr Soh's daughter Ava, 12, and son Dylan, 15. They work on their projects in one of the rooms upstairs.
Ava is a national skater who has started to sew pants for sale, at S$49 each.
Her brother gives motivational talks, has launched a few Kickstarter campaigns with his dad and is now developing an app for adults to discover their inner child.
The boy feels deeply connected to the house, as generations of his family have lived there.
He helps Mummy Soh regularly, tending to the garden, taking the guests on tours round the house and even helping to make kedondong (a tropical fruit) pesto sauce when he is free.
"(This house) inspires me to be a start-up of my own because no one's really doing this," he said.
"I'm not stigmatised by failure. In terms of my projects, there's no failure, but there are setbacks. But eventually, I'll experience failure and will have to learn from that."
To give back to the community, the family have conducted cooking classes for children of single parents and other activities for those with mental disabilities, said Mr Soh.
However, he sees the house as having had the greatest effect on his mother, who has become more active. The exposure to different cultures as she made friends with some visitors, bonding over the meals, has also been invaluable.
As a teacher all her working life, she had never been entrepreneurial nor thought starting a business could ever be possible for her, said Mr Soh.
"But like I said, Singapore itself is a start-up. It's in our genes. So once she had a taste, it came to her naturally. It was as if all the circuits connected. And she was like, 'Yeah, I can do all these things,'" he added.
Suddenly she was Miss Businesswoman.
Mummy Soh admitted that opening up the house did wonders for her: She feels "healthier and happier or funnier".
She is not planning, however, to do these dinners and cooking lessons for long. And she still wants to sell the house while she is alive, to avoid any possible conflict over the house in future.
"As long as my health is okay, I can continue. If I find it too tiring, I'd just have to stop," she said.