Commentary: Reading the chess move of Huawei's Mate 60 Pro chip breakthrough in US-China tech war
Huawei's new chip represents a breakthrough in Chinese chipmaking ability despite US restrictions, but it still hasn't caught up with older Apple and Samsung models, says S Rajaratnam School of International Studies' Benjamin Ho.
SINGAPORE: Chinese mobile phone company Huawei unveiled its latest Mate 60 Pro that the world has since learnt is powered by a 7-nanometre processor. This has raised concerns about the efficacy of American restrictions on advanced semiconductors and the extent to which Beijing was able to circumvent them.
Produced by Shanghai-based Semiconductor Manufacturing International Corp (SMIC), the 7nm chip represents a breakthrough in Chinese chipmaking ability. Prior to this, it was believed that the best China could achieve – given Western sanctions – was about 14nm.
Nanometre node is related to different generations of chip manufacturing technology - the lower, the better. Most advanced chips are around 3nm, which are mostly for smartphones, while more mature semiconductor chips are around 28nm or above, for vehicles or household electronics.
Chips produced at the 14nm level were first introduced in smartphones in the mid-2010s and are two to three generations behind leading-edge technology.
To use an example, an entry-level Samsung phone today (say, the A20 Samsung model which I use) is powered by a 14nm chipset while high-end phones such as Apple's iPhone 14 and the Samsung S21 Ultra use 5nm chips. The soon-to-be-released ‌iPhone 15 Pro‌ is rumoured to feature the A17 Bionic chip – Apple's first 3nm chip.
As a point of comparison, companies like AMD and TSMC were able to manufacture 7nm chips as early as 2017, while SMIC only started mass-producing 14nm chips in 2022. Hence, Huawei's latest achievement seems to show that China has been able to close the gap in a relatively short time.
ARE US RESTRICTIONS USELESS THEN?
To be certain, American restrictions and technological curbs against China are not without their effects, with Huawei being a high-profile casualty.
According to Huawei financial statements, its total revenue in 2022 was 642 billion yuan (US$87.4 billion), marginally higher than the previous year of 636 billion yuan but more than a 25 per cent decrease from the 2020 total of 891 billion yuan. Operating profit also shrank to 42 billion yuan, its lowest in five years.
US restrictions might prove to have a longer tail too: Huawei may have been able to produce 7nm using existing technology, but without access to more advanced chipmaking technology targeted by export curbs, the next breakthrough might not be as swift.
A bigger challenge, however, lies not so much in American direct intervention or restrictions against China, but in the broader technological ecosystem. Under the CHIPS and Science Act passed in 2022, companies or recipients of funds under the US$52.7 billion incentives programme are prohibited from engaging in any joint research or technology licencing with Chinese firms, if it would involve high-tech semiconductors or other controlled items.
This complicates the picture considerably, given that the semiconductor industry requires multiple levels of coordination and cooperation. Take for example, the process of outsourced assembly, testing and packaging (OSAT).
The analogy Samsung uses is the semiconductor as a human brain and its packaging, the nervous system and skeletal structure. The last stage of fabrication is the package test, during which the packaged chip undergoes final quality assurance procedures.
Companies who work with the Chinese in sensitive industries would risk the ire of America, making it difficult for them to gain future access to US high-tech know-how. That said, it is not impossible for secrets to be somehow leaked in such work.
The fact that the US lacks onshore OSAT capacity could pose security risks. The process of packaging represents a handover in the ownership and control of the device from the manufacturer to the packager and becomes a natural entry point for something to happen.
CHINA'S TECHNO-NATIONALISM WAR
Cognisant of America's technological full-court press against it, China has adopted a whole-of-society approach against what it sees as hostile foreign forces being out to contain and defeat it.
Just last month, the Ministry of State Security, which oversees China's intelligence activities, warned of espionage activities conducted against the country and called for the "participation of the masses" against such external threats.
Relating this to technology, the implications are clear: The West is attempting to beat China down, and it is the moral duty of Chinese citizens to ensure that China does not lose the technological war.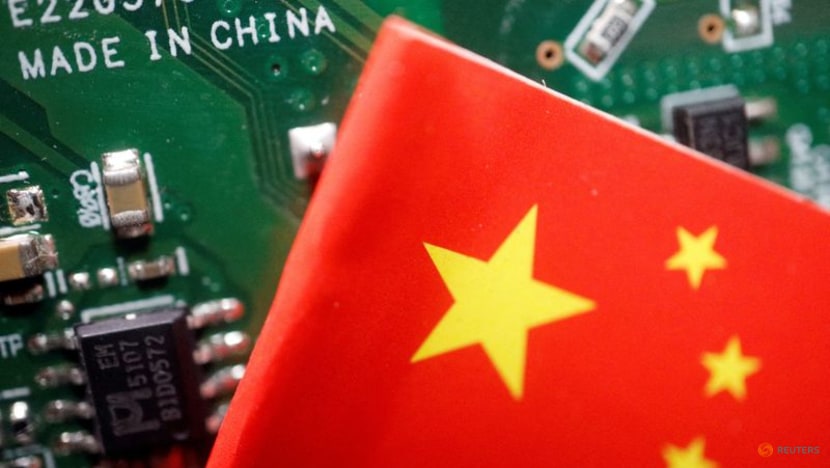 A recent Reuters article revealed that China had quietly revived its Thousand Talents Plan to recruit overseas experts, in an attempt to accelerate its tech proficiency and overcome American export curbs. The revamped recruitment drive includes perks such as home-purchase subsidies and typical signing bonuses of 3 million to 5 million yuan.
All this is part of the Chinese government's objective to achieve self-reliance in semiconductors, in an industry reportedly facing a shortage of about 200,000 people, including engineers and chip designers, according to a 2021 Chinese report.
Technology is viewed as the next frontier of competition and Beijing seeks to mobilise Chinese citizens and the diaspora, to be on their side to help them overtake - or at least match - the West.
THE FUTURE OF CHINA'S CHIP INDUSTRY
Whether all the above steps can propel China to the elite level in the chipmaking industry is still an open question. This is akin to asking whether Saudi Arabia's expensive purchase of football players can improve its quality of football.
While having financial muscle is necessary, part of the broader chipmaking ecosystem also requires individual innovation and freedom of expression, characteristics that are sometimes linked to a liberal worldview and political ethos. 
The top 10 countries in the 2022 Bloomberg Innovative Index are all democracies. The top two Asian countries are South Korea and Singapore, ranked sixth and seventh respectively; China ranks 11th and is third in Asia.
China has led the world in number of patent filings since 2011, according to the World Intellectual Property Organization (WIPO). However, translating quantity into quality is a different proposition altogether.
In terms of the international scope of patent, only 6.3 per cent of all applications from China are filed abroad, and only 9.7 per cent of all Chinese patents were granted abroad in 2019; in contrast, filings abroad constitute 45.3 per cent of total applications from the United States, 58.8 per cent from Germany and 82.7 per cent from Canada, suggesting that Western countries continue to dominate. 
To this end, the future of China's chip industry will be a barometer of Beijing's ability to bridge the last mile in overtaking the United States. But high-profile takedowns of well-known personalities, like the artist Ai Weiwei and Alibaba founder Jack Ma, over the years further strengthens the belief that political stability takes precedence over personal flourishing in China.
While there is no lack of political will to achieve the "great rejuvenation of the Chinese nation", the political costs of doing so may not be something the Chinese government would necessarily want to pay.
Benjamin Ho is the Coordinator of the China Programme, S Rajaratnam School of International Studies, Nanyang Technological University.