Commentary: Decoding Beijing's intentions behind Micron chip ban
Chips have become the most aggressive front in the tech war between US and China. Here's what to make of Beijing's first retaliatory action, says the Lee Kuan Yew School of Public Policy's Ryu Yongwook.
SINGAPORE: Against the United States' mounting pressure on China's semiconductor industry, Beijing made its first retaliatory move on May 21, de facto banning the use of Micron Technology chips in China.
The Cyberspace Administration of China concluded its seven-week probe into Micron products and announced that the US chipmaker had failed to pass its cybersecurity review, claiming significant risks to its critical information infrastructure supply chain and national security.
Chips have become the most aggressive front in the tech war between China and US. The US imposed export controls on advanced chips and equipment for chip production in October 2022 – a response from China was to be expected.
What should we make of Beijing's first retaliatory action against the US in the ongoing chip war? There are at least three possible interpretations, each with its own significance for the US-China strategic competition.
DOMESTIC PRODUCTION CAPACITY NOWHERE NEAR SELF-SUFFICIENT
The first is an indication of China's growing confidence that its domestic production capacity has reached a satisfactory level to adopt a tit-for-tat strategy.
In the past, Beijing shunned from imposing sanctions on foreign chip industries knowing that it depended on them to meet its avid appetite for chips. Taking restrictive action against Micron may suggest that it no longer feels dependent on foreign suppliers, which would greatly boost China's contest for hegemony and supremacy.
While China's domestic production capacity has incrementally increased over the years, it is certainly not yet self-sufficient. In DRAM and NAND flash chips, where Micron occupied more than 20 per cent and 10 per cent of the global market shares in 2022, respectively, China's production capacity is still nowhere near the level required to meet its domestic chip demand.
Despite government investment in Chinese memory chip manufacturers such as Yangtze Memory Technologies Corp or Changxin Memory Technologies in recent years, China still heavily depends on foreign suppliers. That is why Beijing's retaliation could not extend beyond Micron.
For more advanced chips (7 nanometre or below), China's production capacity is even more negligible - almost non-existent - at this stage. With the US' ever-expanding export restrictions on China, it is highly doubtful if China can ever reach its desired self-sufficiency level in the future.
DRIVING A WEDGE
The second interpretation is that the retaliation against Micron is Beijing's attempt to drive a wedge on two fronts: First between the US and South Korea, the world's dominant memory chip producer, and second between the US government and private chip firms in the US.
China's appetite for chips must be filled by other suppliers if no Micron chips are to be used in China. For sure, Chinese manufacturers stand to gain, but they cannot replace Micron's share entirely on their own.
The only foreign suppliers that can fill the shortage in memory chips are South Korean firms, Samsung and SK Hynix. They stand to gain from the Micron ban, which engenders a situation of diverging interests between the US and South Korea.
It was reported that the US government had earlier asked the Korean government to urge its chipmakers not to backfill the shortage in the situation that Beijing imposed sanctions on Micron. Seoul's calculation is complicated, as the chip manufacturers could boost the ailing economy that has been running consecutive trade deficits since March 2022.
However, given the decisive tilt toward the US by the conservative Yoon administration and the economic pain Seoul had suffered from Beijing's sanctions due to the deployment of US THAAD anti-missile radar systems, Seoul will closely consult with Washington before it decides what action to take toward China.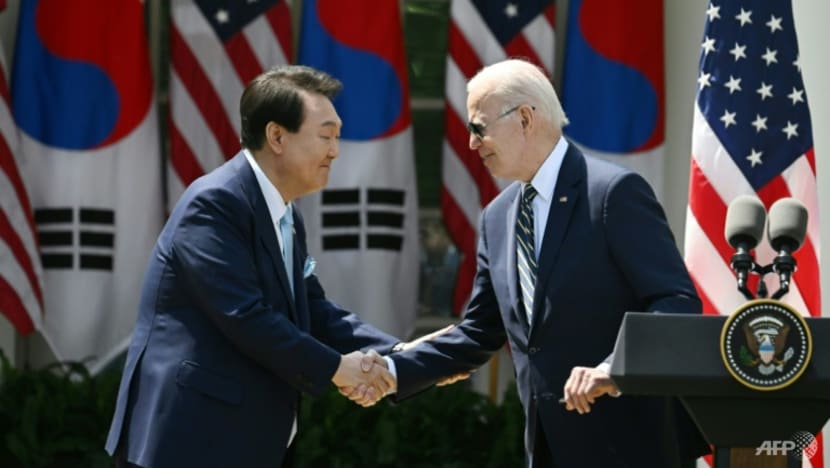 If South Korean firms do not backfill the shortage, Beijing's retaliation might end up hurting itself in what is already a sluggish domestic economy. And when its stockpile of chips runs out, it might soon be compelled to find ways to reverse its decision through negotiation with the US.
Beijing's action could also create a wedge between the US government and the private semiconductor firms in the US. Nvidia CEO Jensen Hwang's recent remark, that the China market cannot be replaced and that the chip war would cause enormous damage to US companies, is only the latest statement coming from the private sector that reflects the misaligned interests between the government and the private sector on the chip war.
Beijing's action could certainly complicate domestic politics in the US in a time of economic downturn and inflationary pressures, ahead of the next year's presidential election.
SYMBOLIC SHOW OF RESOLVE
Finally, Beijing's Micron ban could show that it is struggling to find ways to counter the US' mounting chip pressure and hurt the US interests.
China had been reducing its use of Micron chips well before the ban. Consider then why Beijing imposed a ban only on Micron but not on other American chip companies such as Qualcomm or Intel: A wider restriction would be unbearably costly for China. Restricting its target to Micron could minimise the cost of impact to China, while signalling its resolve to fight against the US chip pressure.
What this last interpretation implies is that Beijing is unlikely to escalate the tit-for-tat situation as its leverage is limited vis-à-vis the US, and the recent ban on Micron is more of a symbolic show of resolve than an action aimed to cause much damage to the US. Washington still remains firmly in the driver's seat in dictating the terms of the chip war against China, and few good options exist for Beijing to counter the US pressure.
BALL IN BIDEN'S COURT
All eyes will now be on the next move by the Biden administration. US President Joe Biden hinted an imminent thaw in the US-China bilateral relationship at the recent G7 meetings in Hiroshima where the group changed their hardline approach to China from "de-coupling" to "de-risking".
Despite this, the US is unlikely to change its decoupling policy in advanced technologies, including advanced semiconductors. It has found the most effective way to curtail China's industrial and military rise by leveraging its control over the upstream segment of chip production such as design software, intellectual property and electronic design automation, on which not only China but all other chip producers depend.
The US intention to continue the chip war was vividly illustrated by Commerce Secretary Gina Raimondo when she called China's retaliation "economic coercion" and said that the US "won't tolerate" it. The US will continue to promote and tighten its policy coordination with its Asian and European partners, to generate maximal pressure on China.
The chip war between the US and China will continue and occupy the centre stage of the US-China strategic competition.
Ryu Yongwook is an Assistant Professor at Lee Kuan Yew School of Public Policy, National University of Singapore.
Listen - Red Wall: Inside China's zero-COVID world