Commentary: With Trump topping presidential polls, deja vu hangs over US-led trade talks in Singapore
Even though he may not win the 2024 US election, former president Donald Trump's presence will be felt in the Indo-Pacific Economic Framework negotiations in Singapore, says Steven R Okun.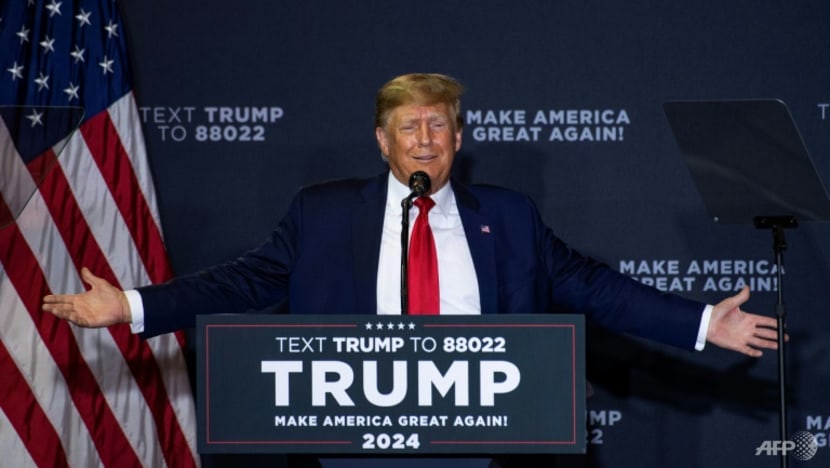 SINGAPORE: This week, as Singapore hosts a round of negotiations for the Indo-Pacific Economic Framework (IPEF) - the Biden Administration's regional trade and investment engagement strategy - the possibility that Donald Trump could once again be the US president looms.
Impeached twice and the subject of numerous lawsuits and potential criminal actions, one cannot dismiss the 45th president being sworn in as the 47th. He still wallops all his competitors in the Republican primary and the latest poll has him winning in a head-to-head matchup with President Joe Biden.
Trump may not be his party's nominee. And even if so, he could once again lose to Biden. But his chances for re-election cannot be dismissed outright.
Many of the negotiators and government officials here this week were also involved with the US when it led negotiations for the Trans-Pacific Partnership, the Obama administration's economic framework for engaging the region.
It took dozens of discussions over eight years for that agreement to be signed in 2016. So much work. So many benefits - so everyone thought. Just three days into his presidency, Donald Trump withdrew the US from the agreement.
A sense of deja vu hangs over this week's talks. Will history repeat itself by having Donald Trump win the White House to then abandon IPEF?
IPEF MATTERS GEOPOLITICALLY
Much of the TPP lives on as the Comprehensive and Progressive Agreement for Trans-Pacific Partnership (CPTPP), now without the United States. Similarly, the region's largest trade agreement - the Regional Comprehensive Economic Partnership (RCEP) - also does not have the US as a member.
The US has not entered into any free trade agreement (FTA) in more than a decade in the region. The IPEF can begin addressing the challenges caused by increasing regional negativity about US trade commitment. 
An impressive 13 countries have joined since the US launched the IPEF: Australia, Brunei, Fiji, India, Indonesia, Japan, South Korea, Malaysia, New Zealand, Philippines, Singapore, Thailand and Vietnam.
Nuanced and complex geopolitics provide part of the explanation for the strong turnout. The US has not been at the table in drafting Asia Pacific's economic architecture since it withdrew from the TPP more than six years ago.
But China has. It joined the ASEAN-initiated RCEP and will drive the economic benefits of the agreement.
While Indo-Pacific countries stand to gain from China's large market, they want Beijing and Washington equally engaged. As former Singapore diplomat Bilahari Kausikan explained, the US can maintain regional balances amid concerns about China's behaviour in the East and South China Seas and the Himalayas, unwillingness to distance itself from Russia's invasion of Ukraine, and often predatory economic practices.
IPEF brings the US back. While the strategy lacks some benefits members in the region would prefer - mainly, enhanced access to the US market - all IPEF members strategically see it in their interest to be part of the framework.
They want this to succeed. Any US-led framework beats not having one at all.
IPEF ADDRESSES NEEDS OF POST-PANDEMIC WORLD
IPEF addresses four pillars that match partners' needs coming out of COVID-19 and into the climate crisis: Trade; supply chains; clean energy, decarbonisation and infrastructure; and tax and anti-corruption.
Dr Deborah Elms, executive director of the Asian Trade Centre, described it to me this way. "IPEF could provide a valuable framework for discussing new critical issues for the future. The smaller but diverse membership gives a useful springboard to policy options and ideas that should resonate with a wider audience."
There are many critical issues that each member would like to have addressed. Dr Ong Kian Ming, former Malaysia Deputy Minister of International Trade and Industry, wrote to me that he would push for things that can be done in the US via executive action, such as pre-clearance for semiconductor firms that participate in critical supply chains.
It's not just governments that need outcomes from IPEF - so too does the business community.
As Jackson Cox, interim president of the American Association of the Indo-Pacific, put it to me: "Many partners want a full FTA with the US, but they know that can't happen now … what they need is a signal that it could happen in the future."
With it not being a "traditional" free trade agreement, business engagement becomes more critical to IPEF's success, as the private sector will be leading IPEF's implementation and providing much-needed investments desired by IPEF participants.
Commercially meaningful, binding provisions will increase the business community's support, including a dispute settlement mechanism or other forms of enforcement. According to a recent report by the Office of the United States Trade Representative (USTR), there are numerous trade barriers in IPEF countries that make it difficult for businesses to operate. IPEF should focus on addressing these barriers.
Meanwhile, Kellie Meiman Hock, trade lead at McLarty Associates and former USTR official, notes that "battery and EV investors in the United States are hoping that talks on the margins of the Singapore round might advance discussions on critical mineral agreements, such as that signed by Japan in March."
Business community support, even for an agreement that contains more understandings than binding agreements, will result in IPEF partners becoming more inclined to implement an agreement. While the business community can invest regardless of IPEF surviving the next election, a sustainable IPEF brings needed scale and intensity of investment.
SINGAPORE WEEK CRITICAL FOR IPEF
The IPEF negotiators have a tougher task than usual. They must reach an agreement that provides not just a win-win, but a win 14 times. And they must do it such that a change in US administration after the framework has been agreed upon will not cause the "new" government to abandon any outcomes.  
As an agreement like IPEF has little chance of getting concluded during next year's US presidential campaign, the four pillars need to be closed this year. This will be a heavy lift under the best of circumstances.
No one wants a TPP repeat. While a formal mechanism may not be easily available, the IPEF negotiators need to think about implementation, enforceability and follow-through.
For the agreement to straddle a change in governments, it must be clear on what the implementation obligations are, for instance, what should be incorporated into domestic law such that it's difficult for new governments to make changes.
The negotiators have a critical question to grapple with this week: What sort of vehicle should IPEF be such that it has a higher chance of survival?
Not only will the negotiators be dealing with each other in answering this question, they need to do so with the proverbial 800-pound orange gorilla in the room as well.
Steven R Okun is CEO of Singapore-headquartered APAC Advisors, Senior Adviser for global strategic consultancy McLarty Associates and Chair of the AmChams of Asia Pacific. He served in the Clinton administration as Deputy General Counsel at the US Department of Transportation.