Commentary: The world's two most important leaders have finally met. Will US-China ties improve?
The first face-to-face meeting between Joe Biden and Xi Jinping demonstrated there are powerful structural and domestic forces that impel China and the US towards competition, says Adrian Ang U-Jin of RSIS.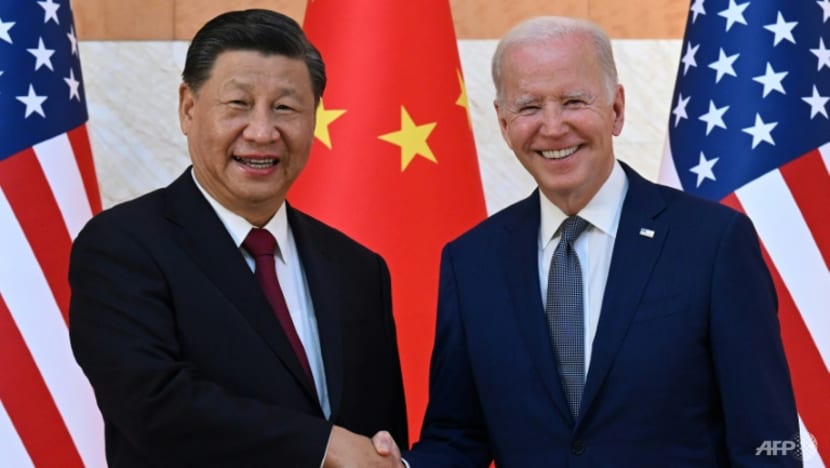 SINGAPORE: On Nov 14, US President Joe Biden and Chinese President Xi Jinping had their long-anticipated tete-a-tete on the eve of the Group of 20 (G20) Summit in Bali, Indonesia.
Due to China's long-standing zero-COVID policy, this was the first time that the leaders of the world's two superpowers met face to face, after having held five phone or video calls since Biden took office in January 2021. Xi's trip to Bali is his first visit abroad since beginning a third term of power – having travelled to Kazakhstan in September to attend the Shanghai Cooperation Organisation summit.
The meeting lasted more than three hours, longer than what US officials anticipated prior, and comes after both leaders strengthened their domestic political positions. Xi secured an unprecedented third term as party leader at the Chinese Communist Party's national congress last month, while Biden's Democratic Party has outperformed expectations in midterm congressional elections to retain control of the Senate.
Both leaders' stronger domestic political positions meant that they could appear more relaxed on compromising on certain issues, but also empowered to be tough on those that touched on their core interests.
In his opening remarks Biden noted both the US and China share a responsibility to show that they can manage their differences and "prevent competition from becoming anything ever near conflict".
In response, Xi said the current state of the bilateral relations is "not in the fundamental interest of our two countries and peoples, and it is not what the international community expects from us".
RESTORING LINES OF COMMUNICATION
One notable outcome of the meeting is China apparently relaxing its hard-line stance against bilateral cooperation. In the wake of US House Speaker Nancy Pelosi's visit to Taiwan in early August, Beijing had issued "eight suspensions" – cancelling bilateral talks on issues ranging from climate change to combating illegal narcotics, and meetings between Chinese and US defence leaders.
In their respective readouts following the meeting, both Washington and Beijing indicated that lines of communication are now open again.
Each side, unsurprisingly, chose to emphasise cooperation in the issues salient to them, with the Chinese Foreign Ministry readout highlighting macroeconomic policies and trade, and the White House readout mentioning climate change and global stability.
The US and China also found some common ground on the Ukraine war, as both sides opposed the use of nuclear weapons.
TAIWAN, THE MOST LIKELY FLASHPOINT
However, on the key issue of Taiwan – a source of ongoing tension and the most likely flashpoint between both sides – Washington and Beijing appear to continue to talk past one another.
Tensions have spiked since China stepped up military activities near Taiwan shortly after Pelosi's visit. China considers the self-ruled island to be a renegade province, and has reiterated it will never renounce the use of force to achieve unification.
Biden said the US' One China policy, a fundamental element of Sino-American ties that recognises the People's Republic of China as the country's sole government, has not changed. Yet he raised objections to China's "coercive and increasingly aggressive actions toward Taiwan", which "undermine peace and stability across the Taiwan Strait and in the broader region, and jeopardise global prosperity".
The problem is that Biden has repeatedly stated that the US would defend Taiwan should China move to seize it. In the meeting, Xi called out Biden on this point not just once but twice.
Xi said Biden's repeated statements rejecting Taiwan independence and using Taiwan to contain China should be reflected in concrete actions, instead of saying one thing and doing another.
Neither Washington nor Beijing believe they are responsible for altering the status quo across the Taiwan Strait while attributing blame to the other. Both sides are now locked into a classic security dilemma whereby each side's actions to increase its security triggers a negative reaction, resulting in a deterioration in the overall security environment.
SMOOTHER RELATIONS AHEAD?
Expectations were low heading into the Biden-Xi meeting, with the world's most important bilateral relationship at their lowest point since Richard Nixon went to China five decades ago.
Nonetheless, the meeting signalled that there has been a thaw in some overlapping areas of cooperation such as climate change, macroeconomic stability, public health and food security. Tackling these relatively uncontroversial transnational challenges is low-hanging fruit for both sides, allowing them to demonstrate their bona fides as responsible superpowers to a watching world.
It remains to be seen, however, how long the thaw will last and whether it can withstand the next crisis in the bilateral relationship. The meeting demonstrated that many real and deep differences exist between the US and China, and there are powerful structural and domestic factors that impel the two superpowers towards competition.
Nonetheless, keeping lines of communication open is a necessary baby step towards managing competition in a responsible manner and avoiding mistakes and miscalculation. As former British prime minister Winston Churchill once said, "jaw-jaw is always better than to war-war".
Adrian Ang U-Jin is a Research Fellow and Coordinator of the United States Programme at the S Rajaratnam School of International Studies (RSIS), Nanyang Technological University (NTU).