Commentary: Even as Taiwan boosts defence spending, its security may depend on how the budget is spent
Taiwan's proposed defence budget ought to have provisions that make funds available contingent on key reforms being made, says Ted Gover.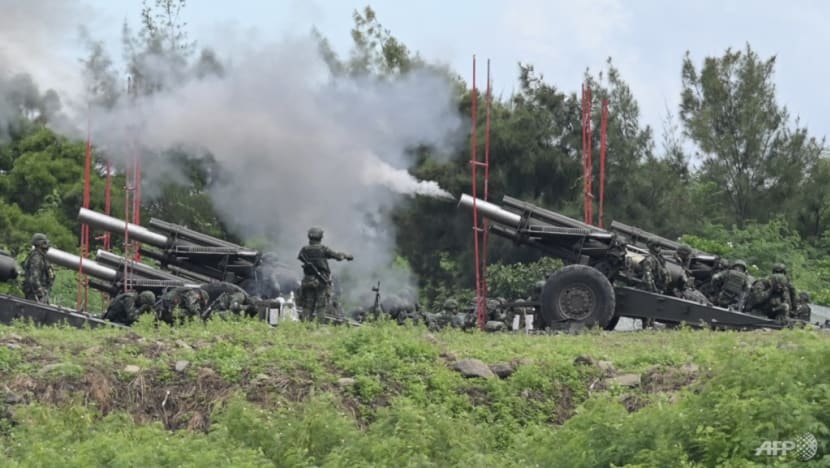 CLAREMONT, California: On Thursday (Aug 25), Taiwan proposed a record overall defence budget of T$586.3 billion (US$19.4 billion) for 2023, representing a nearly 14 per cent increase from the amount allocated this year.
If implemented correctly, Taiwan's proposed defence budget hike will bolster its deterrence capabilities,which will in turn contribute to the region's stability. Yet, military outlays need to be targeted on areas that enhance Taiwan's asymmetric warfare capabilities rather than supporting old legacy military programmes.

While Taiwan's armed forces are plagued by the top brass' entrenched interests - military leaders in Taiwan are not subject to civilian control at the Ministry of Defense, for example - the new revamped budget ought to have provisions that make funds available contingent on key reforms being made.

One important reform is providing Taiwanese elected leaders with more oversight of military decision-making. As Bonnie Glaser of the German Marshall Fund has noted, civilian-military ties in Taiwan are fraught with tension and there is a dearth of independent civilian defence advisors who can provide the president with alternate viewpoints.  

Other needed changes are requiring female conscription and lengthening mandatory military training from four months to one year.
SURVIVABILITY APPROACH
Taiwan's proposed defence budget hike comes amid rising tensions with China, which escalated sharply after United States House Speaker Nancy Pelosi visited Taiwan earlier this month. The brouhaha set off by Pelosi's visit was entirely avoidable and predictable, and the following trade restrictions and military exercises by China have left Taiwan in a worse state.
In terms of security specifics for Taiwan, China needs to be made to think that mounting an invasion would be too costly or even not feasible. Lee Hsi-min, former chief of general staff of Taiwan's armed forces, argues that Taiwan needs a "survivability" approach that makes it difficult for the island's weapons to be targeted by China's airstrikes or by its much-vaunted long-range missiles.   

According to Lee, rather than using legacy weapons systems like tanks, warships and fighter jets, Taiwan must utilise smaller weapons ("mini missile boats" being one example) that are distributed across the island and operated by civilian units and all-volunteer territorial defence forces trained to focus on close-range fighting approaches. 
Denny Roy, Senior Fellow at the East-West Center, appears to agree with parts of Lee's approach. Rather than compete with China's military modernisation of recent years that has fielded the world's largest navy and various new force projection capabilities, Taiwan should opt for more affordable and "concealable" weapons systems designed to target invading aircraft and ships. Such items would include sea mines, mobile anti-ship missiles affixed to land vehicles and patrol boats, underwater drones, rocket artillery systems and short-range anti-aircraft missiles.
Both Lee and Roy assert that while Taiwan will need to develop the capabilities necessary for close-range combat, the US and other partners will need to assist with long-range warfare in order to maintain open air and sea supply routes as well as anti-blockade efforts to help Taiwan import food, munitions and energy supplies during a crisis. 

Additional needed steps include maintaining cohesion among US allies and partners and a return of US military activities in Taiwan's vicinity, including transits of the Taiwan Strait by American vessels and aircraft. A failure to do so would damage Washington's credibility in the region. 
DE-EMPHASISE SYMBOLISM
For its part, Washington in recent years has been pushing back against Chinese President Xi Jinping's increasingly aggressive posture towards Taiwan with arms packages and stepped-up diplomatic outreach to Taipei. 

To this end, political visits by US members of Congress, mid-level Cabinet officials and state governors have an important role to play in preventing the further isolation of Taiwan and should be encouraged. Other friendly states like Australia, Japan, Canada, New Zealand, the United Kingdom, Germany, France and the European Union should also send periodic delegations to meet with Taiwanese leaders. 
Yet, public acts of solidarity should not contribute to the strengthening perception in Beijing that the US is violating and hollowing out its One China policy.
Additionally, the Taiwan Policy Act introduced before Congress by US Senate Foreign Relations Committee chairman Bob Menendez (Democrat-New Jersey) and US Senator Lindsey Graham (Republican-South Carolina) also engages in symbolism at a potential great cost. 

While parts of the Bill are to be praised and should be strengthened, such as providing Taiwan with US$4.5 billion in security assistance, other provisions do not meaningfully contribute to Taiwan's defence and risk Beijing's ire.

As written, the Bill in its current form allows Taiwanese service members and diplomats to display Taiwan's flag and wear their uniforms while in the United States on official business. It also changes the name of Taiwan's representative office in Washington from the Taipei Economic and Cultural Representative Office in the United States to the Taiwan Representative Office, while designating Taiwan as a major non-NATO ally. 
Without question, the Bill's symbolic measures make for good domestic politics in the US. After all, China is one of the rare topics of bipartisan agreement in Washington these days.
Yet, the Bill's playing with symbols risks crossing Beijing's red lines. Given that Xi has so publicly staked an important part of his legacy on reunifying Taiwan and bringing it under the Chinese Communist Party's control, Washington should not underestimate the lengths he will go to for taking back the island state.    

Due to the considerable discrepancy between the People's Liberation Army's annual budget of 1.45 trillion yuan (US$212 billion) and that of Taiwan (US$19.4 billion), additional measures that bolster Taiwan's ability to protect itself and build an asymmetric porcupine defence strategy need to be further emphasised in the proposed law. 

As the Bill goes through committee and the amendment process, Members of Congress should weed out those aspects focused on political symbolism and instead strengthen those provisions that enhance the security of the Taiwanese people, deter a Chinese invasion, support the island's thriving democracy and economy, as well as promote and contribute to the stability of the overall US-China relationship. 

Part of this ought to include a robust US-Taiwan trade deal. Other friendly countries should also enhance their commercial and trade ties to Taiwan to fight against Beijing's ongoing attempts to isolate Taipei. 

These moves ought to be accompanied by renewed diplomatic efforts by the Biden administration to convey that Washington does not seek to dismantle its One China policy, nor does it support formal independence for Taiwan. An opportune time for this will be during Biden's and Xi's scheduled in-person meeting this November in Southeast Asia, Xi's first international trip in nearly three years. 

Perhaps the most important thing that Biden must communicate is that, despite the many tensions in the complicated US-China relationship, war is not inevitable. Both sides need to recommit to risk management in the Pacific and work together on navigating peacefully the region's troubled waters.  

Ted Gover, PhD, is Associate Clinical Professor at Claremont Graduate University.