Commentary: Xi Jinping will not want to jeopardise third term prospects with armed conflict over Taiwan
China's major military drills around Taiwan provide Xi Jinping with the opportunity to distract people from the many problems that have arisen from his misguided policies, says Ted Gover.
CLAREMONT, California: Much has been said about US House Speaker Nancy Pelosi's trip to Taiwan worsening already tense US-China relations.
It is important to bear in mind, however, that despite Beijing's live fire military exercises in response to Pelosi's visit, China does not have an interest in engaging in an armed conflict with the US right now.
Chinese President Xi Jinping is a few months away from securing his coveted third term as head of the Chinese Communist Party (CCP) and he does not want to jeopardise these prospects.
Pelosi's Taiwan trip gave Xi the pretext to respond with military exercises, contributing to what some are now describing as the Fourth Taiwan Strait Crisis.
OPPORTUNITY TO DISTRACT
All of this provides Xi with the opportunity to distract the Chinese people and CCP leadership from the many problems that have arisen from some of his policies: China's underperforming economy due to strict zero-COVID measures; skyrocketing youth unemployment; real estate and banking crises; the damage to China's big tech stars wrought by Xi's leftward shifting of the economy; and the disastrous friendship "without limits" public announcement with Vladimir Putin just weeks before the Ukraine invasion.  
The Speaker's trip ought to have taken place after this fall's politically sensitive 20th National Congress, at which time Xi is expected to secure a third term as leader of the CCP, allowing him to remain in power for life.
The military drills of recent days ought to be seen as a demonstration of Xi's resolve to stand up to foreign interference and to reunify Taiwan with the mainland. Taking back Taiwan by 2049, Xi has asserted, is a necessary step towards completing the great rejuvenation of the Chinese nation.
These messages from Xi are being broadcast with two audiences in mind: Fellow CCP members who may have intentions to diminish Xi's authority, and Taiwanese public opinion.
PELOSI'S LAST HURRAH
It bears saying that Pelosi's visit did not accomplish any strategic goal, nor did it help maintain Taiwan's security or uphold the status quo in the Taiwan Strait.
Pelosi's stated reasons for the visit - supporting democracy and human rights - were admirable and understandable. Yet, the trip had a political angle as the last hurrah of a Speaker who is nearing the end of her career in politics and who wanted to make a final stand for human rights in China.
While the trip may have been important for Pelosi's legacy, it was counterproductive for America's ability to protect Taiwan.
Beijing's ensuing trade restrictions and military exercises have left Taiwan in a worse state, heightened regional tensions and moved the US and China closer towards a costly armed conflict.
While the damage to Washington's ties with Beijing is salvageable, it will require hard work on both sides to stabilise.
TAIWAN VISITS SHOULD BE OFF LIMITS TO TOP US OFFICIALS
How can the US move forward after Pelosi's trip, and what can the Biden administration do to truly help Taiwan defend itself and to choose its own future?
If the US is serious about helping protect Taiwan, it will need to place less emphasis on high-profile visits by senior government officials and instead focus on quietly building up Taiwan's deterrence capabilities. Taipei needs to receive the lethal aid and defence systems it needs to change Beijing's calculus and convince Xi that an invasion would be too costly to the People's Liberation Army.
Along these lines, policymakers need to be open to the possibility that the passing of time may contribute to facts on the ground changing within China's domestic political system, however unlikely it appears today.
Another issue that demands the White House's attention is the increasingly dangerous environment created by China's aggressive military intimidation campaign against Taiwan in recent years and Xi's stated goal of completing modernisation of the People's Liberation Army by 2027. Unfortunately, these actions are changing the status quo of the region.
To address this new dynamic, the Biden administration would be well-advised to continue providing more clarity within America's long-held "strategic ambiguity" policy towards the island. Biden's alleged misstatements pledging military support towards Taiwan have played a useful role on this front.
Additionally, Washington needs to emphasise to Beijing that its One China policy has not changed. It is important that the Biden administration devote sufficient effort to this due to a growing belief in Beijing that Washington's commitment on this front has fallen by the wayside.
Trips by American government officials such as Members of Congress, mid-level Cabinet members and diplomats have an important role to play and the frequency ought to be increased to twice monthly visits.
Yet, stops in Taiwan should be off limits to top US officials such as the president and vice-president, the house speaker, the Senate pro tempore, the Senate majority leader, the national security advisor, and the secretaries of defense and state.
BALANCE OF POWER
The events in the Taiwan Strait in recent days remind us that the US-China relationship involves a balance of power. This equation has been tipping towards China in recent years with its increased influence via technology, diplomacy, economic power, ideology, and military prowess.
While the US has yet to be overtaken by China concerning its military capabilities and the size of its economy, Xi is increasingly confident in his belief that the US and the West more broadly are in inevitable decline.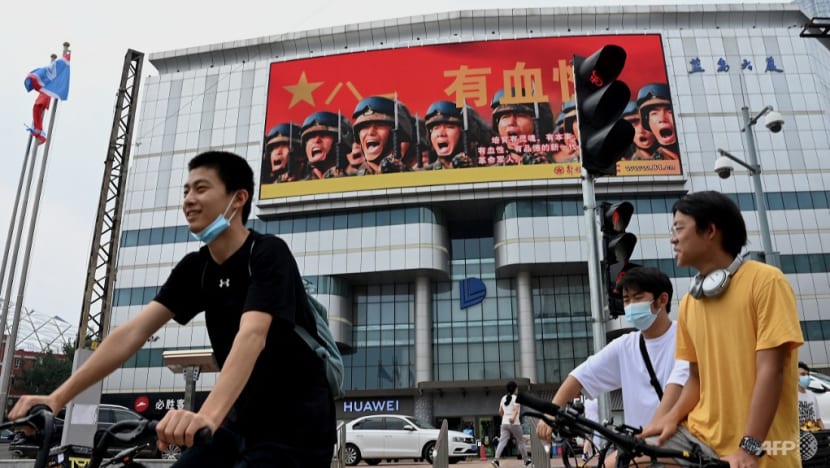 To meet this challenge, the United States will need to work ever more closely with its treaty allies and partners in AUKUS, the Quad, NATO, and Partners in the Blue Pacific, as well as raise its commercial and economic involvement in the Indo-Pacific.
Such a renewed American security and economic focus in the region must be accompanied by sustained efforts to engage China at all levels.
During this time of mistrust between the two powers, Washington and Beijing would be well advised to use former Australian Prime Minister Kevin Rudd's proposed model of managed strategic competition that establishes guardrails to the relationship for purposes of averting war and managing ties more effectively.
Essentially, Rudd's idea is to create mutually observed red lines, establish communications protocols and to police these core areas of concern with regular high-level diplomacy.  
Going forward, crises will continue to arise between the US and China. How American and Chinese leaders handle this current Taiwan challenge is a test in this difficult chapter of Sino-American relations. Both sides need to demonstrate commitment to maintaining stability and developing shared understanding of each other's doctrines.
Ted Gover, PhD, is Associate Clinical Professor at Claremont Graduate University.