Commentary: Xi Jinping has eliminated his rivals to dominate new Chinese leadership. Now what?
The new Politburo and Politburo Standing Committee make it very clear that there now is no alternative power centre in China beyond Xi Jinping, says Christian Le Miere.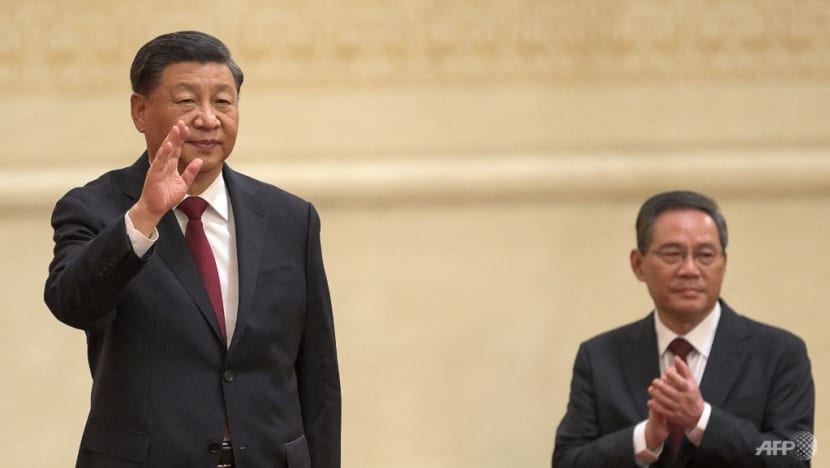 LONDON: The symbolism couldn't be missed. On Saturday, during one of the most highly choreographed events of the Chinese political calendar – the closing of the quinquennial party congress – former president Hu Jintao was unexpectedly escorted out of the hall.
Visibly confused and reluctant, Hu, who led a rival faction of reformists with close ties to the Communist Youth League, was led away from his position next to President Xi Jinping and ejected from public view. 
Although later explained away as a poor health episode, that symbolic gesture of expulsion of older reformists became political reality the next day, when China's new Politburo Standing Committee was revealed.
The seven most powerful men in China lined up around Xi, underlining the control he now has over the party. Of the new line-up, all but Wang Huning, the party's chief ideologue, are strong allies of the general secretary, with all rivals purged.
Out goes Li Keqiang, premier and de facto leader of the Communist Youth League faction. In his place comes Li Qiang, who served Xi closely as his effective chief of staff in Zhejiang province in the early 2000s.
Li's elevation comes despite a grinding COVID-19 lockdown in Shanghai earlier this year that saw rare public outbursts of discontent, and indicates that Xi feels little need to compromise either to other political factions or for popular opinion.
Also out is Wang Yang, another reformer who had been discussed as a potential candidate for premier, and Han Zheng, affiliated to former president Jiang Zemin. Xi was forced to let go of close ally Li Zhanshu, who at age 72 was well over the unofficial retirement age of 68.
But in their stead came more Xi allies – Cai Qi, another close ally from Fujian and Zhejiang provinces, Ding Xuexiang, Xi's chief of staff for the past five years, and Li Xi, one of the most vocal supporters of Xi.
Of the seven spots, six are now close Xi allies, up from three previously. None are from rival factions.
POLITBURO DOMINATION
But it was not just in the Standing Committee that Xi stamped his authority. In the 24-member Politburo more broadly, Xi effectively wiped out his rivals.
In fact, it was the removal of Vice Premier Hu Chunhua – sometimes known as Little Hu for his political resemblance to Hu Jintao – that perhaps indicated Xi's dominance more than any other move.
Little Hu was seen as a leader of the sixth generation of politicians and a potential candidate for general secretary or premier. He was the leading candidate for promotion to the Standing Committee from among Communist Youth League faction members.
Despite being just 59, though, Little Hu has been unceremoniously dumped from the Politburo. Just like the older Hu, who was literally removed from proceedings, the younger Hu has been metaphorically turfed out as well.
The rest of the Politburo is similarly aligned to Xi along with the Standing Committee.
One of Xi's closest personal allies – Zhang Youxia – whose father fought alongside Xi's during the revolution, has been kept on despite being 72. His aged presence is further evidence that Xi is willing to break the soft rules that have otherwise guided Chinese political machinations for the last two decades.
Other Xi allies have been promoted to the Politburo too – He Lifeng worked with Xi in the provinces; Chen Jining was part of a coterie of officials from Xi's alma mater, Tsinghua University; Shi Taifeng and Li Shulei were both Xi's deputies at the Central Party School; Chen Wenqing has been one of Xi's right-hand men in security issues; He Weidong served under Xi in Fujian; and Liu Guozhong worked closely with Xi's ally Li Zhanshu in Heilongjiang.
Even those new members of the Politburo without clear career overlap with Xi are technocrats in industries that Xi has prioritised to build politically aligned politicians.
Ma Xingrui and Yuan Jiajun are part of the "Cosmos club" of aerospace technocrats favoured by Xi; Zhang Guoqing is similarly a defence industry technocrat; Li Ganjie is a former nuclear official and Yin Li is a former public health official.  
None of the Politburo are from rival factions – all are clear Xi loyalists or former technocrats that owe their political careers entirely to Xi.
NEXT GENERATION
Xi's domination of the top of Chinese politics is therefore complete. He has made no compromises to rivals and removed all potential competitors from the Politburo.
It is also unclear who might be his successor.
Xi has been appointed by the party congress to the top job for a third term – the first leader since Mao Zedong to achieve this feat. It is unclear how long he will stay in the job, but unlike his two predecessors he has thus far avoided crowning any younger members as heir apparent.
It's now quite possible that he skips the sixth generation of leaders (born after 1960) altogether. Although there are candidates for succession - Ding Xuexiang is one example – they are also ageing. Ding himself will be 65 by 2027.
It is thus quite feasible that Xi stays on for at least one more term from 2027 as well.
BROKEN RULES
The party congress has given us some answers about China's political future, but also presented some questions too.
Xi is now literally the unrivalled power in Chinese politics. He has stuffed the leading party bodies with his allies, stifled public dissent and tightened his grip on decision-making levers.
But his very power makes it less clear what happens next. For two decades before Xi, China's political transitions were slowly becoming more transparent and predictable, as norms were codified and traditions set. Successors were appointed, retirement ages were (almost universally) obeyed and collective decision making was reinforced by the compromises necessary to mollify rival factions.
Now, those rules are left in tatters and there is no way to predict what happens next. Xi could stay in power for the next 20 years, unchained by norms or rules. Or he might suddenly decide in 2027 to step down, comfortable in the knowledge that he has reshaped the party in his image.
What we do know is that the next five years, and maybe more, very much belong to Xi Jinping.
Christian Le Miere is a foreign policy adviser and the founder and managing director of Arcipel, a strategic advisory firm based in London.