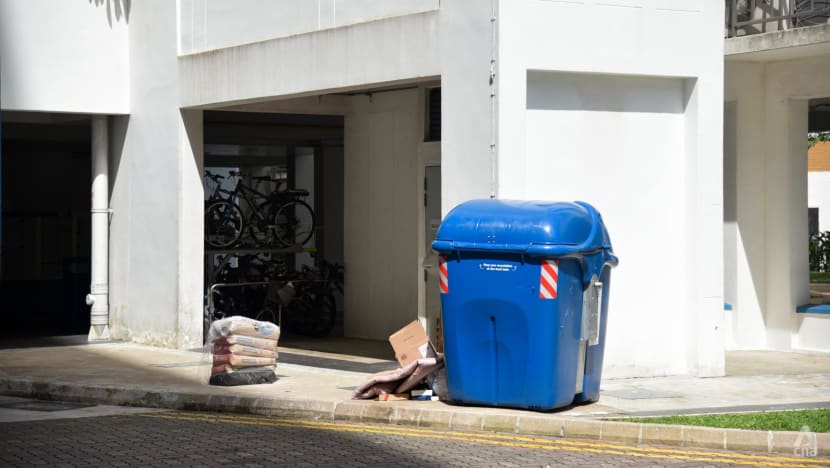 SINGAPORE: About 72 per cent of households in Singapore say they recycle, a survey by the National Environment Agency (NEA) found this year.
This is an increase from the 64 per cent recorded in a similar survey in 2021. The latest survey on household recycling was conducted by NEA from April to June 2023, covering 2,180 respondents.
According to the figures released by NEA on Thursday (Sep 14), a higher proportion of respondents were aware of common items that can be put in recycling bins and chutes.
For example, 89 per cent of respondents knew that a rinsed shampoo or detergent bottle can be recycled, up from 71 per cent in 2021.
There was also a higher proportion of respondents who were aware of common items that cannot be put in recycling bins and chutes, such as tissue paper, styrofoam boxes and soft toys.
"However, there was a decline in the awareness that unwanted fruit or vegetable parts, soiled plastic food containers, and small electronic appliances cannot be deposited into recycling bins or chutes," said NEA.
"Contamination arises when items that cannot be recycled, or food and liquid waste, are thrown into the blue recycling bins or chutes.
"When recyclables are contaminated, they become no different from general waste. They will then have to be disposed of, incinerated, and landfilled."
Under Singapore's Zero Waste Masterplan and the Singapore Green Plan, the country aims to increase its overall recycling rate to 70 per cent by 2030.
In response to CNA's queries, NEA said on Tuesday (Sep 19) that it derived the 72 per cent figure from the question "Does your household recycle?", to which respondents would answer with yes or no.
NEA added that recycling was defined in the survey as depositing recyclables into blue recycling bins or chutes, sending recyclables to rag-and-bone men (karung guni) or participating in recycling drives.
"The 72 per cent figure reflects the proportion of households that participated in some form of recycling. It does not take into account how much each household recycles," the agency said.
The overall recycling rate in Singapore rose to 57 per cent in 2022 from 55 per cent in 2021 and 52 per cent in 2020.
This rate considers the tonnage of recyclables collected from households, trade premises, industrial and commercial premises, said NEA.
This year's Recycle Right campaign includes an online game and bite-sized educational videos showcasing how recycling can easily be incorporated into aspects of daily life, such as buying takeaways and making online purchases.
To lower contamination rates, town councils with dual-chute estates are installing chute stickers to remind residents what can be recycled, said NEA.
Senior Parliamentary Secretary for Sustainability and the Environment Baey Yam Keng launched the latest Recycle Right campaign at Anchor Green Primary School on Thursday.
"NEA continues to work with various partners and stakeholders, including schools, the community, non-governmental organisations, corporate, and industry partners to encourage households to recycle more and recycle right," the agency said.
 "This is done by making recycling and recycling information more accessible in neighbourhoods and homes," it added.
A reusable home recycling box called Bloobox was distributed to every household from March to April this year to encourage recycling.
Each Housing Board block, landed house, and condominium or private apartment block has its own recycling bin or chute. The bins are coloured blue to differentiate them from the general waste bins.
Recycling habits starts with children - Listen to the Daily Cuts: