93% of free home recycling boxes distributed by Apr 30: Baey Yam Keng
The remaining Blooboxes will be used in the Recycle Right campaign.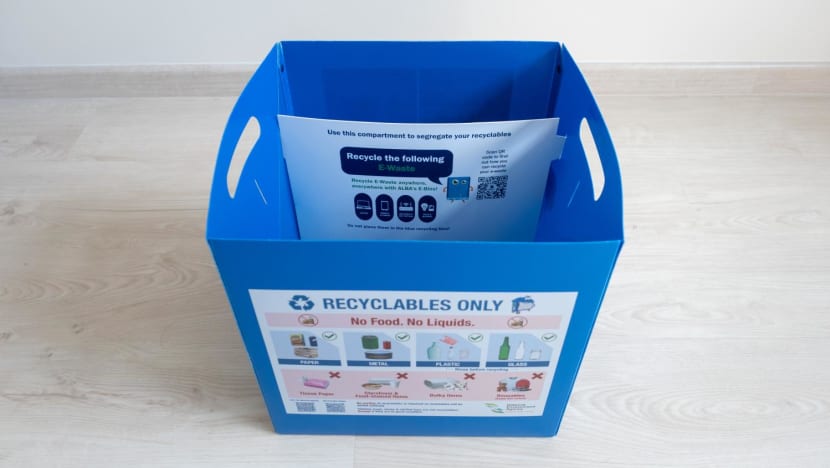 SINGAPORE: A total of 93 per cent of reusable home recycling boxes have been distributed, Senior Parliamentary Secretary for Sustainability and the Environment Baey Yam Keng said on Tuesday (May 9).
Called Bloobox, the free foldable and washable boxes were distributed via vending machines and booths across Singapore after the initiative was announced in November last year.
The distribution period ended on Apr 30 this year. 
In response to questions about the initiative, Mr Baey said in Parliament that about 530,000 Blooboxes - or 93 per cent - were distributed by Apr 30, with the remaining to be used to support the Recycle Right campaign. 
"The strong and positive response by the public reflects the community's interest in recycling at home or offices, and their appreciation of the utility of the Blooboxes," said Mr Baey. 
Mr Baey noted that not every household required a Bloobox, as many could have existing recycling corners using other containers. The authorities had taken this into consideration while planning for the number of Blooboxes to be distributed, he added. 
In a supplementary question, Member of Parliament (MP) Jamus Lim (WP-Sengkang) asked if Mr Baey could share the total cost of the programme and the threshold to regard the programme as cost-effective. 
Mr Baey replied that he did not have the cost of the campaign. 
"As mentioned in my reply, we estimated the number of Blooboxes required because we didn't produce or procure Blooboxes to cover all households in Singapore because that would not be realistic. 
"And we know that not every household required it and so we were quite close to our estimate, 93 per cent were collected and the remaining will not be put to waste because it'll be used in our efforts to promote recycling."
MP Yip Hon Weng (PAP-Yio Chu Kang) also asked if areas in Singapore which have a higher percentage of boxes collected have a higher recyclable collection rate, and how those who still wanted a Bloobox could collect one past the distribution date. 
Mr Baey responded that the recyclables collection data is done on an annual basis and that the ministry needed to check if there was specific data for estates and neighbourhoods pertaining to Bloobox collection and recycling rates. 
Members of the public who have yet to collect a Bloobox can do so at various recycling initiatives by NEA and its partners, he added.