Commentary: I don't need a free Bloobox to get me recycling at home
A recent lapse by partners of a Singapore shoe recycling programme is a reminder that maintaining the recycling habit requires reassurances that our efforts aren't in vain, says Repair Kopitiam's Danny Lim.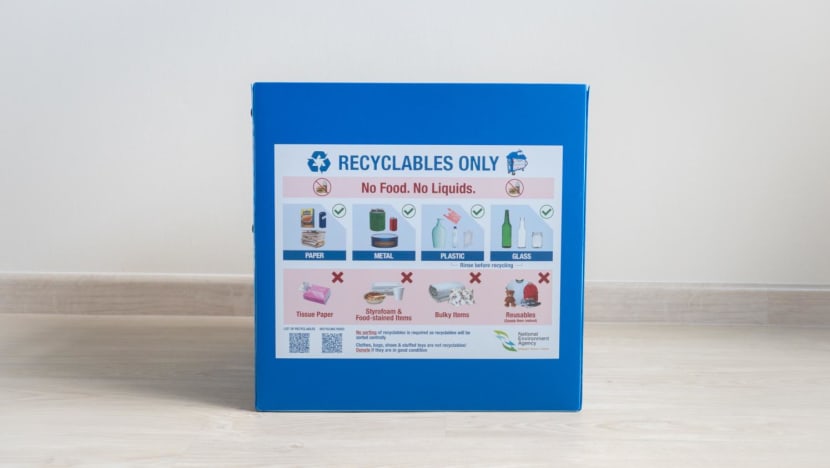 SINGAPORE: I didn't think much of the Bloobox at first when the National Environment Agency (NEA) expanded the collection of free home recycling boxes for Singapore households nationwide in March.
For one, I am against recycling as a first choice. It should be the last resort - to recover materials after we keep our possessions in use for as long as possible and repurpose them for a second life if need be.
Even for those who strive to reduce and reuse first, there will be items that become obsolete, irreparable or are intended to be recycled.
A Bloobox just didn't seem necessary for someone like me who has been sorting and cleaning recyclables from my rubbish for some time now. My family has our own system set up at home, which simply involves a couple of cardboard boxes along my living room wall.
DO I NEED A BLOOBOX TO TELL ME TO RECYCLE?
But when I passed by a vending machine in Our Tampines Hub during my monthly Repair Kopitiam event last month, I decided to collect one anyway. Surely, I thought, an initiative to make it easier or clearer for everyone to recycle right should be worth a try.
So I set it down beside my regular cartons and after some use, observed a few things.
The Bloobox is washable, reusable and definitely appears sturdier than my carton boxes, which occasionally need replacing when they get dirty, broken or just dented out of shape after repeated usage.
One benefit I didn't expect was that the blue-coloured box made the area in my living room recognisable as a recycling area. When we had visitors over, they instinctively knew what to do with recyclables in hand, rather than mistake my cardboard boxes for general rubbish.
One thing I did not like about the Bloobox was that it was too small as a family bin. The experience trying to set up the origami box was also terrible.
I took a full 10 minutes to unfold and keep all the parts unfolded, as it kept trying to return to its shipping shape. The flimsy divider didn't work well to keep the walls from collapsing. But after a few days, the Bloobox seemed all settled in its box shape. 
MAKING IT EASIER TO RECYCLE RIGHT
After using it for about three weeks, I would say the Bloobox neither offers me a better way to recycle, nor discourages me from recycling.
Indeed, some have criticised the Bloobox as a waste of resources: Those who are keen are probably already in the habit of recycling, using other containers available to them. Those who have no intention of recycling might pick up a free storage box.
Listen: Will you recycle more with a home recycling box?
But neither group at the ends of the spectrum were likely the target audience of the Bloobox anyway. A free box makes no difference to those already internally motivated.
Those more resistant to recycling might require more external motivation, such as the S$0.10 (US$0.07) deposit for bottled and canned drinks to be refunded when the empty container is returned, to be implemented in Singapore from April 2025.
Some places even "punish" throwing rubbish with a hefty charge. In Taiwan, waste is collected on a per-bag basis - a typical plastic bag one might get in a supermarket costs about NT$5 (US$0.16) - while recyclables are collected for free.
The Bloobox might give the extra nudge to those who want to recycle but haven't put in place a system at home or are a little clueless about recycling right. Those who are not sure what can or cannot be recycled can refer to labels on the Bloobox that provide this information at the point of disposal.
However, even if the Bloobox might help some new recyclers take positive steps, more must be done to help them maintain the habit.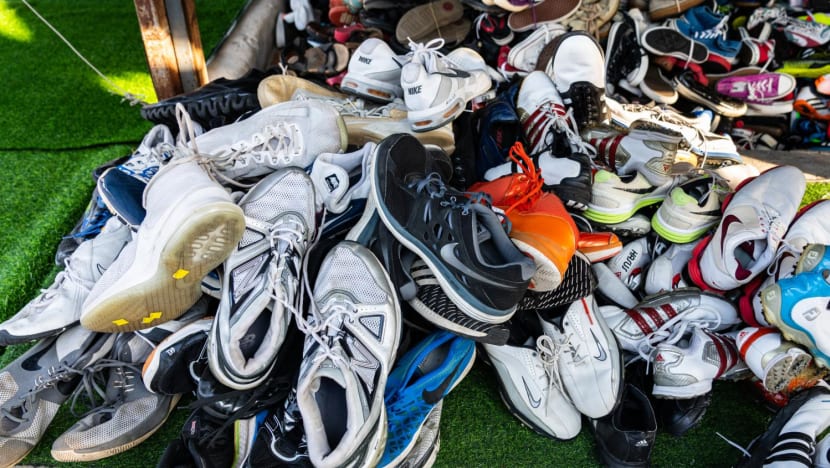 TRUST THE SYSTEM?
One way must be to reassure recyclers that our efforts are not in vain.
The credibility of recycling efforts was recently dented after a Reuters investigation found that shoes donated as part of a recycling programme - led by Sport Singapore and US company Dow - were instead sent to Indonesia for sale by a subcontractor. While the donated footwear at least had their lifespan extended, the concern is about companies not holding up their end of the recycling arrangement and even profiting from it.
How can we be sure that what we recycle gets processed as promised and not sold for profit or simply dumped elsewhere?
I'm sure many of us would like to see all parties involved in the recycling process operate with more transparency, which is important to bringing more credibility to the system and recycling efforts.
No one should be looking at the Bloobox as some perfect solution in the long-term plan for recycling. But it might be a great way to get more people to start. Ultimately, the goal should be for all of us to reduce consumption such that we can consume without damaging the Earth.
Danny Lim is Community Innovation Lead at Repair Kopitiam, a volunteer-driven initiative that aims to reduce the impact of Singapore's throw away culture.
Why is it so hard to recycle? Listen to CNA's The Climate Conversations: