Sport Singapore, shoe recycling partners apologise for 'lapse' after footwear found for sale in Indonesia
A Reuters investigation found that several pairs of shoes meant for recycling were instead exported to Indonesia for sale.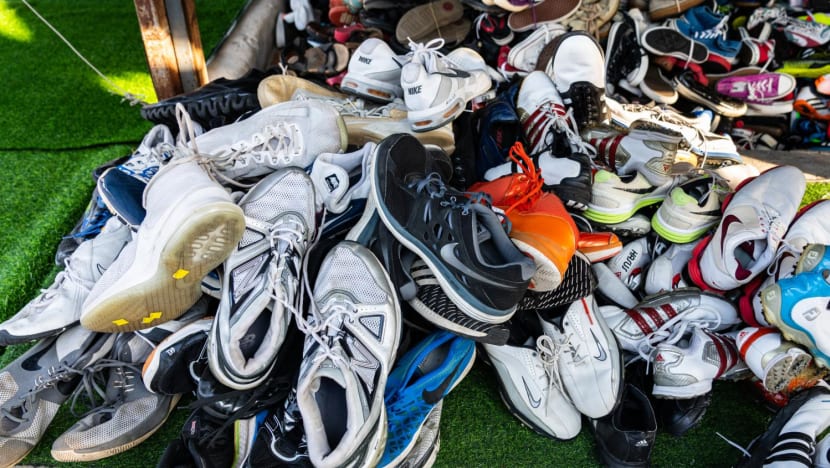 SINGAPORE: The partners of a Singapore shoe recycling programme, led by government agency Sport Singapore (SportSG) and US petrochemicals giant Dow, have apologised for a "lapse" that resulted in donated footwear being exported overseas for sale.
The shoe recycling programme, launched in July 2021, is aimed at transforming used sports shoes into materials that could be used for jogging tracks, fitness corners and playgrounds.
Partners of the project include waste management company Alba-WH, BT sports, which is responsible for converting used shoes into rubber granules, as well as sports retailer Decathlon, whose stores serve as drop-off points for donations. Standard Chartered was the initial sponsor for the first 200 collection bins in Singapore.
A recent Reuters investigation found that several pairs of shoes donated by the news agency in 2022 ended up in Indonesia, with some put up for sale in markets and bazaars.
Reuters tracked the footwear by inserting Bluetooth trackers inside the sole of the shoes.
According to the Reuters report, which was published on Saturday (Feb 25), none of the 11 pairs of shoes it donated was turned into exercise paths or kids' parks in Singapore.
Instead, nearly all the tagged shoes ended up in the hands of Yok Impex, a Singapore company that deals with recyclables and second-hand goods, before moving on to Indonesia.
In response to CNA's queries, SportSG and its project partners said in a joint statement on Monday that it was first informed about Reuters' observations last month.
Alba-WH then led an investigation.
It found that there were "vulnerabilities" in the process chain with its subcontractor Yok Impex, which was engaged in January 2022 to collect shoe recycling bins in selected parts of Singapore.
"These collection bins were then aggregated and sorted at Yok Impex's premises before being sent to Alba-WH's warehouse for registering and weighing, after which the shoes would be subsequently delivered to the BT Sports grinding facility to convert the shoes to granules for use as building materials," said the joint statement.
"The findings confirmed that the supply chain was compromised at Yok Impex's premises where the aggregation of the shoe bins in parallel with Yok Impex's sorting activities resulted in some shoes being extracted for resale instead of recycling."
The error occurred only at Yok Impex's facility, and no other, the statement added.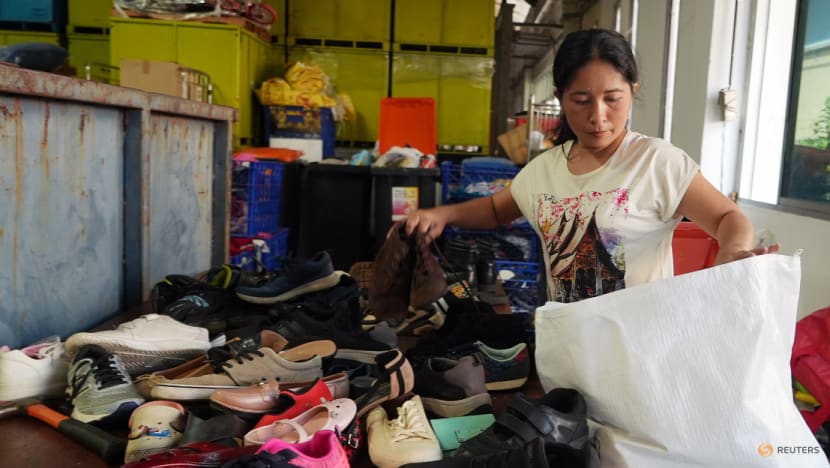 Alba-WH has since stopped sending collection bins to Yok Impex and will not renew the company's services.
"The project partners do not condone any unauthorised removal or export of shoes collected through this programme," they said, adding that further steps will be taken to tighten the process chain.
"The project partners sincerely apologise to the public for this lapse."
Thanking Reuters for flagging the matter, the project partners said they hope the public will continue to support the shoe recycling programme.
They noted that 10,000kg of used shoes have been recycled into infrastructure such as Kallang Football Hub and a sports facility under construction in Jurong Town.
"There are also plans to use the rubber granules for jogging tracks, fitness corners and playgrounds around Singapore," they added.
"We wish to assure the public that we remain strongly committed to initiatives that protect our planet."
Source: CNA/Reuters/rc(gs)