Rayon of hope: Meet the people trying to give your old clothes new life
Singapore recycled just 4 per cent of its textile waste last year. CNA explores how old clothes can be reused and recycled to reduce fashion waste.
SINGAPORE: Clothing spilled out as two workers unlocked the recycling bin in an Hougang Housing Board estate. 
In less than half an hour, they filled 12 large sacks with discarded clothes, shoes and accessories, or more than 120kg of textiles from just one bin. Each team of workers can clear 18 to 20 bins daily, collecting in one day about 2 tonnes of clothes that people in Singapore have thrown away.
You may have spotted these bright yellow textile recycling bins which have sprouted up around Singapore in the last six months. There are now 114 bins and counting – more will be set up soon, making it a total of about 200 by the end of the year.
Cloop founder Jasmine Tuan, whose social enterprise aims to reduce fashion waste, calls it the "missing bin" that Singapore needs.
"All these years, we have the general waste bin, we have the blue bin which accepts only four materials which are paper, plastic, glass and metal. 
"What about textiles? There's no specific bin just to collect textile waste," she said.
Clothing in good condition can be donated to charities, but charitable organisations are "overburdened" by such donations, she said. What about textiles that are worn, stained or torn?
"How about the not-so-good ones? Where do they go?" she asked. "We can't put them in the blue bin, we can't put them in the green bin. This textile recycling bin is the bin to go to."
TEXTILE RECYCLING RATE FELL
Singapore generated 189,000 tonnes of textile and leather waste last year. Only 4 per cent of this, or 7,000 tonnes, was recycled. 
Responding to CNA queries, the National Environment Agency (NEA) said that the high diversity of materials that make up a typical piece of clothing makes textile waste challenging to recycle.
Clothes are often made from a mixture of fabrics and fibres, and usually come with zips, buttons, velcro and other bits. There is also a multitude of dyes and finishings, such as water-repellent coating.
The processes involved in recycling textiles are labour-intensive, require many steps and the reproduced material is often of a lower quality, said NEA. 
Singapore does not have any textile or leather recycling facilities, so all such waste that gets recycled is exported, the agency added. Most of these are used clothing exported for reuse and the quantity of such exports has decreased since 2018. 
"According to industry feedback, this is due to a number of factors, including decreasing demand from importing countries, the increased supply of used clothing from other countries and the higher freight costs," said NEA.
In recent years, many countries have banned waste from being exported to their countries, and this can include secondhand clothes.
This has led to a situation where the textile recycling rate has gone down, from 6 per cent in 2017 and 2018, to 4 per cent since 2019. What's not recycled is incinerated and the ash goes to landfills.
But Cloop and recycler LifeLine Clothing, who have teamed up to install the yellow bins in Singapore, want to up the recycling rate substantially.
LifeLine Clothing CEO Dale Warren is confident that their bins can collect up to 40 tonnes a week of unwanted textiles by next year, which works out to 2,080 tonnes a year, or close to 30 per cent of the current 7,000 tonnes being recycled in Singapore.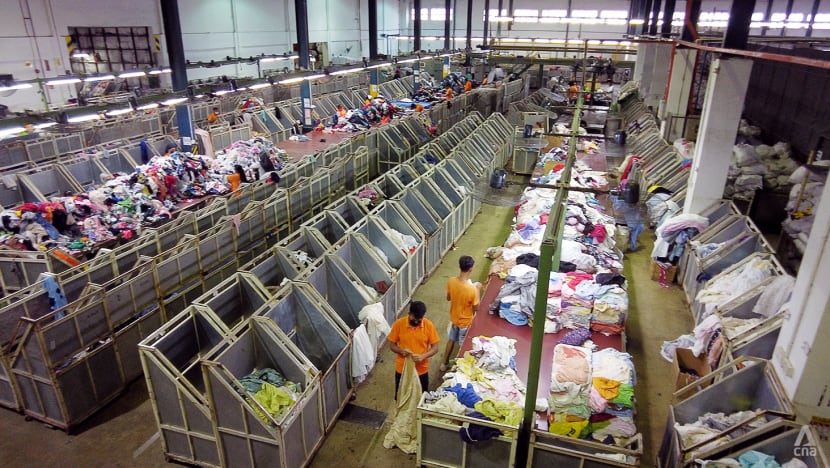 WHERE DO YOUR USED CLOTHES GO?
So what happens to the tonnes of clothes that end up in the yellow bin? The clothes collected in Singapore first go to a depot in Johor Bahru where they are consolidated into large bales – making them easier to transport and store.
They are then sent to LifeLine's recycling facility in Port Klang, Selangor, where the waste from Singapore joins truckloads of materials from Malaysia and Australia.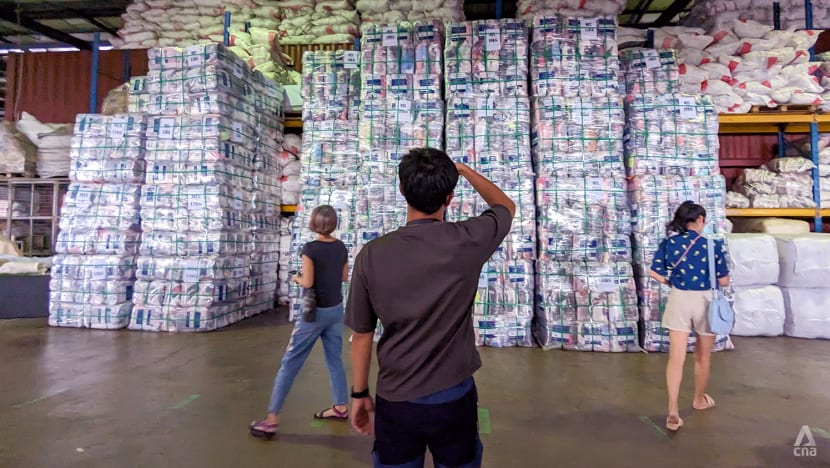 At the factory, bales upon bales of discarded textile are stacked from wall to wall, each one weighing 190kg – there was a wall of 40 bales just from Singapore.
When it was their turn to be sorted, each bale would be taken to a conveyor belt, where the contents were spilled. Each day, dozens of workers sort through an unending stream of clothes, bed linens, soft toys, bags, shoes and some unexpected items.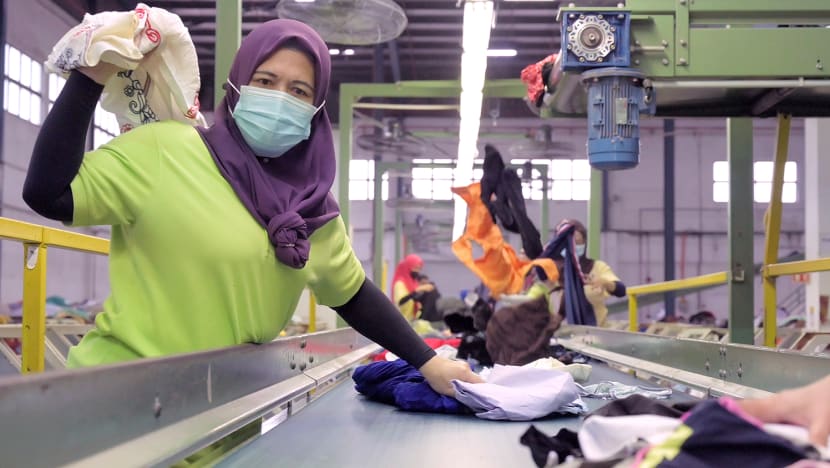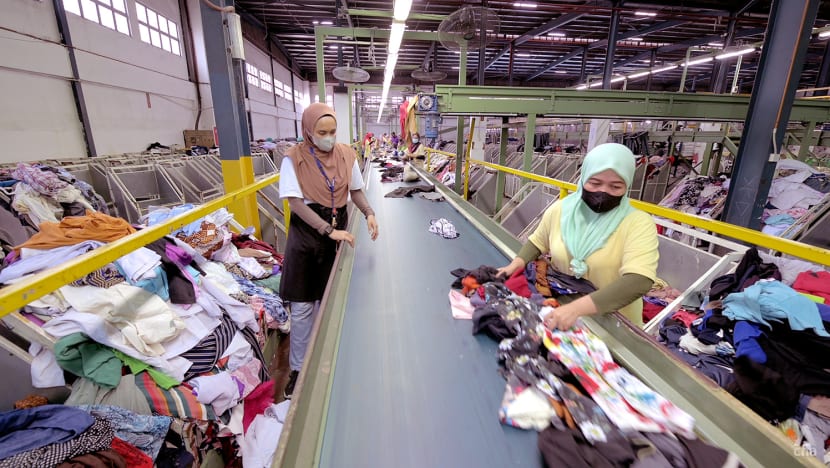 At one point, workers dug out a laptop buried in a bag of clothes; they also swept away the fragments of a glass ornament that had been crushed after being compacted in the bale.
Further down the line, more workers sort the items into children's clothes, men's long pants or shorts, jeans, dresses, underwear, toys or T-shirts … the categories were unending.
They are then sent to different stations to be further sifted, sometimes mended and packed.
Jeans, for example, can be divided into more than 20 categories – depending on whether they were for men or women, formal or casual, long or short and their condition, so that they can be sent to the appropriate reseller or repurposed.
MORE THAN 50% REUSED
About 55 per cent of what goes through the facility can be reused, said Mr Warren. 
"What we do pretty well ... is to try to get the material, work out where it can go, so it can be recycled and reused, not shift the problem somewhere else," he said.
For example, many of the shoes can be resold – as long as the matching pair didn't go missing. And even for single shoes, there are places where sellers would put two similar shoes together and people can buy them as a pair for a low price, he said.
If they still can't be salvaged, then the soles of sports shoes can be turned into rubber granules for jogging tracks and playgrounds.
Mr Warren said that to reuse as much as possible, they sort the collected items into more than 500 categories to suit the purpose of their partners.
"Sexy shorts" and high heels, for instance, go to cities whereas more conservative clothing, and practical footwear may be sent to rural areas – an example of the cultural considerations that go into the sorting.
Clothes that can't be worn again are cut up into cleaning cloths for various industries like manufacturing or oil and gas – about 20 per cent ends up repurposed for this.
Some can be refashioned or upcycled – for instance, LifeLine works with home sewers to turn discarded baju kurung, or traditional Malay dresses, into shopping bags. Cotton clothes can also be mechanically separated, the fibres respun into yarn and turned into fresh material.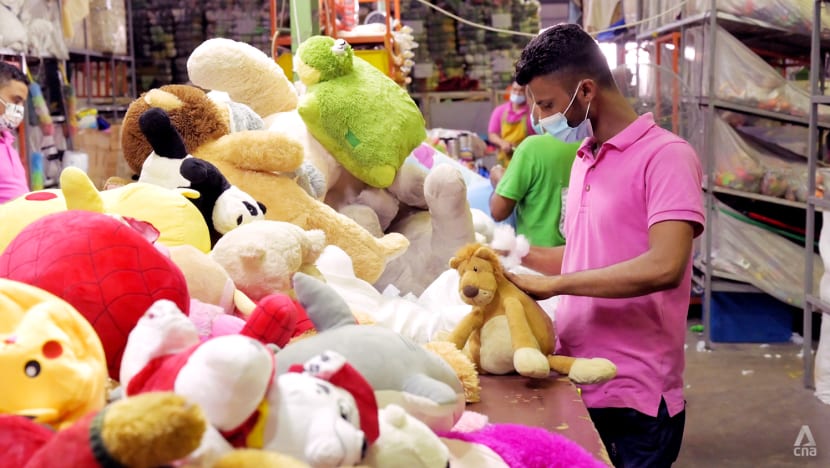 What's left is sent to a cement plant where the waste is burnt with coal for energy and the residue used to produce the cement – thus avoiding the landfill.
But Mr Warren warned that there was a limit to recycling. Overproduction of clothes continues and the volume of discarded items is growing, he said, urging consumers to slow down their buying.
At the facility, we also saw new clothes still in their plastic packaging and already sent for recycling by retailers and manufacturers. It's estimated that about 30 per cent of the world's apparel is expected never to be sold.
"The first thing is to reduce ... and the second thing is to reuse as much as we can as long as we can, and then to remake or redesign," he said.
"The other thing you can do is to extract the core materials ... to be fed back into the textile chain."
One thing became clear as we delved deeper: Most discarded clothes and textiles are reused, and recycling them into a new product remains a challenge.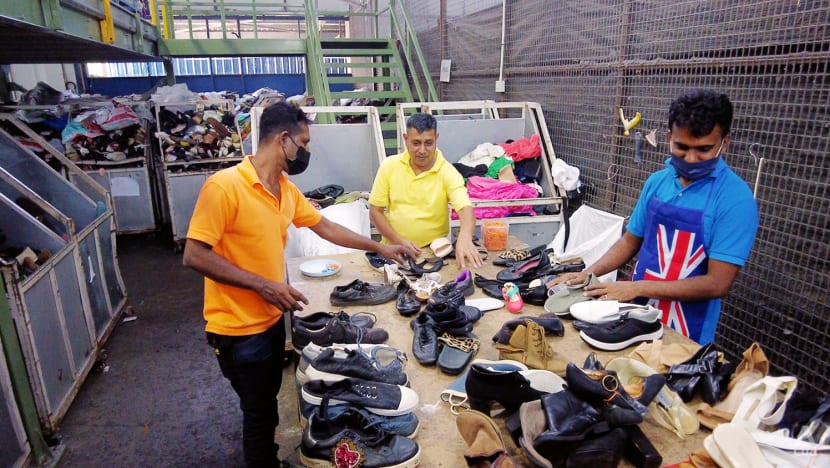 The spread of "fast fashion"
Through the 1990s and 2000s, as "fast fashion" spread across the globe, the prices of clothing fell and trend cycles became shorter. The number of garments produced each year has reportedly doubled since the year 2000.
Each item of clothing is also only kept for half as long as 15 years ago.
And about 92 million tonnes of textile waste ends up being discarded each year, and every second, the equivalent of a rubbish truckload of clothes is burnt or buried in landfills.
It's not just the textiles. The fashion industry is responsible for up to 8 per cent of global greenhouse gas emissions – more than international flights and maritime shipping combined.
And 1.5 trillion litres of water are used by the fashion industry annually. T-shirts can be bought for just a few dollars, but to make one takes about 2,700 litres of water – enough for one person to drink for more than two years.
Our clothes are also increasingly made from synthetic material, and the fashion industry now accounts for a fifth of the 300 million tons of plastic produced each year.
And when these materials are washed, microplastics from their fibers are shed into the wastewater. They end up in rivers, the ocean, the soil and in our food.
HOW ABOUT RECYCLING?
If you've seen affordable clothes at stores made with recycled material, they were most likely plastic in their former life and recycled into synthetic fabric. Large-scale recycling of textiles remains elusive and expensive. 
At Lifeline, we saw one example of how cotton can be fed back into the textile chain – rugs that were woven from recycled fibres from old jeans.
This process of mechanical recycling has been around for decades, but one downside is that it degrades the quality and strength of the fibres and the "downcycled" fibres are mainly used for rugs, carpets or insulation.
And it only works on materials like cotton, while most clothes now are a blend of different fibres.
Unlike paper and glass, fabrics are not designed to be upcycled from the get-go and upcycling is not a straightforward process, said Dr Jaroslav Stavik, head of R&D at RGE Technological Centre. 
"The fabrics that we wear are made up of a combination of fibres which needs to be separated from one another to be effectively upcycled," he said.
While downcycling textile waste is easier than upcycling it, there is a limit to the number of times a material can be downcycled before it ends up in the landfill. But it may be the best option available now.
"Currently, most textile recycling technologies have not moved beyond proof of concept, having only been implemented on a small-scale basis. The resulting apparel is ... priced at a level unaffordable for the masses," Dr Stavik said.
But labs around the world are working on this problem, including one in Singapore at the Nanyang Technological University (NTU) School of Materials Science and Engineering.
The aim is to upcycle – convert waste into something of greater value, such as by turning old clothes into new ones through a chemical recycling process.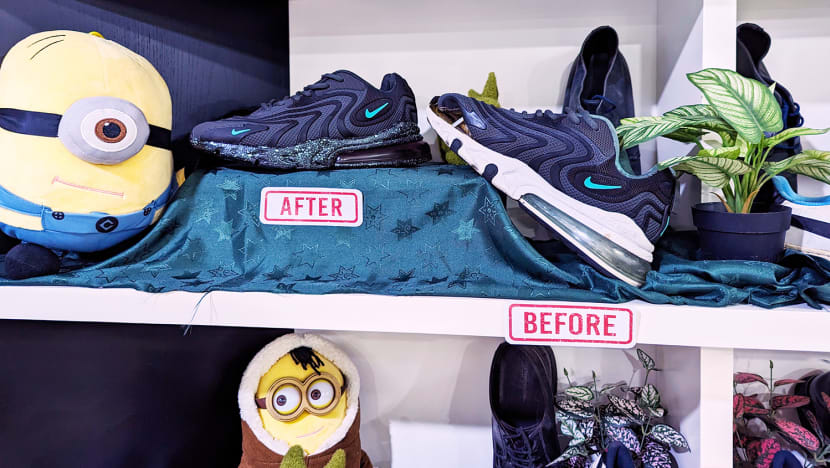 TURNING ARMY UNIFORMS INTO PULP, PLASTIC
Racks of army uniforms, patients' gowns, hospital sheets and other used clothes are neatly shelved at the RGE-NTU Sustainable Textile Research Centre or SusTex centre.
This is where scientists are trying to find cleaner and more energy-efficient ways of recycling textiles and turning them into new materials on an industrial scale.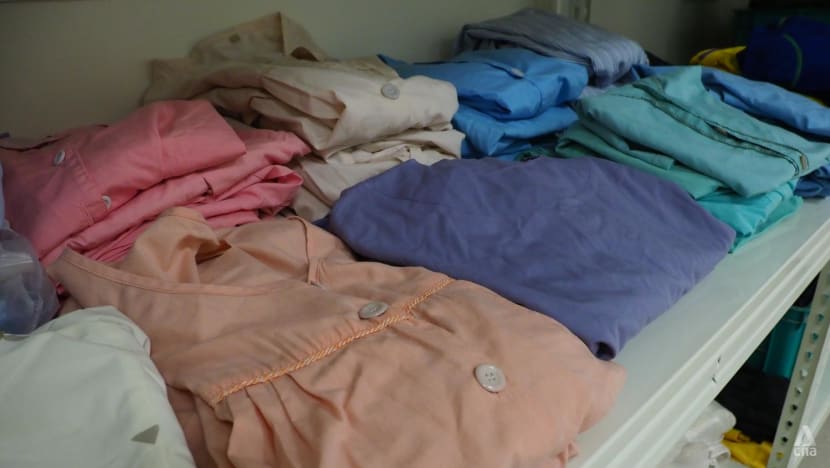 At the lab, clothes collected are first put through a machine to analyse the composition of the fabric using infrared spectrometry. Each material has an infrared signature that acts like its fingerprint, and this feeds into a database that can eventually help to automate the sorting of materials.
This is one part of what the lab is working on to make the work of sorting through used clothes less labour-intensive.
Uniforms make this process easier as they are relatively consistent in composition, and they serve as models for studies to evaluate and develop new technologies for textile recycling at the centre.
They would also be a good source of raw material for recycling in the future, as they can't be resold, and would otherwise end up at the incinerator.
After the uniforms are analysed, they are cut up and the dye and colours are removed from the fabric. The lab is also working on developing eco-friendly methods of removing dye from textile waste and formulating greener, biodegradable dye substitutes.
Following that, the fabric is put in a solvent to separate the different materials in the blended fibres to "derive their pure form", said Professor Hu Xiao from NTU's School of Materials Science and Engineering.
For uniforms made of polycotton fabric, the cotton portion emerges as a white pulp which can be made into new textile fibres.  
The polyester extracted – essentially plastic – can appear in different forms, depending on the separation technology.
It could become PET (polyethylene terephthalate) resin and spun back into fibre, or made into coatings, adhesives or glue, combined with other materials to make tiles and even products for electronics, said Prof Hu.
RECYCLING PLANT IN SINGAPORE?
While the SusTex lab has shown that these processes are possible, they are working on scaling them up for commercial use.
In two years' time, RGE aims to develop a pilot textile recycling plant in Singapore to fine-tune and improve the process, said Mr Perry Lim, RGE executive director.
"Once it's economical, we are looking at developing a full-scale plant," he told CNA. This plant would be able to process up to 24 tonnes a day of textile waste in Singapore.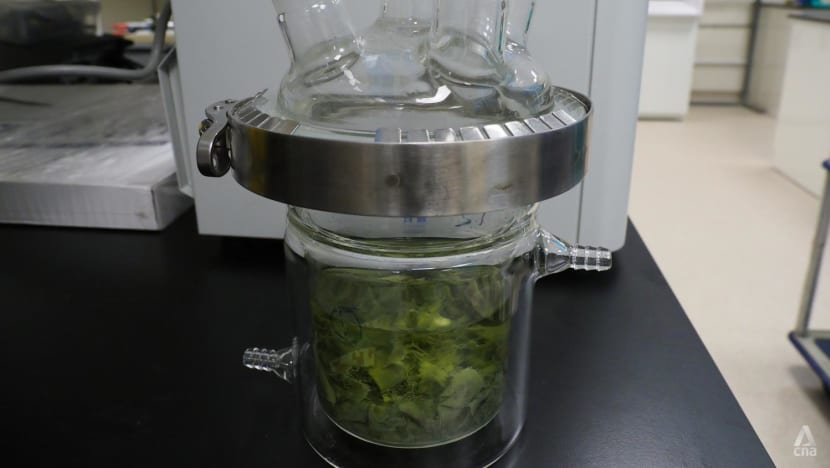 They are also looking into developing more sustainable textiles, new materials that will be easier to recycle when discarded.
Prof Hu explained that plastics are easier to recycle as there is a classification system that makes it easier to sort and dispose of different kinds of plastics. For example, PET, which is often used for drink bottles and food containers, is labelled with the number 1.
But there are no such standards for clothing which can come in a dizzying array of materials, shapes, sizes and forms. The retailers themselves may not know where the fabric comes from.
"Plastics, for example, they have already categorised one to 10, in the triangle … but for textiles, there is no such thing," he said. 
"We can collect the data (about the fabric composition) from the beginning, which is much easier."
That is what he wants to push for in the fashion industry, and he hopes that the data the lab is collecting by analysing used textiles, which they will make public, will help contribute to this.
Doing some spring cleaning? The NEA publishes information on donating, reselling or repairing items on its website, including a non-exhaustive list of channels where the public can donate or swap clothing that is in good condition for reuse.
You may also be interested in: