Recycling 101: What can you toss in the blue bin and what happens after items are collected?
What types of plastic, paper, glass and metal products can you recycle? And should toys be thrown into the recycling bin?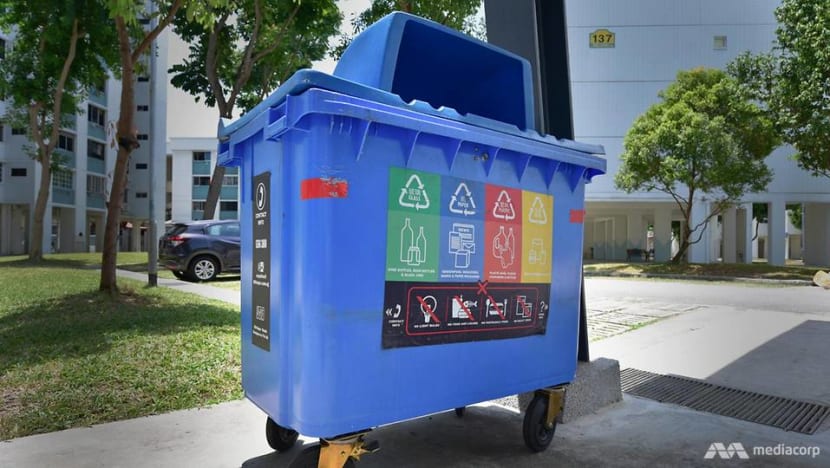 SINGAPORE: We see it everywhere – the bright blue recycling bins in our housing estates, with labels indicating the categories of items that can be tossed in for a new lease of life.
These are generally things made of plastic, paper, glass and metal. But there are several exceptions.
Can you put Tetra Pak cartons, wrapping paper, toys and expired credit cards into the blue bin?
Here's a snapshot of what you can and cannot recycle, ahead of a new initiative for each household to collect a home recycling box starting March 2023.
WHAT CAN BE RECYCLED? 
The general rule is that you can recycle things that are made of paper, plastic, glass or metal. But first, check that the item is clean. 
If it isn't, rinse and dry it before putting it in the blue bin. If it cannot be cleaned, dispose of it as waste.
So things like paper towels, tissue paper and pizza boxes should not be recycled. Similarly, don't toss in straws and used food containers, even though they are made of plastic. 
Plastic packaging with foil – such as potato chip bags or empty medicine blister packs – should be discarded as waste as well, along with expired credit cards and melamine products like plates and chopsticks.
Glass items like Pyrex glassware, bakeware, mirrors and ceramic products cannot be recycled.
However, Tetra Pak drink cartons, such as those used for milk, can be recycled even though they have a waterproof lining. You just need to rinse them out first.
If you're thinking of what to do with wrapping paper after the festive season, they can be recycled, along with textbooks, calendars, greeting cards and paper receipts.
Got some old toys lying around? Think about donating them if they can be reused, as they're not suitable for recycling.
And don't even think about dumping food or liquids into recycling bins - this would contaminate the other contents. Flammable materials such as hot ashes, lit cigarettes, batteries and electronic equipment shouldn't be tossed in as well.
According to the National Environment Agency (NEA), 40 per cent of items thrown into recycling bins cannot be recycled because they have been contaminated with things like food and drink remnants, tissues, reusables and trash.
IS THERE A NEED TO SORT OUT RECYCLABLES?
In Singapore, there is no need to segregate your recyclables according to their categories.
The country adopts a "co-mingled" recycling system to make it cost-effective for recyclables to be collected and easy for residents to recycle.
"We want to provide households with an accessible, reliable and convenient avenue to recycle so as to encourage more households to recycle," said the Ministry of Sustainability and the Environment.
"Items deposited in the blue bins will be collected and eventually sorted by workers at materials recovery facilities into different waste streams for recycling."
This approach has also allowed public waste collectors to optimise their operations by reducing the number of trips needed to collect recyclables, said Minister for Sustainability and the Environment Grace Fu in a parliamentary reply in September.
"Public waste collectors which switched from source-segregated bins to the single-stream commingled bins saw an increased amount of recyclables collected," she added.
SHOULD I DROP ELECTRONICS INTO THE BLUE RECYCLING BIN?
No, you shouldn't.
Items like laptops, wire chargers and handheld devices contain materials like gold, silver, copper and plastic, which can be extracted and made into new products.
However, the process for recycling these items differs – specialised equipment is needed to dismantle, shred, process and extract materials, which can then be turned into new products.
These processes must also be done within a controlled system to prevent pollution and ensure workplace safety and health, said NEA.
Electronic products are therefore collected separately in e-waste bins.
If you have electronic waste to dispose of, you can check NEA's website to see where you can drop them off.
Also, make sure to tape the ends or wires of rechargeable batteries, and seal any leaking batteries in leak-proof containers or bags before recycling them. This reduces the risk of short circuits and fire hazards.
WHAT HAPPENS AFTER RECYCLABLES ARE COLLECTED?
So you've done your part by checking if your items can be recycled and dropped them off at the appropriate bin - what happens now?
According to NEA, recyclables are collected by a dedicated truck and sent to a Materials Recovery Facility.
They are then sorted by workers into different waste streams, baled and sent to local and overseas recycling plants to be made into new products.
The process differs for each item.
Papers are sorted and sent to a recycling facility, where they are shredded and soaked in vats to become pulp.
The pulp is then screened and refined before it is fed to a machine to form sheets of paper. The sheets are rolled and dried to make paper again.
Similarly, plastics are sent to a recycling facility. They are first sorted according to different types, then each type is crushed into smaller pieces and blended to form a mixture of "uniform homogenous quality", NEA said.
This mixture is then extruded – a process in which it is melted and passed through a screen to form strands. After it's cooled, the plastic strands are cut into pellets to be used as material for new plastic products.
The process for glass is a little simpler. At the recycling facility, they are sorted by colour, cleaned and then crushed into cullets, which are then melted to form new products.
Metals go through almost an identical process – they are sorted into ferrous (metals that contain iron) and non-ferrous before they are compacted. The compacted metals are then cut into smaller pieces and melted to be reused.
HOW OFTEN ARE RECYCLABLES COLLECTED?
Recycling bins in Housing and Development Board (HDB) estates are collected at least three times a week for the 660L bins, while contents of the 1,800L and 2,200L side-loader bins are collected once a week.
At private landed properties, recyclables are collected weekly.
Condominiums and private apartments may have their own arrangements with waste collectors.
ANY TIPS FOR RECYCLING?
The first step would be to set up a recycling corner in your home, advised NEA.
Place a bin, a container or a bag next to your trash bin so that you can separate recyclables from general waste. This way, you can accumulate the recyclables easily before making a trip to the blue bin near your home. 
From next March, all households in Singapore can also collect a free home recycling box, known as the Bloobox, to hold their recyclables. It can also be folded, washed and reused.
IF NOT THE RECYCLING BIN, WHAT ELSE CAN I DO WITH MY ITEMS?
Recycling bins are not the only ways you can give your things a new lease of life.
If they can still be reused, consider reselling or donating them. Many organisations accept items like old clothing, shoes or toys that can be reused.
Otherwise, you can check if there are other channels where items can be recycled properly.
For example, sports shoes can be recycled into rubber granules, which can be used for sports infrastructure such as jogging tracks, fitness corners and playgrounds.
These are collected in several places, including ActiveSG Sport centres, sporting goods department store Decathlon and selected recreation clubs.
Similarly, old clothes can be given to cash-for-trash institutions, the Salvation Army and even apparel retailers such as Uniqlo and H&M, which collect old clothes for upcycling.
You can also consider depositing your used drink bottles at reverse vending machines. Such machines may have a bigger role to play in Singapore's push to encourage recycling when NEA's beverage container deposit scheme is implemented in 2024.