More beverage containers collected at recycling company's reverse vending machines
Collections of beverage containers have roughly doubled at machines in Yuhua Market & Hawker Centre and Pioneer Mall, says ALBA W&H Smart City.
SINGAPORE: More beverage containers are being dropped off for recycling at some reverse vending machines in Jurong, said the company behind them.
When the machines were first installed in March 2021, the ones in areas with high footfall received about 300 to 400 cans or bottles per day.
This number has since roughly doubled to about 650 to 700 containers per day, the sustainability manager of ALBA W&H Smart City, Sandra Sajen, told CNA on Friday (Sep 23).
Reverse vending machines may be one of the ways consumers can return their beverage containers when a deposit scheme by the National Environment Agency (NEA) is implemented in 2024.
Under the proposed scheme, those who buy pre-packaged drinks may have to fork out 10 to 20 cents more as a deposit for their beverages as a way to encourage recycling.
They will be able to get their deposit back upon returning the can or bottle to designated return points that have yet to be confirmed.
In the initial stages, it will likely involve only metal cans and plastic bottles.
NEA is in the process of gathering public feedback on matters such as the amount of deposit to be charged and where the beverage containers can be returned.
For ALBA W&H Smart City, the increased recycling rates have prompted the company to up the number of times its machines get cleared to twice a day, said Ms Sajen. 
She added that even then, the company sometimes gets calls from members of the public who find that the machines are full at odd hours of the day.
The company's five reverse vending machines, which are in the Jurong area, collect an average total of 1,200 cans and bottles per day. The ones located at Yuhua Market & Hawker Centre and Pioneer Mall see higher footfall and are often full, said Ms Sajen. 
Those who recycle their items with ALBA W&H Smart City can redeem their rewards on the company's mobile app. By collecting 6,000 points, or about 80 containers, users can get a S$2 GrabFood or Grab transport voucher, which can be redeemed once a month. 
This works out to an incentive of about S$0.025 per can, Ms Sajen noted. 
"Even at such a low rate, just 2.5 cents, people are recycling. We have daily users on the app as well … And we see that the take-up rate is already high," she told CNA.  
"So we really think that when the container return system is implemented and people have to deposit 10 to 20 cents in the beginning, it will really be successful. There's no doubt about it." 
SOME MACHINES FULL OR JAMMED
Another company that piloted a reverse vending machine initiative is F&N Foods. Encouraged by the results of a trial in 2018, F&N Foods embarked on the Recycle N Save programme with NEA in October 2019, the company said in response to queries from CNA.
When CNA visited Westgate on Wednesday morning, one person was seen attempting to deposit his recyclables at the Recycle N Save machine, which is cleared by ALBA W&H Smart City. After two successful attempts, he walked away with the rest of his cans and bottles as the machine was full.
At Funan mall, 31-year-old Billy Zheng used his lunch break to make a trip to recycle a big bag of cans and bottles at the Recycle N Save machine, which was tucked away near a lift lobby on the third floor. The clearing of this machine is undertaken by CapitaLand.
"This machine is the most available. The biggest problem about this is actually that all the machines are either full or jammed. The ones in town specifically, they're quite empty," he told CNA, adding that he often goes to Funan to recycle his cans and bottles.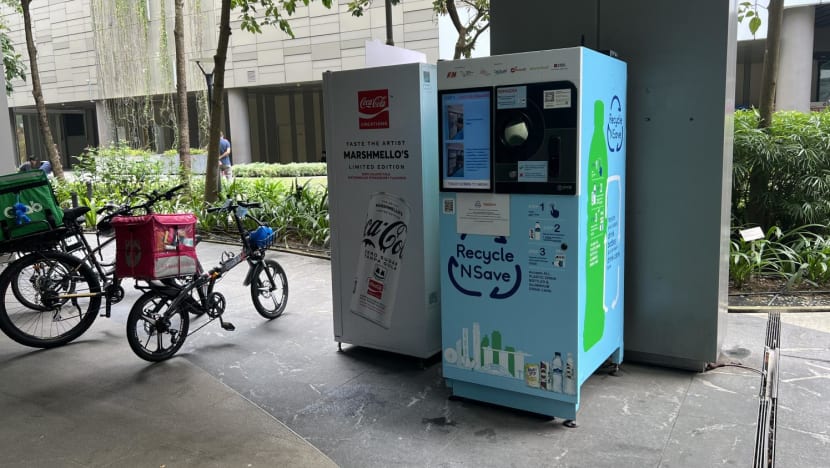 While he thinks a container return scheme with a deposit on packaging will help to improve recycling rates, people in Singapore may not be happy about it. 
"As a whole, I think our country doesn't really have a recycling culture yet, especially for the older folks," he added. 
"I think more importantly, the infrastructure, it has to be there. The biggest turn-off for my family is that every time I go to a machine it's full. So we really have to have the right infrastructure, the right machines." 
F&N Foods said on Saturday that while the reverse vending machines are cleared at least once a day on a regular schedule, usage of the machines on the ground is "dynamic" and differs from day to day. 
"We work closely with our Recycle N Save scheme partners who track the number of beverage containers collected daily to determine the appropriate clearance schedule for the RVMs (reverse vending machines) and adjust the collection frequency where possible during our reviews."
F&N Foods did not reply to queries about whether recycling rates at the 50 Recycle N Save machines have increased since they were installed. However, it said it was encouraged by the results of the pilot in 2018. 
"The initiative has shown Singaporeans that recycling is an easy habit to adopt which benefits both them and the environment," said an F&N Foods spokesperson. 
When the machines were first launched, there were long queues at many of the machines in heartland areas, although these quickly dissipated after the rewards for recycling were reduced.
As part of the scheme, partners like CapitaLand clear the recyclables collected from the reverse vending machines at selected CapitaLand malls and business park properties.
According to F&N Foods, the Recycle N Save initiative also has an agreement with ALBA W&H Smart City. The latter is responsible for clearing the reverse vending machines at IMM, Jurong East Sports Centre, Westgate, Hong Kah North CC, Bukit Gombak Sports Centre and JCube.
Of the 50 Recycle N Save machines, 16 are in CapitaLand malls and properties, and the recyclables are collected daily, said a spokesperson for the developer. 
"Should members of the public encounter a machine that is full or faulty, they may seek help by calling the hotline numbers on the machine," the CapitaLand spokesperson added. 
Currently, people who use the Recycle N Save machines can choose to redeem 10 CapitaStar STAR$, S$0.50 worth of ActiveSG credits, or a free 30-minute ride with bike rental company anywheel for every 10 containers. 
The CapitaStar STAR$ rewards can then be used to redeem eCapitaVouchers and eDeals for use at CapitaLand malls. 
Editor's note: This article has been updated to clarify when the Recycle N Save scheme was launched and that it is a joint initiative between F&N and NEA. Details have also been added about the frequency with which machines are cleared and who has responsibility for doing so.