10-cent deposit for bottled, canned drinks: What you need to know about the beverage container return scheme
A 10-cent deposit will be added to the price of pre-packaged beverages in plastic bottles and metal cans, which will be refunded when the empty container is returned.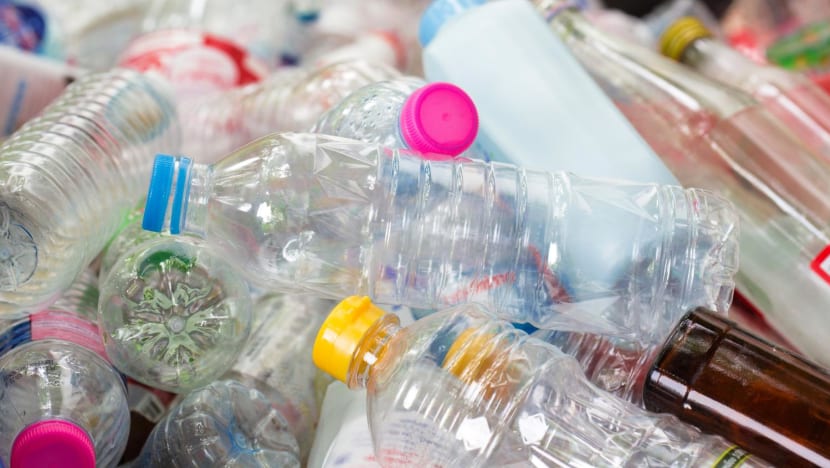 SINGAPORE: Consumers will have to pay a deposit for bottled and canned drinks they purchase from April 2025 as part of a scheme to reduce waste and increase recycling rates in Singapore.
The S$0.10 (US$0.07) deposit will be added to the price of the beverage and will be refunded when the empty bottle or can is returned.
The beverage container return scheme was first announced at the 2020 Committee of Supply debates and went through a public consultation phase in September 2022. It is part of the Resource Sustainability (Amendment) Bill that was passed in Parliament on Wednesday (Mar 22).
Here's what you need to know about the scheme:
WHY IS SINGAPORE INTRODUCING A 10-CENT DEPOSIT?
The scheme aims to increase the recycling rate of beverage containers, and decrease the amount of waste that goes to Singapore's landfill. In 2021, only 6 per cent of plastic waste generated in Singapore was recycled.
"A higher deposit would encourage participation and a higher return rate, but we do not want the deposit to be too high such that it deters purchases of pre-packaged beverages," said Dr Amy Khor, senior minister of state at the Ministry of Sustainability and the Environment.
During public consultations, 84 per cent of respondents said a deposit of 10 cents or higher would be suitable. The 10 cents is not subject to goods and services tax.
NEA said it is working out the details of how the deposit will be refunded, which may be through digital methods.
WHICH BEVERAGE CONTAINERS ARE INCLUDED?
The deposit will be added to pre-packaged beverages in plastic bottles or metal cans between 150ml to 3L. The sizes correspond to what a typical reverse vending machine can accept.
According to 2020 statistics, 660 million drinks in metal cans and 390 million drinks in plastic bottles were placed on the market annually, NEA said.
Both plastic bottles and metal cans have high material value and are easy to collect as well as recycle. Containers for freshly prepared drinks and beverages for special medical purposes will be excluded from the scheme.
There will be a unique Singapore deposit mark and barcode on all containers that are part of the scheme. All importers and manufacturers of covered beverage containers will be required to join the scheme.
WHERE CAN I RETURN MY BOTTLES AND CANS?
Supermarkets that have a total floor area of more than 200 sq m will be required to set up return points when the scheme begins.
Around 400 – or two-thirds – of supermarkets in Singapore meet that threshold. "Supermarkets are ideal for this role as they are major sales channels of beverages and preferred by respondents in our public consultations as return point locations," said Dr Khor.
NEA said that more than six in 10 respondents during the public consultation cited common spaces in residential estates and large supermarkets as preferred return locations.
Hawker centres, schools, shopping malls and petrol stations may also be used as return locations, but it will not be mandatory. Most of the return points are expected to use reverse vending machines to collect the bottles and cans, but manual collection will also be allowed, NEA said.
Consumers are encouraged to lightly rinse the containers before returning them, NEA said, noting that reverse vending machines overseas are able to reject bottles or cans that are not empty.
Restaurants and hawker stalls will likely be given the flexibility to choose to return the containers and collect the deposit themselves instead of passing it on to their customers, NEA said. There may also be separate return points for businesses or scrap dealers – better known as karung guni in Singapore – that have a large number of containers to return.
WHEN DOES IT START?
Producers will start supplying products with the Singapore deposit mark and barcode on them from Apr 1, 2025.
But beverages without the mark may still be sold until Jun 30, 2025 as part of a transitionary period so that older stock can be cleared.
By Jul 1, 2025, all drinks sold in bottles or cans within the size limits must be labelled with the mark and barcode, and sellers must collect the 10-cent deposit.
"While we want to move quickly to facilitate a shift towards a more sustainable way of doing business, we understand that the industry needs time to plan and set up a robust and effective scheme," Dr Khor said.
WHAT ARE THE GOALS OF THE SCHEME?
For the first and second years after the scheme takes effect, the target return rate of beverage containers will be 60 per cent and 70 per cent respectively.
From the third year onward, the target return rate will be 80 per cent.
"At the steady state of 80 per cent, this is estimated to amount to around 800 million beverage containers collected for recycling annually," Dr Khor said.
Countries that have implemented similar schemes have seen return rates increase significantly, NEA said. Germany's return rate stands at 98 per cent, and Norway's return rate is 92 per cent.
Singapore's scheme operator, which is expected to be a not-for-profit organisation, will be responsible for meeting these targets. If the target is not met, the scheme operator faces a financial penalty of up to S$500,000.
Up to one-third of the scheme operator's key appointment holders, such as members of the board of directors, will need to be approved by NEA.