Plastic bag charges for online purchases among questions raised by MPs in Parliament debate
MPs highlighted the excessive amount of packaging used when goods bought online are delivered to customers and asked whether the beverage container return scheme should be extended to glass bottles.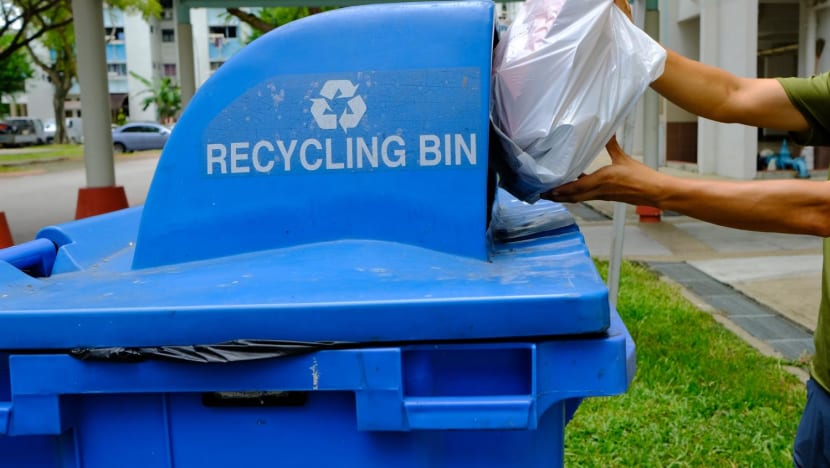 SINGAPORE: Whether consumers should have to pay 5 cents for each plastic bag used in online purchases and if a 10-cent deposit would be extended to glass bottles were among the questions raised in a Parliament debate that began on Tuesday (Mar 21).
Nine MPs rose to speak on the Resource Sustainability (Amendment) Bill, which was passed on Wednesday.
The amendments introduce a legislative framework for a disposable carrier bag charge at supermarkets, a beverage container return scheme and a food waste reporting system. These measures aim to reduce waste and increase recycling in Singapore.
Major supermarkets will start charging S$0.05 (US$0.04) per plastic bag from Jul 3, while a 10-cent refundable deposit will be added to bottled and canned drinks from Apr 1, 2025.
New commercial and industrial buildings will need to submit food waste reports to the National Environment Agency (NEA) from January 2024. For existing buildings, the requirement will be rolled out progressively from the second half of 2025.
ONLINE PURCHASES
MPs Carrie Tan (PAP-Nee Soon) and Louis Ng (PAP-Nee Soon) highlighted the amount of packaging used when goods are delivered to customers.
"Merchants from e-commerce platforms are especially generous with their packaging, often using layers of bubble wrap and other materials, often boxes too big for small items," Ms Tan said, though she acknowledged that retailers want to ensure their products are delivered in good condition.
Mr Ng called on the Ministry to implement the charge for online deliveries. "Grocery deliveries, in particular, are notorious for being packed in layers upon layers of disposable bags," he said.
MP Don Wee (PAP-Chua Chu Kang) asked if the 5-cent charge will apply to online orders of groceries.
Senior Minister of State for Sustainability and the Environment Amy Khor said the charge will not apply to bags used by retailers to bag groceries that are purchased online and delivered to consumers.
"This is because customers do not have the choice of using their own bags," she said in her closing speech in Parliament.
She added that her ministry will study how to address packaging waste regarding online purchases and work with supermarket operators to develop guidelines on reducing packaging.
BAGGING WASTE
On the topic of bagging waste for disposal, MP Yip Hon Weng (PAP-Yio Chu Kang) asked if there are plans to monitor whether discouraging plastic bag use might lead to food waste being thrown directly down rubbish chutes.
MP Joan Pereira (PAP-Tanjong Pagar) said that if "reasonable alternatives" are not provided, the problem of people obtaining plastic bags from supermarkets will simply be pushed to other sources. She also said some residents find the 5-cent charge expensive.
"Surely, we do not want residents throwing their rubbish, especially food waste, directly into the rubbish chutes, in order to save on the cost of bags," she said.
Dr Khor said the packaging that hold bread or toilet rolls can be used to bag waste, as alternatives to supermarket carrier bags.
"The bag charge should not be an excuse to dispose of waste in an irresponsible manner," she said.
Several MPs also brought up the possibility of people in Singapore buying single-use plastic bags, which may cost less than 5 cents each from online or overseas retailers.
Dr Khor said those who do so will still likely be more mindful of how they use the bags since they would have to pay for them, she added.
IMPACT ON SCRAP DEALERS
Mr Ng and Mr Yip raised concerns about the beverage container return scheme eroding the income of scrap dealers – locally known as karung guni – who are often elderly people.
Dr Khor said the NEA will work with the scheme operator to come up with appropriate measures.
"For example, the scheme operator could deploy return depots to accept beverage container returns in bulk, similar to arrangements made in other jurisdictions to involve the informal sector in the collection network," she said.
Separately, MP Dennis Tan (WP-Hougang) asked when the scheme, which will cover plastic bottles and cans when it starts, will be expanded to glass and carton waste.
Dr Khor said bottles and cans are easy to collect, compactible and have high material value. They make up around 70 per cent of beverage containers put to market.
"Including glass bottles or beverage cartons would add complexity and cost to collection logistics and infrastructure," she said.
But they will continue to be recycled under the national recycling programme and the ministry will assess the need to include them in the scheme in future, she added.