Commentary: What makes your role in waste management sustainable
From free foldable recycling boxes to refundable deposits for beverage containers, the drive to reduce waste in Singapore is gaining speed. Singapore Institute of Technology's Assistant Professor Seck Tan looks at society's role in making recycling sustainable.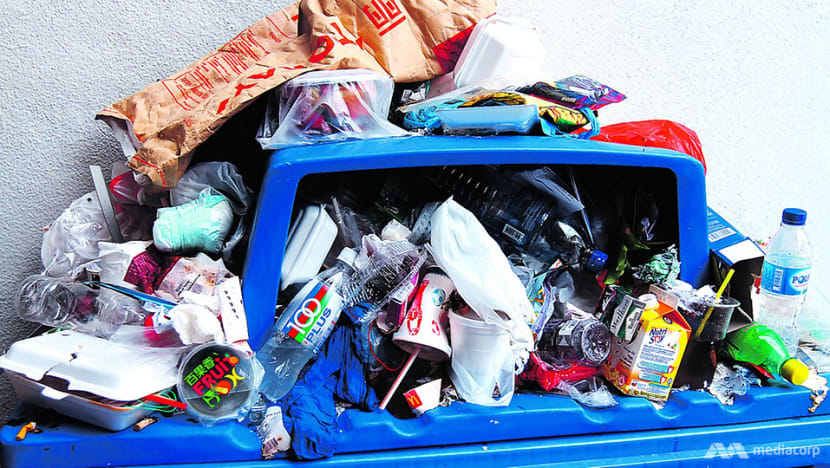 SINGAPORE: From March next year, every home in Singapore will be able to get a free foldable recycling box, an initiative aimed at encouraging households to make a habit of recycling regularly.
What is a recyclable product? It is one that has some future use. If a product has no future use, the options are that it will either be dumped, exported, or incinerated. However, a product can be developed such that it has an extended shelf life beyond its first use. That is, another option for a product is for it to be recycled – and not merely single use.
Whose responsibility is it to make wastage and recycling sustainable – and where does that responsibility begin? 
Is there a case too to be made for a policy that offers some form of environmental stewardship - a pay-as-you-waste system where households are charged for how much thrash they toss, thus encouraging reuse and more sustainable purchasing behaviour?
ECONOMIC REWARD FOR GOOD BEHAVIOUR
The recycling trade is a modernised rag-and-bone trade. Recycling is in fashion due to a public educated on sustainable living, lower cost to recycle plastics as higher oil prices increase the cost of producing virgin plastics, and greater consumer awareness about recycling.
With alternatives to single-use products, more consumers are making better choices. As responsible members of societies, they will act whether incentivised or otherwise.  
In September, a public consultation was launched for a beverage container return scheme. The idea is to have consumers pay a refundable deposit – currently estimated at about 10 to 20 cents – when they buy pre-packaged drinks. They get their deposit back when they return their empty metal cans or plastic bottles to designated return points.
A monetary incentive is an economic reward for good behaviour. As opposed to taxing, which discourages a certain behavior, incentivising with a price point encourages an action. A buy-back or take-back scheme also reduces litter and gives people an incentive to recycle.
But what is the right amount of monetary incentive that would spur action? Is 10 to 20 cents too low, just right or too high?
The amount of incentive would vary across a population: There will be those who will recycle only if the price is more attractive. However, this should be viewed as one of many reasons to encourage the recycling culture. For instance, if I witness everyone doing this, I would be encouraged to do so.
Although buy-back or take-back schemes have proven to be effective, access, ease and convenience remain critical for their longevity and success.
Price point can drive a desired behaviour but it is just one facet of the recycling debate. Just as important is the recycling infrastructure. How do we ensure that the recycling trade continues amid high operating costs and poor collection rates?
RECYCLING INFRASTRUCTURE
Currently, about 40 per cent of the contents found in the blue recycling bins cannot be recycled due to contamination from things such as food and liquid waste.
A high-quality feedstock refers to cleaned and emptied bottles and cans free of contaminants such as caps and labels. Therefore, the narrative should focus on reprocessors' requirements as opposed to collectors, households or sorting facilities.
Bottles and cans that are not contaminated make for efficient sorting as there are less chances that they get stuck together during the mechanical process. This benefits the recycling chain.
With a reliable feedstock, the recycling streams are less contaminated which will increase demand and price. This price rise encourages the trade to improve plant know-how, and for more to enter the trade and create a competitive market. As technology improves, so will the trade with lowered operating costs and overheads. This confidence will motivate the infrastructure for more plants and deposit centres.   
Consider, however, that new infrastructure will require virgin materials, depleting the environment's resources. Perhaps, it may be best to introduce less (or no) virgin materials and be less consumeristic.
MORE CAN BE DONE
To encourage households to change their purchasing behaviour and better manage their waste, perhaps there is a case to be made for a pay-as-you-waste system.   
Once households pay for waste services, the inclination is a swift reduction in how much is binned. This is a form of responsibility to the environment where less waste is introduced – after all, not all waste can be recycled.
For waste that can be recycled, households should be informed on where recycling goes and what recycled materials are used for.
The meaning of high-quality feedstock (cleaned and stripped of caps and labels) should also be shared, with positive annotation on extending shelf life beyond its first use.
Responsible waste management must be balanced across households, reprocessors and society. The role which waste plays in different cultures cannot be undermined; thus, the mantra that a recyclable product has some future use must be reinforced across communities by thought leaders.
To encourage responsible waste management, the public can be reminded about the significance of their actions for nature's well-being, as well as the environmental problem waste causes.
This loops back to public understanding that their actions have an environmental impact, and that waste production should be inhibited whether through prioritising high-quality recyclables or using less virgin materials. 
Seck Tan is Assistant Professor at Singapore Institute of Technology. His research focus is on sustainable development, environmental economics, resource management, and valuation of environmental goods and services.