Commentary: Corporates, please stop with the misleading green marketing
More companies are hopping on the sustainability bandwagon, yet not all are actually doing good – and could even be doing more harm to their brand, say these Singapore sustainability advocates.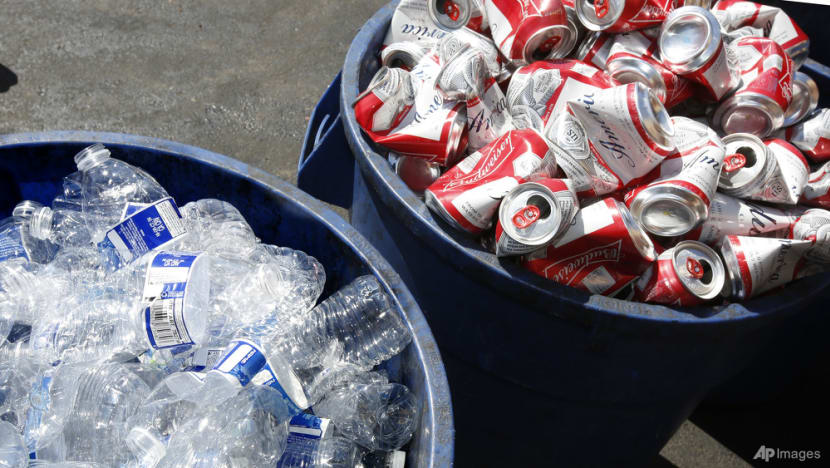 SINGAPORE: News that Coca-Cola will sponsor the United Nations climate conference in Egypt, COP27, was hard to swallow for sustainability advocates.
According to the alliance Break Free From Plastic, Coca-Cola has been the world's top plastic polluter for four years in a row. "It's astounding that a company so tied to the fossil fuel industry is allowed to sponsor such a vital climate meeting," the group was cited as saying in media reports last month.
Other companies that tried to promote their sustainability efforts have faced similar backlash. In August, DBS Bank published a post on LinkedIn about their decision to commit to zero thermal coal exposure by 2039. The caption ended with the slogan: "More like an eco-warrior, less like a bank."
The post drew sharp criticism from other sustainability leaders, with founder of PropertyGuru Steve Melhuish calling it "greenwashing hogwash".
Melhuish argued that a deadline of almost two decades later is not sufficient when climate action must be taken immediately. In response, DBS CEO Piyush Gupta said DBS no longer funds thermal coal projects, and 2039 is when the bank's current loans will be repaid.
Are sustainability observers too critical? Or are companies today inextricably linked to the fossil fuel economy – so any attempt at painting oneself green comes across as hypocrisy? 
THE RISE OF GREENWASHING
As climate consciousness is on the rise, experts have warned of a growing risk of greenwashing – when a company tries to make its operations and products seem more environmentally friendly, without taking tangible steps to ensure that they really are.
The product or service is marketed such that consumers feel good about what they're buying, encouraging more consumption.
An example of this is when fossil fuel companies run advertisements on their renewable energy investments in a bid to show that they are serious about transitioning to cleaner energy. However, "green energy" investments often only account for 0.2 to 2.3 per cent of annual capital expenditure among Big Oil companies, according to non-profit Carbon Disclosure Project.
Such greenwashing is not only misleading but can have tangible negative consequences for the climate and public health.
In an infamous scandal in 2015, Volkswagen was found to have installed "defeat devices" in about 11 million diesel cars which controlled emissions in test conditions, but not on the road. This allowed the German carmaker to market the vehicles as low-emission in the US and Europe, when pollution far exceeded regulatory limits.
Volkswagen has paid more than €30 billion (US$29 billion) in fines, compensation and buyback schemes so far. But besides class lawsuits and removal of products from the market, greenwashing creates confusion and mistrust among customers.
ACCIDENTAL GREENWASHING
Greenwashing is not always intentional, as in Volkswagen's case. It is not uncommon for brands to make "sustainable" changes, only to end up with outcomes that are worse for the environment.
In Singapore, we see this when retailers and eateries switch from plastic disposables to paper or compostable alternatives. But waste in Singapore is incinerated, so a "biodegradable" straw would meet the same fate as a plastic straw, then take up space in our limited landfill instead of being allowed to degrade.
Consequently, claims like "We're committed to sustainability. We only use paper straws!" though well-intentioned, ultimately step into greenwashing territory.
CAN GREEN MARKETING EXIST WITHOUT GREENWASHING?
Does that mean that brands should not market their green initiatives? No. But to steer clear of greenwashing, companies need to do it in a way that is well-substantiated and honest. 
As a baseline, sustainability claims need to be well-supported by information and data, such as full life cycle analyses of products. They should be accompanied with environmental product declarations and disclosed emission measurements.
For smaller companies with resource constraints, a simple Google search – like "paper vs plastic bags" – is better than blindly following trends. Brands could also engage local sustainability advocates to get feedback on a potential idea.
Next, sustainability can't just be about the low-hanging fruit. A fashion retailer offering take-back schemes, where customers can donate or recycle old clothes, would ring hollow if the business model is seen as encouraging excessive consumption.
Transparency is key. This could include publishing data about a company's footprint, details about their supply chain, and perhaps most crucially, acknowledging where they fall short – and how they plan to address that.
The Danish luxury label, Ganni, announced it is "not a sustainable brand" despite a suite of environmental initiatives under their belt.
Founder Nicolaj Reffstrup recognised the "inherent contradiction between the current fashion industry that thrives off of newness and consumption, and the concept of sustainability". He added the brand will now hold itself accountable to its customers and will use social media to communicate their wins and losses.
If a brand has taken all the right steps to prove that they are approaching sustainability holistically, it should be easy to find the right words to reflect those intentions and actions. That also means companies should be more proactive about reducing their environmental impact, not merely waiting for regulation to force them into action.
A clear example is Patagonia. Owner Yvon Chouinard's move to make the Earth "their only shareholder" by donating the company to a climate non-profit received much praise not because of the message, but because the marketing aligns with the brand's track record of practising what it preaches.
If marketers paint a green sheen on a grey product, it's only a matter of time until the sheen wears off. If more effort and resources are spent on marketing efforts than actual research and implementation, your brand may be too far in the greenwash cycle. 
For the sake of your credibility, your consumers and the planet, the greenwashing has to stop. 
Xiang Tian is the co-founder of environmental group LepakInSG. Kate Yeo is the founder of the BYO Bottle SG campaign, and is currently pursuing her undergraduate degree in Environmental Studies.
Contribution by sustainability communicator, Woo Qiyun, the founder of educational channel The Weird and Wild.
LISTEN - The Climate Conversations: Should companies give away their profits to save the planet?