Growing green talent, green finance and combatting greenwashing among MPs' suggestions for climate action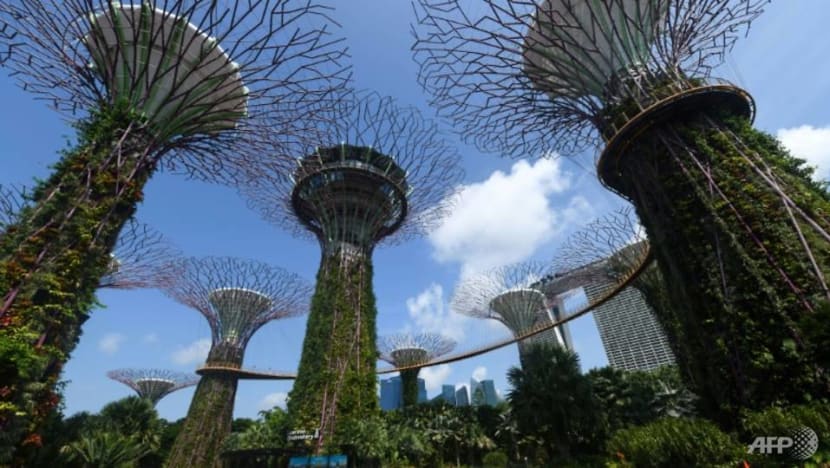 SINGAPORE: Helping Singaporeans seize green jobs, making the country a green financing hub and fighting greenwashing were among the topics raised in a debate on a parliamentary motion that was passed on Wednesday (Jan 12).
The motion on climate change action, moved by Members of Parliament (MPs) from the People's Action Party (PAP), saw 19 MPs from both sides of the aisle rising to speak across more than five hours.
The motion read: "This House calls for the Government to enhance green financing, create more green jobs, and strengthen corporate accountability, in partnership with the private sector, civil society and community, to advance Singapore's inclusive transition towards a low-carbon society."
The motion, led by Ms Poh Li San (PAP-Sembawang), was supported by other MPs from the PAP's Government Parliamentary Committee (GPC) for Sustainability and Environment. It comes after the GPC moved the first parliamentary motion on climate change in February last year.
SEIZING GREEN JOBS
In her opening speech, Ms Poh stressed that the priority in Singapore's green transition is to ensure Singaporeans are not left behind. To do this, they must be equipped with relevant skill sets.
In the short to medium term, the fastest way to roll out training courses is to piggyback on current educational institutions, she said.
Ms Hany Soh (PAP-Marsiling-Yew Tee) echoed this, suggesting the development of more sustainability modules in Institutes of Higher Learning (IHLs), alongside more accredited SkillsFuture courses.
This is so that "Singaporeans both young and old can increase their employability with regard to green industries". Ms Soh also pitched more internship opportunities.
Yet, full-time graduate employment rates for green courses "have not been too encouraging", noted Ms Rachel Ong (PAP-West Coast), who cited specific examples of environmental engineering graduates.
This shows that authorities need to work with the private sector and IHLS to better understand the possible causes behind these lagging employment rates - be it a skills gap, mismatch of skills or a lack of job opportunities, she said.
Moving forward, she suggested enhancing the curriculum for up-and-coming green sectors by consulting industry players as well. Ms Ong also mooted holding overseas "green immersion programmes" for students.
In addition, helping workers in carbon-intensive sectors that are being affected by green developments is critical, said MP Dennis Tan (WP-Hougang). This is because Singapore's green transition should be one that is "just", he said.
"Such a just transition roadmap must be a key complement to the SG Green Plan 2030 on the green economy and be executed upon. This will ensure that value is not just accrued within businesses only, but an equitable share of the value created will directly benefit Singaporean workers."
CARBON CREDITS
MPs also delved into carbon credit trading, which is when companies invest in value-adding environmental projects to balance out their own carbon footprints. These credits can come from emissions being removed from the atmosphere, through projects such as forest restoration.
Nominated MP Professor Koh Lian Pin, an environmental scientist, said they are "low-hanging fruit" that help turn off one tap of carbon emissions by ending deforestation, while removing carbon dioxide from the atmosphere through reforestation.
But he noted that one must ensure these projects deliver "real, additional and permanent benefits", not just for climate change mitigation but also for communities and biodiversity on the ground.
Mr Derrick Goh (PAP-Nee Soon) also suggested that Singapore positions itself as a carbon services hub, including for carbon credits. Carbon markets face challenges such as a lack of strong governance, differing standards and the verifiability of projects, he said.
"As such, the opportunities before us are real, given the pent-up demand … Singapore can play a distinctive leadership role as a trusted global financial and services hub with strong regulatory regime, market infrastructure, and services sector expertise."
More broadly, Mr Don Wee (PAP-Chua Chu Kang) also pushed for more green financing, adding that Singapore can "catalyse the flow of capital towards sustainable development in the region".
"The Government can lead the way to promote sustainable financing by mandating its statutory boards … to issue green bonds and laying the framework and rules for green financing," he said. This is on top of the S$19 billion worth of public infrastructure projects identified to be financed by green bonds.
He also urged authorities to commit to a minimum number of green bond issuances every year, including a retail green bond product tied to the country's sovereign rating, so as to broaden the pool of local green investors.
STRENGTHEN CORPORATE ACCOUNTABILITY
MPs also stressed on the need to strengthen sustainability reporting and guard against the risk of greenwashing. MP Nadia Samdin (PAP-Ang Mo Kio) suggested developing a national sustainability accounting strategy, given how this remains a nascent concept worldwide.
The need for "a strong, Singaporean standard" also comes as environmental, social and governance (ESG) disclosures are now seen by businesses as necessary and "not just a good to have". But at the moment, ESG assurance frameworks tend to be decentralised and varied, she said.
"I hope that more guidelines and resources can be given to the relevant institutions and partners to understand and reconcile the myriad of reporting and assurance frameworks currently available," said Ms Nadia.
MP Gan Thiam Poh (PAP-Ang Mo Kio) recommended having a standardised green certification for companies to ensure transparency in green finance reporting. It would also be ideal to have a standardised nationwide ESG rating index and methodology to evaluate companies.
He noted that company disclosures "should not be marketing-style narratives of their green philosophy and policy statements", and should be "quantifiable, verifiable and clearly presented in plain English".
Having a standardised certification programme will allow the public to know which product or service providers are awarded green certificates. This can also serve as motivation for other companies, said Mr Gan.
MP Jamus Lim (WP-Sengkang) pointed out the risk of greenwashing – the act of making false or misleading claims about the environmental merits of a product, service or technology.
On the corporate front, for instance, he cited the need to "guard against claims by firms that proclaim environmental objectives but are only doing so for the veneer of sustainability".
"While it is impossible to perfectly police these so-called greenwashing attempts, the Government should not be complicit in lending a stamp of approval to firms that are simply pronouncing adherence to such standards for the purposes of going through the motions or, worse, marketing reasons," he said.
Governments can play a role in ensuring that such claims on green practices are broadly justifiable. Associate Professor Lim noted that regulation over misleading environmental claims is currently practised in some countries like Australia and Canada, and it may be worth exploring if similar regulatory moves are warranted in Singapore.
MINISTERS RESPOND
To these suggestions, Minister for Sustainability and the Environment Grace Fu agreed that sustainability reporting and auditing is "a critical aspect" of good corporate governance in a low-carbon world.
She noted how the Singapore Exchange has published a roadmap for mandatory climate-related financial disclosures for listed firms, starting with those in industries that are most exposed to climate risks.
The Monetary Authority of Singapore (MAS) will also be consulting the industry on mandatory climate-related financial disclosures for financial institutions.
"The Government will consider global developments and the experience of such mandatory disclosures before deciding on the approach for other entities," Ms Fu said.
Turning to carbon markets where she noted there is a trust deficit, Ms Fu said such platforms "have been held back by concerns of environmental integrity, exacerbated by a fragmentation in rules and standards and a proliferation of low-quality carbon credits that did not represent real, measurable, and additional emissions reductions".
There is, hence, a need to establish robust rules and clear guidelines centred on environmental integrity.
This is why, she noted, Singapore has agreed to co-facilitate discussions on Article 6 - an article under the 2015 Paris Agreement which sets out rules for the governing of global markets for carbon offset credits - "to provide a common rules-based, global framework, and a foundation to safeguard environmental integrity and avoid double-counting".
Singapore is also actively participating in various international platforms to promote greater environmental integrity and forge partnerships in carbon markets, she added.
BECOMING A GREEN FINANCE HUB
In a separate speech, Trade and Industry Minister Gan Kim Yong said the country is aiming to become a carbon services and trading hub. 
Last year, 13 international firms anchored and expanded their carbon services offerings here.
Singapore is now working with "like-minded partners" to standardise rules on cross-border credit transactions, as well as to build related infrastructure and processes, he added.
Elaborating on Singapore's plans for a green economy, Mr Gan noted that Singapore is already capturing green growth opportunities such as green financing, with the country well-placed to do so as a trusted financial and business hub.
"In fact, we are already a market leader in Southeast Asia for sustainable debt. The sector is still evolving and there is great potential as demand for green finance continues to grow in the region," he added, noting that the MAS has developed a holistic action plan to develop the sector.
In response to Mr Wee's suggestion for the Government to issue more green bonds, Mr Gan said: "We are exploring opportunities to do so under the Ministry of Finance's Green Bonds Programme Office."
In closing, PAP's Ms Poh likened climate action to a parable where blind men touch various parts of an elephant, with different people perceiving sustainability in a different way.
"For mitigation measures to succeed, we should have a clear and holistic understanding of the precarious situation our island state is in. With a full understanding, each of us will have a greater sense of urgency and motivation to do what is needed."
She added that as long as the country remains committed to its green journey, it stands an excellent chance of staying ahead of the competition, with no one left behind.