Commentary: Will more follow Patagonia's bold lead and donate their companies to the Earth?
The founder of multibillion-dollar outdoor gear company Patagonia gave his business away to a non-profit for climate causes. At a time when consumers are wary of corporate greenwashing, will other businesses take Patagonia's lead? Nanyang Business School's Sharon Ng and Lim Boon Chong weigh in.
SINGAPORE: In September, Yvon Chouinard, the founder of outdoor clothing and gear retailer Patagonia, made a bold and unprecedented move in the business world. He gave away his company – to the Earth.
He signed away all non-voting stock (or 98 per cent of total shares) of his company to a non-profit organisation dedicated to fighting the climate crisis. This means an estimated US$100 million annually will go to the non-profit for advocating and investing in environmental causes, instead of his family's pockets.
At a time when corporate promises towards environment, social and governance (ESG) goals run the risk of "greenwashing", social media buzzed with chatter about the Chouinard family's commitment to environmental conservation. Despite some criticism that the donation could be a way to dodge taxes, the general consensus seems to be that Yvon Chouinard is creating an impact with this donation.
His action focuses attention on the important role corporations play in the race to prevent further environmental decline. Just think about the untold possibilities that could be achieved if more – if not all - corporations are willing to take that extra step.  
Now the question is this: What is the filter down effect of this act? Could this trigger a bandwagon effect for more companies and individuals? How could it affect the brand and company?
ECO-CONSCIOUS BRAND WALKING THE TALK
This move to donate the company may seem extreme to some observers, but it is not out of character for Patagonia. In fact, this donation reinforces consumers' perception and image of Patagonia.
Since its inception 50 years ago, Patagonia has been heavily involved in the preservation of the natural environment. It is often seen as a forward-thinking company, offering mostly free repairs for worn-out items and a return policy with no set time limit.
In 2011, Patagonia launched the "Don't buy this jacket" campaign. The campaign appeared counter-intuitively on Black Friday, urging consumers to think twice after explaining the environmental costs of manufacturing a jacket. Paradoxically, the campaign led to customers buying more jackets, but the company made its point clear: Buy less for the sake of the planet.
Existing customers are likely to be supportive of the move and strengthen their loyalty to the brand. For those previously unaware of Patagonia, this has illustrated the brand's philosophy and may win over those who support green consumption and want a clear view of where their dollar is going.
The aura over the company may also be transferred to its employees. More people, especially younger generations, are looking for work that is meaningful to their personal goals and society.
Patagonia is already widely known to be an employee-centric workplace. What this donation does is reinforce the pride its employees feel – working for an employer that walks the talk. Such respect and admiration are crucial in talent retention and attraction and put the brand squarely in the top league of the most attractive companies to work in.
WILL PATAGONIA INSPIRE MORE COMPANIES AND BILLIONAIRES?
But as impressive as Patagonia's move may be, it's hard to quantify the impact this will actually make on the climate. Perhaps one way is to ask whether Chouinard will inspire more companies or individuals to follow suit?
Answering this question is less straightforward. Though expectations may be raised for some companies who take their ESG responsibilities seriously to consider a similar move, the story gets a little complicated.
Patagonia is a privately held business and the Chouinard family, alone, can decide on its fate and divert its profits elsewhere. Publicly held companies will find it hard to do the same, when shareholders expect immediate dividends and can deter sustainable growth.
It might be unrealistic to expect many other companies to follow suit, but Chouinard may inspire other billionaires or even the average Joe to do more to help our ailing planet.
Chouinard has been an unconventional success story. Though Patagonia is valued at an estimated US$3 billion, being listed in Forbes magazine as a billionaire annoyed him.
He has repeatedly said that he sees himself to be more of a craftsman, avid rock climber and environmentalist, than a businessman. The success of Patagonia is due to the passion he, his family and his employees have for the company's mission.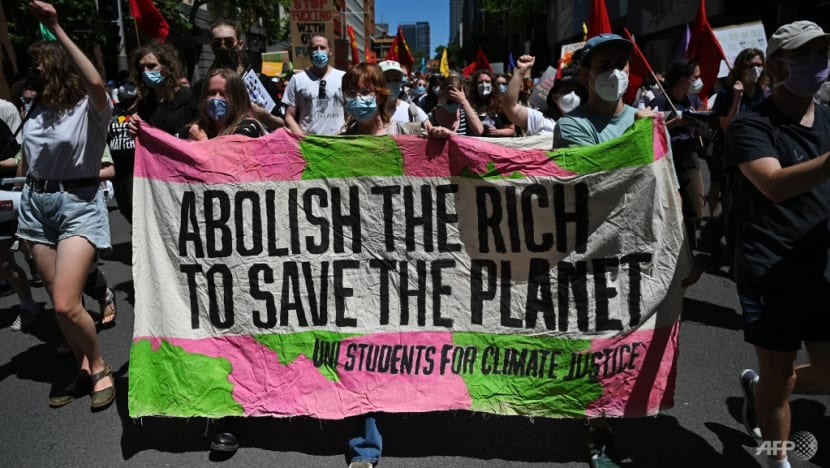 Nonetheless, the audacity of the act may trigger a bandwagon effect by other billionaires. It would not be unprecedented.
Multibillionaires Bill Gates and Warren Buffett have given large portions of their fortune to charity, pledging to give nearly all their wealth away. Both men have said they were inspired by Charles Feeney, who made his fortune in duty-free shopping and gave away his US$8 billion fortune to charitable causes.
Other billionaires, such as Meta CEO Mark Zuckerberg and prominent investor Ray Dalio, have made similar pledges to give most of their fortune to charity.
BUSINESSES' ROLE IN CLIMATE ACTION
The boldness of Chouinard's move will hopefully give the movement more legs and trigger a greater bandwagon effect towards not just charitable causes, but climate action.
Beyond financial donation, the cult status of Patagonia may also inspire its supporters to engage in more sustainable consumption behaviour.
When Chouinard's donation hit the news, it was met with much applause and some scepticism. Regardless of one's point of view, one thing is clear: Talk of climate action tends to focus on what individuals and governments can do. Patagonia's move shows that companies can aspire to so much more in our fight against climate change.
Professor Sharon Ng is Head, Division of Marketing and Dr Boon Chong Lim is Deputy Head, Division of Marketing, Nanyang Business School, Nanyang Technological University, Singapore.
Corporations are built around the idea of maximising shareholder wealth, should they give away profits to save the planet? Listen to CNA's The Climate Conversations: