Commentary: Switching off printers, replacing air-con filters – it's not so hard for offices to go green
Even when slapped with a higher carbon tax, what businesses will find most challenging is making change happen, says Singapore Environment Council chairman Isabella Huang-Loh.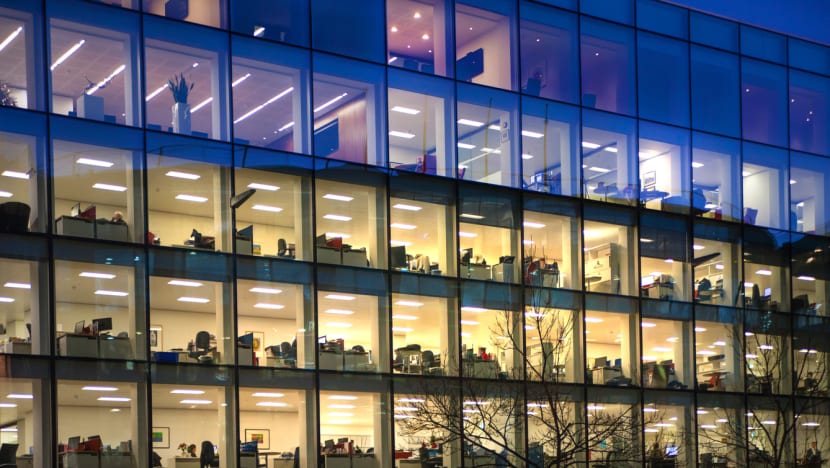 SINGAPORE: As the first country in Southeast Asia to introduce a carbon tax in 2019, Singapore is seeing through its commitment to reach net-zero emissions by 2050. On Nov 8, Parliament passed a Bill to progressively raise carbon taxes from the current S$5 per tonne of greenhouse gas emissions, to between S$50 and S$80 per tonne by 2030.
Having an effective carbon price will incentivise businesses to adopt carbon mitigation solutions sooner rather than later. But even when slapped with a higher carbon tax, the part businesses will find most challenging is making change happen.
While setting ambitious climate goals is a start, success cannot be measured by pledges alone. According to an Accenture report published in November, more than one-third of the world's 2,000 largest firms have committed to net zero by 2050.
Of those, 93 per cent will fail to achieve their goal. This is because few businesses lay out credible investment plans or specify milestones against which progress can be judged.
A report by the United Nations Framework Convention on Climate Change (UNFCCC), unveiled at COP27 in November, warns emitters that "the planet cannot afford delays, excuses or more greenwashing". So how can businesses move beyond lip service?
NEED FOR DETAILED TRANSITION PLANS
For businesses to decarbonise, they must focus on short-term science-based targets along with detailed transition plans. These plans should demonstrate immediate emission reduction strategies and the capital expenditure required.
Monitoring, reporting and verification standards should be applied to ensure plans meet their intended objectives.
Case in point: The Singapore Environment Council (SEC) has seen businesses that adopt green certification schemes slash their carbon footprint by up to 7 per cent. They have done so by reducing electricity, water and paper consumption, or through better procurement and waste management.
SIMPLE, IMMEDIATE STEPS FOR BUSINESSES
While there is no one-size-fits-all blueprint to cut emissions, there are some easy measures that all businesses can start with.
First, maximise energy efficiency in the office. One of the quickest ways is to unplug or switch off electronics, such as coffee machines and printers, during off-peak periods of night-time and weekends.
While most devices feature a standby mode that claims to save electricity, it still consumes power. Globally, standby power is estimated to account for about 2 per cent of home and office electricity use, and 1 per cent of carbon emissions.
In Asia where air-conditioning is an unspoken energy guzzler, cooling units should undergo regular "health checks" and have their filters replaced regularly. Clogged-up filters can compromise an air-conditioner's functionality, resulting in overheating and more electricity consumed.
Next is to optimise the building's energy consumption. Office buildings don't have to be new to be energy-efficient. Retrofits for existing buildings can deliver results at minimal cost. For instance, LED fixtures are found to use up to 85 per cent less energy than traditional bulbs.
When it comes to cooling, a simple switch from the more common HVAC (heating, ventilation and air-conditioning) systems to DCV (demand-controlled ventilation) systems can improve a building's energy efficiency. The latter automatically adjusts cooling output according to occupancy by sensing carbon dioxide levels in the air.
Other retrofits could range from using solar energy to power the office, upgrading water-efficient fittings, to linking metering to the building's management system. These costs can be offset by government grants. The Energy Efficiency Fund, for instance, supports businesses with industrial facilities invest in energy-efficient equipment and technology.
The upside to going green is a potential cost savings of up to 37 per cent for office properties, according to UOB research published in December 2020.
Programmes including SEC's eco-certifications and Singapore Green Labelling Scheme can help business owners outfit their shops in an environmentally sustainable manner as well as adopt greener daily operations. Companies that do so will receive certification for their commitment to being green.
Such credentials also facilitate consumer choice. Using green labels and disclosing your carbon footprint informs environmentally conscious customers about how your product or service is impacting the climate. They would feel good about supporting a certified sustainable business, which goes towards building brand loyalty.
BUSINESS AS USUAL IS NO LONGER AN OPTION
The clarion call for businesses to decarbonise has been sounded at COP27. Carbon tax or not, limiting global warming will require a concerted effort from corporations to make fundamental changes in behaviour. It's a tall order, but not an impossible task.
I, for one, am eager to see real transition plans by businesses that will be translated into action. Climate change is not fiction, so let's not treat it as such.
Isabella Huang-Loh is Chairman of Singapore Environment Council.
LISTEN - The Climate Conversations: Will Egypt, holding the 'crown' of COP27, deliver?