Net-zero buildings: More than design or engineering, but about 'better quality of life'
A net-zero building – which consumes only as much energy as it produces – is better for the planet, but there's still resistance to the green concept. CNA speaks to experts about why these buildings matter.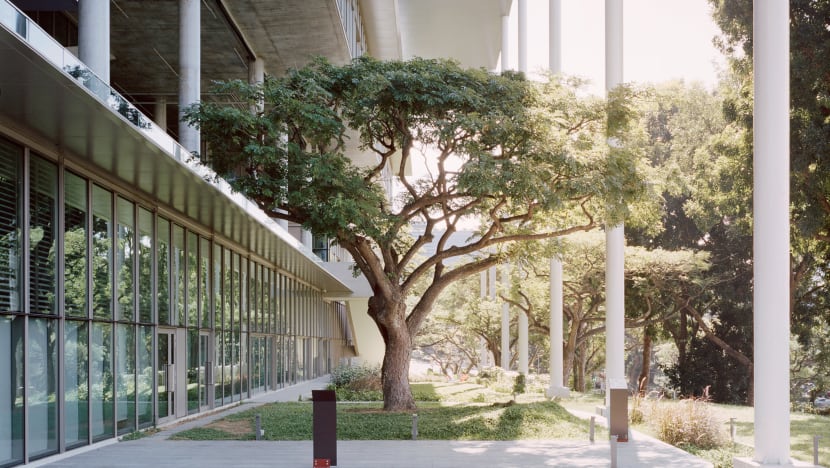 SINGAPORE: The drive down Clementi Road might be peppered with greenery alongside several schools, but the National University of Singapore's School of Design and Environment 4 (SDE4) is still a sight to behold.
Standing six storeys tall at 8 Architecture Drive, the multidisciplinary space boasts a large oversailing roof, airy and open spaces, floor-to-ceiling glass panels and concrete surfaces that resemble marble — and its sleek facade is only enhanced by weaving in the surrounding mature trees into its design. 
But one thing stands out: Singapore's first net-zero energy building to be built from scratch doesn't have a green facade. And this decision was intentional. 
"Green facades are very popular now. This is a great idea, there's nothing wrong with it. But we realised our building is (already) surrounded by all this dense greenery. When you come to our campus, you'll see large trees and amazing flora. It felt like putting a green wall was just lip service to green sustainable thinking," explained Dr Nirmal Kishnani, associate professor at NUS SDE, to CNA. 
"Not to mention, green walls still place a certain burden in terms of water consumption. Again, (green walls) have value, they provide cooling, they do a lot of things, but we evaluated the idea and decided it wasn't what we wanted to do for this particular site." 
Mr Giovanni Cossu, associate director of sustainability services at the Dean's Office in NUS SDE, added that there was "a lot of discussion on how to preserve the existing vegetation, primarily the trees, which are literally encapsulated in the structure". 
Such meaningful decisions are necessary in creating a net-zero building like SDE4, as these buildings are "an absolute key to a sustainable future", said Dr Kishnani. 
Under the Singapore Green Plan 2030, one of the Singapore Green Building Masterplan's key targets is to green 80 per cent of its buildings by 2030. Aside from NUS SDE4, some notable players in the market include Keppel Bay Tower, which is Singapore's First Green Mark Platinum (Zero Energy) Commercial Building, and the Building and Construction Authority's (BCA) zero-energy building.
Yet, despite being known to be good for the environment, net-zero buildings are hardly springing up across the island.
The lowdown on "net-zero"
What is "net-zero"? 
"The basic premise of net-zero is when the building produces enough power by itself, and matches its consumption. It equalises the load that is consumed by the building."
Is there a difference between "zero" and "net-zero"? 
"Zero means the building is at zero every day, every minute, every second. In the definition of how the industry looks at it, net-zero is assessed over a period of one year, where you're zero most of the time.
"After all, there are days or hours that you may end up producing more power than the building is consuming, and there are days when it's on the opposite end. Therefore it's net-zero over a 365-day period." 
How does an "off-grid" and "net-zero" building differ?
"In an off-grid building, you don't need to connect it to the grid. You put a bunch of batteries in it, and then whenever you are producing more than you're using, you store it in the battery.
"In net zero, you don't install the batteries for a reason. Singapore's grid is better than a battery. So when we make extra (energy), we're putting it into the grid; when we need some, we're taking it from the grid. But it should net out to zero."
Source: Mr Erwin Chong, Group Head of Corporate Real Estate Strategy and Administration at DBS, and Mr Prescott Gaylord, Head of Sustainability for Corporate Real Estate at DBS.
NET-ZERO BUILDINGS FIGHT CLIMATE CHANGE  
For a start, many companies might not have an incentive to build net-zero buildings, because it "isn't their primary business to be net-zero" or focus on energy, suggested Mr Ang Kian Seng, group director of the environmental sustainability group at BCA. 
"If you're in the business of healthcare, for example, your main priority is how you deliver healthcare to patients in a cost-effective manner. So energy is secondary, and therefore it's never high up (on your priorities)," he explained to CNA. 
"But having said that, because of the climate emergency, like just this morning there was a flash flood, everything can be attributed to global warming. There is more extreme weather. People are beginning to realise we all need to do something."
As a result, net-zero buildings can be part of the solution to fight climate change, added Mr Lei Zhang, founder and CEO of Envision Group and Envision Digital, whose company aims to address sustainability challenges with technology solutions. 
"Buildings in Singapore account for over 20 per cent of the country's carbon emissions. Given the high emissions footprint of buildings, using design and technology to enable them to be net-zero can help mitigate climate change in a meaningful way," he told CNA. 
Mr Zhang also cited the recent Intergovernmental Panel on Climate Change (IPCC) report, which he said suggested that "globally, we will see more floods, changes in temperatures, more frequent rainfall". 
"A third of Singapore, including its central business district, is less than 5m above mean sea level. Singaporeans have cause for concern, as it will literally be a situation of sink or swim if nothing is done," he added.
THE THOUGHT PROCESS BEHIND NET-ZERO FEATURES
One company that will soon walk the talk is DBS. 
Building on its commitment to achieve "net-zero operational carbon emissions" by 2022, the bank will transform an existing four-storey office building at 135 Bukit Timah Road into Singapore's first net-zero development by a bank, DBS said in a press release in July. 
Modifying an existing building is known as "retrofitting".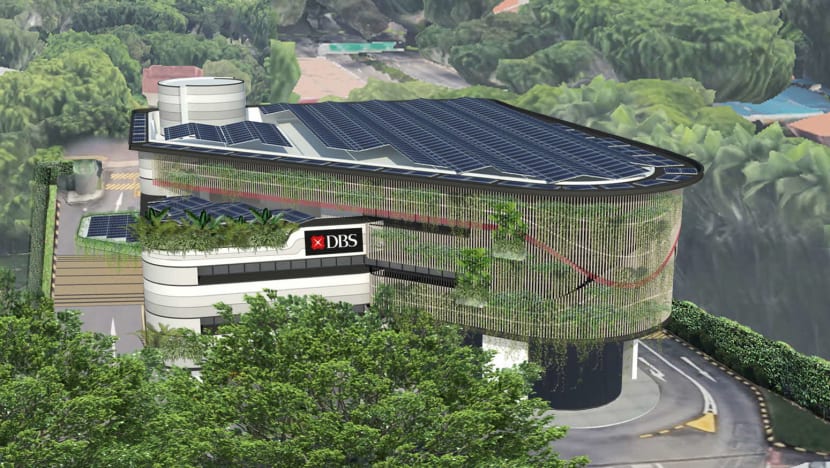 "We thought, what can be more green than not tearing down the building that we already have? … We said, hey, let's truly challenge ourselves. Can we actually turn it into a net-zero building?" shared Mr Erwin Chong, Group Head of Corporate Real Estate Strategy and Administration at DBS. 
"(There's) carbon that has already been used. There's concrete, there's cost, there's everything that has already been built. (So that) set the ambition and the way we look at it. All of that fits with our responsible business practices and goals." 
Another principle guiding DBS in the process is that their building should "blend in with the existing environment", much like the NUS SDE4 building. 
"We're very near Botanic Gardens, a nice green patch of land in Singapore. The last thing we want is to create a building that looks like a concrete thing. We also wanted to make sure that we give back to the environment and the community," added Mr Chong. 
Speaking to CNA about BCA's zero-energy building that was built more than a decade ago by retrofitting a building within the BCA Academy, Mr Ang pointed to the concept of "passive design". 
"It's about harnessing the energy from the external environment to create a space that's conducive for the end-users. This is probably the first step that most buildings must take - deploy as many passive design strategies as possible," he said. 
"One concept that we're trying to promote very aggressively is the use of natural ventilation, even in office space. We recognise that it's challenging, because now I think the acceptance of air conditioning is almost the (default) mindset.
"I think we need to do a lot of demonstration projects around what we call mixed mode ventilation, which means that you have a hybrid kind of system."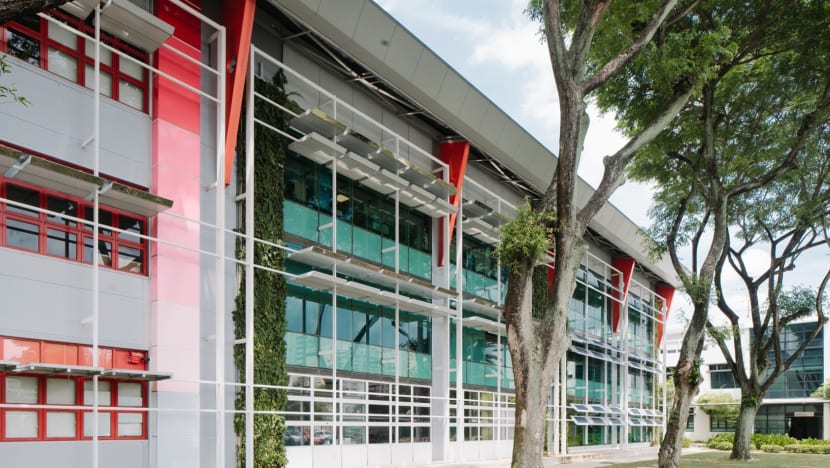 Mr Ang also said BCA employs "smart energy management", which is the opposite of a "one size fits all" approach in many offices, where a central system controls the lights and air-conditioning for the entire building. 
"We wanted to give power to the individual, in terms of air-conditioning and lighting. For instance, they will (gauge) the right level of light for their own workspace; if other people are not using the space, then the light might not be so bright … We need to make sure that the demand is met just right, so we don't waste energy unnecessarily," he said. 
MINDSET CHANGE A CHALLENGE
But engineering and design challenges aren't the only hurdles in adopting net-zero buildings. 
It's also about changing deep-rooted mindsets, whether it's about embracing sustainability in our daily lives or accepting a lack of need for air-conditioning, said experts. 
"My own opinion is that people are guarded by mindset. They (often) think of a traditional (type) of building, especially in a tropical climate like Singapore, with the air-con and all that. It's a big deciding factor as to why people don't adopt this (net-zero concept). Because it's not traditional, or it's not the general (way that things are done)," said DBS' Mr Chong.  
Concerns around cost and air-conditioning need to be addressed, added Mr Ang. 
"One concern is the cost (of net-zero buildings). What is the incremental cost? … There is a premium, but it will pay for itself, because the savings from running the operation will offset the upfront incremental costs." 
And where Singaporeans' love for air-conditioning is concerned, changing their behaviour might take more than a little convincing. 
"We started to have discussions around what indoor air comfort is, and it's probably a function of three factors: The temperature you maintain within the space, the humidity and the airflow. When you talk about these three things together, I think people's acceptance level (of using less air-con) becomes higher," said Mr Ang. 
"They realise that with a bit of draft, you can do with a higher temperature. It's more comfortable that way. When the temperature is low, it might not be so good for the skin."
Changing individual mindsets will mean that more companies make plans to build or retrofit their own net-zero buildings – and DBS hopes theirs can eventually be a blueprint of sorts. 
"We're not trying to just make this one net-zero building. This is part of an overall change in how we're looking at our space. We want to apply it to everything. Should all of our space be net-zero, we wanted to do it right," shared Mr Prescott Gaylord, Head of Sustainability for Corporate Real Estate at DBS. 
"We wanted to use technologies, try things, such that it could be applied to our whole portfolio, and that it was accessible enough so that anyone else could copy us. We're not trying to hold on to any of our information. It will all be publicly available on the BCA website, if nothing else. We wanted to have a (greater) impact with our net-zero thinking." 
Mr Chong echoed his sentiments, hoping that big companies can think about net-zero beyond their premises and use their influence to encourage other companies to consider doing more.
"It is still important to go do your CSR (corporate social responsibility) activities, like cleaning the beach every now and then. But if it's not part of your core business activities, where you can implement this at a (higher) level or (bigger) scale, then you're not doing your duty, since you are able to (have more) impact," he said. 
"When I talk to Singaporeans about it, I think there is a great kind of camaraderie and civic understanding in doing your part. … I think people in general understand that we have to take care of each other," added Mr Gaylord. 
A "MUCH BETTER QUALITY" OF LIFE 
Ultimately, experts agreed that the concept of net-zero buildings might be difficult to grasp if it's seen as too technical for the layman. Instead, consider this: Net-zero is fundamentally about improving the individual's quality of life. 
Whenever NUS' Dr Kishnani talks to people about zero energy, they assume it's a "cost-saving issue or a technology issue", but the SDE project has shown him that it makes for "a much better quality of life", he said. 
"The hybrid cooling system is not just saving us money; it's improving the health of our students and staff who use the building because it's 100 per cent fresh air, as compared to a conventional air conditioning system which is recirculated air. So we have less risk from spread of pathogens or build-up of carbon monoxide indoors," he shared. 
The zero-energy target is not something that "stands on its own as a numerical target", and neither is it solely "an engineering problem", he added. 
"It's a different way of thinking about design. And if you think about it creatively, you bring to the table a lot of other benefits to the quality of our lives, and to our safety and our health … It's a design problem, an everyday life problem." 
Dr Kishnani pointed out that it would help to reframe the issue of sustainability so that people don't see it as a sacrifice or ask what they must give up. 
"If you think about sustainability in the right mindset, it's a bonus to our lives. It creates pleasure, beauty and a higher quality of life. I think this is the thing that gets lost in the conversation, because there is a climate emergency so we're all reacting to that, and then there are issues of cost. They don't look at what value it brings to our lives, like how it changed the way we teach or how we experience the indoor environment," he said. 
"We have to see (sustainability) not as an either/or situation, but as an and/also situation: If we do that, we get this as well."