Commentary: How I got from beach clean-ups at Pasir Ris to speaking at COP27 climate summit
It may feel like nothing is moving forward with the gridlock on climate issues, but the wealth of ideas, projects and start-ups in Singapore shows otherwise, says CEO of Ocean Purpose Project Mathilda D'silva.
SHARM EL-SHEIKH, Egypt: On the last day of COP27, I sat with delegates from all over the world to discuss one of the most hotly debated items on the UN climate summit's agenda: The mechanisms of voluntary carbon markets, through which businesses and governments can purchase carbon credits to offset their emissions.
As the CEO of a small social enterprise in Pasir Ris, Singapore, I felt like a fish out of water. It was my first COP after all.
With my team, we've done the painful work of mapping carbon credits for seaweed – that is, figuring out how much carbon dioxide seaweed can absorb from the seas – so had input on what blue carbon credits might look like. Precisely how much marine and coastal habitats can offset carbon emissions is something the world has yet to be aligned on.
Last year at COP26 in Glasgow, a set of rules governing global carbon markets was agreed upon after years of negotiations. This year was all about taking actionable steps for implementation – which is where social entrepreneurs like me come in.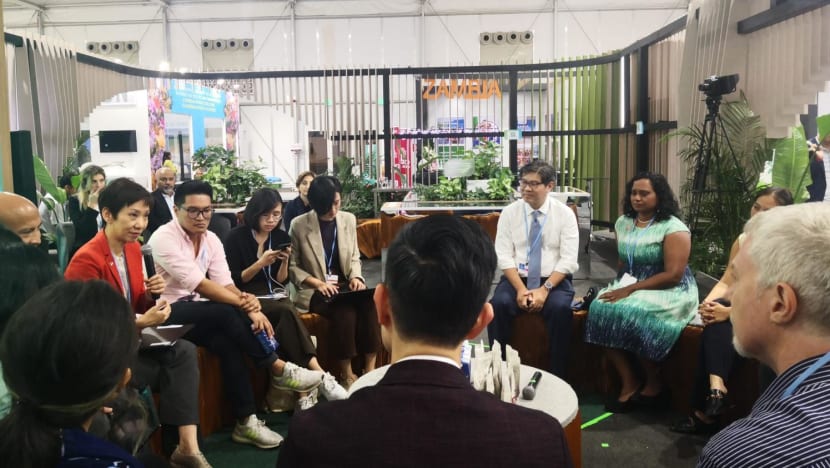 Having a seat at the table made me feel that my ventures into turning marine plastic waste into hydrogen and growing seaweed to clean Singapore's waters might have a shot.
It was eye-opening to see the power and difficulty of words come to the fore. As someone keen to move from words to action, it was difficult to exchange my snappy start-up mode with the measured diplomat mode vital to sustainability talks.
NO-NONSENSE, ACTION-ORIENTED SINGAPORE STYLE
The discussions were set in the beautiful, dry Sinai Peninsula where event access to water and food were limited, taxis extortionate and WiFi patchy. Non-governmental organisation representatives bedecked in traditional costumes told me they struggled with the high costs.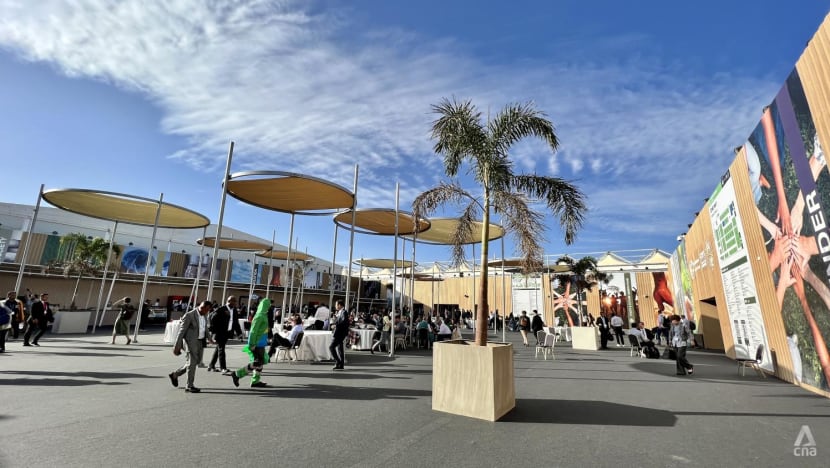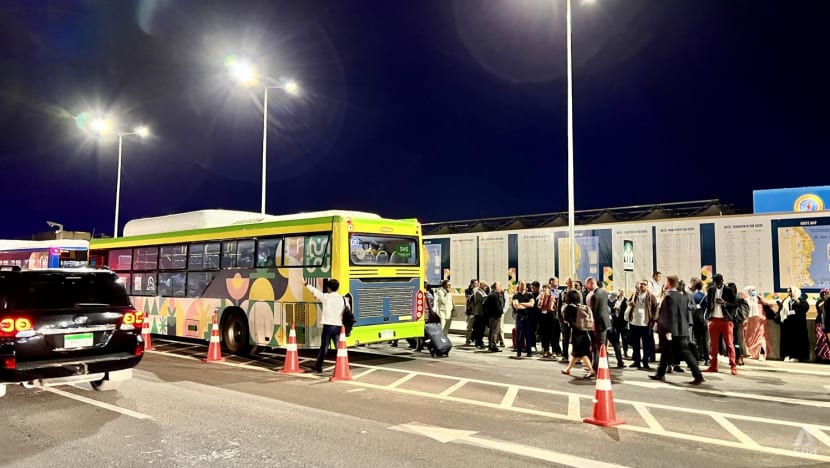 LISTEN - The Climate Conversations: Should the rich pay for the climate devastation in poorer countries?
COP27 was a microcosm of what the world is facing: A food, water and energy crisis. This was in stark contrast to Singapore, where I can drink water from a public tap, eat economical rice and take public transport.
When I introduced myself to participants from other countries, be it African academics or Arabian female leaders, I noticed that saying "I'm from Singapore" carried a no-nonsense and action-oriented gravitas.
Speaking on a global stage made me realise the potential of Singapore-style sustainability, even though it was nerve-racking at first. When I described how my team moved beyond beach clean-ups in Pasir Ris to converting ocean plastics into hydrogen and seaweed into biofilters, I saw widened eyes in the audience.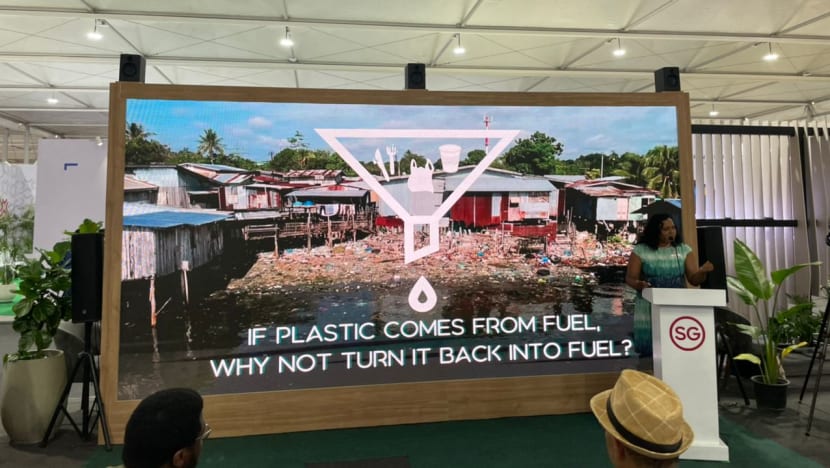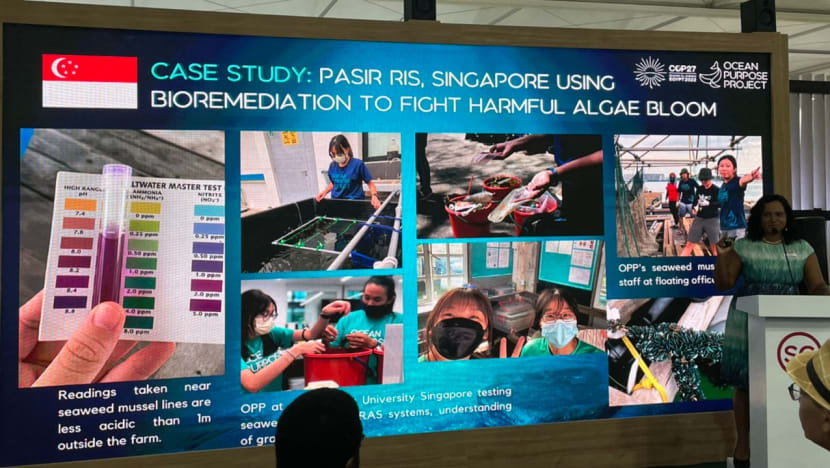 Besides being a Singaporean Indian woman affected by ocean pollution, I realised my unique position of also being a Southeast Asian NGO and business leader (a profile sorely under-represented at COP27) with concrete solutions to high-level concerns of plastic waste and climate change.
Asia accounts for 81 per cent of global plastic pollution, so our faces and voices should be featured more in the ideas, projects and start-ups to not only minimise but possibly eradicate it.
SMALL STEPS FORWARD CAN ADD UP
I overheard a youth activist from Poland say "hopelessness is irrelevant unless it drives action". After listening to the gridlock on phrasing of fossil fuels, carbon markets and other pressing climate issues, the feeling that nothing is moving forward may be emotionally overwhelming.
But this is where small steps can add up. Singapore has a wealth of innovation in the blue economy space. For example, the National University Singapore has poured research into Carbon Integrity SG, as well as the Carbon Prospecting Dashboard open-access platform with ST Engineering, to estimate yields and returns on investment of carbon credits.
The work of Ocean Purpose Project's NTU research partner Nanyang Environment and Water Research Institute is fundamental in making Singapore an ocean plastic to hydrogen hub for the region. Singapore itself is pursuing hydrogen as part of its decarbonisation efforts to achieve net-zero emissions by 2050.
In the same tradition of Singapore's success in securing water supply through technology, we're also seeing hundreds of innovations in alternative proteins, seaweed aquaculture, solar energy and electric vehicles.
It is vital that Singapore confidently steps forward and takes its place in the global call for real ideas. This not only diverts us from the "highway to climate hell", but will showcase how a small country with diverse people can punch above its weight.
Mathilda D'silva is CEO and Founder of Ocean Purpose Project.