Commentary: Singapore strives to develop a hydrogen economy by 2050 – here's what it will look like
Governments and businesses are betting that hydrogen will be the fuel of a carbon-free world. Singapore is already doing what it does best to move the needle – collaborating with regional neighbours and funding research, says Christian Bruch, CEO of Siemens Energy.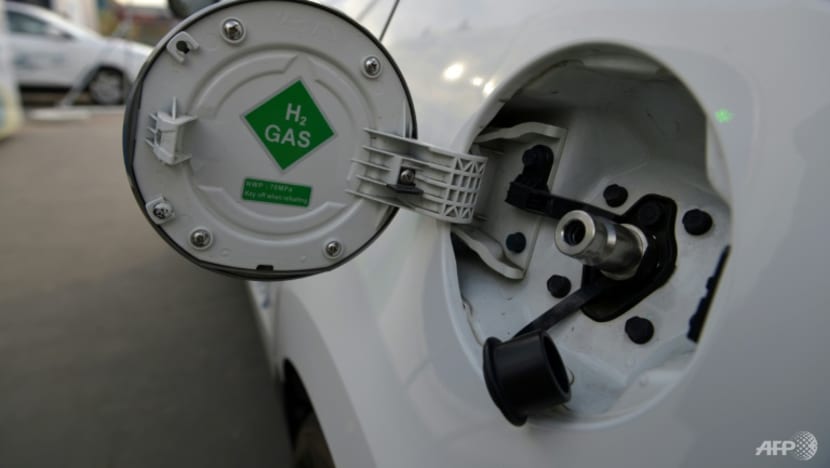 SINGAPORE: During a dramatic, rain-sodden Singapore Grand Prix just last month, spectators were holding their breath at every turn.
Less dramatic, but no less thrilling in my book was the Austria Formula 1, held earlier in July. For the first time, an emissions-free generator using clean hydrogen was showcased.
While this was only to power a merchandising booth, hydrogen could, literally and figuratively, put the pedal to the metal for the next generation of F1 engines running on fully sustainable fuels – a sight we may someday see in future Singapore Grand Prix races.
More are placing their bets on this clean fuel in achieving a carbon-free world. On Tuesday (Oct 25), Deputy Prime Minister Lawrence Wong announced Singapore will raise its climate target to reach net-zero by 2050 and identified low-carbon hydrogen as an increasingly promising solution to this end.
He said that if technology continues to advance, hydrogen could supply up to half of Singapore's power needs by 2050.
Is hydrogen really the silver bullet to decarbonisation that proponents say it is? More importantly, does a small, resource-constrained country like Singapore have the means to rock it in the hydrogen space?
THE PROMISE OF HYDROGEN
Hydrogen, when produced with renewable energy such as solar and wind, doesn't create any harmful emissions. The fuel is light and storable, and when used in a fuel cell, its only by-product is water.
LISTEN - The Climate Conversations: The technology is here to make green hydrogen cheaper
Thanks to the European Union's ambitious hydrogen strategy, the majority of new hydrogen projects are in Europe. Other regions are catching up, with more than 75 per cent growth in the number of new projects announced.
Oil-rich Saudi Arabia is set to go big with a US$500 billion futuristic city built on the Red Sea that will be powered by hydrogen, which will come from a US$5 billion plant poised to be the world's biggest producer of green hydrogen.
Japan has also opened one of the world's largest green hydrogen production facilities near Fukushima, capable of producing enough hydrogen each day to power about 150 homes for a month.
Clean hydrogen costs are falling, and governments and businesses are muscling in. Last year, then-Australian prime minister Scott Morrison pledged to "produce the cheapest clean hydrogen in the world", at A$2 (S$1.80) per kg. At this price, hydrogen becomes a viable alternative to conventional fuels.
Bearing out his promise, an Australian hydrogen technology company just announced a major breakthrough that can mass produce hydrogen at under A$2 per kg by 2025.
SINGAPORE'S HYDROGEN AMBITIONS
With limited land and renewable resources, how will Singapore produce its own clean hydrogen to meet energy needs and climate goals?
As hydrogen is still a nascent technology, when and where it can be produced at scale in a cost-effective manner is still unclear. Preliminary steps have been outlined in the newly unveiled National Hydrogen Strategy to research and experiment with hydrogen technologies in Singapore, as well as to assess infrastructural requirements and partners to facilitate hydrogen trade.
This strategy hinges on what we see as three crucial ingredients. First, Singapore must build on existing infrastructure, such as preparing gas turbines for the energy transition.
Second, the country must become a technology hub for breakthrough hydrogen solutions that can accelerate the commercial adoption of hydrogen.
Third, the Government must set a national carbon hydrogen target to align players in the emerging sector.
Presently, Singapore does not currently possess the large-scale facilities for mass hydrogen production or high-pressure fuel tanks needed for large-scale hydrogen storage. Including hydrogen in Singapore's fuel mix will not necessarily require an extensive infrastructural overhaul.
One of the advantages of hydrogen gas turbines is the relative ease and cost-effectiveness of which existing assets can be adapted and modified. Retrofitting existing turbine engines to produce green hydrogen is less resource-intensive than having to construct entirely new plants.
Sweden's Zero Emission Hydrogen Turbine Center has successfully connected gas turbines with hydrogen, renewable energy and energy storage in a flexible energy system. Hopefully, test beds like this will show the way in propelling hydrogen into the mainstream far quicker.
FUELLING THE CRITICAL INGREDIENTS
In the meantime, Singapore is doing what it does best to move the needle – collaborating with regional neighbours. Such partnerships will help facilitate shared contributions to regulatory frameworks, standards and certification, as well as participation in joint research, design and development.
We are already seeing this happen with bilateral energy cooperations inked with Australia on low-emissions technologies, and with Chile on low-carbon hydrogen. Singapore-based Sembcorp Industries also signed a Memorandum of Understanding last year with Japanese companies to explore the feasibility of importing decarbonised hydrogen into Singapore.
The cooperation arrangement with New Zealand, made last year, commits Singapore to charting hydrogen standards. Towards this end, the city-state is test-bedding the safety and viability of large-scale hydrogen adoption through pilot projects, including a self-contained power grid on Semakau Island.
Insights from such projects will not only help Singapore set a national hydrogen target, but will also send a clear signal to potential investors of the country's hydrogen ambitions.
Not least, Singapore's dense urban grid and strong research and development ecosystem positions the country as a viable living lab for hydrogen trials. The city is also putting its money where it counts. It has launched a new S$25 million research institute tasked with helping to create breakthrough technologies, and will set aside an additional S$129 million for projects that import and utilise hydrogen at scale.
Singapore will need to be bold in its hydrogen strategy if the country is to meet its ambitious net-zero target by 2050. World leaders and industry heads convening at the ongoing Singapore International Energy Week will no doubt discuss hydrogen's importance in securing a resilient and sustainable energy future.
With its wide range of potential uses, hydrogen could be a game-changer for the resource-constrained country. And when that happens, the biggest winner claiming the chequered flag for the Singapore street circuit will be hydrogen.
Dr Christian Bruch is president and CEO of Siemens Energy.