Waste isn't just waste when it can be turned into a valuable resource
Money Mind looks at how some companies are transforming waste into valuable resources.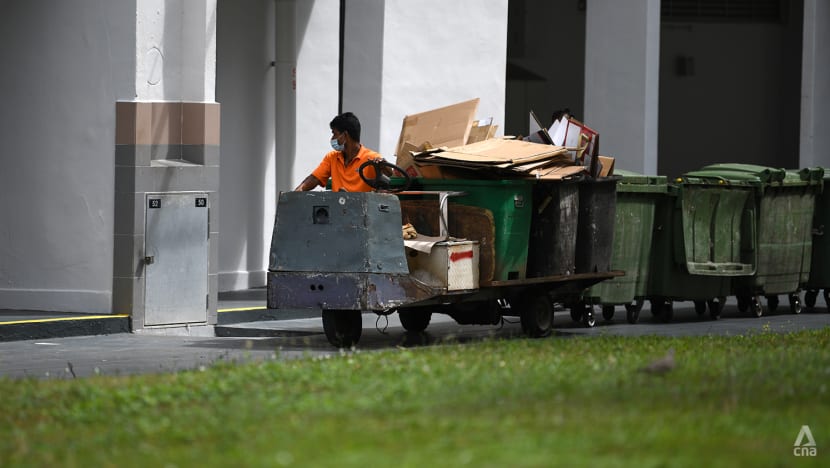 SINGAPORE: The circular economy is a buzzword in sustainability circles, yet globally, it is estimated that only 8.6 per cent of the world economy is circular.
As Singapore's economic activity picked up in 2021 after the loosening of COVID-19 restrictions, the overall solid waste generated increased by 18 per cent.
At the same time, however, the domestic recycling rate remained at 13 per cent. This is the lowest figure in more than 10 years.
Under the Sustainable Singapore Blueprint, the goal is to raise this recycling rate to 30 per cent by 2030.
According to industry experts, one way to get there is to make consumers aware that waste doesn't need to be wasted.
"If that particular recyclable material is of no resale value, then people will not want to recycle it, or would not want to collect it. Likewise, if the recyclable material fetches a higher price, then there will be more recycling companies that will collect it. So then they are likely to do it in a slightly bigger scale," said Ms Melissa Tan, CEO of Singapore-based waste management company Wah and Hua. 
Currently, when residents do recycle, however, many are not doing it correctly  About 40 per cent of the items found in the blue recycling bins cannot be recycled due to contamination, mainly from food and liquid waste, as well as e-waste and styrofoam.
To address the high contamination rate and low recycling rate, Wah and Hua launched a mobile application that rewards users with green bonus points for recycling right.
The app provides information on recycling points and locations. Residents take pictures of the materials to be recycled, and the company's artificial intelligence (AI) software works out what the materials are, as well as their estimated weight.
Users collect bonus points when they deposit their recyclables, and these points can be used to redeem rewards.
The company's next project is the construction of a zero-waste facility tailored for Singapore's densely-populated urban environment.
Other waste management solutions in rural settings go back to the roots.
EF Polymer, an agritech startup with operations in India and Japan, turns fruit waste into a sustainable and productive resource.
Puran Singh Rajput, co-founder and COO, said that many agricultural products available in the market are chemical-based.
"They degrade the soil, they pollute the soil. We don't want to pollute the soil. So we've developed something in the natural form - we replace the main ingredient with fruit peels. These are easily accessible and environmentally friendly."
This biodegradable polymer can absorb water up to 150 times its own weight. This means that farmers can use up to 40 per cent less water for irrigation. The product also doubles as a fertiliser.
It has recently received organic certification and the aim is to expand to Southeast Asia.
Such upcycling of biowaste is an example of the type of paradigm shift needed in the waste management world, said an industry expert. 
Mr Andrew Benedek is chairman and CEO of Anaergia, and was also involved in Singapore's NEWater project.
Turning waste into a resource has many benefits beyond economic gain, he said.
"I would like to see (people) stop thinking of waste as waste. Waste is a resource. We need to make sure that we recycle that resource," said Mr Benedek.
"There are many useful products in waste ... Most of the biogenic material can be turned into methane for fuel."
Singapore is currently building an Integrated Waste Management Facility (IWMF) in Tuas. This is Singapore's first integrated facility to treat incinerable waste, source-segregated food waste, and dewatered sludge. 
Dr Benedek says a facility like this could serve as an example for Asia.
"What I love about it is that it's taking the two (types of) human waste, liquid and solid, and optimising the two to the benefit of society. Most people separate and handle this separately and therefore sub-optimise the solutions. So I think if we could continue this trend and see more and more (such) IWMF type facilities, this would really help all of Asia."