8 teachers receive President's Award for dedication to students
Eight educators from various institutions received the President's Award for Teachers on Wednesday evening (Aug 29) at the Istana from President Halimah Yacob.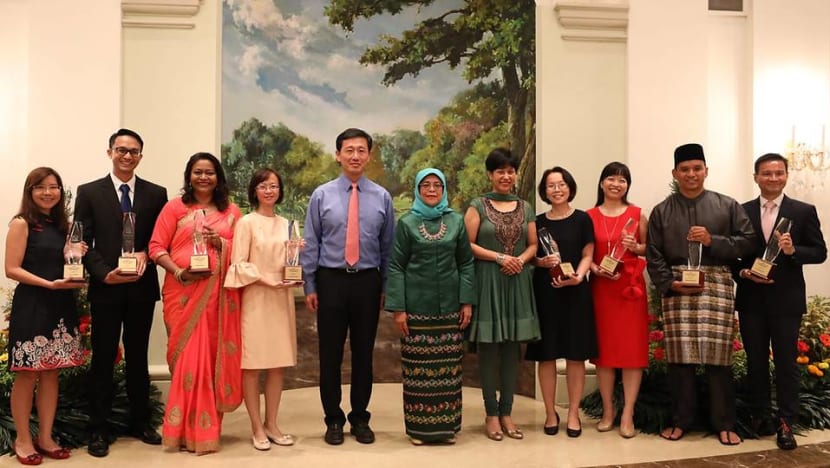 SINGAPORE: Eight educators from various institutions received the President's Award for Teachers from President Halimah Yacob at the Istana on Wednesday evening (Aug 29).
The award recognises the recipients' dedication to the holistic development of their students.
The recipients were chosen from over 2,500 nominations by school leaders, teachers, former and current students, and parents.
Seven other finalists were also recognised for their contributions. The finalists will receive their certifications at separate ceremonies.
They will also receive a professional development grant to attend any overseas or local conferences.
Since 2017, the award has been extended to include educators from the Institute of Technical Education (ITE) and polytechnics.
This year, six finalists and recipients are educators from polytechnics and ITE, while nine teach in the primary school to junior college levels.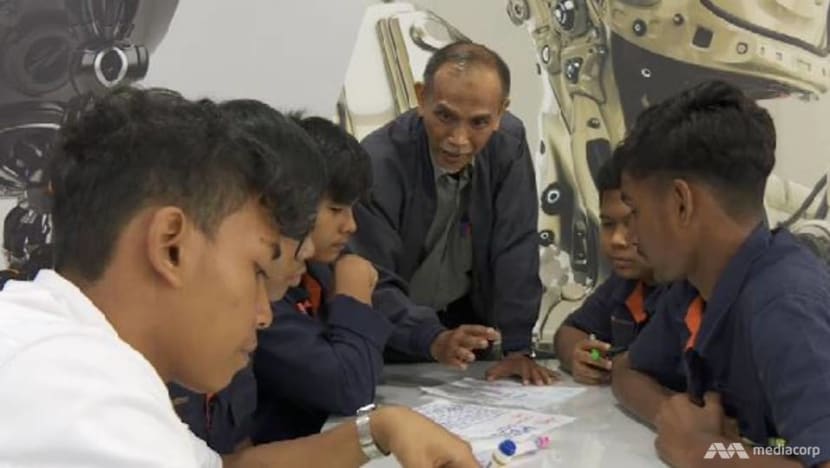 GOING THE EXTRA MILE
One of the finalists is Mr Khalid Kassim, who teaches Mechanical Engineering in ITE College East.
To the veteran lecturer, building a student's confidence takes more than just words of encouragement; it means showing his students how to apply their skills in real-life situations.

Thus, he rallies his students to volunteer in a special Student Home Outreach programme.
In this voluntary after-school activity, the students would help the family of a needy course-mate by fixing broken electrical appliances in their homes, helping with plumbing problems or even mending furniture – all these under Mr Khalid's guidance.
This has helped build his students' confidence, something that Mr Khalid has observed was lacking.
"Most of my students didn't do very well in school, and some have personal problems at home to deal with. So when they see that they can apply their skills outside the classroom, it builds their self-esteem," he said.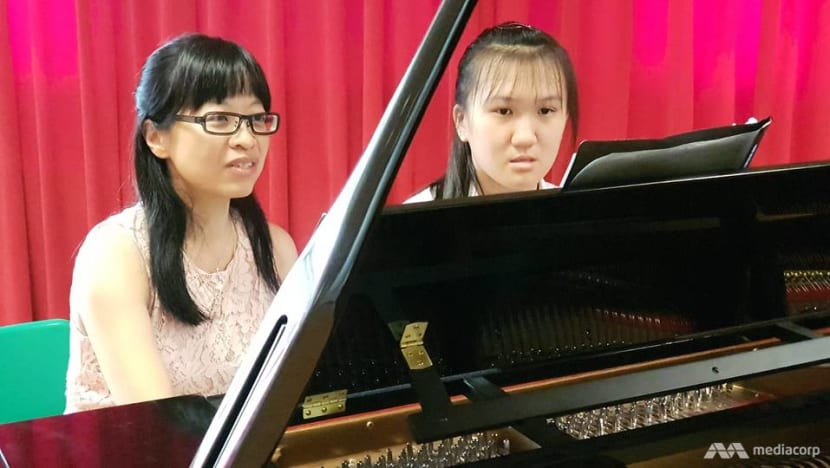 MAKING MUSIC INCLUSIVE
For Ahmad Ibrahim Secondary School music teacher Ng Sheh Feng - one of the recipients of the President's Award - she faced a conundrum when two visually-impaired students wanted to enrol in her music programme.
The reason: No visually-impaired student had ever taken the O-Level music examination at that point in time.
The examination authorities initially turned down their request as exam components included score-reading and notation writing.

But Ms Ng persevered. She and her colleagues worked with the Education Ministry to experiment different ways of assessing the students. This included using music braille and dictation.
After one-and-a-half years, the authorities approved the recommendations and allowed the students to take the exams.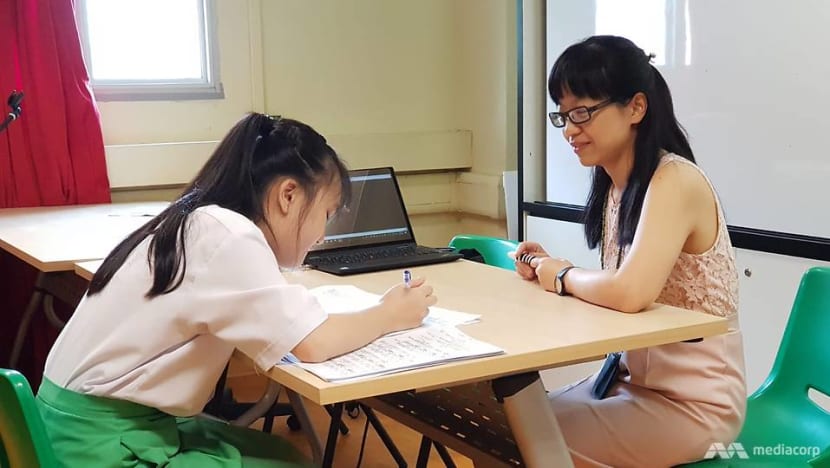 Ms Ng said she tries to make music inclusive to quash the perception that it is exclusive, to the extent that she even pushed for lunch time concerts and a music corner.
"We set up a music corner and we put up some instruments just for the students to be able to jam and relax," she said.
Ms Ng said many of her students come from "less resourced backgrounds" and thus had less exposure to alternative pathways like music. 
"They would be thinking of careers in traditional professions like doctors or lawyers," she said. "But we want to show them that there are alternative pathways in the arts too. Trying to change the mindset is slow, but it's happening."
While the award marks a milestone, Ms Ng says that in her 12 years as an educator, she has seen former students follow their aspirations to become composers, performers and music teachers.
That, she said with a bright smile, is rewarding enough.
The other seven winners of the award are Ms Goh Wai Leng from Geylang Methodist School (Primary), Mdm S Nirmala Devi from Guangyang Primary School, Mr Matthew Ong Yong Cheng from St Andrew's Junior School, Mr Edzra Iskandar from Bedok South Secondary School, Dr Lim Yi-En from National Junior College, Mr Teo Keng Ann from Singapore Polytechnic and Ms Tan Lay Khee from Temasek Polytechnic.